Stonemaier Games heeft ons al veel verschillende speelervaringen cadeau gedaan. Zo gingen we in Viticulture wijn verbouwen en vogels spotten in Wingspan. In Euphoria bouwden we met onze arbeiders aan de de ideale maatschappij en zetten we beschavingen op in Tapestry. We legden spreekwoordelijke en letterlijk bruggen tussen onze medespelers in Between Two Castles en Between Two Cities. De tijd vloog voorbij Pendulum en Charterstone was tijdloos. Koude oorlogen werden uitgevochten in Scythe en het kastensysteem werd neergehaald in Red Rising. In Rolling Realms komen alle werelden van de afzonderlijk van Stonemaier Games samen in een modulair en gevarieerd dobbelspel. Klaar voor jouw wereldreis?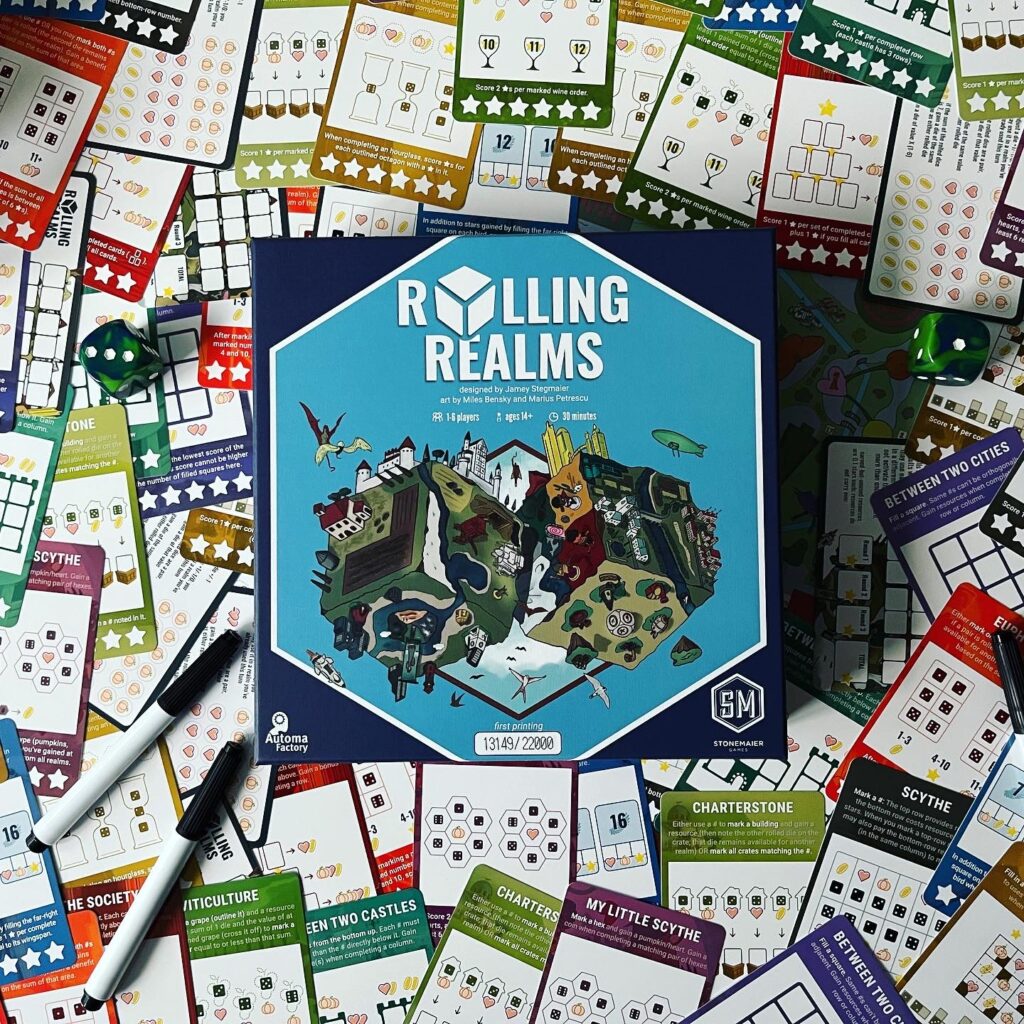 Wellicht ben je al bekend met Rolling Realms en dat is niet vreemd, want Jamey Stegmaier heeft dit spel in de begintijd van de wereldwijde COVID-lockdown ontwikkelt om online te spelen met oneindig veel spelers. Spelers konden (en kunnen) een gratis versie van dit spel uitprinten en bewapend met een potloodje of pennetje en twee reguliere dobbelstenen een wereldreisje maken. Daarnaast organiseerde Jamey regelmatig spelmomenten om dit spel samen met fans te spelen. Dit spel bleek zo populair dat meerdere mensen vroegen om een professioneel geproduceerde versie. Stonemaier gehoorzaamde en het resultaat is een versie van Rolling Realms met gelamineerde en beschrijfbare kaartjes, uitwisbare stiftjes, twee geweldige chonky dobbelstenen en een heus solo-avontuur.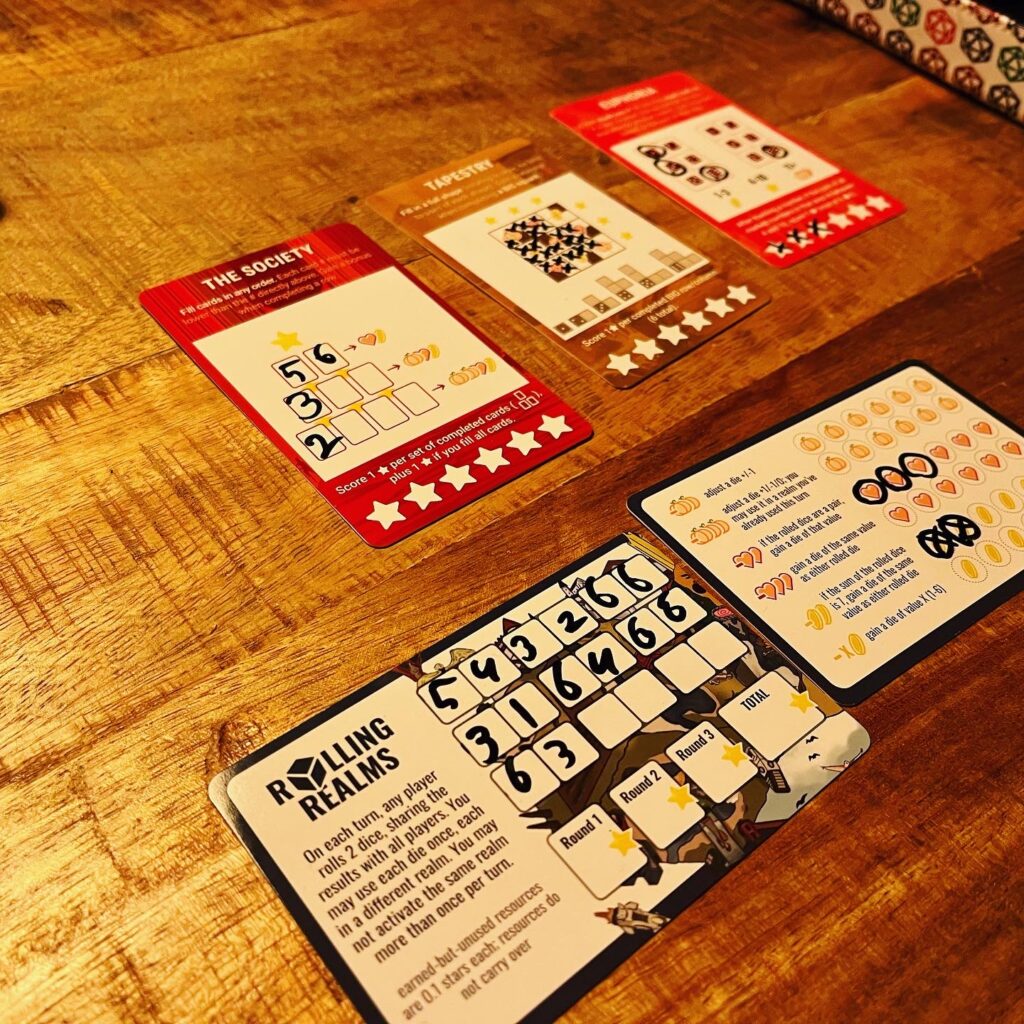 In Rolling Realms worden in totaal 3 rondes gespeeld, met elk 3 werelden en 9 beurten. Elke beurt worden de 2 dobbelstenen geworpen en spelers mogen de dobbelresultaten in 2 verschillende actieve werelden aankruisen. Elke wereld is een unieke wijze van spelen. Spelers kunnen dobbelstenen inzetten om de vleugelwijdte van vogels te bepalen, grondstoffen te verzamelen in Scythe, druiven te oogsten en wijn te verbouwen in Viticulture en zandlopers te vullen in Pendulum. In deze verschillende werelden kunnen spelers op verschillende manieren punten verzamelen en grondstoffen krijgen. Met punten winnen spelers het spel en met grondstoffen kunnen zij de worp of het gebruik van de worp manipuleren.
De verschillende werelden zijn het hoogtepunt van het spel. Deze verschillende werelden zorgen namelijk voor veel variatie. Elke ronde worden er drie werelden gebruikt, waardoor het spelverloop iedere keer anders is. Sommige werelden lijken wat meer op elkaar, maar er zit voldoende verschil in. Ook het solo-avontuur is een erg leuke toevoeging. In een soort midgetgolfbaan loop je verschillende werelden en uitdagingen door.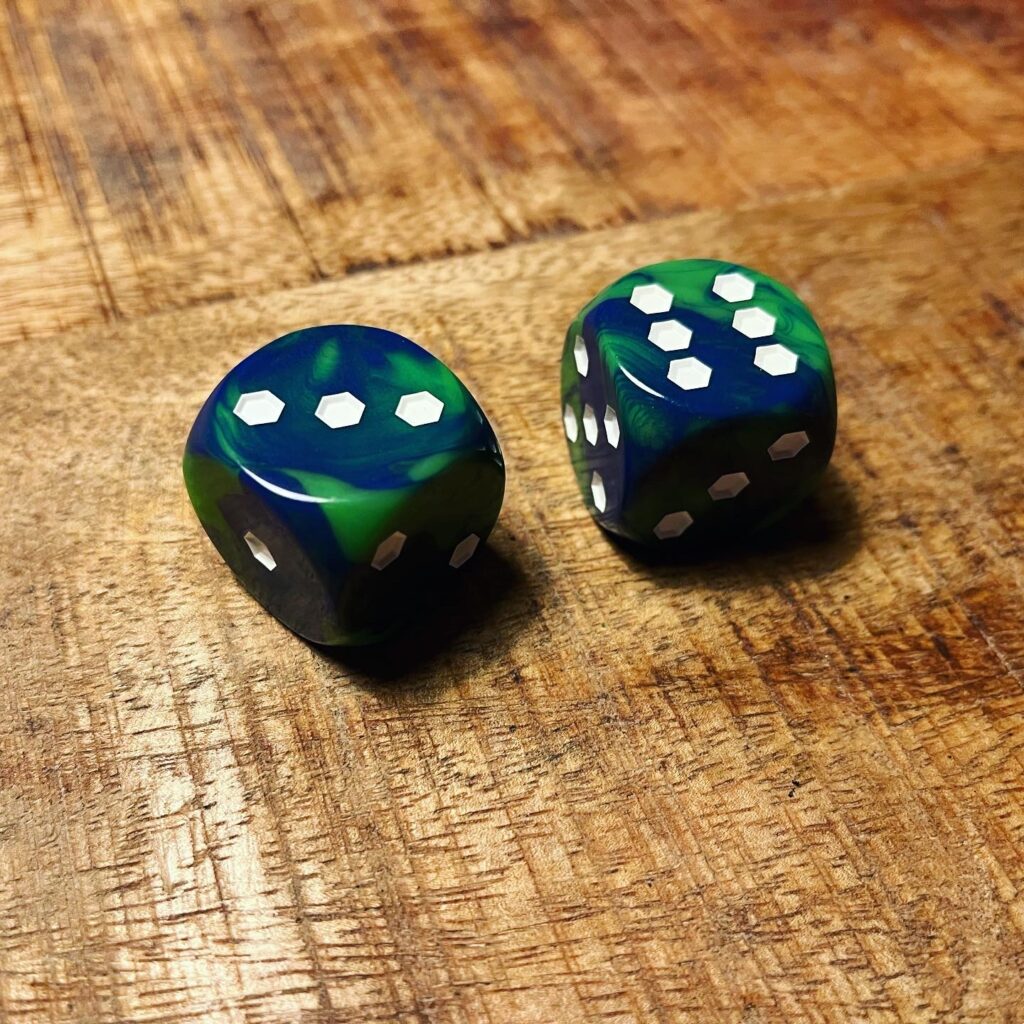 Rolling Realms is een roll-and-write dat op rolletjes loopt. Het biedt wellicht niet zoveel variatie op dobbelspellen als dat sommige uitbundige en thematische dobbelspellen doen, maar blijft daardoor in essentie eenvoudig en erg makkelijk om te leren. Het modulaire zorgt, zoals ik al schreef, voor voldoende variatie. Daarnaast zijn er ook al een hoop fan-made uitbreidingen beschikbaar en komen er ook aanvulpakketjes met nieuwe werelden. Voldoende om naar uit te kijken!