Quibbles is een kwistig, koddig en kort kaartspel. De handleiding opent met een introduction vol alliteratie over de Quibbles. Quibbles zijn een soort kubistische, kleurrijke konijnen. Ze vermenigvuldigen, maar verminderen ook. Jouw doel is om er 21 te verzamelen. Ben jij kwistig genoeg of zul vooral kibbelen met je tegenstanders?
Achtergrond
Michiel de Wit is de bedenker van Quibbles en zijn naam ken je wellicht ook van Rollecate. Michiel is tevens co-auteur van Victory Tank en de man achter GaminBiz: een kleine uitgeverij van spellen uit Nijmegen. GaminBiz ken je wellicht van Fika en CuBirds.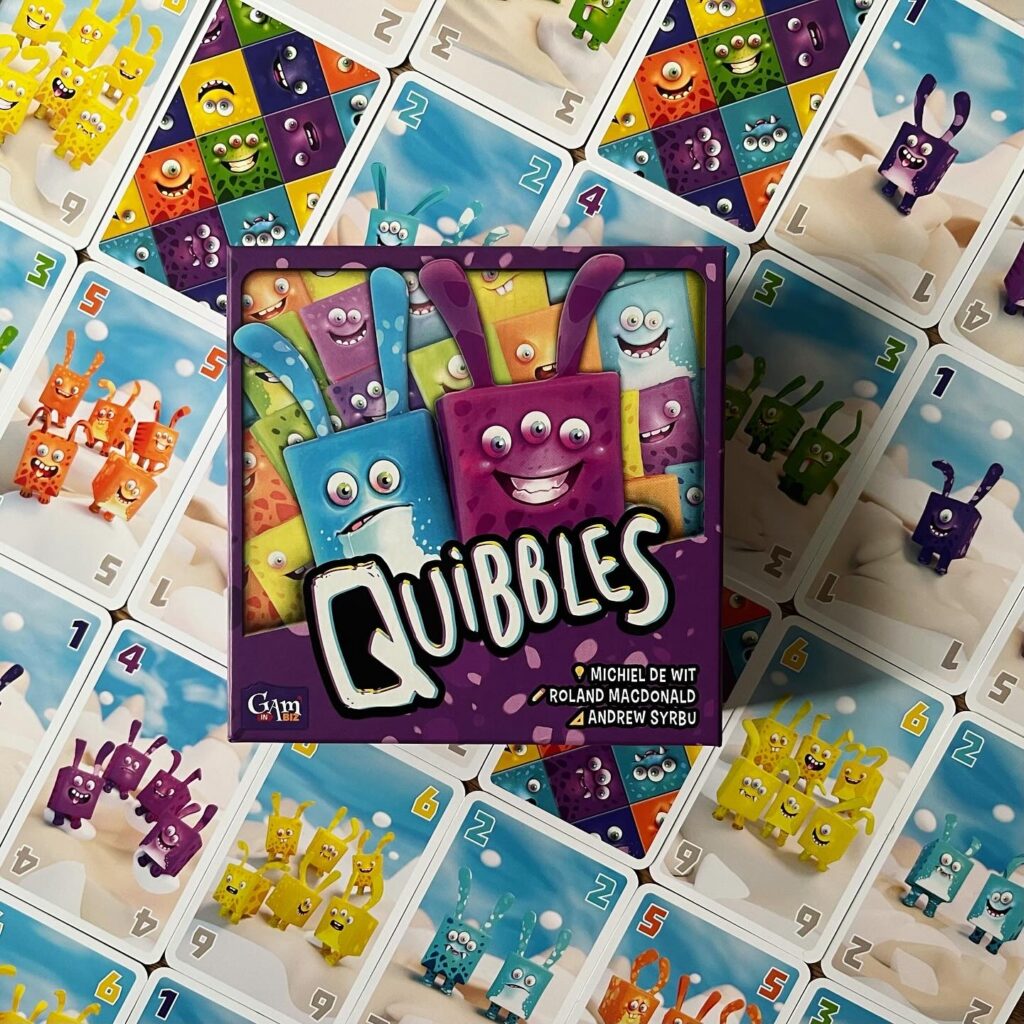 Spelopzet en doel
Aan het begin van het spel worden er een aantal kaarten open op tafel gelegd om de markt te vormen. Iedere speler krijgt ook een handje vol kaarten. Het doel is om kaarten voor je neer te leggen en vervolgens 21 punten te verzamelen, maar je mag kaarten niet zomaar voor je neerleggen want je dient er, net als bij Cubirds dat ook is uitgegeven voor GaminBiz, genoeg te verzamelen om ze neer te leggen. Om een 6 neer te leggen heb je minstens zes van deze kaarten in je hand nodig. Om een 5 te plaats heb je minsten vijf van deze 5 nodig. Snap je het nog of vliegen de cijfers om je oren?
Spelverloop
De eenvoudige, maar verder onopvallende wiskunde stopt daar overigens niet. Tijdens je beurt kun je namelijk splitsen, combineren of kaarten trekken.
Als je kiest om te splitsen leg je een enkele handkaart af en mag je setjes aan kaarten van de markt pakken die bij elkaar opgeteld net zoveel 'waard' zijn als de kaart die je zojuist aflegde. Je mag meerdere correcte setjes pakken, maar kaarten mogen niet onderdeel uitmaken van meerdere setjes.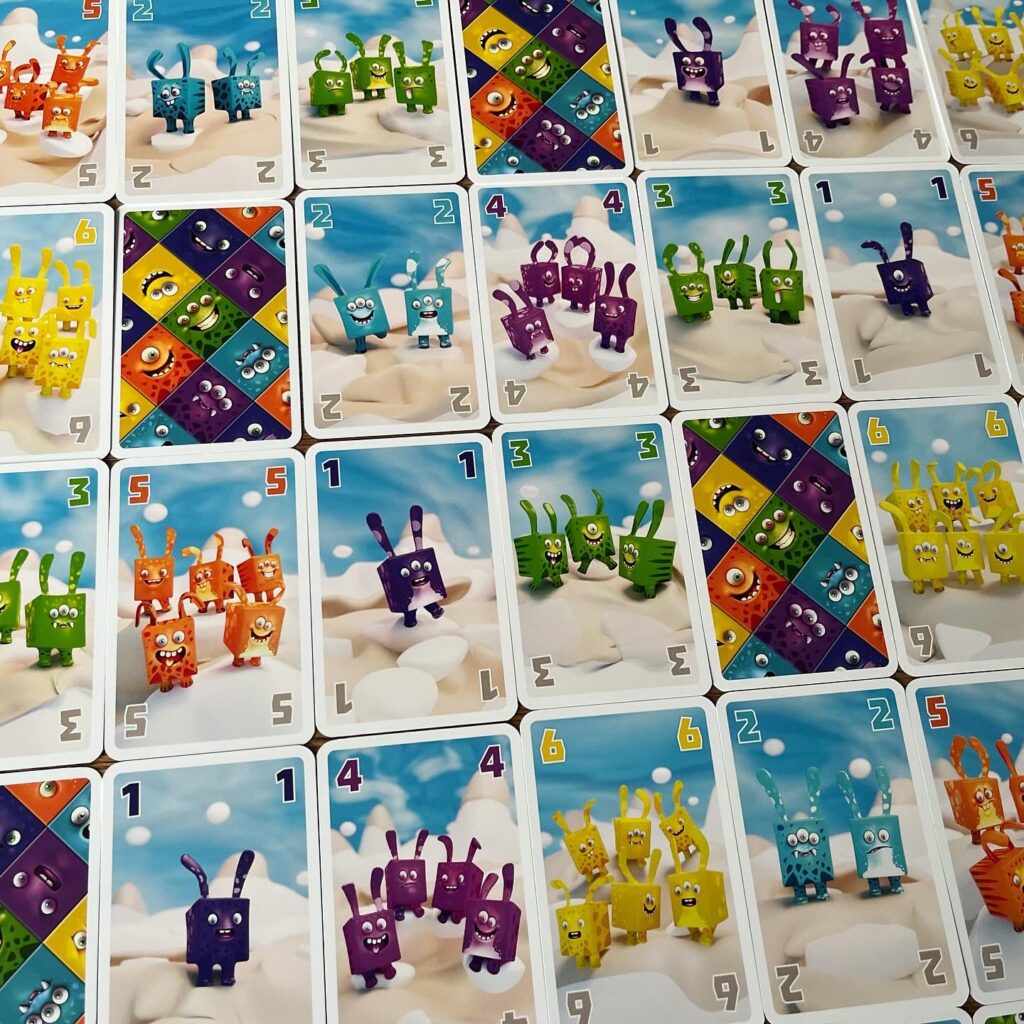 Als je gaat combineren kun je meerdere kaarten afleggen (maximale waarde van zes) om een enkele kaart met dezelfde waarde uit de markt te pakken.
Je kan ook een kaart aan de markt toevoegen om vervolgens twee kaarten van de trekstapel te pakken. Er is overigens geen limiet aan de hoeveelheid kaarten in je hand, maar pas wel op met driftig verzamelen. Als een speler geen kaarten meer op hand heeft, legt iedereen diens gehele hand af om te verversen.
Na je actie mag je ook nog sparen. Je legt dan kaarten of om een kaart voor te plaatsen op voorwaarde van de regel die ik hierboven al omschreef.
Aan het einde van de beurt vul je de markt aan tot zes, maar als de markt 10 kaarten heeft, wordt de hele markt ververst.
Conclusie
Quibbles is een snel kaartspel dat wat weg heeft van kaartspelletjes zoals Pearls of Elixer Mixer, omdat spelers kaarten splitsen en combineren om kaarten uit een gezamenlijke markt te verzamelen. Het verzamelen en afleggen van kaarten lijkt ook enigszins op CuBirds.
Misschien niet het meest innoverende kaartspel, maar de combinatie en mechanismes zorgt voor een fris en vlot spelletje dat verrassend veel tactische diepgang heeft. Je hebt best veel invloed op de kaarten op de markt en zodoende ook het aanbod voor andere spelers. Door slim je kaarten weg te spelen, kun je ook een flinke hand aan kaarten wegvagen. Een kek spelletje dat waarschijnlijk tot een hoop gekibbel zorgt!