Er zijn een aantal grote en confronterende levensvragen. Is er leven na de dood? Is het friet of patat? Wat moeten we vanavond eten? Is Tim Burton's The Nightmare Before Christmas nou een Halloweenfilm of een Kerstfilm? Het is een vrolijke gekkigheid in Tim Burton's feestdagenfilm en ook in Disney Tim Burton's The Nightmare Before Christmas: Merry Madness.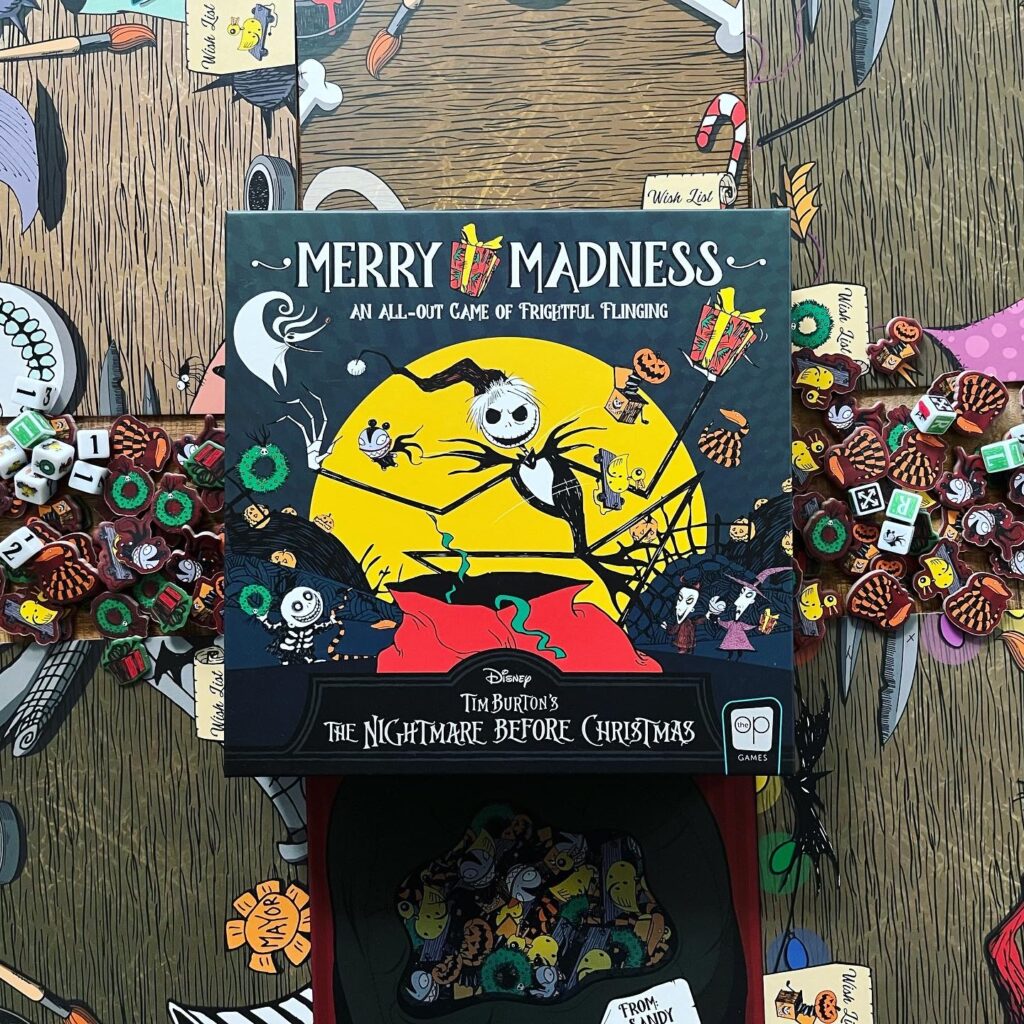 In dit snelle, simultaan te spelen dobbelspel vol chaos en gekte proberen jij en jouw medespelers deze 'chaos' te beheersen en beproeven. Het spelconcept van Disney Tim Burton's The Nightmare Before Christmas: Merry Madness is voor het eerst door The Op geïntroduceerd in Mickey and Friends: Food Fight en zien we ook terug in Harry Potter: Mischief in Diagon Alley. Merry Madness put voor het thema inspiratie uit de klassiek Tim Burton film: The Nightmare Before Christmas. Alle pakjes van Sandy Claws liggen op de verkeerde plek en spelers proberen de pakjes te bemachtigen.
In dit spelconcept gaan spelers tegelijkertijd en zo snel mogelijk hun dobbelstenen werpen om de verschillende cadeautjes te verplaatsen. In totaal zijn er drie verschillende spelmodi, maar in de basis verlopen deze varianten hetzelfde. Spelers krijgen drie dobbelstenen. Een dobbelsteen beeldt voorwerpen af, een dobbelsteen geeft links, rechts, het midden van tafel of een plek naar keuze aan en de laatste dobbelsteen geeft een hoeveelheid aan. Afhankelijk van hun worp moeten zij van een specifiek voorwerp een bepaalde hoeveelheid pakken van of geven aan een specifieke speler of het midden van de tafel. Afhankelijk van de spelmodus proberen de spelers een enkel type voorwerp te verzamelen of een setje aan verschillende voorwerpen of proberen ze geen enkel voorwerp over te houden. Wat een madness!

Tim Burton's The Nightmare Before Christmas: Merry Madness is een grappig en snel spelletje. Het belangrijkste element is om zo snel mogelijk proberen te dobbelen en je acties uit te voeren. Dit zorgt voor de nodige vermakelijke stress waardoor het een snel spelletje is wat je makkelijk tussendoor kan spelen. Er zijn veel spelletjes waarbij spelers snel proberen te dobbelen en voorwerpen weg te krijgen, maar Merry Madness heeft een vrolijk en Kerstachtig thema en hoge productiekwaliteit. Het thema staat wel aardig los van de gameplay, maar maar maakt het niet minder geschikt voor de feestdagen.