Speel jij graag partyspellen, maar is bij spellen als 30 Seconds en Trivial Pursuit een gebrek aan triviale kennis jou meestal fataal? In Name 5 is een brein vol pubquizfeitjes misschien relevant, maar wel een stuk minder relevant voor de overwinning. Triviale kennis blijft in Name 5 namelijk redelijk triviaal. Het belangrijkste is niet om een specifiek antwoord geven, maar 5 dingen te noemen in een categorie.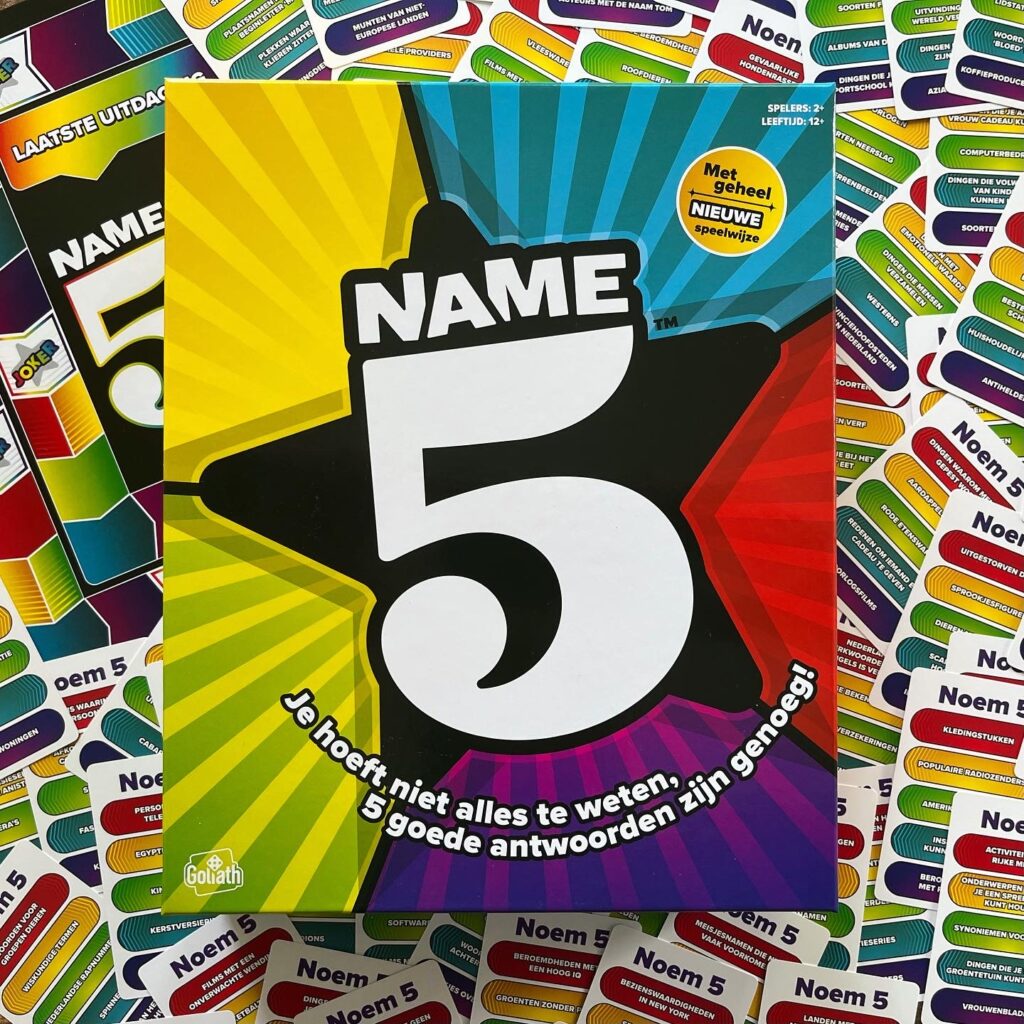 Name 5 is een partyspel waarbij de titel eigenlijk ook het spelverloop weergeeft. Binnen 30 seconden moeten spelers (meestal) 5 antwoorden noemen op basis van een categorie. Voorbeeld: noem 5 emoties of noem 5 banken. Althans, dat was het geval in de oorspronkelijke uitvoering van Name 5, maar deze editie bevat extra uitdagingen in de vorm van verschillende opdrachten.
Name 5 kun je spelen met 2 spelers, maar ook 2 teams die uit zoveel spelers bestaan als je maar wilt, maar vergeet niet: too many cooks spoil the broth. De teams worden verdeeld, spelers schudden de kaarten, zetten het spelvorm klaar en plaatsen de dobbelstenen en de zandloper binnen handbereik.
Het team dat aan de beurt is, gooit de dobbelsteen met de kleuren en verplaatst hun pion naar het dichtstbijzijnde vakje. Vervolgens rolt dit team de opdrachtendobbelsteen om te bepalen met welke opdracht zij worden geconfronteerd. Deze dobbelsteen bevat meerdere opdrachten zoals bijvoorbeeld Klassiek name 5 (binnen 30 seconden moeten er vijf antwoorden worden gegegeven op een categorie), double or nothing (spelers mogen doorspelen om zo verder op het speelbord te geraken, maar als ze falen moeten ze helemaal terug naar waar ze die beurt begonnen) of een soort duel waarbij het team dat als laatste geen antwoord meer kan geven op een categorie verloren heeft.
De beloning voor het winnen van een beurt is meestal dat je jouw pion verder over het speelbord kan laten bewegen. Het team dat als eerste de laatste uitdaging op het speelbord heeft voltooid wint.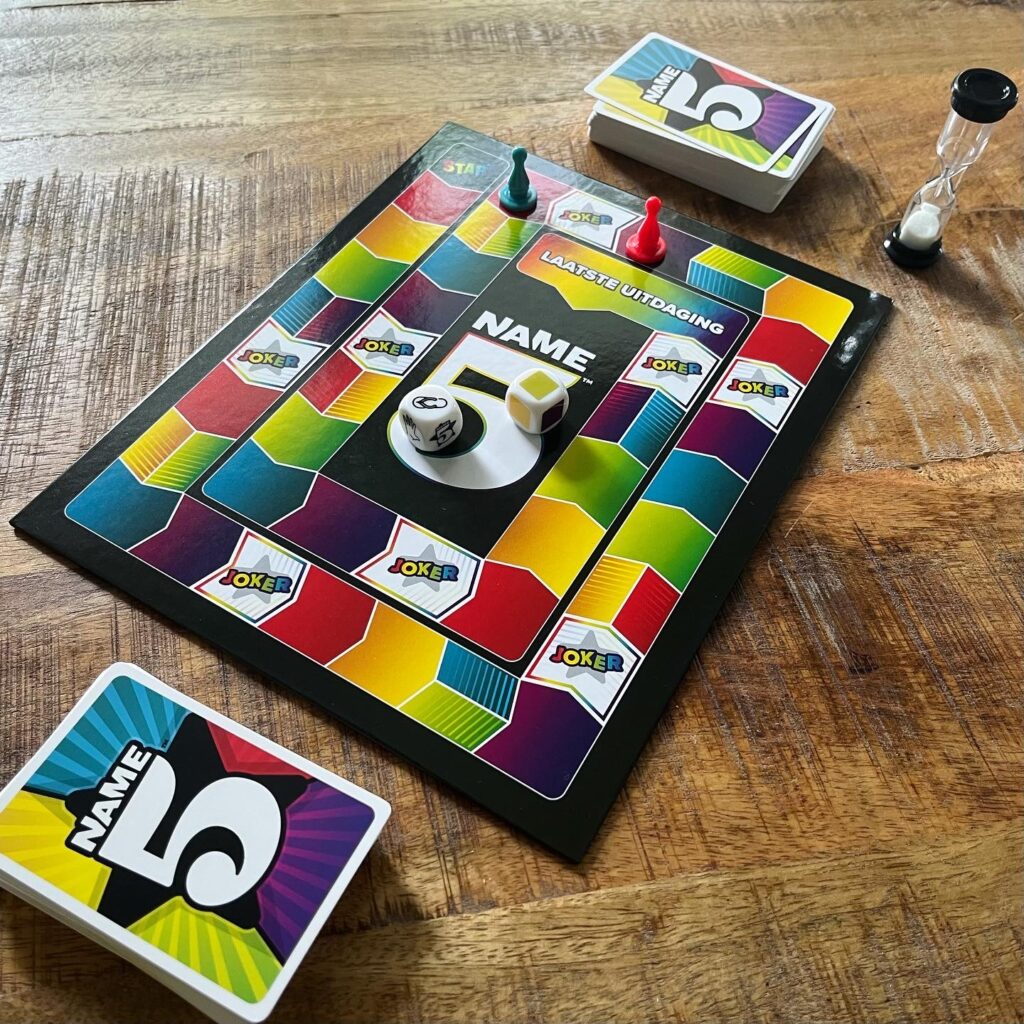 Er zijn veel partyspellen die draaien om triviavragen beantwoorden en vaak ook binnen een bepaalde tijd. Het concept van Name 5 is daarom niet wereldschokkend, maar doordat de triviale kennis slechts triviaal is, is het spel wel toegankelijker voor spelers waarvan het brein niet per se vol met feitjes over popcultuur of andere zaken zit. Ook zijn lang niet alle vragen gericht op daadwerkelijke triviale kennis, maar eerder gericht op het antwoorden onder tijdsdruk. Hou je van het concept van dit soort partyspellen, maar houdt je gebrek aan triviale kennis je soms tegen? Dan is Name 5 wellicht iets voor jou. Al fan van het originele Name 5 of het kaartspel? De extra uitdagingen zorgen voor nieuwe manieren van spelen en afwisseling.