NL: Vroeger kon ik mij enorm vermaken met zoekplaatjes uit boeken zoals Waar is Wally? (Waldo in sommige delen van de wereld). Ook Jan van Haasteren en Wasgij/Elzzup puzzels zijn erg gaaf. Op de plaatjes van deze boeken en puzzels staan vaak veel karakters en gebeurtenissen afgebeeld. Daardoor is het leuk om steeds nieuwe dingen te ontdekken op dergelijke plaatjes. Super leuk om als spelconcept verder te ontwikkelen, dacht de maker van MicroMacro: Crime City, uitgegeven door White Goblin Games. Los samen met je medespelers de moord op Leo Snorremans en andere zaken op, of verlies je zelf in de immense zoekplaat van Crime City!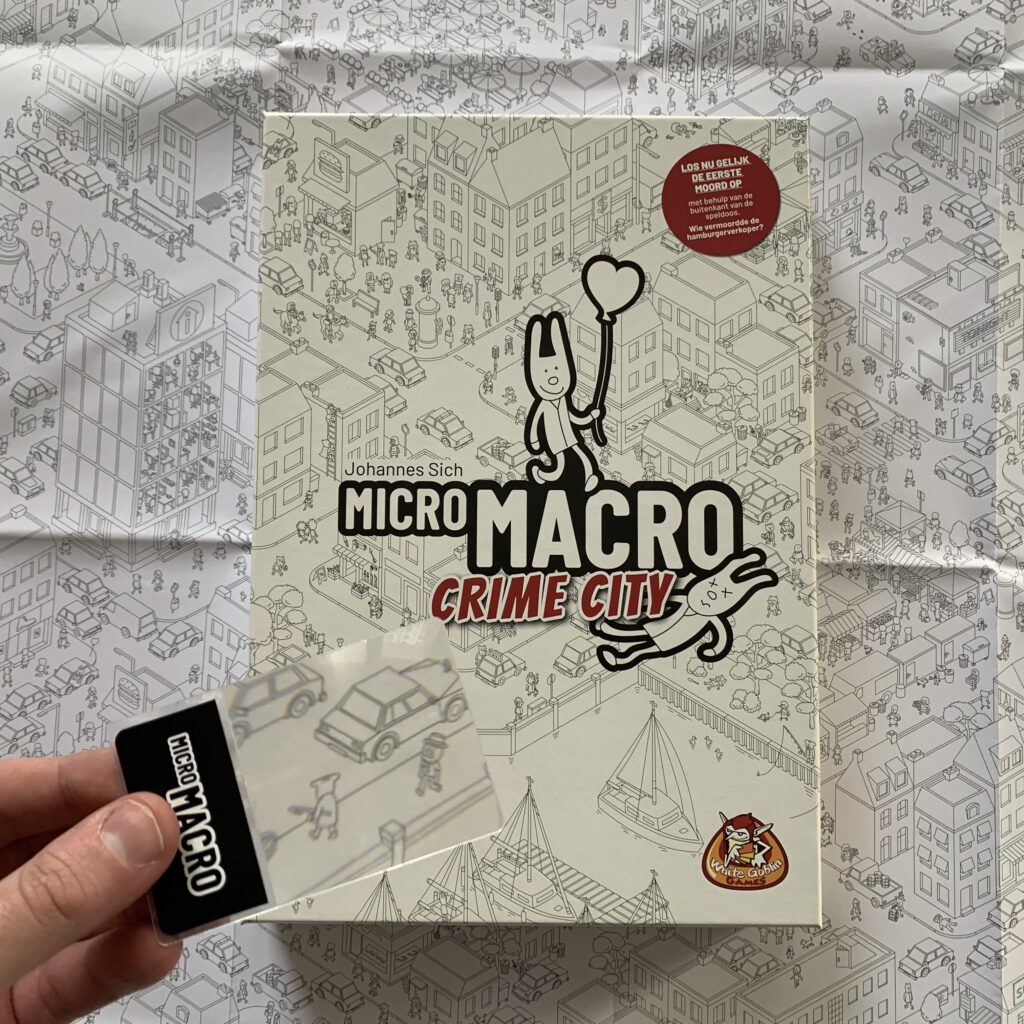 MicroMacro bevat een enorm papieren tafelkleed met een immense zoekplaat vol kleine tekeningetjes, karakters, geheimen en taferelen. Op deze plaat ga je misdaden ontdekken en oplossen. Leg de plaat op tafel en pak een van de envelopjes met mysteries die je wilt ontrafelen en het vergrootglas om bepaalde elementen op de kaart beter te zien. In de envelopjes zitten stapeltjes met kaarten die ieder een mysterie/mood/misdaad bevatten die spelers moeten oplossen. De eerste kaart omschrijft de uitkomst van een misdrijf. Bijvoorbeeld dat Leo Snorremans dood in zijn tuin is aangetroffen. Spelers krijgen daarna steeds opdrachten om te vervullen. Deze opdrachten houden in dat spelers bepaalde elementen/scènes op de zoekplaat moeten zoeken. Bijvoorbeeld: Waar ligt het lijk? Welk vervoersmiddel nam de dader? Welk motief had de dader? De oplossing van een opdracht is een specifieke locatie op de zoekplaat. Nadat je een opdracht hebt voltooid, krijg je een nieuwe opdracht en hint om verder te spelen en zo als een echte detective de zaak op te lossen. Case closed!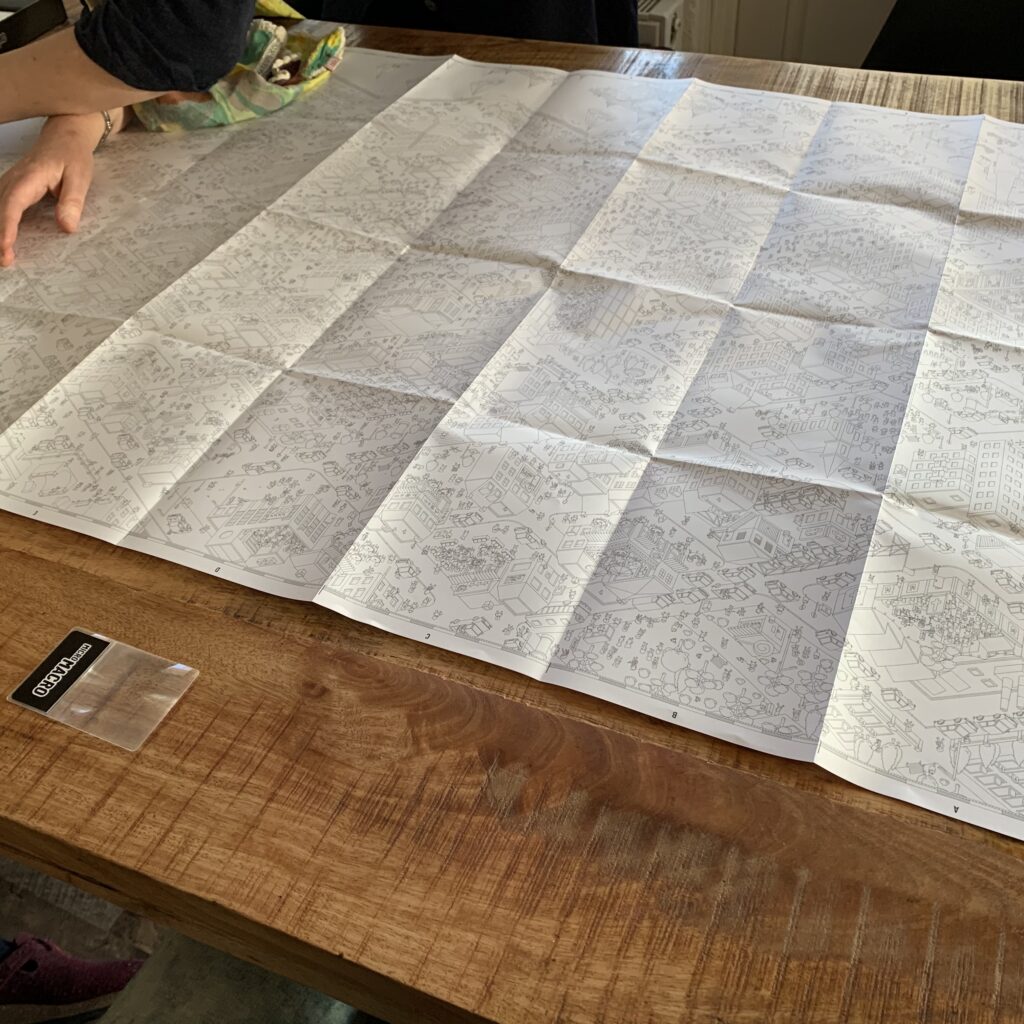 Net als de zoekplaten van vroeger heb ik veel puzzelpret met MicroMacro. Het verbinden van opdrachten aan het turen op de zoekplaat zorgt ervoor dat spelers op een leuke manier de moord/mysterie/misdaad oplossen en spelers al snel gaan speculeren, zeker bij de uitdagendere mysteries. De tekeningen zijn erg karakteristiek en door de simpele tekenstijl uitdagend. Wij moesten onszelf tegenhouden om niet gelijk alle zaken op te gaan lossen! Een nieuwe favoriet!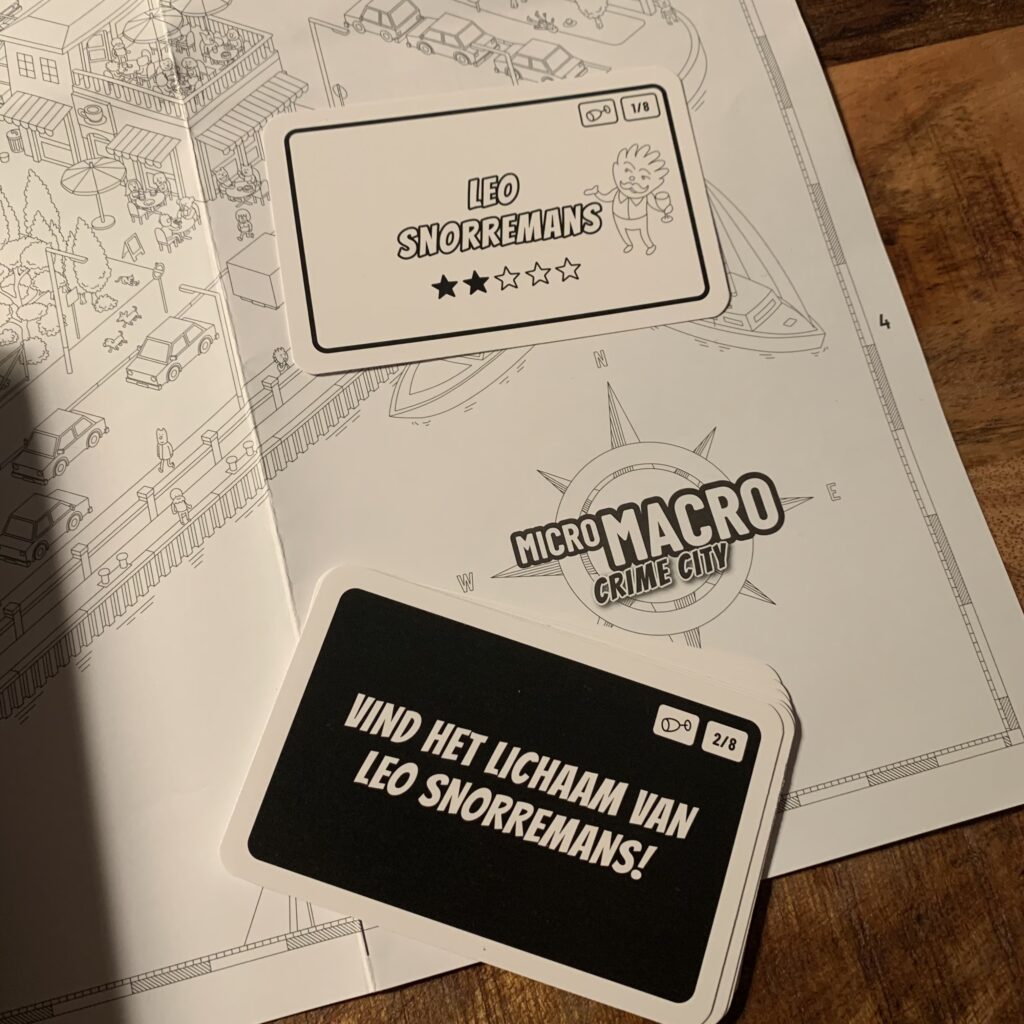 Reviewexemplaar is vriendelijk te beschikking gesteld door de uitgever. Heb jij interesse gekregen? Op de site van White Goblin Games kun je een proefversie spelen!
EN: In the past I would have loads of fun with large puzzle pictures out of books such as Where is Wally? (Waldo in some parts of the world), Jan van Haasteren (Dutch illustrator that creates pictures for puzzles) and Wasgij / Elzzup puzzles are also very cool. The pictures of these books and puzzles often depict many characters and events. This makes it fun to keep discovering new things on such pictures. Super fun to further develop as a game concept, is what the creator of MicroMacro: Crime City must have thought. Solve the murder of Leo Snorremans and other cases together with your fellow players, or lose yourself in the immense search plate of Crime City!
MicroMacro contains an enormous paper tablecloth with an immense search plate full of small drawings, characters, secrets and scenes. On this record you will discover and solve crimes. Place the plate on the table and take one of the envelopes with mysteries you want to unravel and the magnifying glass to better see certain elements on the card. Inside the envelopes are stacks of cards, each containing a mystery / mood / crime that players have to solve. The first card describes the outcome of a crime. For example, that Leo Snorremans was found dead in his garden. After that, players are always given assignments to fulfill. These commands mean that players have to search for certain elements / scenes on the search plate. For example: Where is the body? What means of transport did the perpetrator take? What motive did the perpetrator have? The solution to an assignment is a specific location on the search plate. After you have completed an assignment, you will receive a new assignment and hint to continue playing and solve the case like a real detective. Case closed!
Just like the puzzle images from the past, I have a lot of puzzle fun with MicroMacro. Connecting assignments to peering at the illustration ensures that players solve the murder / mystery / crime in a fun way and players quickly start speculating, especially with the more challenging mysteries. The drawings are characteristic and challenging due to the simple drawing style. We had to stop ourselves from solving all cases right away! A new favorite!