Droom jij van een reis tussen de sterren? Vind jij muziek uit de jaren '80 nou ook zo top? Altijd al vriendjes willen zijn met een genetisch gemanipuleerde wasbeer en een wandelende tak? Dan is de actie-adventure game van Guardians of the Galaxy van Eidos-Montréal en uitgegeven door Square Enix echt iets voor jou!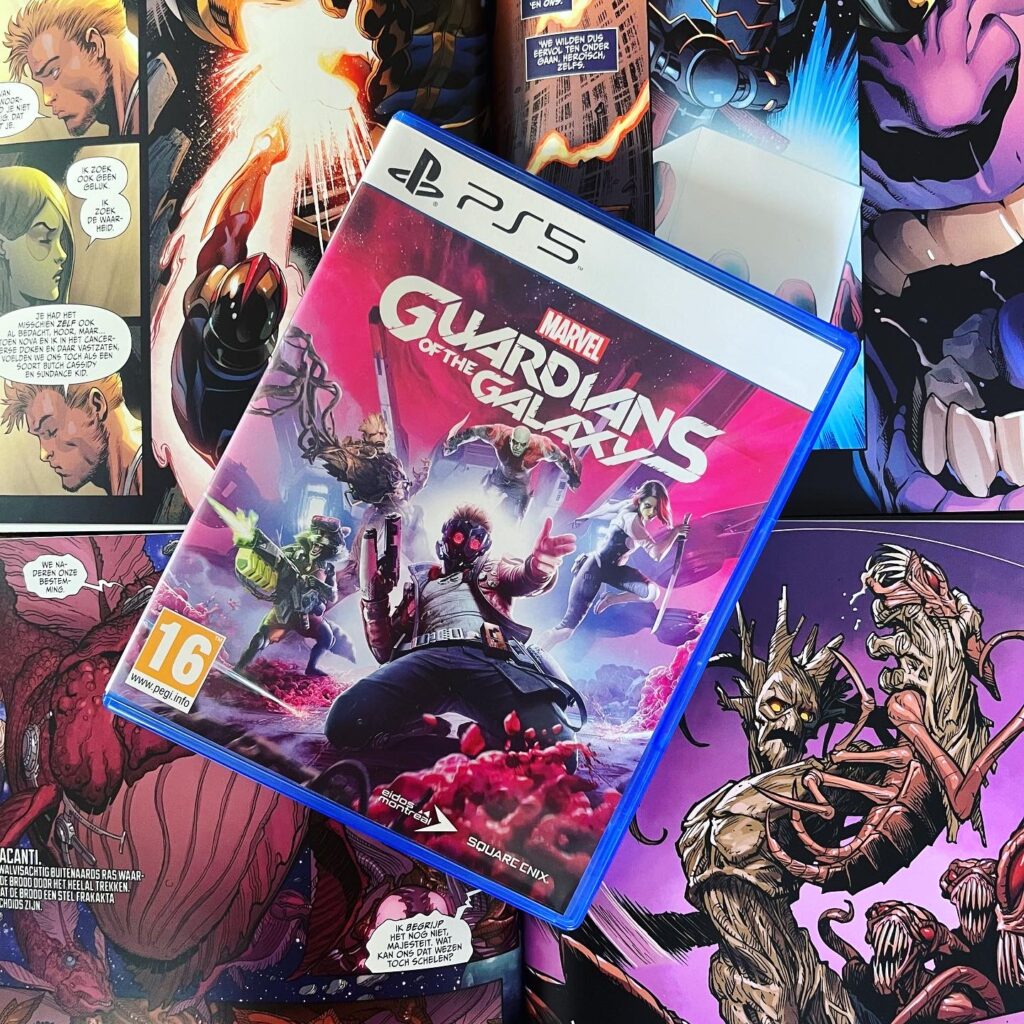 Geïnspireerd op de Marvel comics over de Guardians of the Galaxy van de afgelopen vijftien jaar en de recente twee Marvel-films, speel jij in dit spel Peter Quill (aka Star-Lord). Als kid de ruimte ingeslingerd, leidt hij in dit spel nog niet zo lang het team bestaande uit sluipmoordenaar Gamora, vechtmachine Drax, techwasbeer Rocket en levende boom Groot. Op zoek naar een manier om beroemd te worden en enorm veel intergalactische credits te verdienen bezoek je in het spel een verlaten ruimtegebied waar een oorlog heeft gewoed. Maar niets is wat het lijkt en voor je het weet vind je iets dat niet alleen hert heelal op zijn kop zet, maar ook de dynamiek in het team.
'GotG' speelt als een third-person shooter waarbij ieder teamlid zijn eigen specialiteiten heeft. Niet alleen bestuur je Star-Lord en zijn bijzondere moves, maar ook kun je je teamgenoten tijdens gevechten en daarbuiten commando's geven. Daarnaast kun je tijdens gevechten ook peptalks geven, die leiden tot bonussen. Afhankelijk van je keuzes reageren je teamleden goed of erg afkeurend of sarcastisch. De gameplay sluit goed aan bij het idee van wat de Guardians zijn, maar het is verder niet baanbrekend. Naast de standaard shooter gameplay, zijn er ook fragmenten waarbij je puzzels moet oplossen of met een ruimteschip kunt vliegen en schieten. Welkome variatie!
Gelukkig wordt de tamelijk lineaire gameplay (die 'voldoende' is) ruim gecompenseerd met sfeer, liefde voor de comics en films over de Guardians of the Galaxy, uitstekende muziek (ze hebben zelfs een rockalbum opgenomen!) en hilarisch gekibbel tussen alle teamleden. De sfeer zit er dan ook uitstekend in! Daarnaast zit de game bomvol verwijzingen naar de comics en andere Marvel superhelden. Wie weet kom je er zelfs een paar tegen? En als je ze niet herkent van de comics, dan herken je geheid personages en locaties van de film. Het verhaal is persoonlijk, aandoenlijk, hilarisch en leidt tot een prachtig einde.
De sfeer en het goede verhaal bovenop de gameplay maken van Guardians of the Galaxy een prettige game die je binnen 15-20 uur kunt uitspelen maar wel naar meer smaakt! Het is alsof je je midden in een film bevindt, waarbinnen je voldoende vrijheid hebt om gangetjes te ontdekken voor verborgen schatten. I am Groot!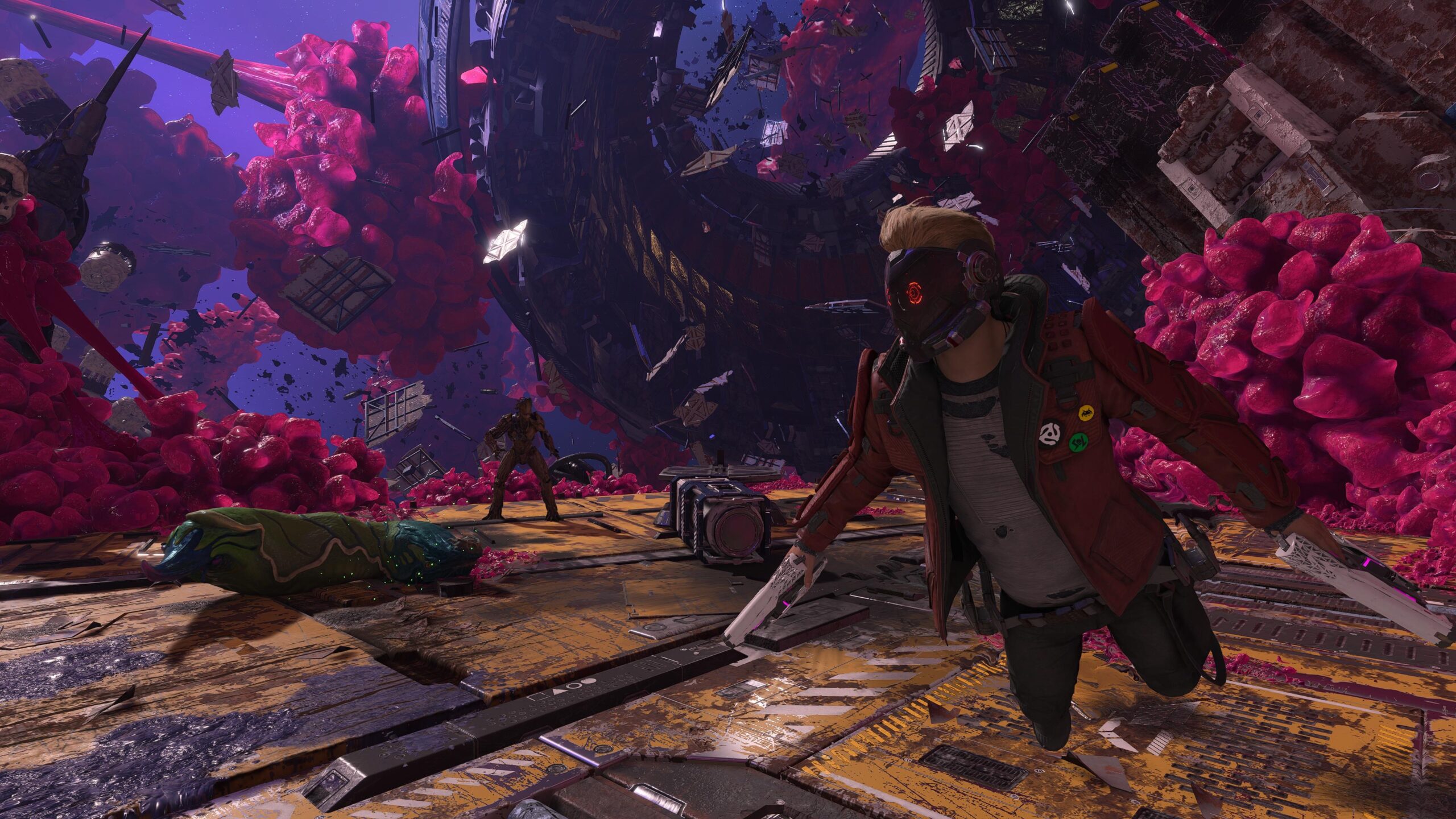 Guardians of the Galaxy is beschikbaar op PC, Xbox, PlayStation en Nintendo Switch (als een cloudversie).