Zoals Bob Nolan ooit schreef: All day I've faced a barren waste without the taste of water, cool water… Old Dan and I with throats burned dry and souls that cry for water, cool, clear water. Wie ooit een Western heeft gezien, is bekend met de droge vlaktes van Noord-Amerika en het gebrek aan schoon en helder drinkwater op deze grote vlaktes. De Great Plains (de Grote Vlaktes) is een uitgestrekt vlak gebied in Noord-Amerika ten westen van de Mississippi en ten oosten van de Rocky Mountains. Het gebied, veelal gevrijwaard van menselijke invloeden, bestaat grotendeels uit omvangrijk en ongetemd landschap bedekt met prairie, steppe en grasland. Nu, maar zeker in de oertijd, hadden de dieren van de vlaktes het voor het zeggen. In dit spel voor twee spelers gaan twee stammen elkaar te lijf voor macht over de steppe van de Great Plains. Weet jij jouw tegenstander met de steppegrond gelijk te maken of hou jij je op de vlakte?
Vruchtbare grond en water is zeldzaam op de steppe en spelers proberen in Great Plains juist die gebieden te veroveren. Indien een speler de meerderheid heeft van een stukje steppe, dan behaalt deze speler punten afhankelijk van de grootte van dit steppegebied en de aanwezigheid van bronwater. Op het bord treffen spelers gebergte (bergen, grotten en bronnen) en laagland (steppe en grasland) aan.
Nadat spelers het speelbord (bestaande uit verschillende platen om de vlakte mee op te bouwen) hebben neergelegd plaatsen zij grotten in hun spelkleur op het spelbord. Daarna kan het spel beginnen. Spelers nemen de rol aan van een stam (vossen of slangen) en plaatsen om de beurt een van hun stampionnen op het modulaire speelbord. Spelers kunnen hun stampionnen enkel op laagland plaatsen en dienen altijd pionnen aangrenzend aan pionnen of een grot in hun kleur te plaatsen.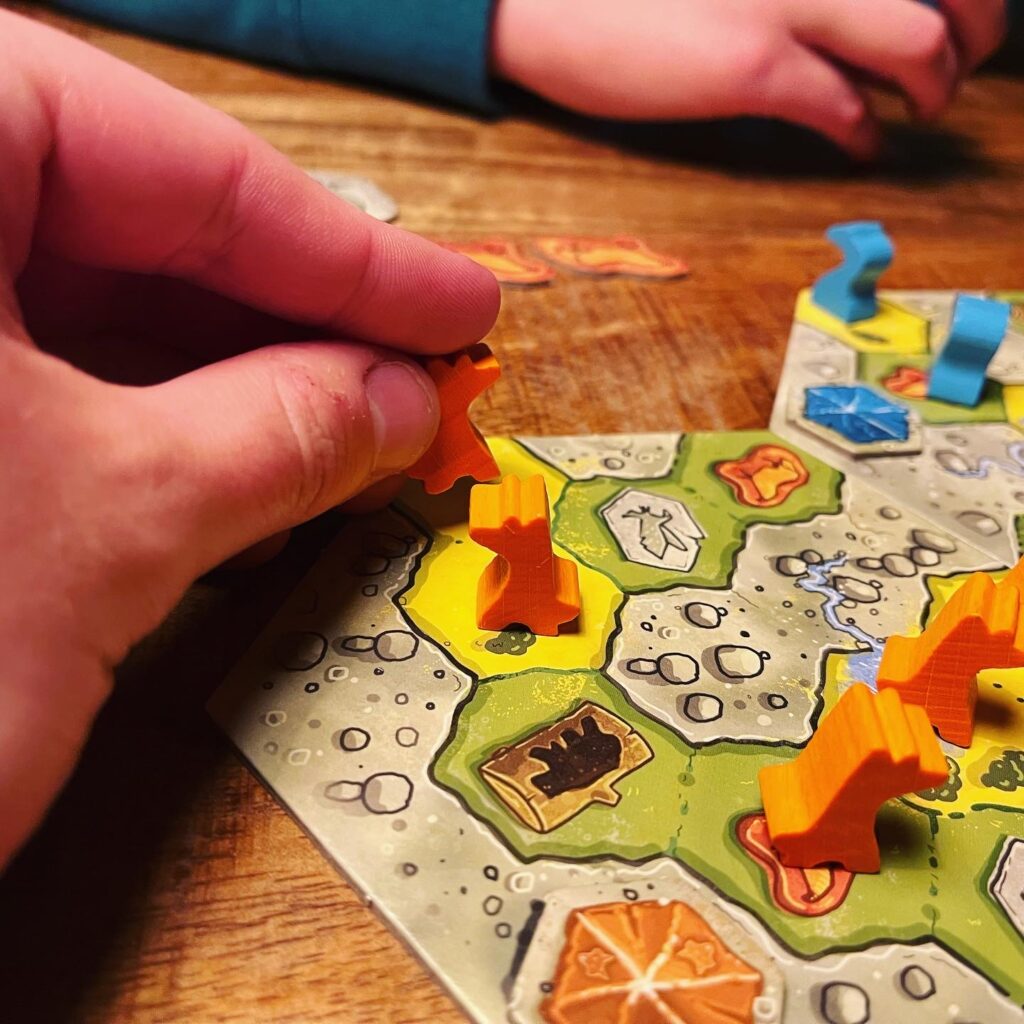 Op het gasland treffen spelers paarden, adelaars en beren aan. Deze grote beesten zijn neutraal in de strijd tussen de kleine beesten, maar verlenen graag een helpende hand in de strijd. Als een speler een van deze dieren bezoekt op het speelbord krijgt de speler een bijbehorend fiche (als deze nog beschikbaar zijn). Door een fiche in te zetten, kunnen spelers gebruik maken van een speciale eigenschap van deze dieren. Met een paard kunnen ze verder van een bestaande pion plaatsen, met de adelaar over de bergen vliegen en met de beer kunnen zij stampionnen van de andere speler verdrijven.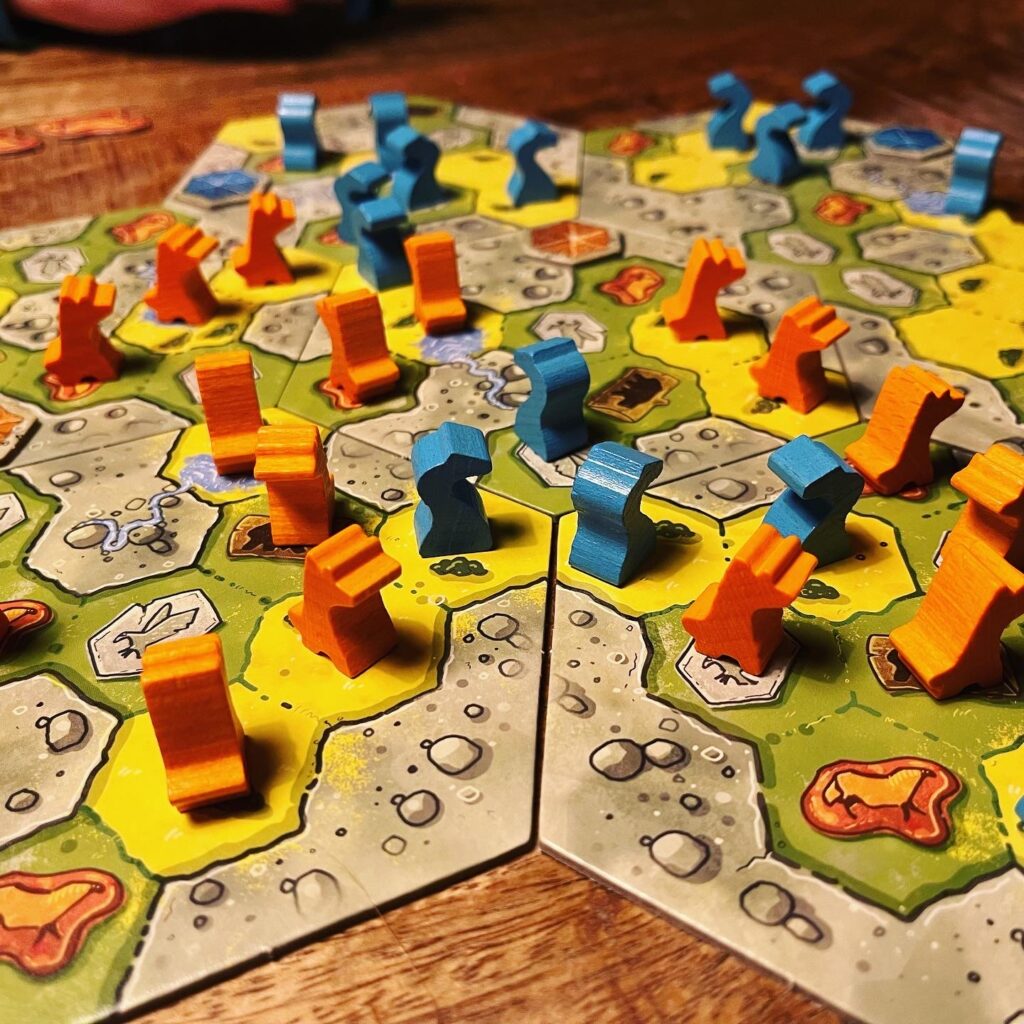 Great Plains is een ontzettend simpel spelconcept (slechts 4 kleine pagina's aan spelregels vol voorbeelden en illustraties), waardoor het me des te meer verbaasde hoe uniek en verfrissend het spel aanvoelt. Het spel is in minder dan een minuut op te zetten, binnen drie minuten uit te leggen en in minder dan 20 minuten te spelen. Elke beurt heb je eigenlijk maar een enkele actie: het plaatsen van een pion, maar er zijn meer dan genoeg keuzes te maken. Bij elke zet moet je namelijk een tactische beslissing maken. Ga je dierenfiches sparen voor de speciale acties of probeer je de steppe te veroveren voor punten? Ga je zoveel mogelijk pionnen verspreiden om meerdere steppes te veroveren of concentreer je jouw pionnen in bepaalde gebieden? Great Plains is eigenlijk een abstract strategiespel met een mooi thema. Hierdoor is het spel elegant en heeft het eigenlijk veel weg van spellen zoals schaak. Door de korte speelduur en het tactische en strategische karakter speel je het liefste meerdere potjes achter elkaar. Ik had graag gezien dat het spel in een kleiner doosje had gezeten, want het is bijna het ideale reisspel. Een aanrader voor twee tactische stammenoudsten! 
Steun Dice Daniel en bestel Great Plains bij Spellenwinkel.nl