Gashapon (of Gachapon) zijn bijzondere verkoopautomaten uit Japan. Stop wat muntjes in de automaat en er rolt een plastic bal (een capsule) uit met een verrassing. Capsule-automaten komen niet enkel voor in Japans en zijn daar ook niet uitgevonden, maar deze automaten zijn daar wel ontzettend populair op het eiland en hierdoor een eigen leven gaan leiden. De capsules worden vaak gevuld met speelgoed, sleutelhangers of snoep, maar door de populariteit van deze automaten zijn ze ook vaak gevuld met verzamelobjecten en verzamelfiguren gebaseerd op populaire anime, manga, films of zelfs alledaagse dingen, dieren en kunstobjecten. Je weet wat je mogelijk in deze capsules kan vinden (dat staat namelijk op de automaat aangegeven), maar welk speeltje je daadwerkelijk ontvangt, is een verrassing. Ook in het spel Gasha van Gam'inBIZ is het altijd een verrassing welke kaart je precies trekt. Weet jij de beste verzameling bij elkaar te graaien?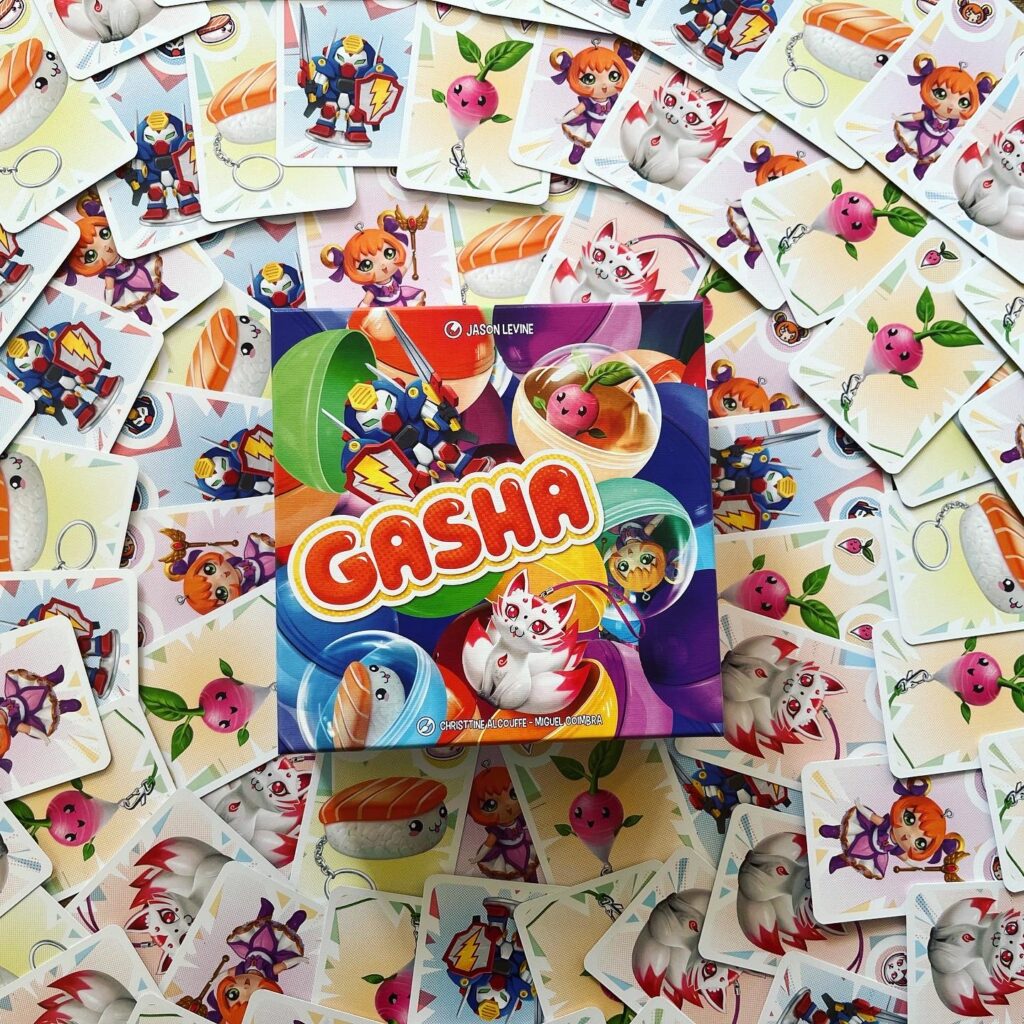 De Japanse naam Gashapon is, net als veel andere namen in de Japanse taal, een onomatopee of klanknabootsing. Dat is een woord of naam waarmee fonetisch het geluid van het desbetreffende object wordt beschreven. "Gasha" is het geluid dat je maakt als je aan de machine draait nadat je muntjes hebt ingeworpen. "Pon" is het geluid dat de capsule maakt als het uit de automaat valt. De spanning is om te snijden als je draait aan de knop en wacht op jouw capsule. Oooh, welk speeltje ontvang je nu!? Ah, balen… Dat speeltje had je helaas al. Dezelfde spanning is voelbaar in het spel Gasha. Het thema is namelijk intuïtief verwerkt in het spelmechanisme. Hoe dan?
In Gasha voeren spelers om de beurt telkens één van twee mogelijke hoofdacties uit. Je kan twee Gashakaarten trekken of een beloning claimen. Op tafel liggen vier gesloten stapels met Gashakaarten die elk 1 speeltje bevatten. Het bijzondere aan deze kaarten is dat de achterkant van de kaart weergeeft welk speeltje mogelijk op de voorkant van de kaart afgebeeld staat. Aangezien je specifieke kaarten trekt, moet je dus een gokje wagen en hopen de juiste speeltjes te pakken net als bij de echte Gashapon machines. Hierdoor is het thema zeer simpel doch indrukwekkend verwerkt.
Met verworven speeltjes kunnen spelers een beloning claimen. Naast de Gashakaarten liggen namelijk ook een aantal beloningskaarten open op tafel. Elk van deze beloningskaarten geeft weer welke en hoeveel speeltjes een speler moet afleggen om de kaart te claimen. Op sommige kaarten staat ook de helft van een bonnetje afgebeeld. Weet je twee helften samen te voegen tot een heel bonnetje, dan mag je een bonusfiche pakken.
Gasha is een uitermate simpel en familievriendelijk spel. Het thema is zoals al beschreven op intuïtieve wijze verwerkt. De kleurrijke vormgeving zal fans van Anime en Japanse cultuur zeker aanspreken. Het spel is in luttele minuten uitgelegd en een potje speelt erg vlot. Gasha is daarom ook een aanrader voor liefhebbers van snelle en simpele kaartspellen.