In FORK willen spelers/dieren een vorkje prikken, maar het is onduidelijk in welk landschap zij zich begeven en welke andere beesten daar schuil gaan. Sta jij bovenaan de voedselketen? Het is is een fox eat fox kinda world.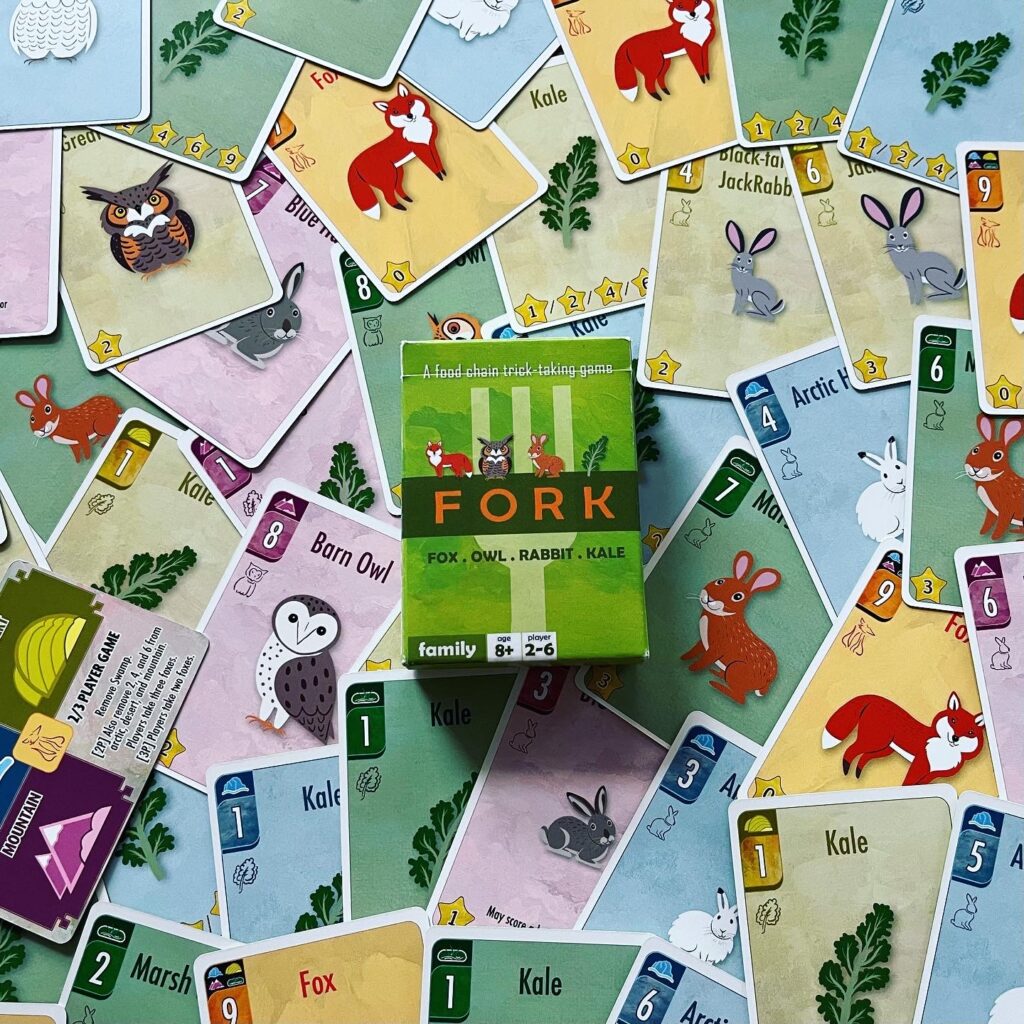 Doel
FORK staat voor Fox Owl Rabbit Kale. Dat geeft aan welke kaarten dit spel bevat (waar spelers punten mee kunnen scoren), maar deze titel is ook een handig geheugensteuntje voor de volgorde in de voedselketen van dit spel. De vos is de overduidelijke overlord in deze voedselketen en boerenkool (kale) is gewoon… boerenkool. Wel voedzaam, dus mogelijk wel een hoop punten waard!
Spelverloop
FORK is in beginsel een slagenspel. Iedere slag/ronde geeft de leider van de slag aan welk terrein (kleur) kaarten moeten worden gespeeld. De andere spelers moeten 'volgen' en kaarten spelen in gekozen kleur, tenzij spelers niet kunnen volgen, want dan mogen zij wel een andere kleur spelen. Vossen gelden trouwens als elke kleur.
Spelers spelen vervolgens allemaal een kaart (of twee kaarten in de variant voor twee spelers). Alle kaarten, op boerenkool na, worden gesloten gespeeld. Nadat alle spelers een kaart hebben gespeeld, wordt er gekeken naar de uitkomst van de slag en daar komt het geheugensteuntje goed van pas. Spelers kijken namelijk naar de voedselketen.
Zijn er meerdere vossen gespeeld? Dan heffen deze kaarten elkaar op en anders mag de vos een uil of konijn in de gekozen terreinkleur oppeuzelen. Is er nog een uil in de gekozen kleur, dan mag deze uil een konijn in de gekozen kleur eten. Overgebleven konijnen eten, in aflopende volgorde, boerenkool en konijnen met een waarde van 2 of 3 mogen zelfs kool in andere kleur eten.
Kaarten die zijn opgegeten gaan naar de persoonlijke scorestapel van de vreetzak. Alle koolkaarten die niet zijn gegeten gaan naar de scorestapel van de speler die de koolkaart speelde. Alle andere kaarten worden afgelegd en spelers gaan door naar de volgende slag. Dit gaat net zo lang door tot de kaarten op zijn of een speler voldoende kaarten in zijn of haar puntenstapel heeft.
Conclusie
Er zijn veel slagenspellen, maar FORK heeft een duidelijke en erg leuke twist. De meeste kaarten worden gesloten gespeeld, dus er zit een duidelijk bluf element in. Verbluffend verfrissend! De manier van scoren voelt ook erg uniek aan, waardoor dit kleine en korte spelletje zeker de moeite waard is. FORK verschijnt binnenkort op Kickstarter.