"De geur van de zee, zout en rottend zeewier. Ze dragen het altijd bij zich, als een soort waarschuwing voor hun slachtoffers. Onverwacht kunnen ze diep in het binnenland toeslaan om schatten te vinden. Sommigen noemen ze zeerovers, anderen noemen ze zeewezens en afhankelijk van wie je het vraagt een letterlijk wandelend buffet vol zeevruchten. Natuurlijk hebben ze het allemaal mis en zijn de geruchten en mythes veel groter. Voor de Karkinos is het belangrijkste dat ze kunnen stelen en slachten zonder gestraft te worden en dat ze gevaarlijker lijken dan dat ze zijn."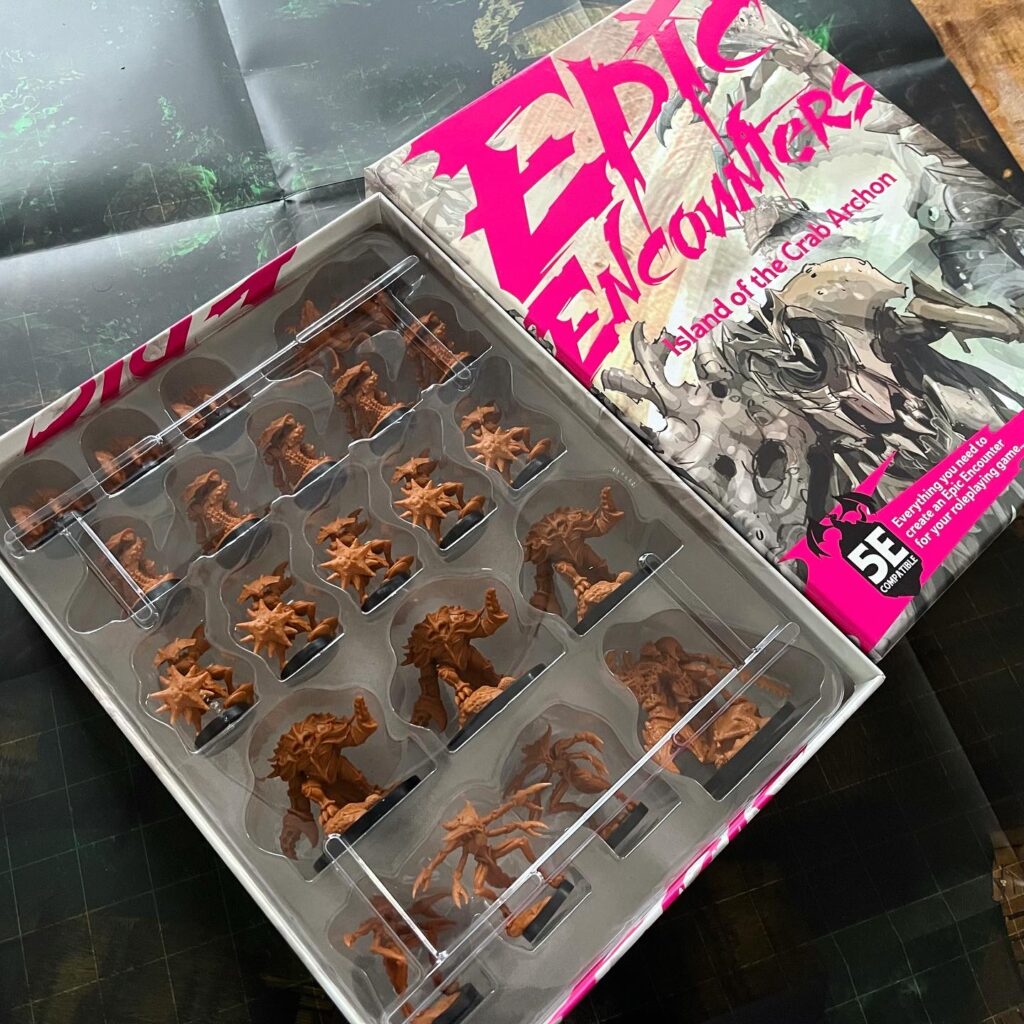 Het bovenstaande is een introducerend stukje uit de Epic Encounter box set Island of the Crab Archon. De Epic Encounter dozen zijn gemaakt als een alles-in-één doos voor 5e editie Dungeons and Dragons Dungeon Masters waarbij de Dungeon Master alles krijgt om zijn of haar spelers te vermaken. De doos bevat een avonturenboek, een dubbelzijdige spelmat en een of meerdere hoge kwaliteit miniaturen. Maar wat is er allemaal in dit boekje te vinden om de Encounter zo compleet te maken?
In het boekje zijn niet alleen maar de statistieken van alle monsters in de doos te vinden (die overigens nieuw zijn en niet rechtstreeks uit de Dungeons and Dragons Monster Manual komen), maar nog veel meer zaken. Zo begint het boekje met een duidelijk overzicht om de Encounter op- of af te schalen afhankelijk van het level van de groep avonturiers waarmee je het wil spelen. Daarnaast worden er plot hooks en geruchten in het boekje gegeven om ervoor te zorgen dat je de Encounter kan implementeren in je verhaal. Hierdoor is de doos geschikt om te gebruiken gedurende je gehele campagne. Vervolgens volgen er meerdere pagina's die overzichtelijk en puntsgewijs weergeven wat voor Encounter je zou kunnen doen als Dungeon Master. Hierbij wordt ook de dubbelzijdige spelmat gebruikt. Doordat het zo puntsgewijs is opgeschreven is het makkelijk terug te vinden als spelers bepaalde dingen vragen of bepaalde dingen willen ontdekken. Wat uniek is aan de beschrijvingen in het boekje is dat ze iedere Encounter spannend houden door elementen in de Encounter toe te voegen die niet alleen verbonden zijn aan de monsters, maar ook aan het terrein waarin de spelers zich bevinden. Het enige nadeel wat ik zag is dat de speelmat relatief donker is afgedrukt en het daarom soms lastig te zien is wat erop staat.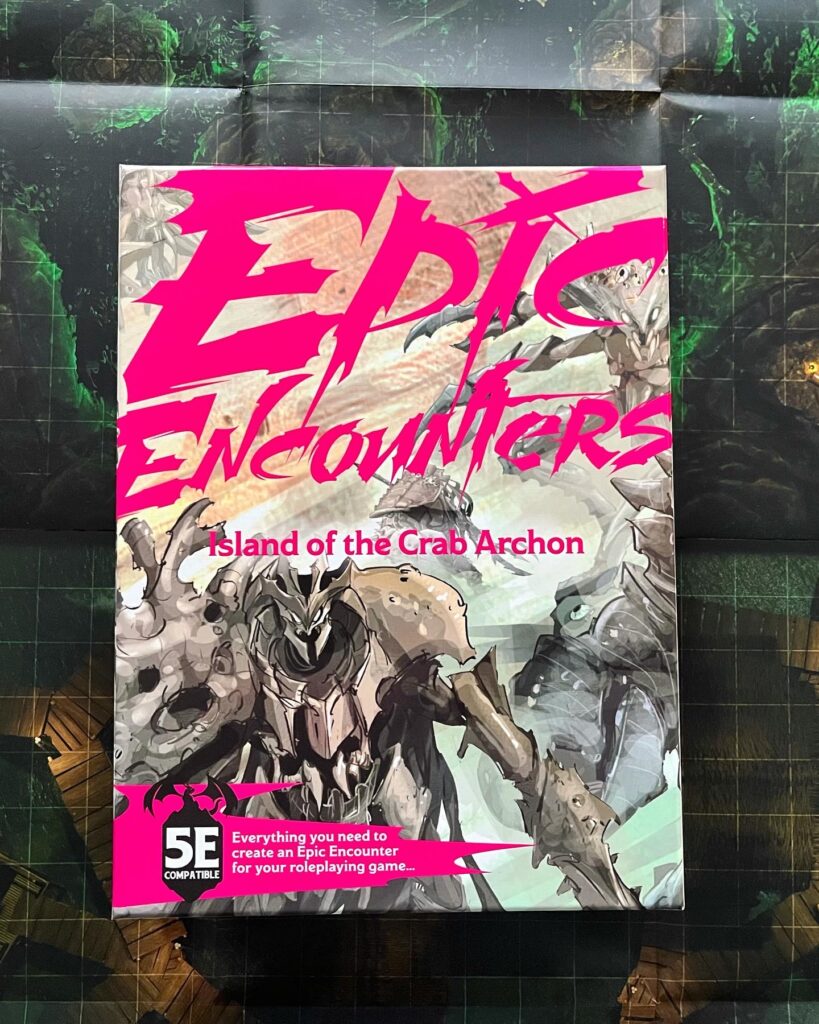 Al met al is dit een geweldig product die vooral beginnende Dungeon Masters kan helpen om uitdagende en spannende Encounters toe te voegen aan je Dungeons and Dragons sessies. Doordat er inmiddels een grote variatie is in de soorten Epic Encounters is er voor ieder wat te vinden en is iedere Dungeons and Dragons sessie weer uitdagend en vernieuwend.