Easy Come, Easy Go bouwt voort op het spelconcept waar elke speler die Yahtzee of andere dobbelspellen heeft gespeeld, wel bekend mee is. Sterker nog, de Reiner Knizia fans zijn wellicht ook al bekend met Regenwormen of Age of War/Risk Express. Dit zijn allemaal dobbelspelen waarbij spelers proberen om verschillende combinaties van dobbelstenen te werpen in een beperkt aantal beurten om zo te 'scoren'. Denk bij combinaties aan klassieke poker- en of dobbelcombinaties zoals 'four of a kind', 'two pairs', 'straights' en exacte nummers of bepaalde waardes. In zowel Easy Come, Easy Go, Regenwormen en Age of War dobbelen spelers combinaties om kaarten of tegels voor zich te winnen of te stelen van andere spelers. Een korte vergelijking tussen deze spellen volgt later in de recensie. Allereest: Easy Come, Easy Go.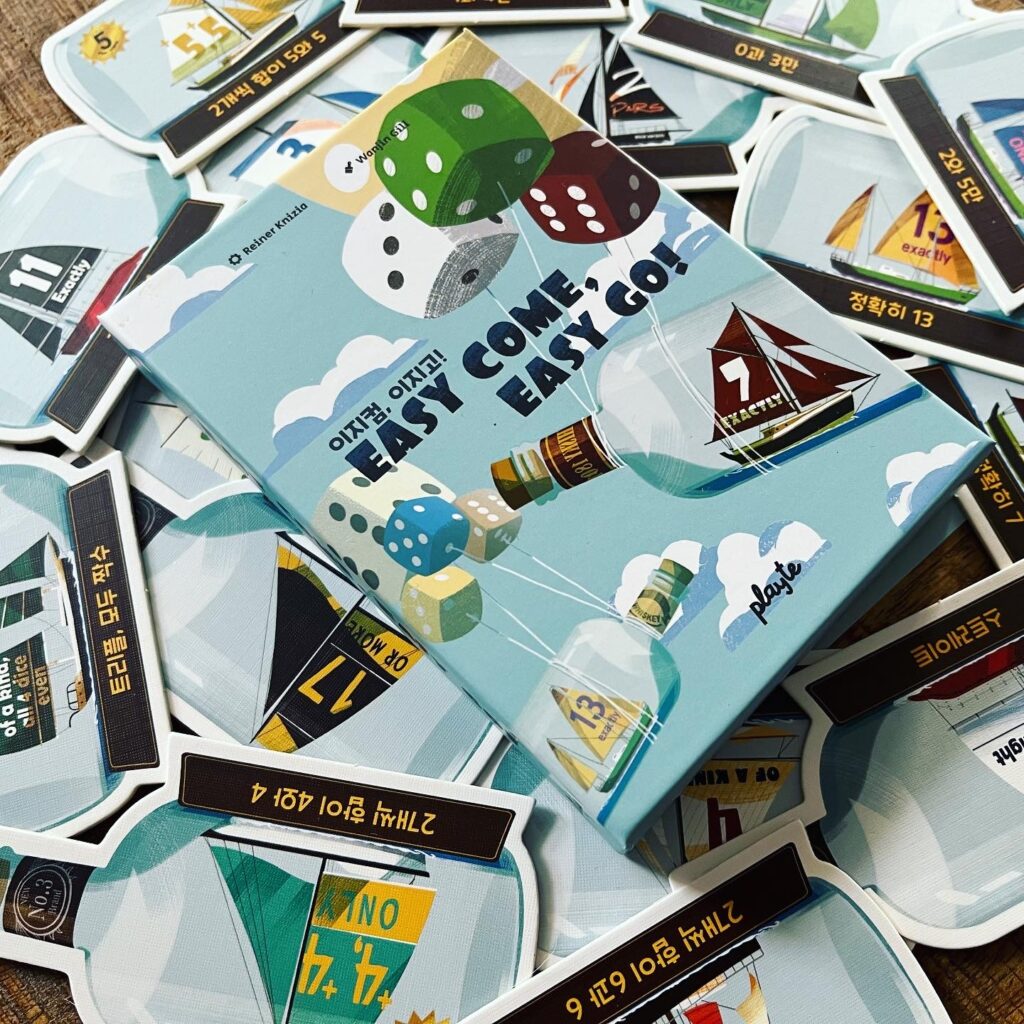 Midden op tafel worden 9 prachtig vormgegeven tegels geplaatst. Elke tegel stelt een schip in een fles voor en op iedere mast staat duidelijk aangegeven welke combinatie een speler moet werpen om de tegel te winnen of te stelen van een andere speler. Iedere beurt rolt de actieve speler alle vier de dobbelstenen om combinaties te maken. De vier dobbelstenen tonen de nummers 0-5. Iedere keer als de actieve speler heeft geworpen mag hij een schip claimen als de speler de matchende combinatie heeft geworpen of deze speler werpt opnieuw.
Elke keer als een speler opnieuw werpt, moet deze speler eerst minstens één dobbelsteen bewaren en apart leggen. Bewaarde dobbelstenen worden niet opnieuw geworpen. Een speler heeft dus maximaal vier kansen om een combinatie te werpen. Spelers mogen schepen in het midden van de tafel voor zich winnen, maar ook schepen die andere spelers hebben gewonnen, stelen. Sommige combinaties zijn lastiger te werpen, dus het loont zich om risico te nemen in de hoop een moeilijk schip te bemachtigen, zodat de kans op piraterij lastiger is.
Als een speler een derde schip heeft gewonnen, hebben de andere spelers of de andere spelers nog twee beurten een kans om een schip te stelen en anders wint de speler die twee beurten heeft overleefd met ten minste drie schepen!
Easy Come, Easy Go is een eenvoudig dobbelspel dat zoals eerder al beschreven iets wegheeft van Regenwormen en Age of War, aangezien het alledrie spellen van Reiner Knizia betreffen waarbij spelers met dobbelstenen combinaties werpen om tegels of kaarten te winnen. Elk spel bevat een andere samenstelling aan dobbelstenen en alledrie de spellen kennen iets andere regels met betrekking tot het werpen van dobbelstenen en het bewaren van dobbelstenen, maar de basisprincipes zijn hetzelfde. In Regenwormen zijn de te werpen combinaties in beginsel altijd een optelsom, hierdoor is dit spel het eenvoudigste van aard en kent dit spel een eenvoudige puntentelling. Age of War is overduidelijk het complexste spel van de drie. Spelers moeten tijdens een eerste worp hun dobbelstenen al trekken en vastzetten op een bepaalde kaart. In Age of War moeten spelers het meeste inplannen en de juiste keuzes maken om hun geluk te mitigeren.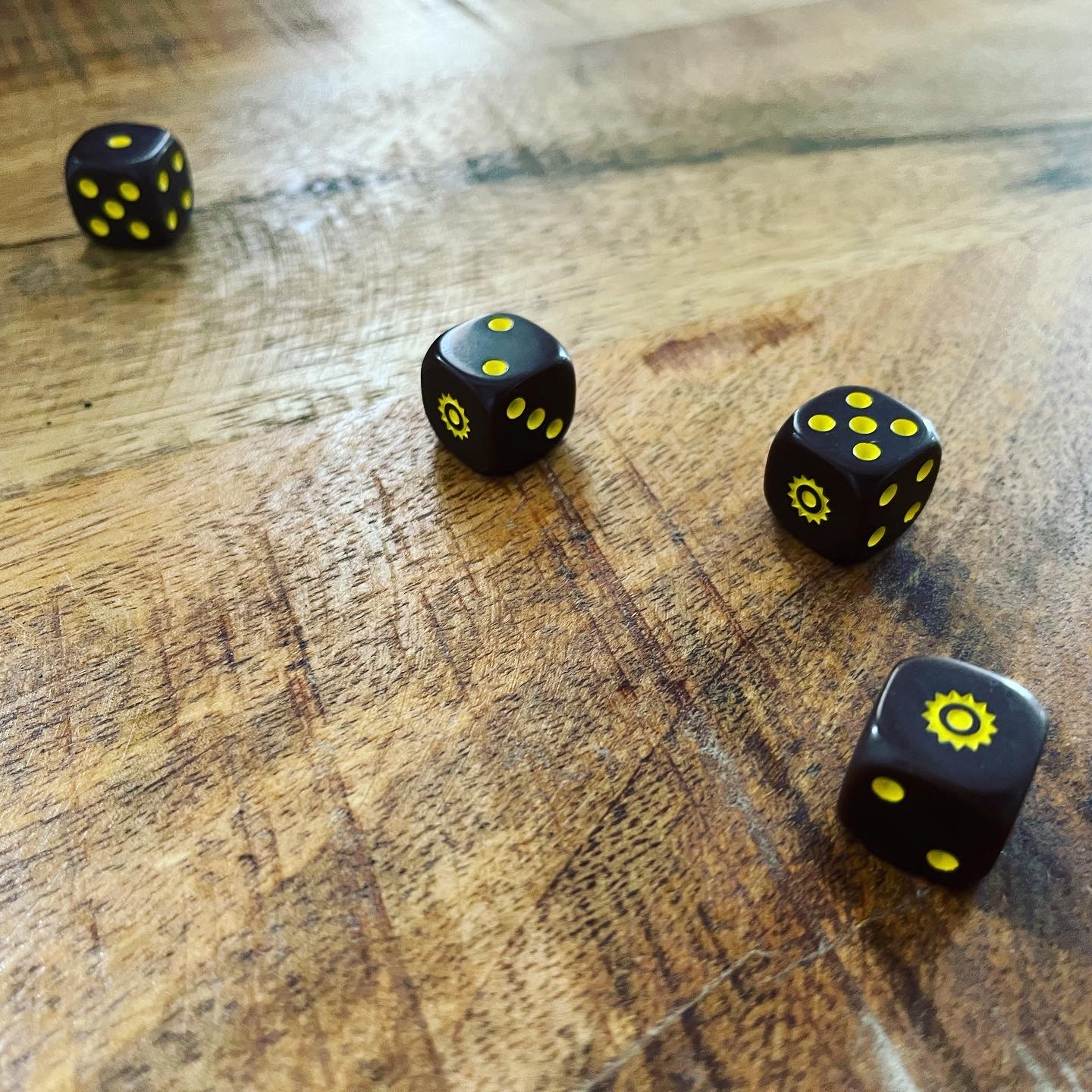 Easy Come, Easy Go zit qua complexiteit tussen de eerder genoemde spellen in. De combinaties die spelers werpen zijn gevarieerder dan de combinaties in Regenwormen en hierdoor komen spelers voor leuke keuzes te staan, maar geluk speelt een grotere rol dan bij Age of War. Easy Come, Easy Go is hierdoor een grappig en kort dobbelspelletje dat gemakkelijk binnen een kwartiertje kan worden gespeeld. De vormgeving van deze editie is prachtig en een leuke uitdaging voor beginnende spelers!