Willen alle gekke gekko's, chaotische kameleons, haastige hagedissen en slipperige salamanders zich verzamelen voor een potje Dizzy Lizzy?
Dizzy Lizzy is een nieuwe en vlot kaartspel van Nederlandse bodem, waarbij spelers als snelste hun kaarten proberen weg te spelen door gezamenlijk aan een Dizzy Lizzy te werken (een kleurrijke hagedis die bestaat uit drie onderdelen).
Spelers mogen kaarten aanleggen als Dizzy Lizzy hierna nog voldoet aan een van de mogelijke voorwaarden. Deze voorwaarden zijn vergelijkbaar met het spelletjes zoals Set. Wanneer mogen spelers aan Dizzy Lizzy (DL) aanleggen? DL bestaat uit drie verschillende of dezelfde kleuren, of DL bestaat uit drie verschillende of dezelfde patronen.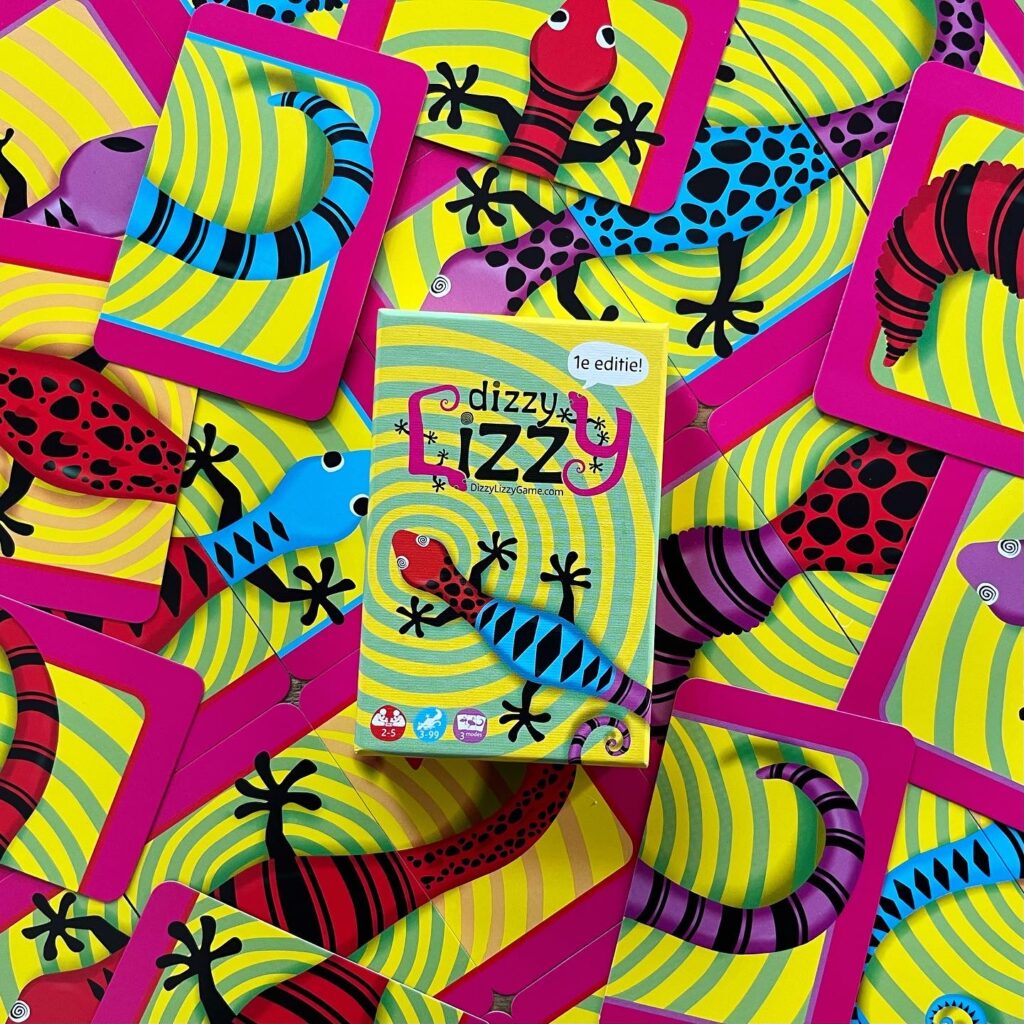 De speler die als eerste al diens kaarten wegspeelt, heeft gewonnen en als spelers niet kunnen aanleggen, wordt er en willekeurige kaart van de algemene trekstapel op DL geplaatst. Dat is echter niet alles. Dizzy Lizzy biedt spelers wat meer dan een enkele spelvariant… Cliffhanger…
De reguliere spelvarianten van Dizzy Lizzy zijn ieder een simpel te leren spelletje dat geschikt is voor alle leeftijden. Spelers kunnen om de beurt spelen of allemaal tegelijkertijd stukjes Lizzy af te leggen. Dizzy Lizzy bevat hiermee een bekend mechanisme dat op een leuke manier is uitgewerkt en vormgeven. Momenteel is de eerste editie van Dizzy Lizzy direct verkrijgbaar bij de uitgever, voor een prijs naar keuze zodat iedereen een kans heeft om kennis te maken met dit duizelige diertje.
Dizzy Lizzy heeft meerdere spelvarianten die het spel gevarieerd maken en verrassender. In de spelregels staan al een aantal varianten genoemd, maar er is nog meer: Dizzy Lizzy is een 'living game', waarbij ook de spelers/fans een rol kunnen spelen. De makers dagen spelers namelijk uit om eigen variaties op het spel te bedenken en te delen met andere spelers. Op de site van Dizzy Lizzy kun je al meerdere varianten terugvinden. Deze interactiviteit met spelers is natuurlijk een leuk pluspunt en zorgt voor betrokkenheid.