Business Goose is een nieuwe studio uit Vlaanderen die zich richt op de ontwikkeling van zowel videospellen en bordspellen. Samen met Bannan Games, bekend van toppertjes zoals Valda en Graaf Je Vrij, hebben ze aan een nieuw vlot familiespel gewerkt dat binnenkort op Kickstarter verschijnt. Ik heb al een prototype van dit kleurrijke en vrolijke spel mogen testen, om jullie een indruk te geven.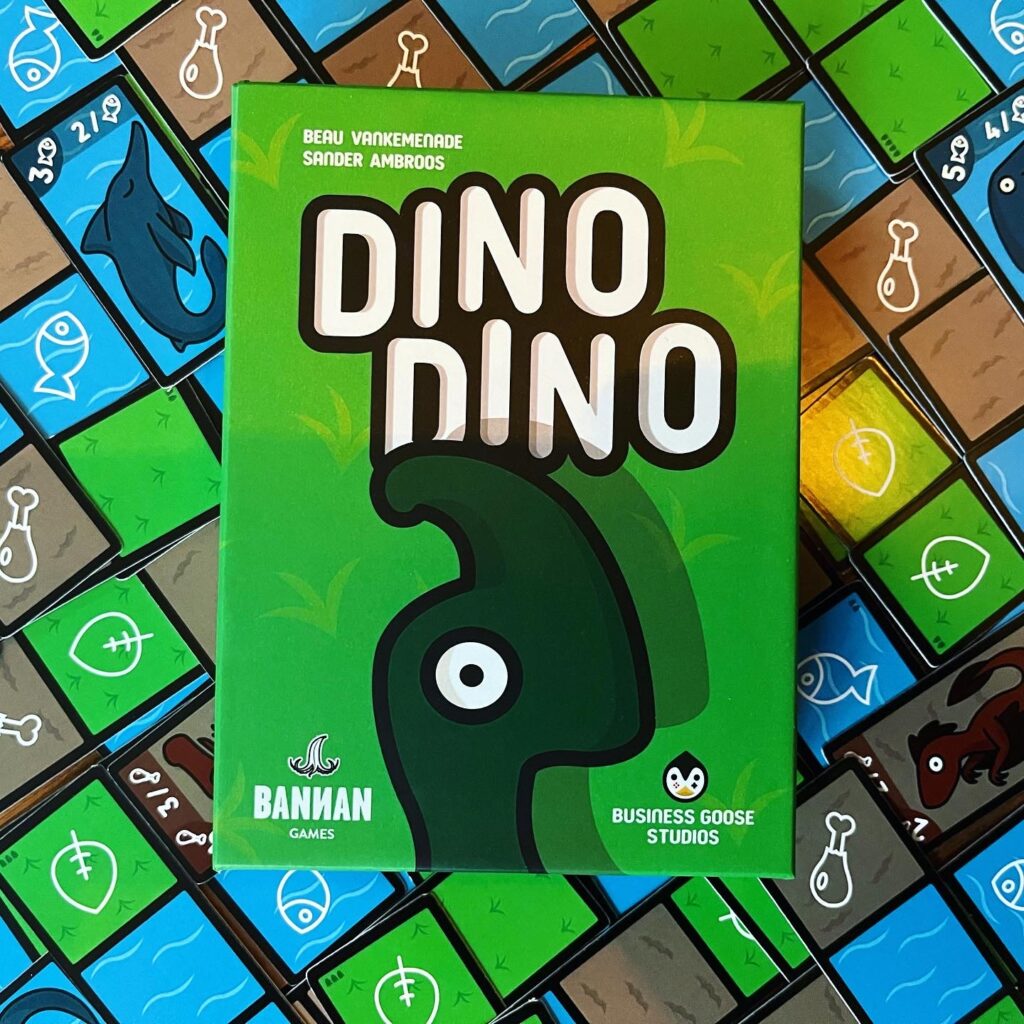 Welcome… to Dino Dino! Dino Dino is een simpel spel waarbij je een dinosauruspark bouwt door kaarten overlappend te plaatsen. Door deze kaarten zo te plaatsen, bouw je je park uit. Daarnaast verzamel je voedsel, plaats je dino's en verkrijg je je overwinningspunten! De speler met de meeste punten heeft het beste dinopark (zonder losgeslagen T-rex)!
In een beurt doe je één actie. Je kan een gesloten of een van de openliggende landschapskaarten pakken. Deze kaarten bestaan uit drie hokjes in drie mogelijke kleuren. Vervolgens plaats je deze kaart om je park uit te breiden. Minimaal een hokje moet over een hokje van een al geplaatste kaart worden gelegd, maar je mag met een nieuwe kaart niet alle hokjes overlappend plaatsen. Kleur maakt bij het plaatsen niet uit. Op sommige kaarten staat ook voedsel. Als je een kaartje plaatst met voedsel mag je een voedselfiche pakken van een van etenswaren die staat afgebeeld. Als je hokjes zo weet te plaatsen naast ander gelijk voedsel, dan ontstaat er een voedselketen en mag je meer fiches pakken. Let wel op: je mag maar een beperkt aantal fiches opsparen!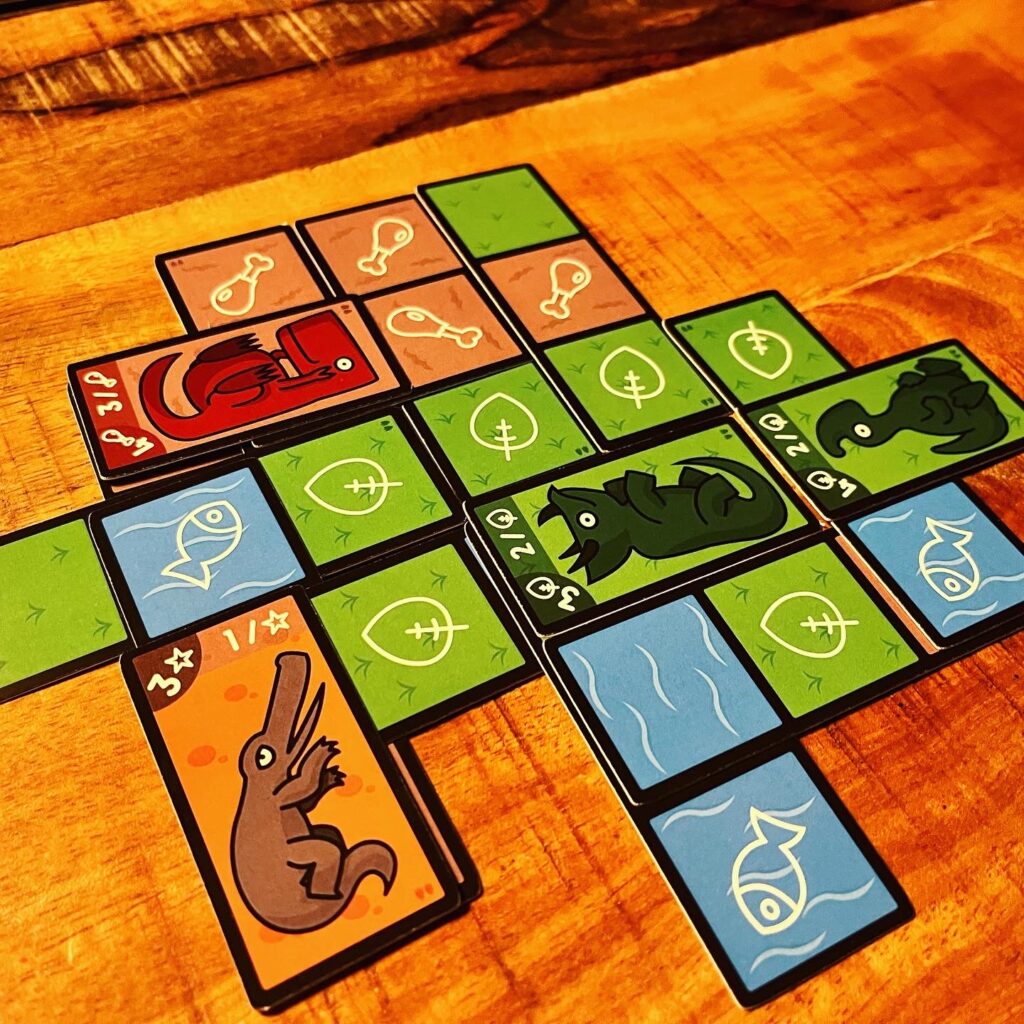 Je kan tijdens je beurt ook een dinosaurus of omnisaurus plaatsen. Je hebt verschillende soorten dino's en elke dino heeft een voorkeursgebied en een favoriete maaltijd. Je moet de afgebeelde hoeveelheid fiches afleggen en de dino moet je plaatsen op tenminste een hokje in jouw park in dezelfde kleur als de dino. Omnisaurussen eten alles en mag je overal plaatsen. Dinos en omnis scoren aan het aandeel van het spel punten afhankelijk van hun locatie in jouw park. Zij scoren namelijk punten op basis van de afgebeelde voedselicoontjes in aangrenzende hokjes.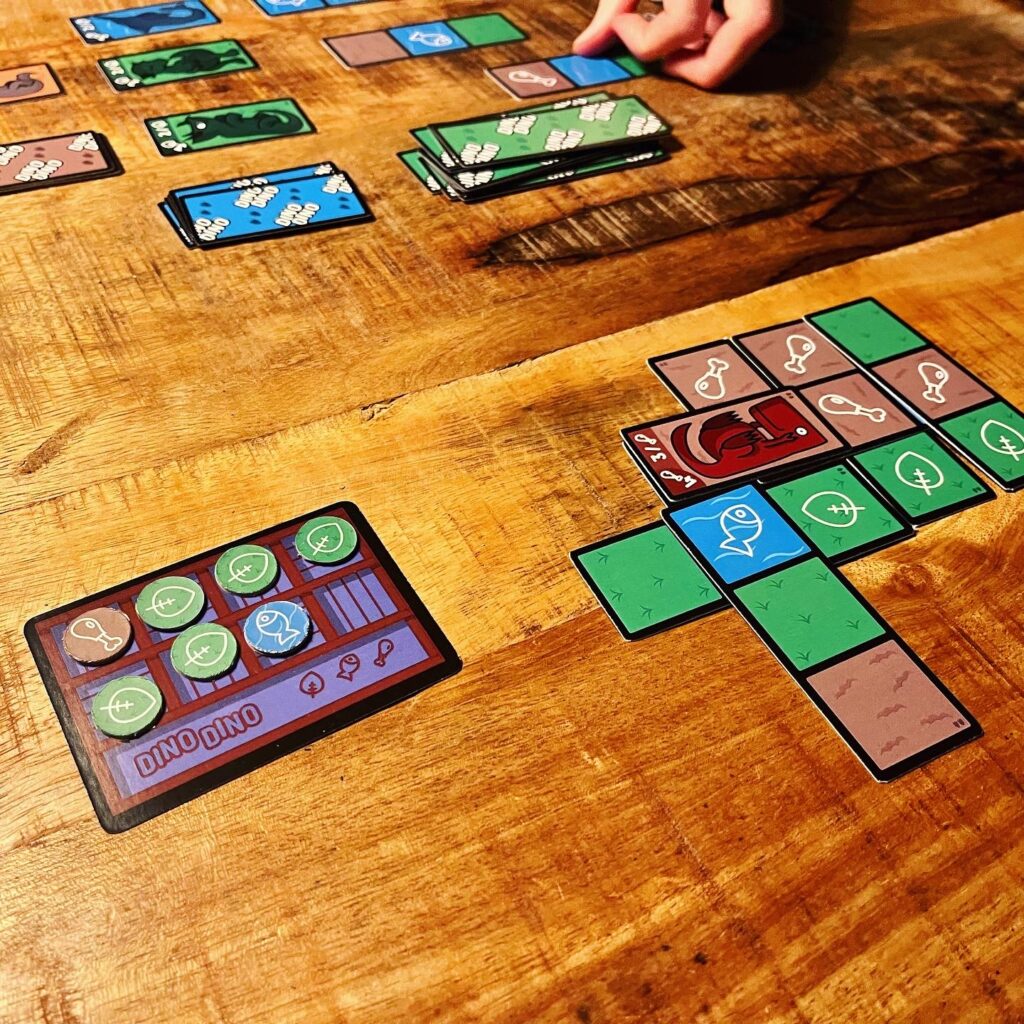 Dino Dino biedt simpel puzzelvermaak dat geschikt is voor de hele familie. De handelingen tijdens een beurt zijn eenvoudig te begrijpen en uit te leggen en ook de puntentelling is makkelijk te begrijpen voor zelfs de jongste spelers. Het grappige artwork maakt dit een zeer geschikt familiespel en John Hammond stikjaloers.