Een spel met een woordgrap in de titel valt bij mij vrijwel altijd goed in de smaak. In Dice Throne (snap je hem "Dice Thrown? eh eh eh) gaan spelers met elkaar (afzonderlijk of in teams) de strijd aan door kaarten te spelen en heel veel dobbelstenen te werpen. Is de overwinning op dobbelsteenworp afstand of is de strijd om de dobbeltroon verwerpelijk?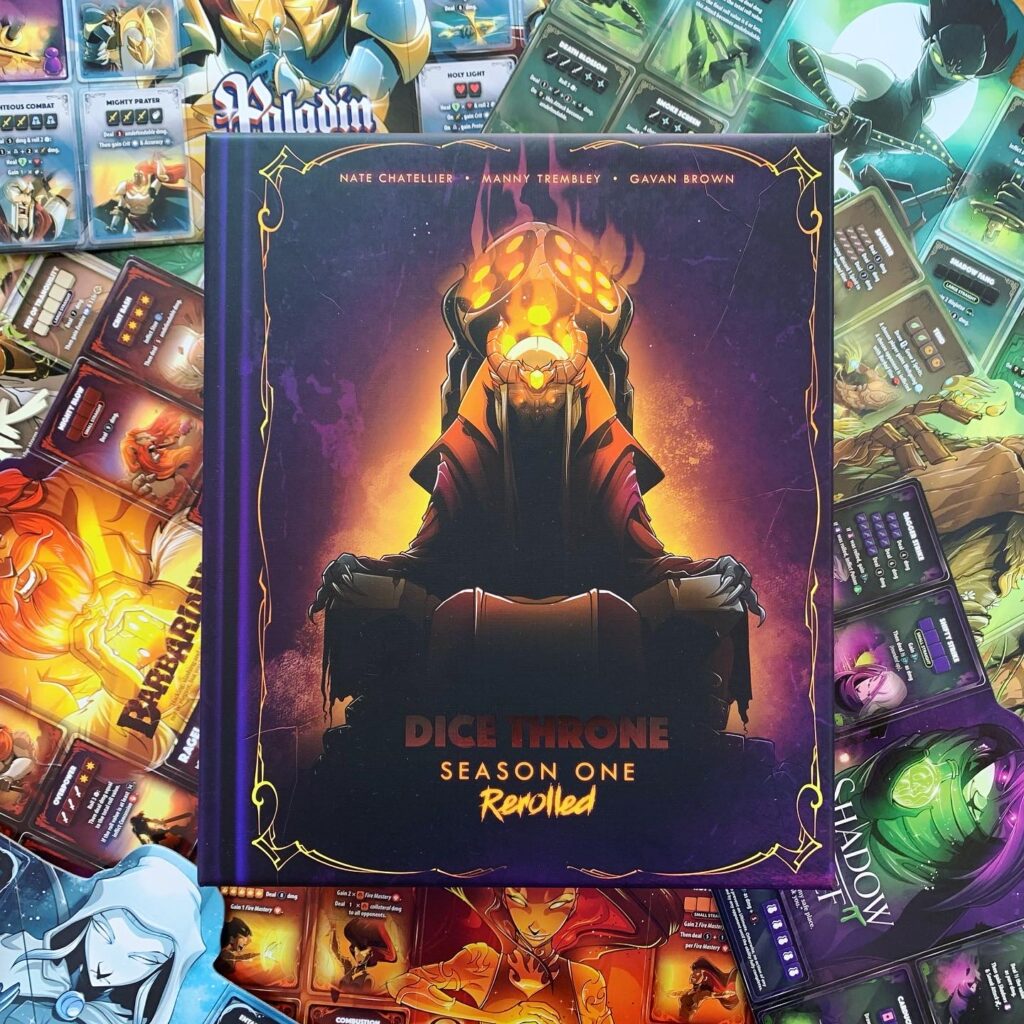 Dice Throne is een strategisch en uiterst asymmetrisch dobbel- en kaartspel dat je een een beetje kunt omschrijven als een liefdesbaby tussen kaartspellen als Magic the Gathering en Yahtzee. Elk personage heeft zijn/haar eigen speciale eigenschappen, speciale kaarten, dobbelstenen en dus ook strategieën. Tijdens een beurt kunnen spelers kaarten/eigenschappen activeren door combat points te betalen en werpen zij dobbelstenen om hun gevechtskrachten te activeren. Elk personagebordje bevat meerdere vaardigheden die spelers met hun dobbelworp kunnen activeren. Denk hierbij aan een juiste combinatie met een worp zoals bijvoorbeeld een straat. Spelers kunnen tot driemaal toe dobbelen, maar zij kunnen met kaarten of eigenschappen van hun karakter deze worp (of de worp van een andere speler) mogelijk beïnvloeden.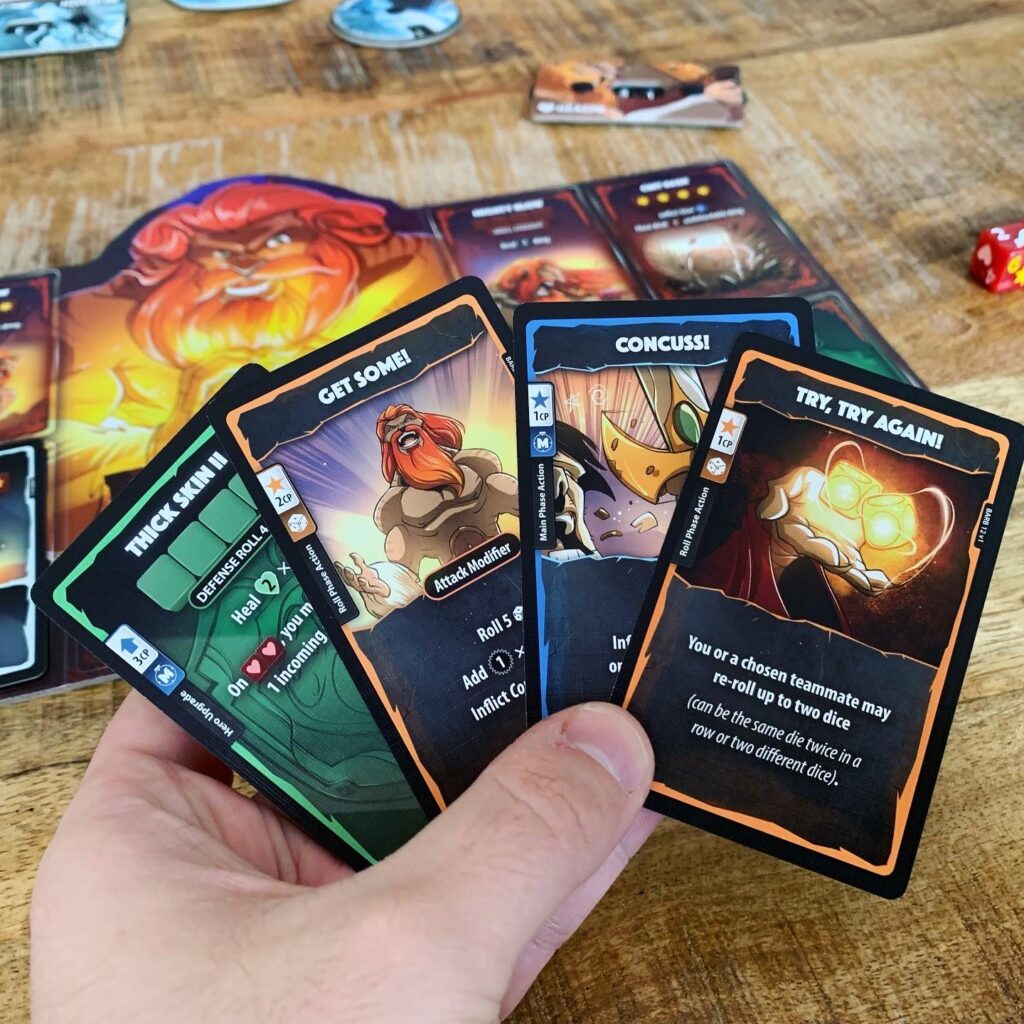 Naast de "dobbelvaardigheden" heeft elk personage ook verschillende speciale eigenschappen. Deze eigenschappen kun je vaak activeren met een gevechtsvaardigheid of door bijvoorbeeld kaarten te spelen. Door deze speciale eigenschappen te activeren mag je vaak negatieve of positieve statuseffecten plaatsen bij jezelf of andere spelers. Met deze statuseffecten kun je bijvoorbeeld invloed uitoefenen op de dobbelworpen of het gebruik van speciale eigenschappen of inzetten van kaarten.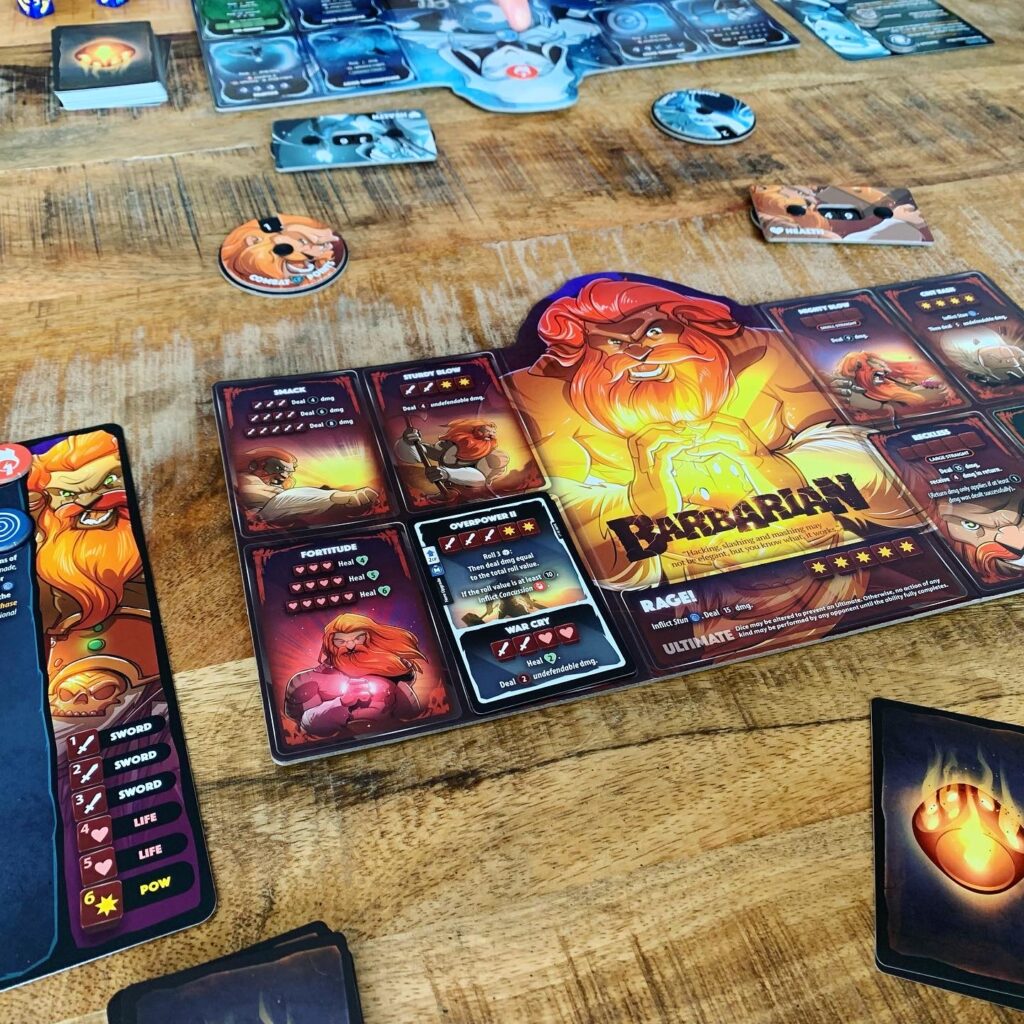 Dice Throne is een geweldig spel dat voor mij het gevoel van Magic the Gathering opwekt zonder de nare bijsmaak (namelijk de immense verzameldrang). Het is een goede mix tussen strategie, geluk en risicomanagement. Het dobbelen is altijd spannend en spelers hebben meer dan voldoende invloed op de geluksfactor. Door de verschillende personages en speelwijzen heeft het spel meer dan voldoende variatie. Een te bekronen aanrader!