In De Crew reisde ons team door de ruimte op zoek naar de negende planeet. Onderweg troffen we allerlei gevaren aan om te trotseren, zonder dat we met elkaar mochten communiceren. 'In space, no one can hear you scream.' In De Crew: Missie Diepzee, gaan we niet de donkere wereld van het heelal verder ontdekken, maar de donkere en kille wereld onder water. De zee herbergt een schat aan onontdekte geheimen. Mogelijk vinden wij tijdens onze missie zelfs tempels van oude, verloren beschavingen! Wederom kunnen wij niet communiceren, maar stille wateren hebben diepe gronden!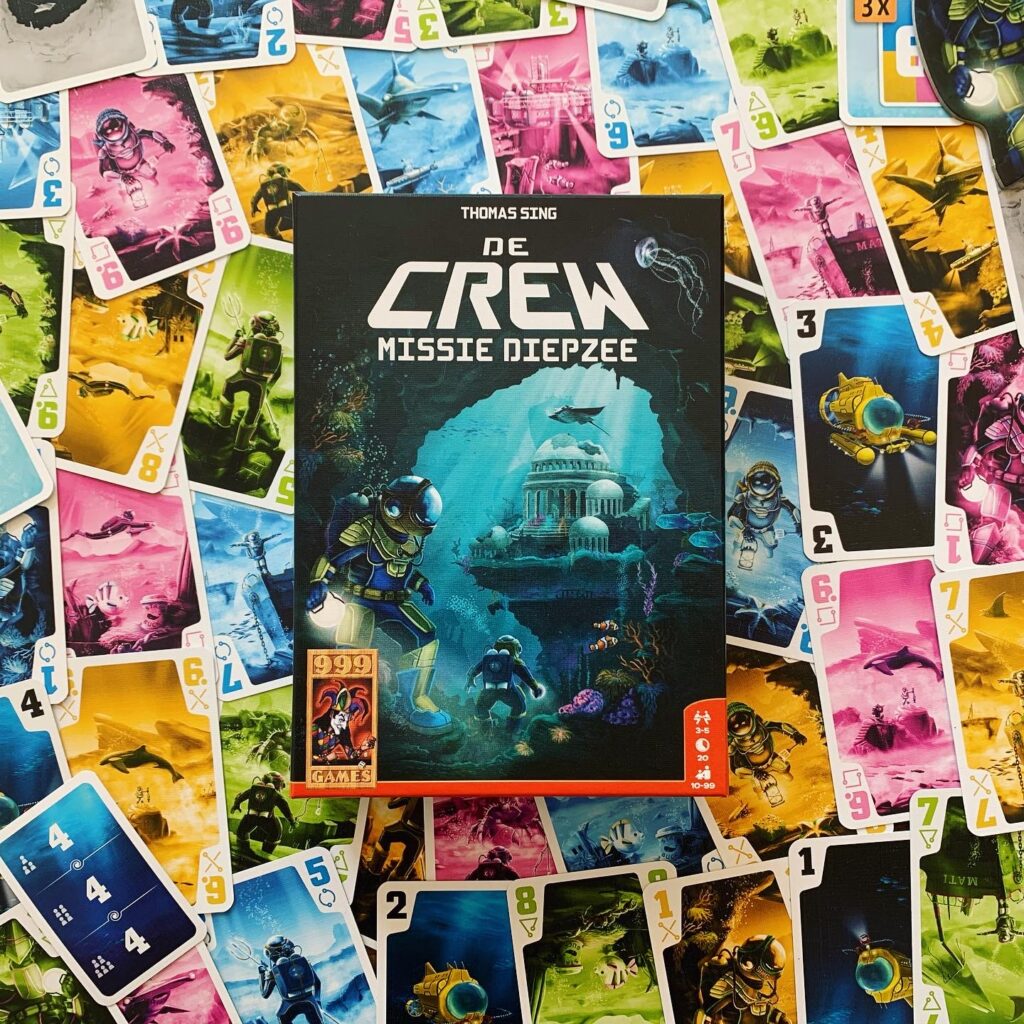 Net als de voorganger is De Crew: Missie Diepzee een coöperatief slagenspel. Spelers moeten bij slagenspellen, zoals bijvoorbeeld Wizard, namelijk 'slagen' winnen door de hoogste kaart te spelen van een bepaalde kleur. De startspeler van een slag begint door het spelen van een kaart in een bepaalde kleur. De andere spelers moeten "volgen" en "kleur bekennen". Indien de andere spelers kunnen, moeten ze een kaart in dezelfde kleur spelen als de startspeler. De speler met de hoogste kaart in de kleur van de startspeler, wint in beginsel de slag. Vaak gaat voorgaande gepaard met een bepaald blufelement, gokelement of speciale krachten voor de nodige variatie. Hoe werkt een coöperatief slagenspel? In De Crew werken spelers namelijk samen. Ze moeten er gezamenlijk voor zorgen dat de juiste speler op de juiste momenten slagen wint. Ze kunnen echter slechts beperkt met elkaar communiceren.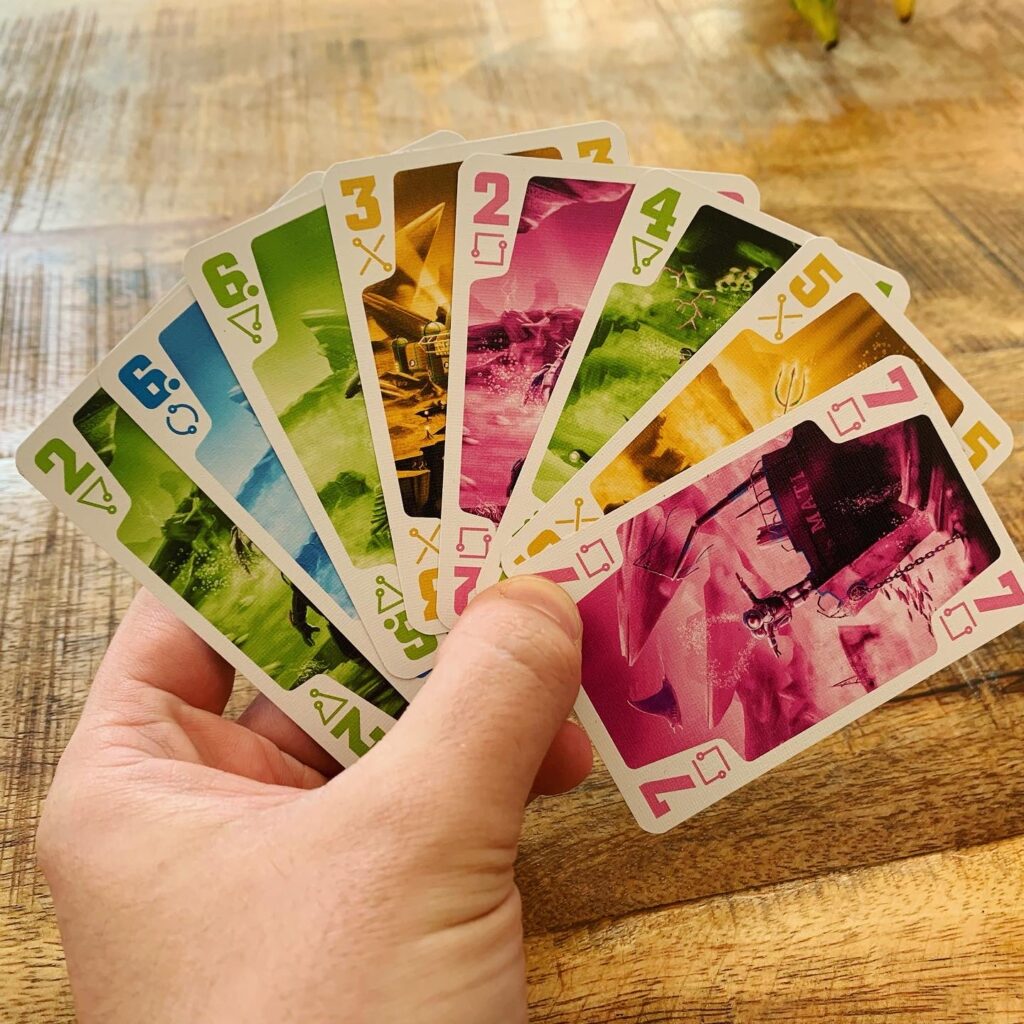 De oorspronkelijke De Crew is een erg leuke variatie op het concept van een slagenspel. De oorspronkelijke Crew bevat een campagne van 50 potjes waarbij spelers samen een spannend verhaal spelen. Elk bevat bevat een nieuw element en introduceert nieuwe regels. Dit houdt het spel verfrissend. De campagne kun je zo vaak spelen als je maar wilt en ook online zijn nieuwe campagnes (gratis) verkrijgbaar. Het kleine handzame doosje bevat hierdoor erg veel speelplezier.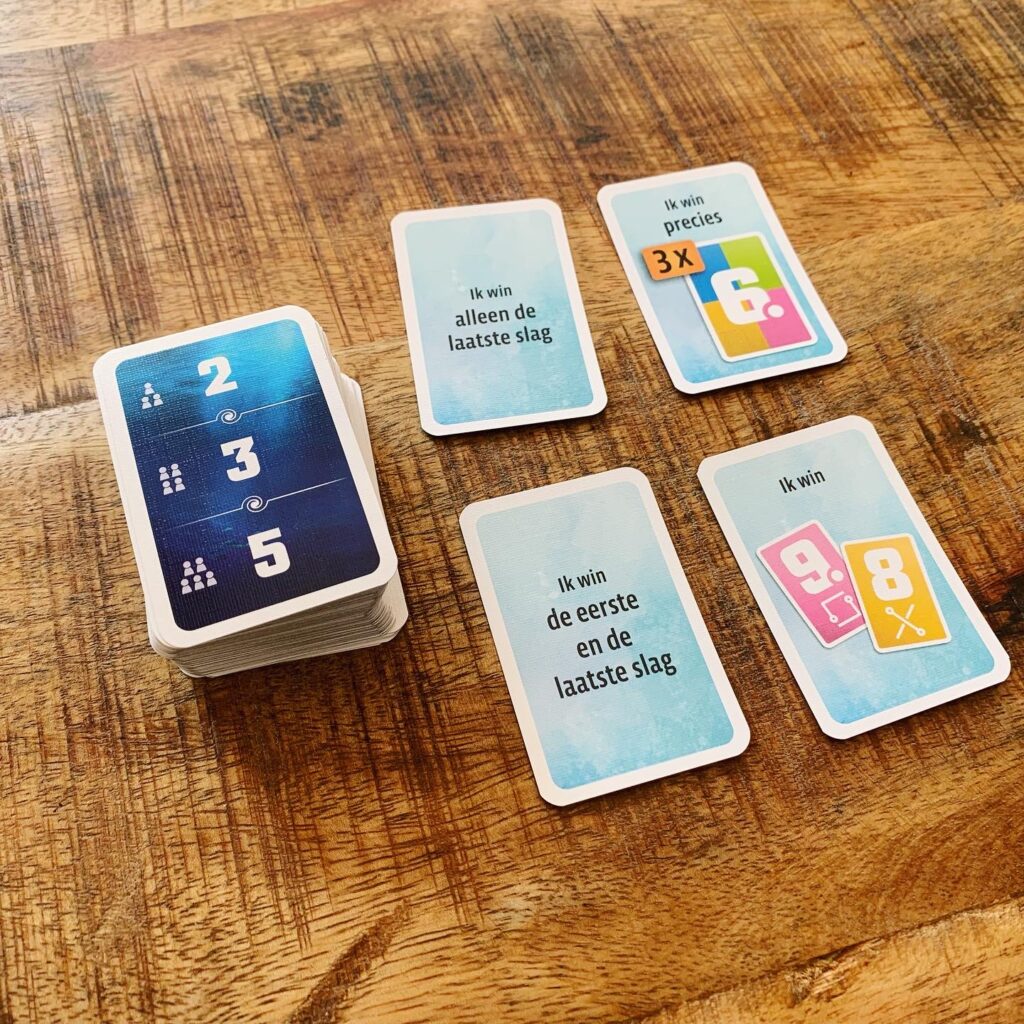 Wat voor een nieuwe dingen biedt Missie Diepzee? Wederom is er een boekje met een verhaaltje en een set missies. De missies zijn echter op de schop gegooid ten opzichte van het eerste deel, waardoor dit spelelement een stuk intuïtiever werkt dan in het eerste deel. Het spel bevat een grote stapel aan missiekaartjes met verschillende moeilijkheidsgraden. Elk missie geeft aan hoe moeilijk de missie is. Spelers pakken nu net zoveel kaartjes om exact aan deze moeilijkheidsgraad te voldoen. Dit zijn nu de missies die spelers moeten voltooien tijdens het spel.
De eerste De Crew was een regelrechte verrassing en terecht vaak verkozen tot beste spel van het jaar. Missie Diepzee is wellicht niet zo verrassend, maar wel een duidelijke verbetering ten opzichte van het eerste spel, door de nieuwe missiekaartjes. De vraag rijst of het geen uitbreiding op het basisspel had kunnen zijn. Wellicht, maar het thema van Missie Diepzee spreekt ons persoonlijk meer aan en het oog wilt ook wat. De nieuwe missies en missiekaarten maken ook Missie Diepzee een must-have.