Tijdens 's werelds grootste spellenbeurs Spiel in Essen verschijnen vaak nieuwe titels. Grootse of bijzondere titels, maar ook veel spelauteurs of uitgevers bedenken iets unieks voor Spiel of nemen in ieder geval iets unieks of zeldzaams naar de beurs mee. Spelletjes of promo's in kleine oplages zijn daarom ook felbegeerd. Spelauteur Ta-Te Wu, van Sunrise Tornado Game Studio, bekend van kleine spelletjes, had naar Spiel een kleine solo puzzel meegenomen met een oplage van ietsjes meer dan 100 exemplaren: Cat's Gambit.
De titel van het spel verwijst naar de schaakzet de Queen's Gambit (tevens een populaire Netflix-serie over schaak), maar dan met katten. Niet zomaar katten, maar katten en meerminnen!? Cat's Gambit is een puzzeltje voor één persoon, waarbij spelers kaarten gaan plaatsen vergelijkbaar met schaakstukken en proberen om niet hun Koning/Koningin te slaan.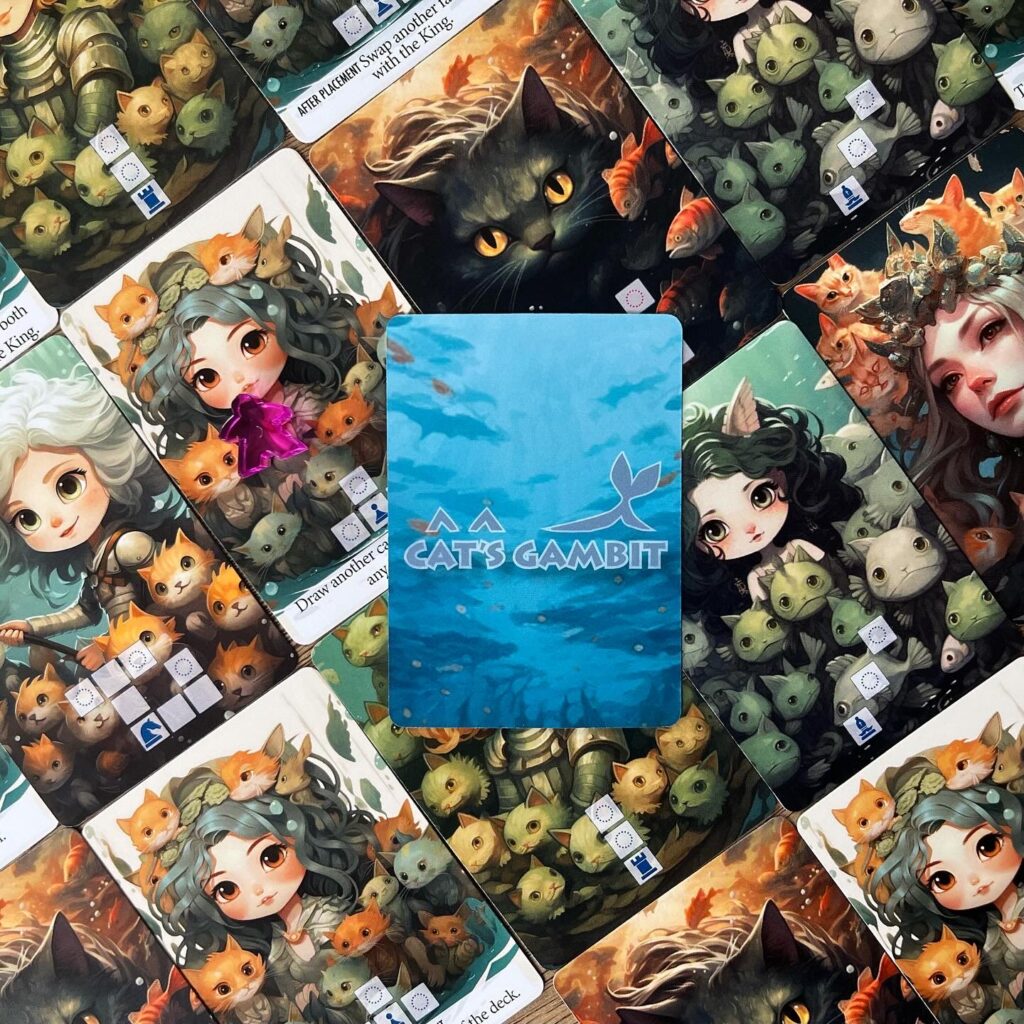 Spelers plaatsen de Koningin in het midden van de tafel en plaatsen daarnaast de trekstapel en een meeple. Spelers trekken de bovenste kaart van de stapel en dienen deze telkens zodanig te plaatsen dat het overeenkomt met de desbetreffende afgebeelde schaakzet rondom de meeple. Nadat de kaart is geplaatst, verplaatst de meeple naar deze kaart. De 'pionnen' hebben naast een zet ook ieder een unieke eigenschap waardoor je het spel kunt beïnvloeden. Kaarten moeten overigens altijd in een grid van 4 x 4 kaarten worden geplaatst.
Als er zwarte katten worden geplaatste die diagonaal of horizontaal op dezelfde lijn staan als de Koningin, is deze geslagen. Is de koningin tweemaal geslagen, dan is het spel afgelopen en heeft de speler verloren. Het spel is ook afgelopen als een speler de getrokken kaart niet kan plaatsen of als de trekstapel op 1 kaart na leeg is. Dan volgt een puntentelling.
Cat's Gambit is een grappig puzzelspel dat maar gebruik maakt van een beperkte hoeveelheid kaarten en wat zeer vlot speelt (max 15 minuten), waardoor je prima wat korte en eenzame pauzes kunt overbruggen. Het verplaatsen van kaarten vergelijkbaar aan schaakstukken is een leuke thematische puzzel twist.