Tijd om kattenkwaad uit te halen in dit kittige kaartspelletje voor kattenmensen. In Cat Lady probeer je zoveel mogelijk katten te verzamelen en te voeren (uiteraard…) om zo de meeste overwinningspunten te halen. Heb jij de meeste katten, een goed gevulde voorraadkast voor de kattenvoer connaisseur, verschillende kattenspeeltjes en voldoende kattenkruid om menig drugsbaron jaloers te maken? Dan ben jij de krachtigste kattenmens en jaag jij de andere spelers met gemak in de gordijnen!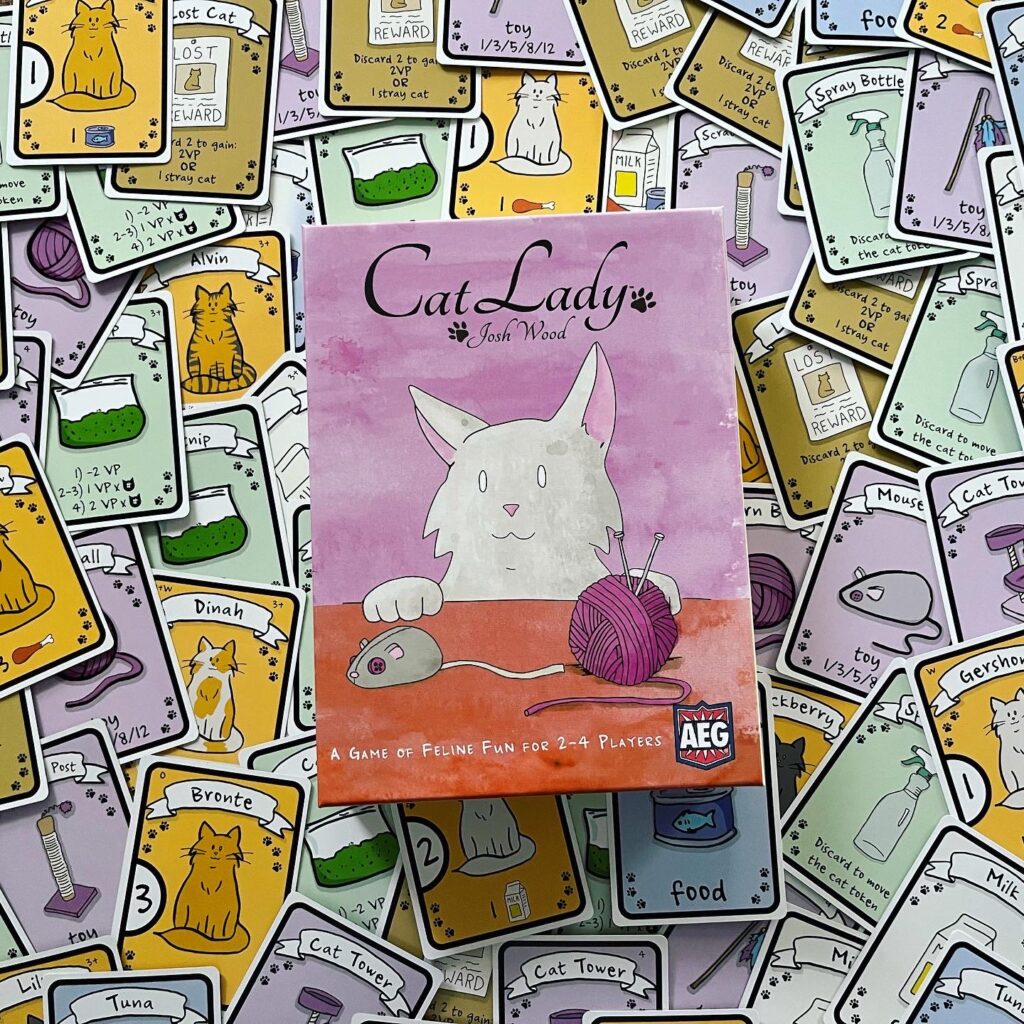 In Cat Lady verzamelen spelers om de beurt een aantal kaarten. Op tafel ligt een grid van 3 x 3 opengedraaide kaarten. Spelers kiezen een rij of kolom van het grid en pakken alle kaarten. Maar let op! Een vervelende kat houdt spelers in de gaten en als deze kat (vertegenwoordigd door een kittige meeple) voor een rij of kolom staat, mag je geen kaarten van de desbetreffende rij of kolom pakken. Nadat je kaarten hebt gepakt wordt de rij of kolom aangevuld an verplaatst de kattenmeeple naar de nieuwe rij of kolom. Als de kat van huis is…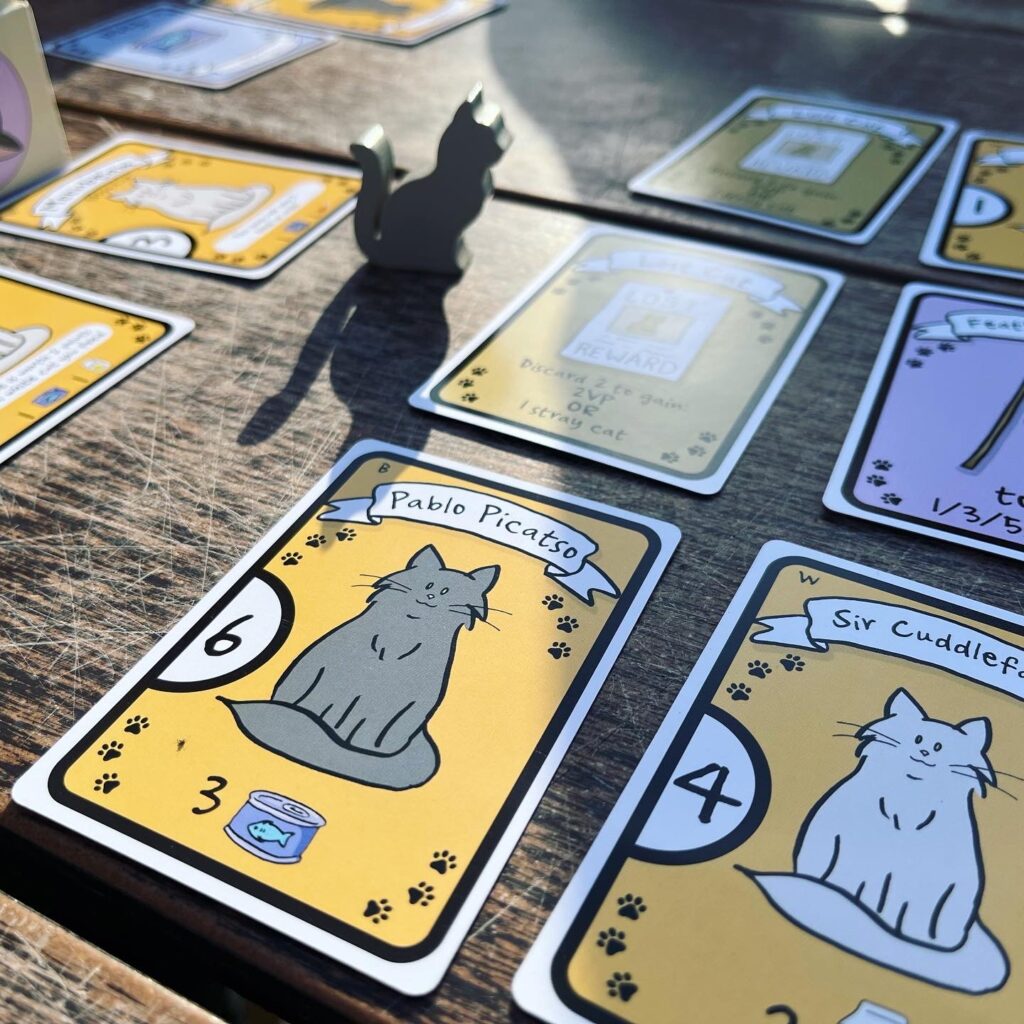 Er zijn verschillende soorten kaarten om te verzamelen. Katten leg je direct voor je neer en deze kaarten scoren aan het einde van het spel punten (indien gevoerd) of minpunten (indien hongerig). Voedselkaarten wissel je in voor blokjes (brokjes?) om aan jouw katten te voeren. Op elke kattenkaart staat aangegeven welk voer Pluisje of Felix graag krijgt. Daarnaast zijn er kattenspeeltjes om te verzamelen. Des te meer verschillende speeltjes een speler op hand heeft aan het einde van het spel des te meer punten. Met kattenkruid kun je bonuspunten voor katten verdienen, maar je dient dan wel genoeg kattenkruid te hebben. Met de plantenspuit kun je de kattenmeeple verplaatsen tijdens jouw beurt om een zet van een andere speler te blokkeren of om zelf een betere rij/kolom te claimen.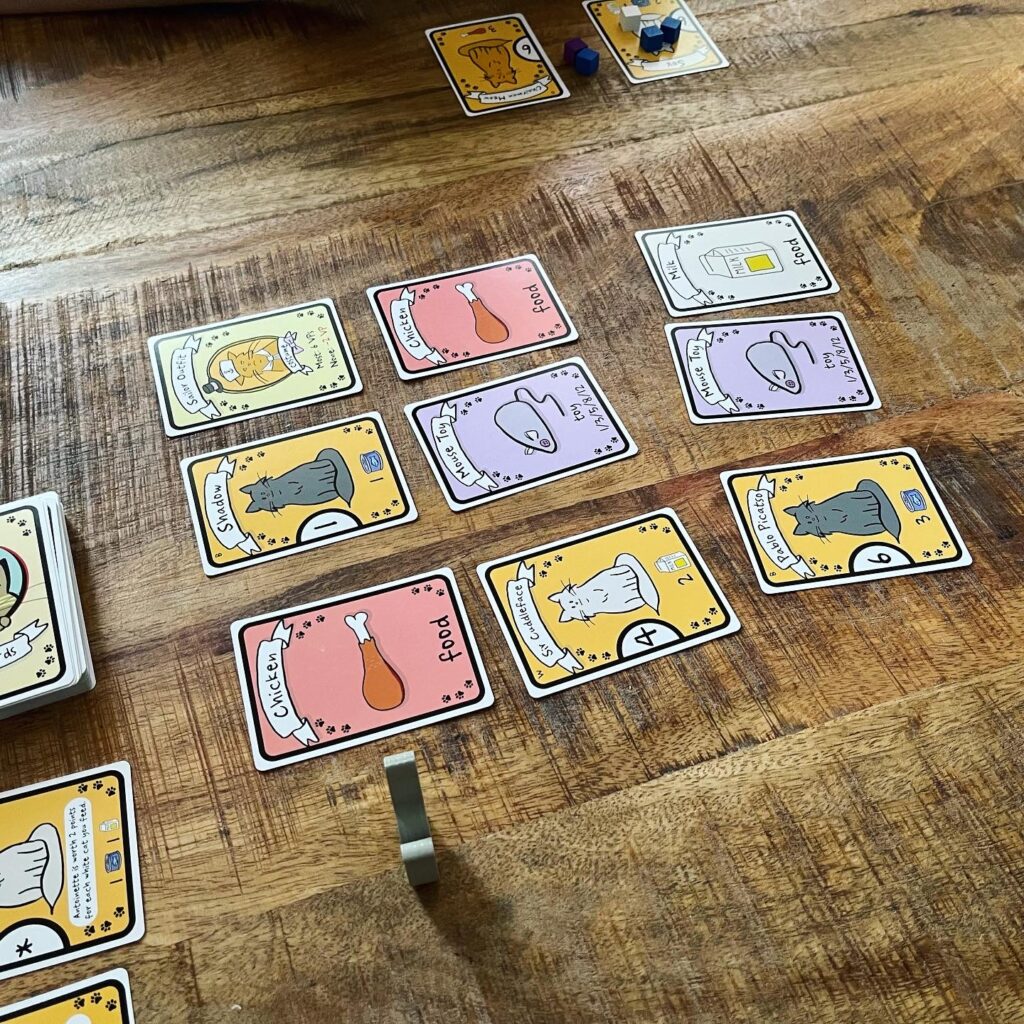 Helaas zijn er ook vermiste katten met posters. Door deze kaarten te verzamelen en in te wisselen, kun je katten uit het asiel adopteren. Wat barmhartig!
Cat Lady is een simpel en vlot kaartspel waarbij spelers zich lekker kattig kunnen gedragen. Door de juiste kaarten te claimen kun je veel punten scoren, maar wees te niet te hebberig: als je teveel katten verzamelt en te weinig voer, dan krijg je mogelijk meer minpunten dan je lief is. Je kan elkaar lekker dwars zitten door kaarten te claimen die andere spelers nodig hebben. Hierdoor is het een lekker kort spel met een hoge mate van interactie en een aanrader voor menig kattenkop. Purrrrrfect!