2020 en 2021 staan in het teken van een wereldwijde pandemie. Mensen proberen op verschillende manieren aan (letterlijke en mentale) blootstelling aan de pandemie te ontsnappen. Mensen hebben spelletjes (her)ontdekt, leggen puzzels op tafel en lezen weer eens een boek. Veel mensen kiezen er ook voor om letterlijk te ontsnappen en bijvoorbeeld op vakantie te gaan. Ook in Bristol 1350 proberen de spelers te ontsnappen aan een dodelijke ziekte: de builenpest. Weet jij te ontsnappen of word je te pakken genomen door de galzwarte plaag?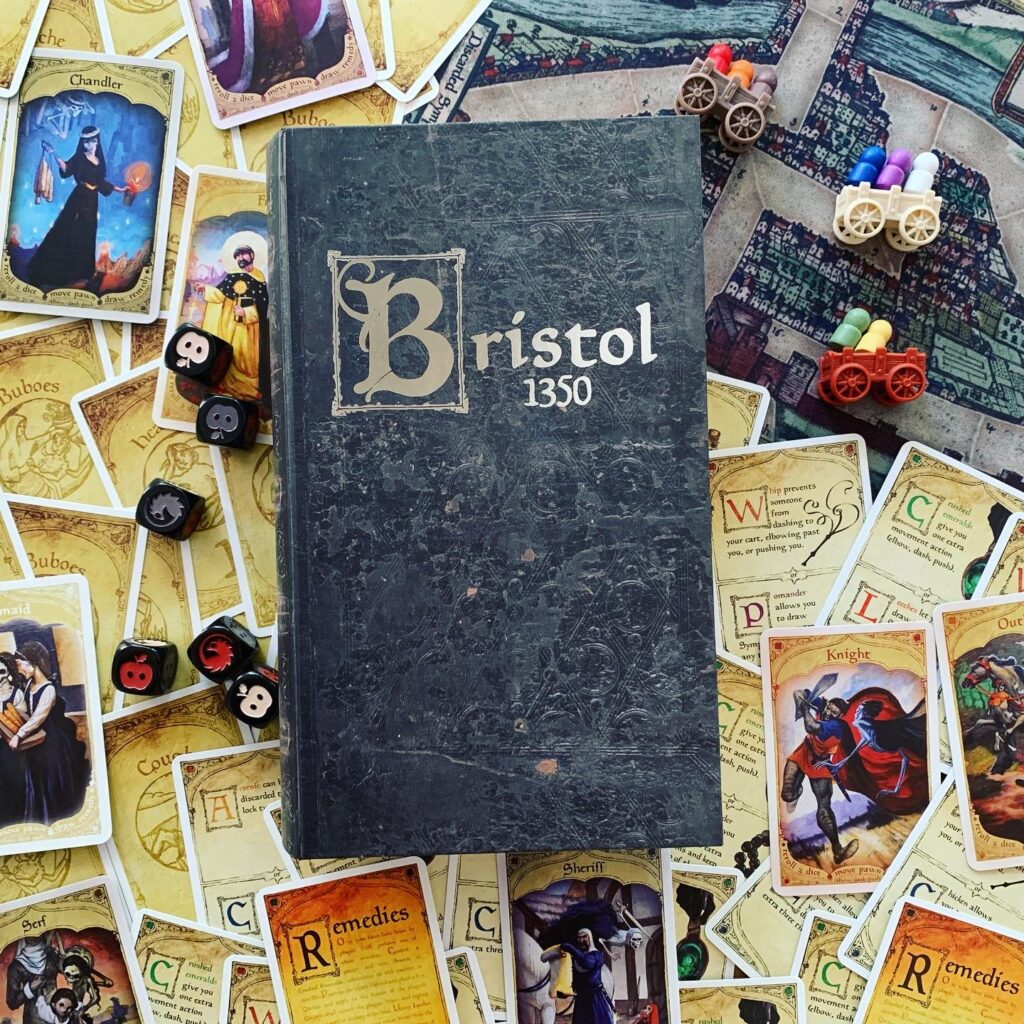 Het is 1350 en Bristol (en eigenlijk heel Engeland en West-Europa) is in de ban van de dodelijke builenpest. Ratten, duiven, andere plaagdieren en besmette menselijke inwoners verspreiden in een rap tempo een dodelijke infectie onder de inwoners. Zieke, pokdalige mensen en lijken liggen uitgestrekt in de straten en steegjes van Bristol. Hoestende en andere symptomatische personen worden vermeden als de plaag. Jij en de medespelers weten niet hoe snel jullie de stad moeten verlaten. Jullie duiken allemaal bovenop een drietal appelkarren en proberen als eerste de stad te ontsnappen. Die race naar het einde is niet zonder gevaar. Mogelijk raak je door een van de andere spelers besmet met de pest, wordt jouw plekje in de kar gestolen of gooien de andere spelers je zelfs van een kar af.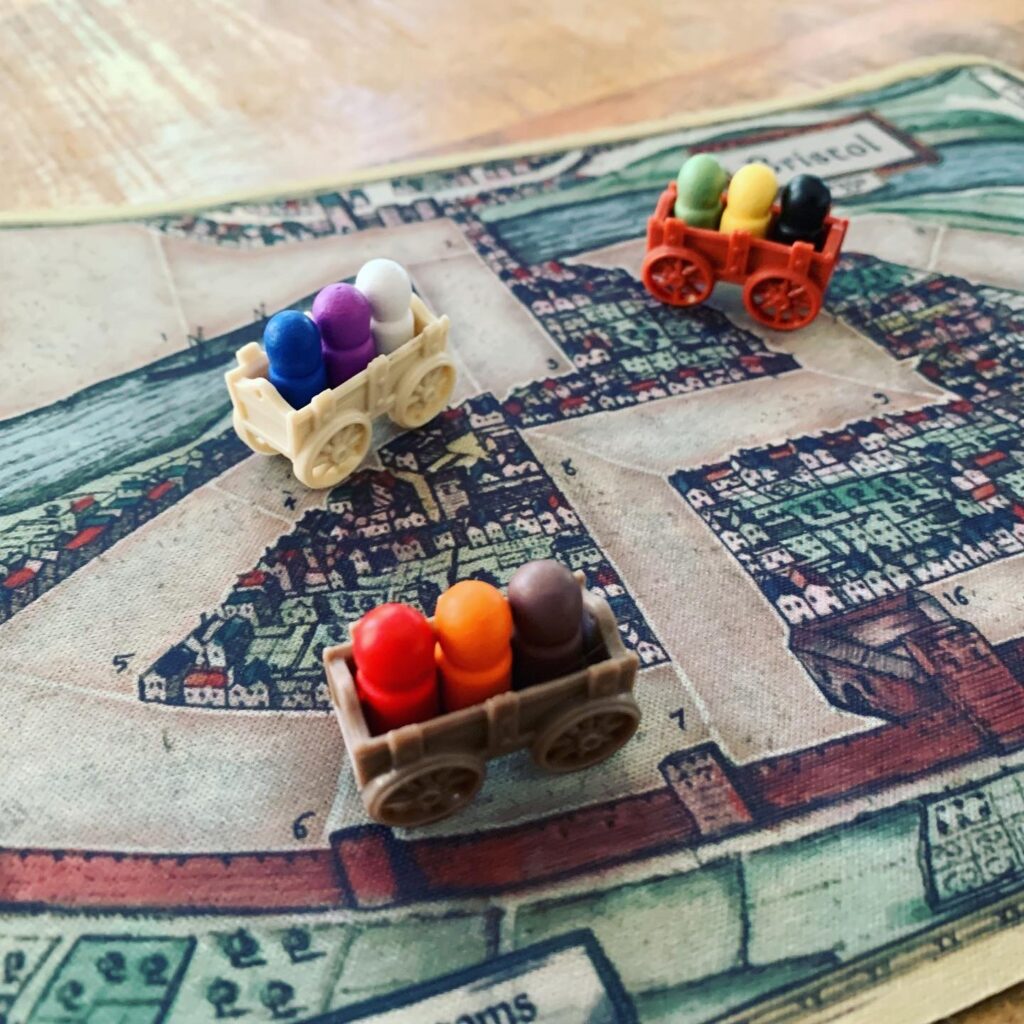 Iedere ronde worden alle dobbelstenen geworpen. De dobbelstenen geven aan welke karren vooruit mogen en hoever vooruit deze kar gaat. De dobbelworp veroorzaakt mogelijk ook meerdere besmettingen op sommige karren. Iedere beurt mag een speler een van de beschikbare acties verrichten. Een speler mag 2 dobbelstenen opnieuw werpen, remediekaarten trekken (actiekaarten) of zijn/haar eigen positie of de positie van een andere speler in de karren veranderen. Spelers kunnen elkaar duwen of met een elleboogje naar de voorkant van een kar bewegen. Spelers kunnen zelfs naar een volgende kar springen indien er plek is. Actiekaarten kunnen spelers inzetten om zichzelf beter te beschermen tegen de pest en het geplaag van de andere spelers, maar vergeet niet: je geneest niet zomaar van dit gepest…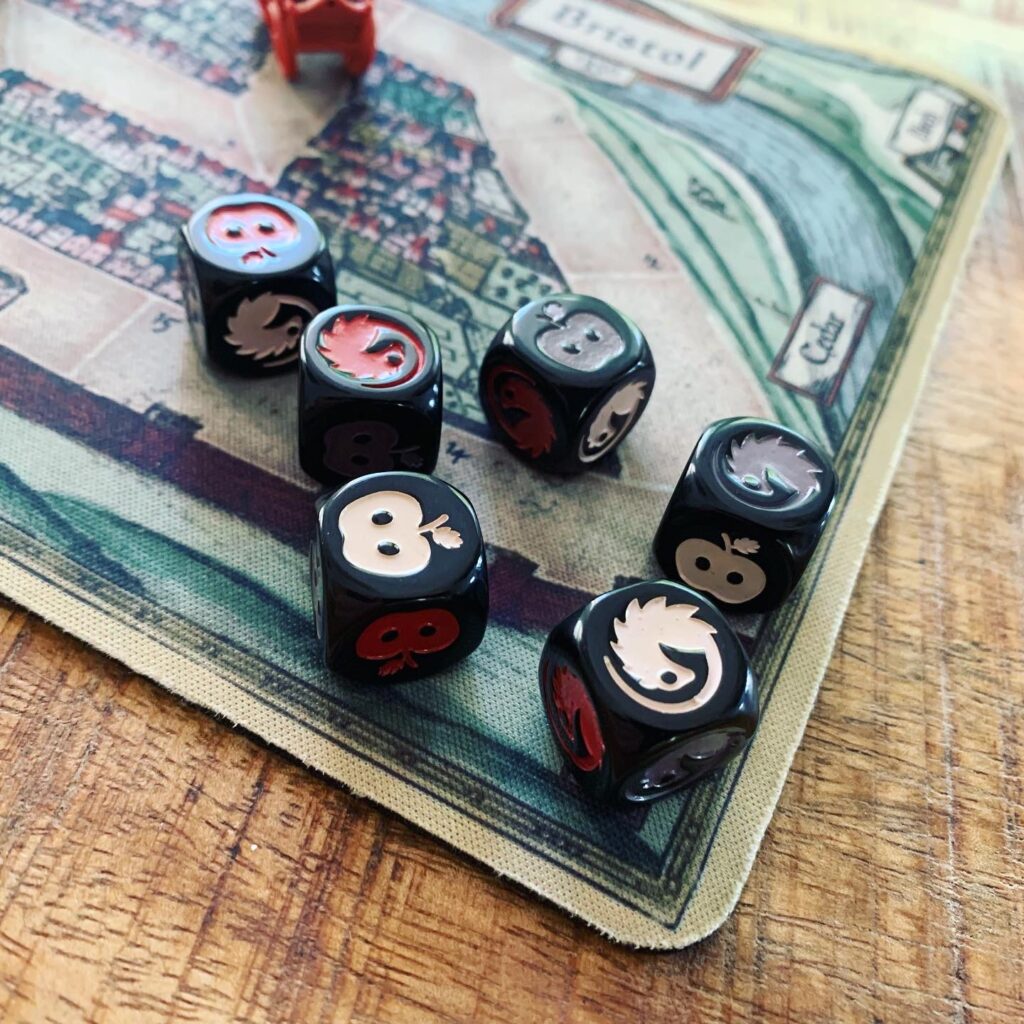 De spelers die als eerste de stad (gezond) uit zijn, winnen (gezamenlijk) het spel. Indien er ook maar 1 speler op deze kar besmet is met de pest, verliest elke speler op deze kar en heeft de eerstvolgende kar nog een kans op victorie. Bristol 1350 is een grappig en snel spel om met een grote groep te spelen. Het spel komt het beste tot zijn recht met 6 – 9 spelers zodat er voldoende interactie tussen spelers is en het spel lekker vlot verloopt. Met meer spelers gebeurt er gewoonweg meer in het spel. Langzaam wordt er door de spelers samengespannen en vindt er verraad, verontwaardiging en vriendschap plaats. Wellicht is de pest zelf niet het gevaarlijkste onderdeel van deze race… Al met al is Bristol 1350 een tikkeltje simpel, maar fantastisch vormgegeven partyspel.