NEDERLANDS
Vroeger bouwde ik LEGO-kastelen. Een trotste prestatie was een kasteel met een gouden troonzaal, een immens hof vol struikgewas, een machtige wapenkamer en een duistere kerker voor alle bandieten.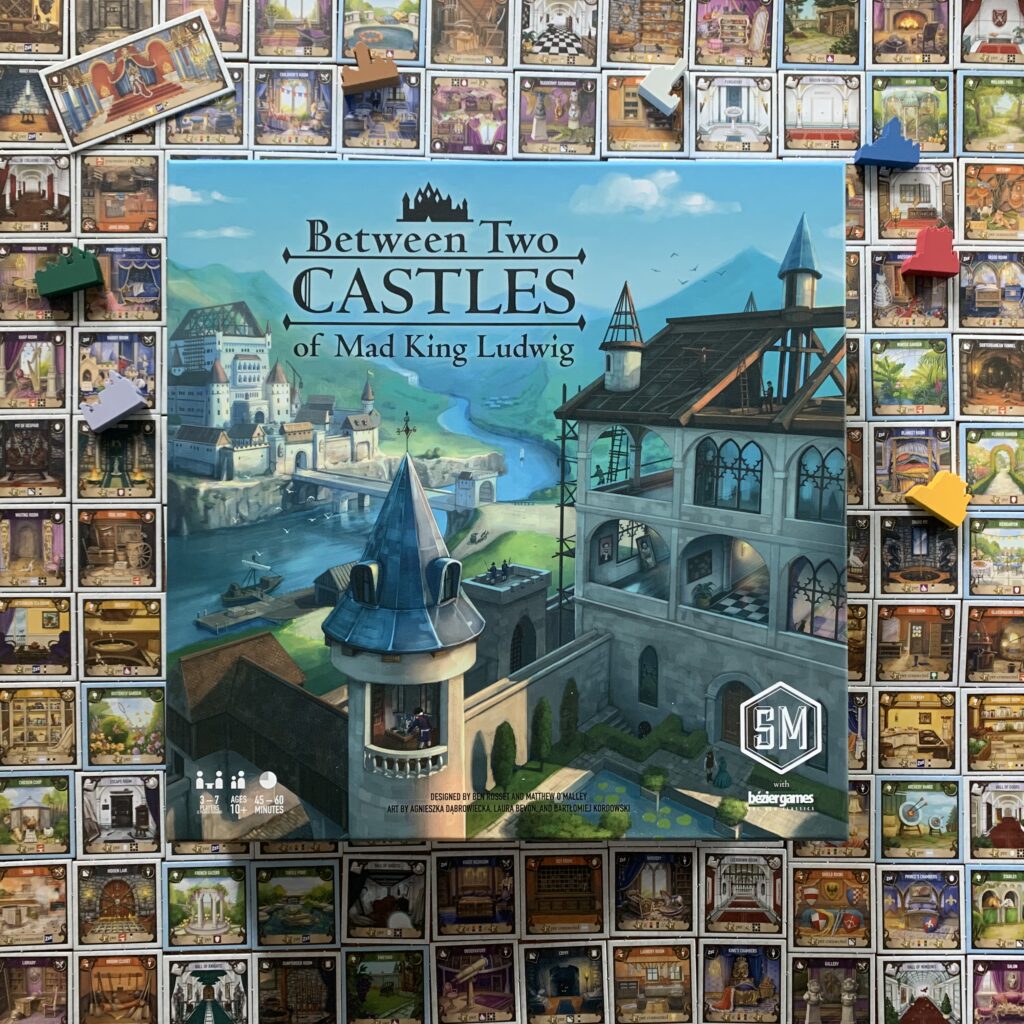 In Between Two Castle of Mad King Ludwig, gebaseerd op Between Two Cities van Stonemaier Games en Castles of Mad King Ludwig van @beziergames, mag ik net als vroeger kastelen inrichten. Alleen moet ik nu de gekke koning Ludwig behagen met tientallen slaapkamers, schilderijen, spiegels en natuurlijk een puppykamer vol Corgi's. ?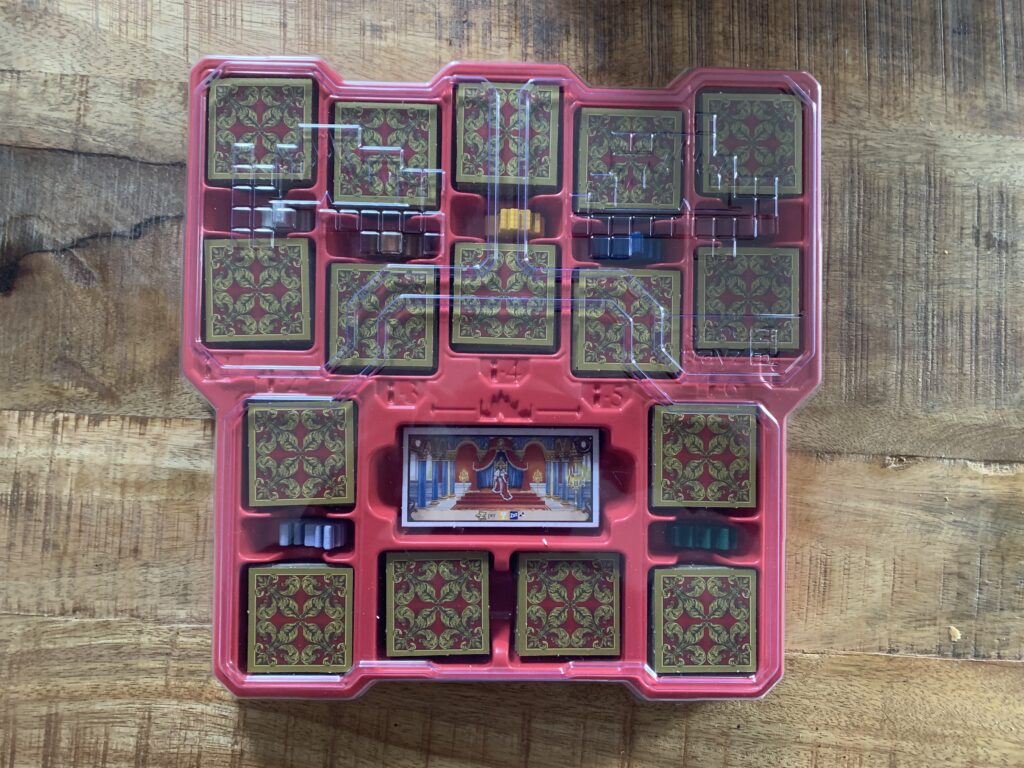 Between Two Castles is deels coöperatief en deels competitief. Dat klinkt gek… Je bouwt tijdens het spel aan twee kastelen. De een bouw je samen met je linkerspeler en de ander met je rechterbuur. Aan het einde van het spel scoren alle kastelen punten, maar jij krijgt slechts de punten van je slechtstscorende kasteel. Zorg er dus voor dat je beide kastelen evenveel aandacht geeft en beland niet tussen wal en schip. Of eigenlijk: tussen kasteel en kasteel.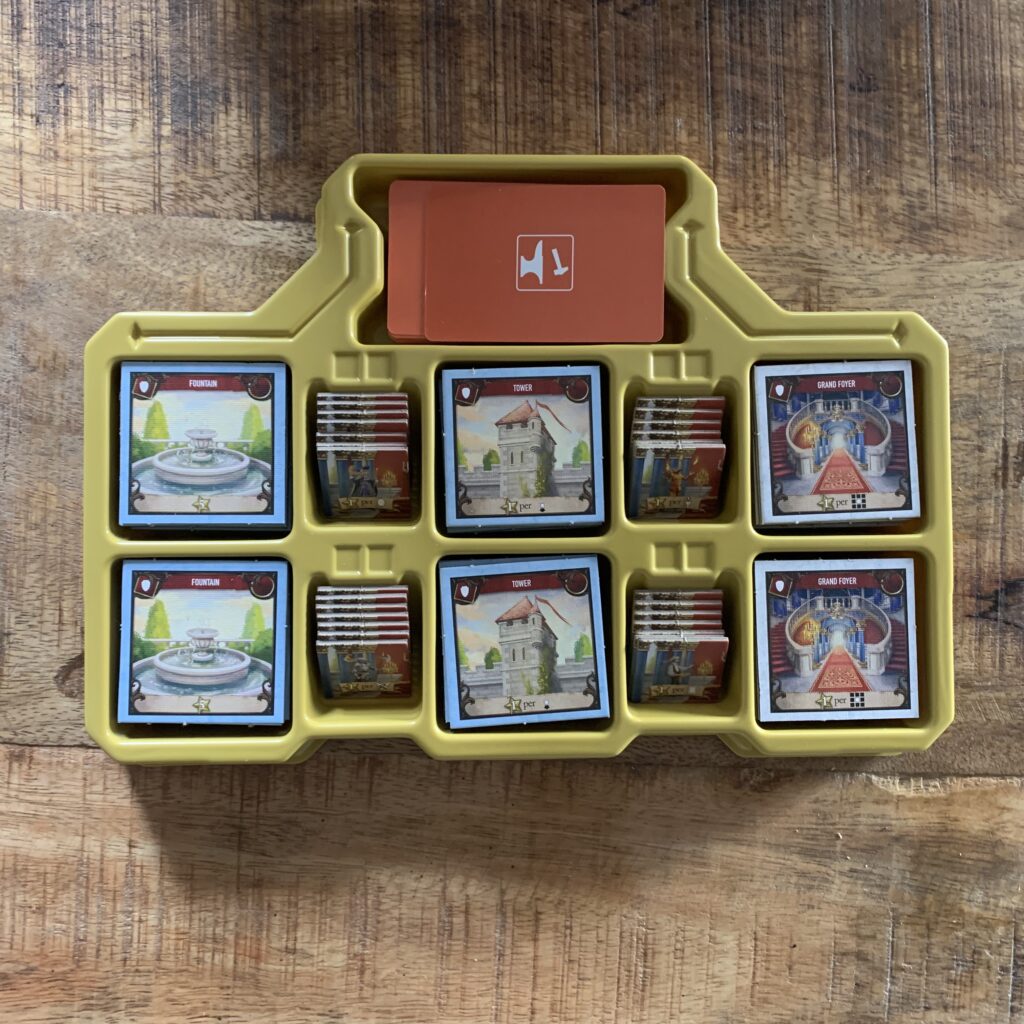 Het spel bestaat uit twee rondes. Elke ronde pakt elke speler 9 tegels. Elke beurt leggen de spelers tegelijkertijd twee tegels uit hun hand neer en geven de overgebleven tegels door aan een andere speler. Nu gaan de spelers met hun buren overleggen welke tegels waar in de twee kastelen worden geplaatst. In elke beurt wordt elk kasteel dus met twee nieuwe tegels uitgebreid. Dit gaat net zo lang door tot iedereen nog maar 1 tegel heeft. Zoals gezegd is koning Ludwig gek en scoor je punten door setjes te verzamelen. Soms kan het gunstig zijn om een kasteel te bouwen met een toren vol slaapkamers en een enorm diepe kerker. Een soort middeleeuws hotel!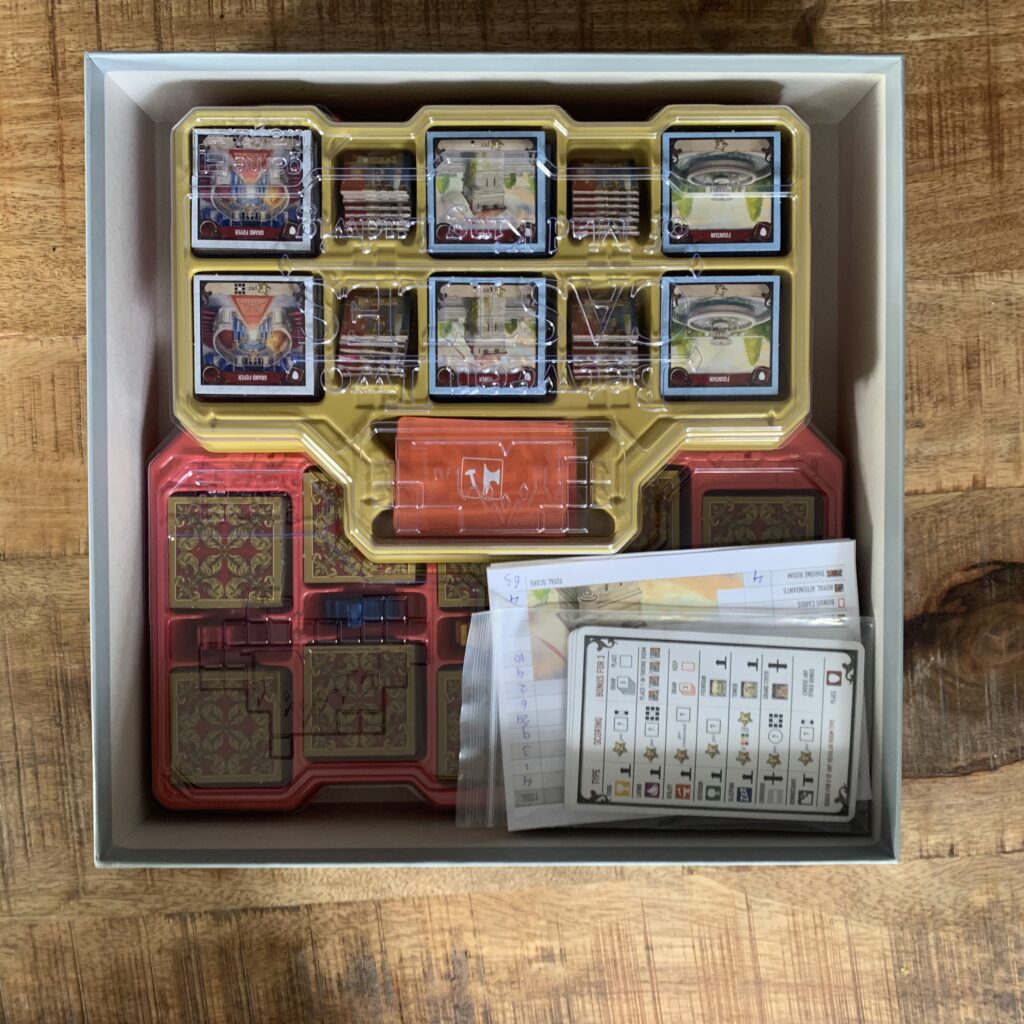 Between Two Castles is een heerlijk puzzelspel. Net als zijn voorgangers is het spel innovatief en intuïtief. Door het coöperatieve en competitieve element ben je elkaar aan het helpen, maar probeer je een andere speler niet teveel te helpen. Voor je het weet pakken ze de winst. De vormgeving is erg fraai en de insert van het spel is een van de beste die ik ooit heb gezien. Doordat spelers tegelijkertijd spelen, is het spel lekker vlot. Bouw jij de beste kastelen of word je net zo gek als Ludwig?
ENGLISH
I used to build LEGO castles. A proud achievement was a castle with a golden throne room, an immense courtyard, a mighty armory and a dark dungeon for all bandits.
.
In Between Two Castle of Mad King Ludwig, based on Between Two Cities by Stonemaier Games and Castles of Mad King Ludwig by @beziergames, I get to decorate castles just like I used to. Only now I have to please Mad King Ludwig with dozens of bedrooms, paintings, mirrors and of course a puppy room full of Corgi's. ?
.
Between Two Castles is partly cooperative and partly competitive. That sounds mad… You build two castles during the game. One you build together with the player to you left and the other with the player on your right. At the end of the game all castles score points, but you only get the points of your worst scoring castle. So make sure you give both castles the same amount of gaming attention.
.
The game consists of two rounds. Each round each player takes 9 tiles. Each turn the players place two tiles from their hand at the same time and pass the remaining tiles to another player. Now the players discuss with their neighbors which tiles will be placed where in the two castles. In each turn, each castle is expanded with two new tiles. This continues until everyone has only one tile left. As mentioned before, King Ludwig is crazy and you score points by collecting sets. Sometimes it can be advantageous to build a castle with a tower full of bedrooms and a huge deep dungeon. A kind of medieval hotel!
.
Between Two Castles is a wonderful puzzle game. Just like its predecessors, the game is innovative and intuitive. Because of the cooperative and competitive element you are helping each other, but don't try to help another player too much. Before you know it, they take the game. The design is very nice and the insert of the game is one of the best I have ever seen. Because players play at the same time, the game is nice and smooth. Are you building the best castles or are you just as mad as Ludwig?