In de uitbreiding Secrets & Soirees keren we terug naar het kasteel van de krankjorum koning Ludwig om zijn honger naar gekke vertrekken en krankzinnige kamertjes te stillen. Wederom gaan de spelers bouwen aan crazy castles. Het kasteel van gekke Ludwig wordt verbouwd met nieuwe kamers gericht op vermaak en geheimen en tevens kunnen spelers voortaan met z'n achten bouwen of zelfs in hun eentje!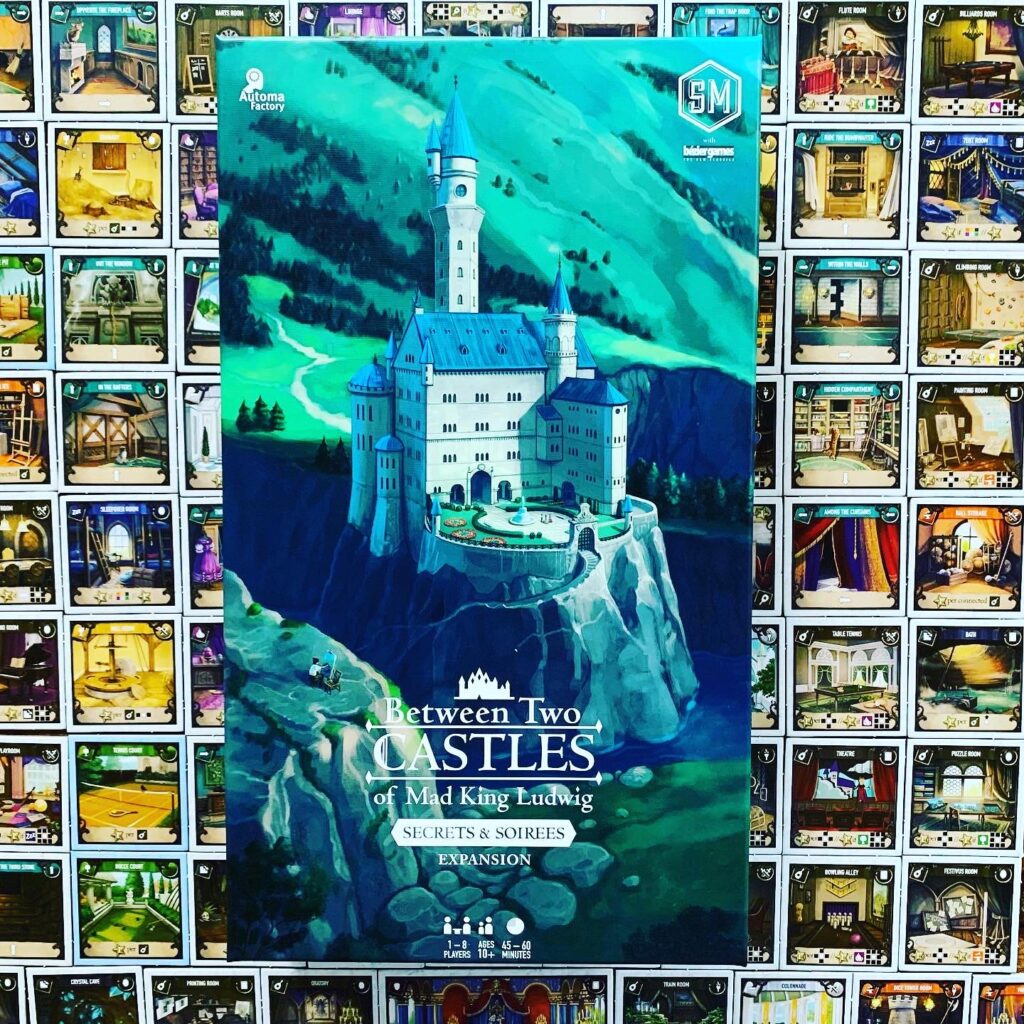 Secrets & Soirees is een uitbreiding van Between Two Castle of Mad King Ludwig, gebaseerd op Between Two Cities van Stonemaier Games en Castles of Mad King Ludwig van Bezier Games. In dit spel gaan spelers op een competitieve manier coöperatief kastelen inrichten. Gezamenlijk gaan spelers in setjes de krankzinnige koning Ludwig behagen met tientallen slaapkamers, schilderijen, spiegels en natuurlijk een spelletjeskamer. Zal die kamer ook volgebouwd staan met Ikea Kallax kasten?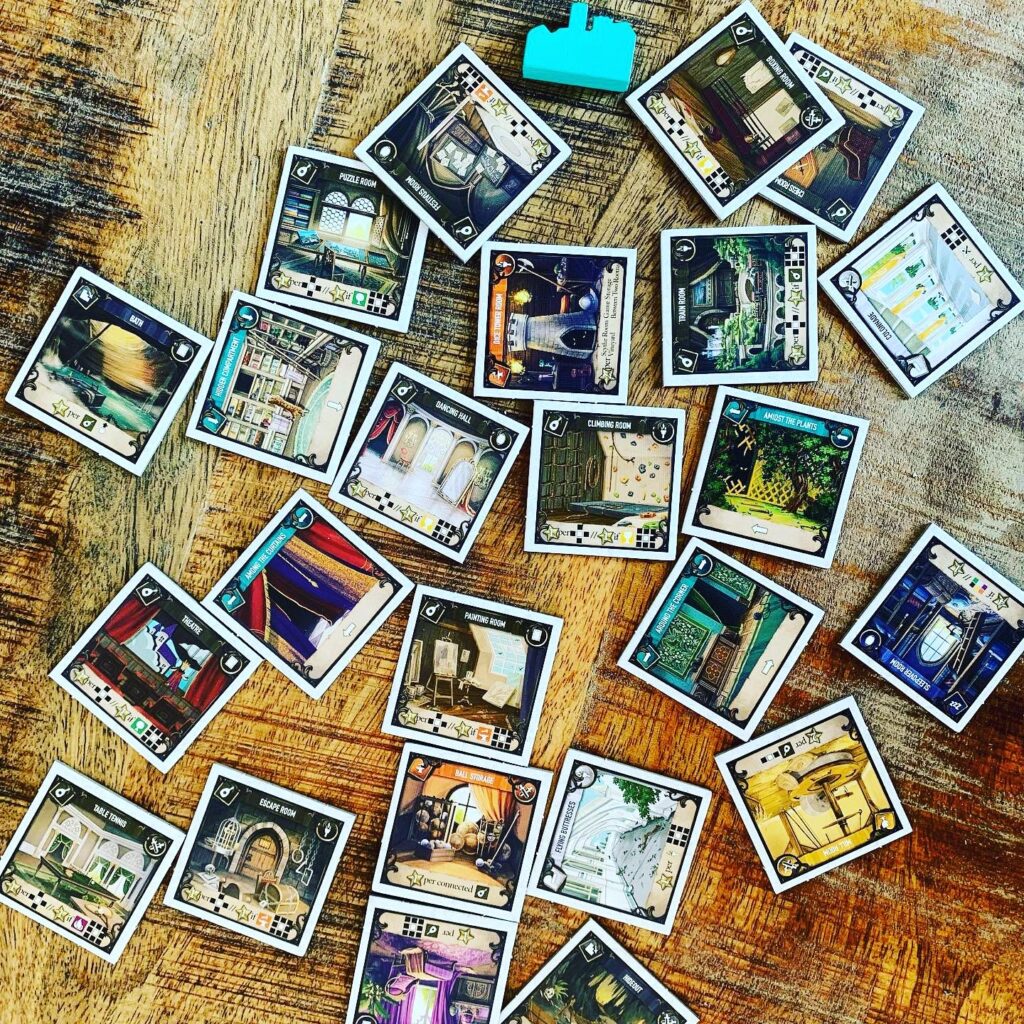 Zoals ik hierboven al omschreef is Between Two Castles deels coöperatief en deels competitief. Dat voelt aan het begin wat raar aan… Je moet namelijk samenwerken maar ook voor de overwinning gaan. Tijdens het (basis)spel bouw je tegelijkertijd aan twee kastelen. De een bouw je samen met de speler links van je en het andere kasteel bouw je met de speler rechts van je. De kastelen worden opgebouwd met een soort van drafting-mechanisme. Je krijgt meerdere tegels in je hand. Deze tegels beelden kamers, vertrekken en andere locaties van het kasteel uit. De spelers kiezen welke tegels ze in welk kasteel plaatsen en gezamenlijk kiezen de spelers waar ze deze tegels in het desbetreffende kasteel plaatsen.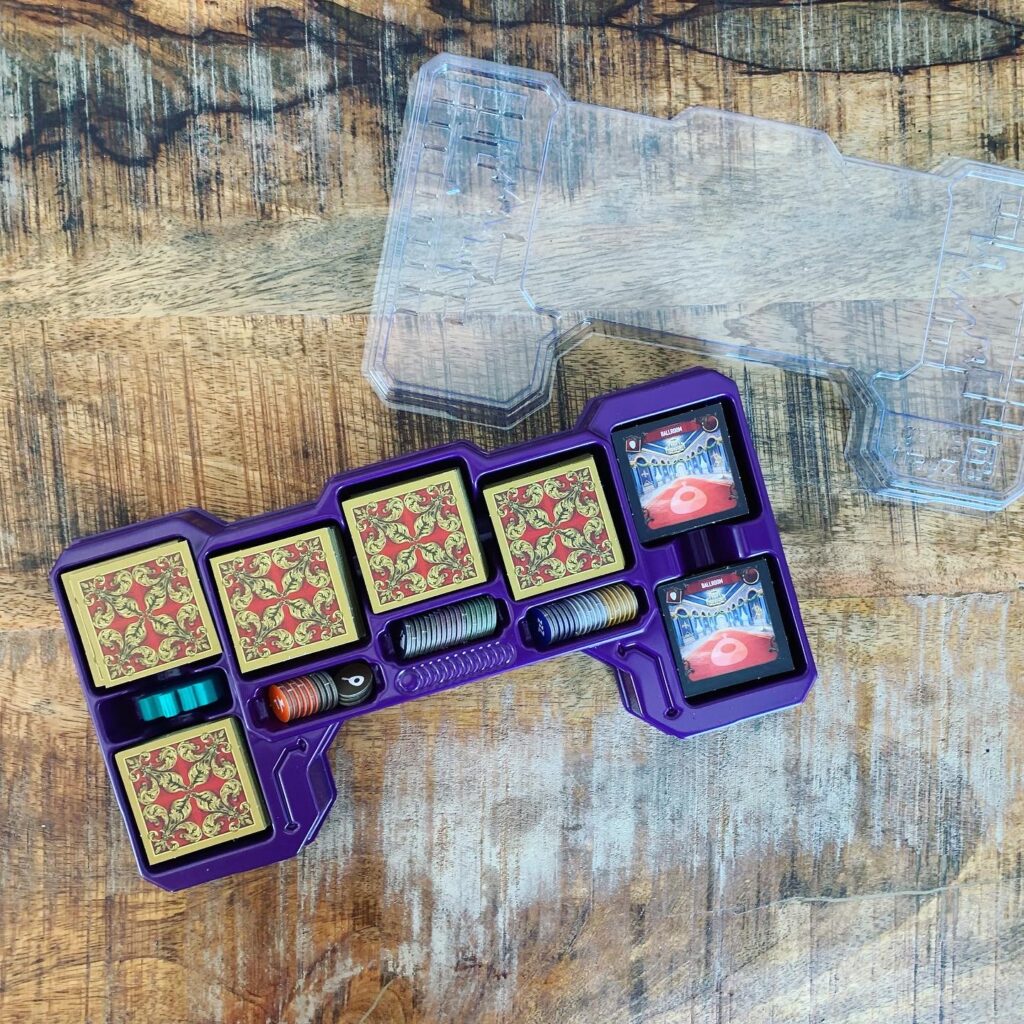 Aan het einde van het spel scoren alle kastelen punten, maar iedere speler krijgt slechts de punten van diens slechtstscorende kasteel. Je moet dus aan de slag gaan als een waar planologisch genie. Probeer de juiste tegels in de juiste kastelen en op de juiste locatie te plaatsen.
In de uitbreiding Between Two Castles of Mad King Ludwig: Secrets & Soirees zijn onder meer twee nieuwe soorten kamers toegevoegd: 1. activiteitenkamers waar soirees gehouden kunnen worden (een soort deftige feestjes) en 2. kamers vol geheimen. Deze nieuwe kamers (tevens de naamgevers van de uitbreiding) geven andere manieren om punten te scoren en zodoende ook meer keuzes en variatie. Door de uitbreiding kunnen spelers voortaan ook met een groepje van 8 spelen. De duur van het spel neemt niet toe, aangezien spelers nog steeds tegelijk spelen, waardoor het spel perfect is voor een spelletjesavond. Voor de eenzame bordspeler of liefhebbers van solospellen zijn er ook solomodi toegevoegd aan het spel.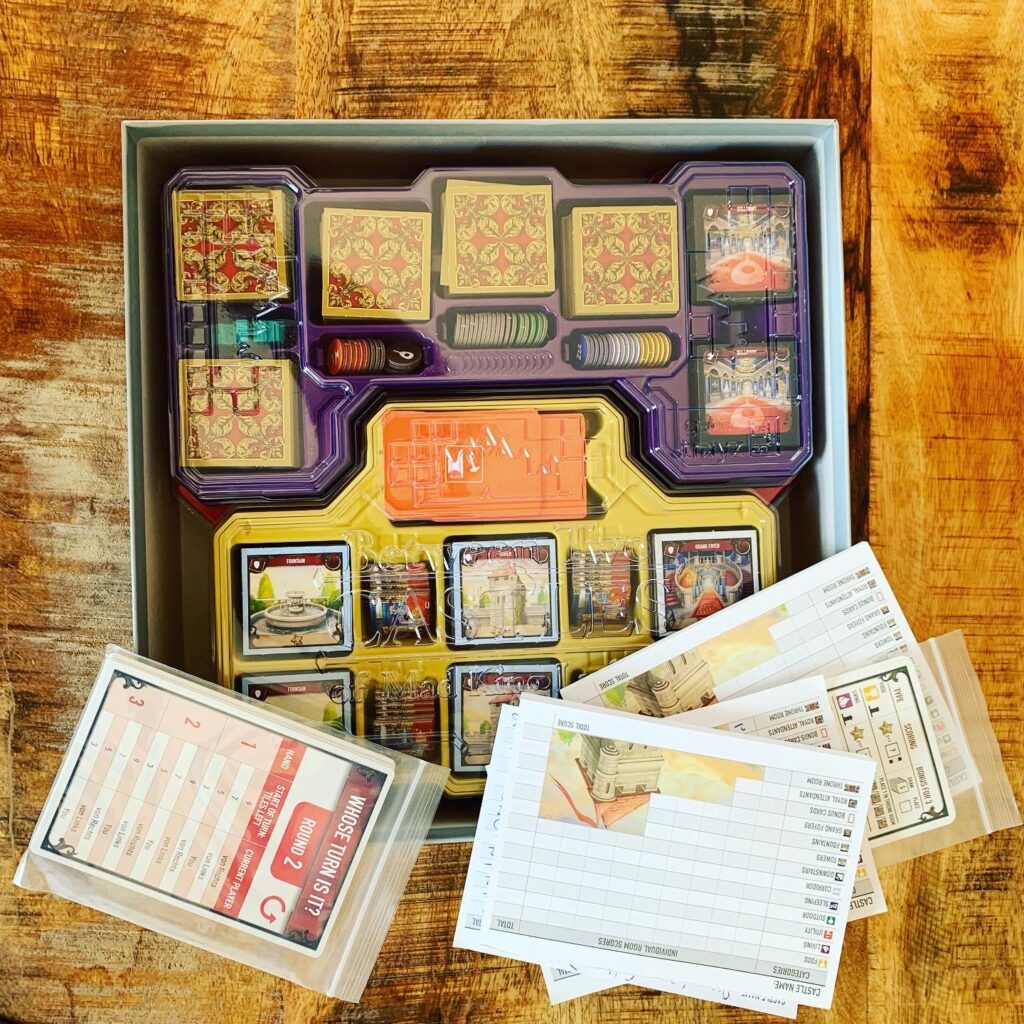 Secrets & Soirees is een perfecte uitbreiding. Het voegt meer gameplay en variatie toe en zelfs wat extra manieren om te spelen. Alle onderdelen passen in de oorspronkelijke doos met behulp van de nieuwe insert. Daar wordt een mens toch krankzinnig blij van!