"Eat a bag of butts!" klinkt als iets wat Bart Simpson zou kunnen zeggen: een edgy opmerking van een pre-puber tijdens de jaren 80 of 90. Bag of Butts is tevens de naam van een push-your-luck spelletje waarbij spelers houten konten uit een zak trekken. Is het voor jou al duidelijk? Hopelijk interesseert dit spel je wél een reet.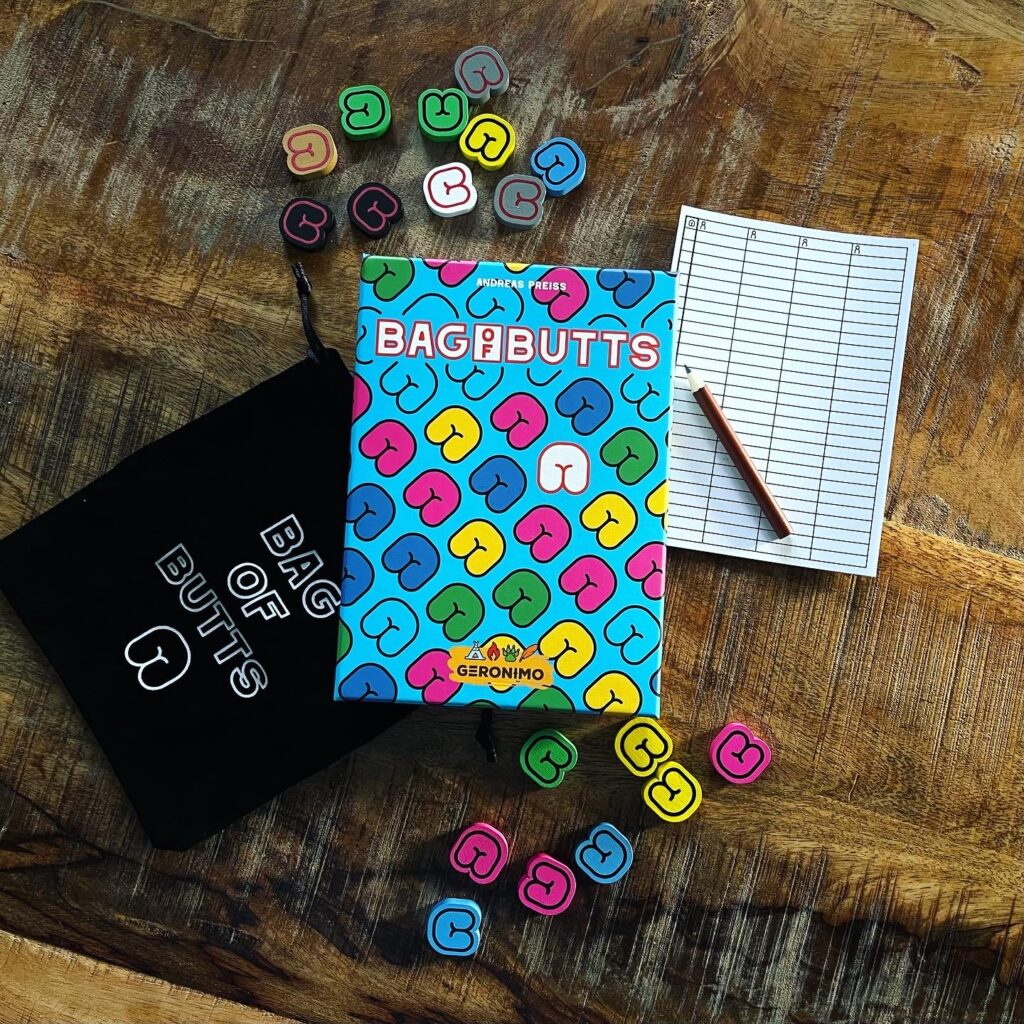 In Bag of Butts kiest iedere speler een kleur waarmee zij tijdens het spel punten gaan scoren. Iedere beurt trekt de actieve speler in drie groepjes konten uit de zak. De actieve speler geeft aan hoeveel konten hij of zij in de eerste of tweede groep uit de zak trekt. De overige konten vormen de laatste groep. De actieve speler kiest vervolgens welke groep punten zal scoren. Van de gekozen groep krijgt iedere speler met een of meerdere konten in die groep punten. Per kont in de juiste kleur krijgt een speler een punt plus een punt voor iedere speciale kont die uit de zak komt. Speciale konten?
Bag of Butts bevat speciale konten. Iedere beurt voegt de actieve speler eerst een willekeurige kont toe aan de zak of deze speler kiest ervoor om alle speciale konten uit de zak te halen. Speciale konten leveren extra punten op, maar deze billetjes zijn zo speciaal dat ze zelfs meer doen. Als iedere groep een speciale kont bevat, is de beurt gelijk voorbij en worden alle konten uit de zak gehaald. Het is dus een risico om met veel speciale billen te spelen; wie zijn billen brandt, moet op de spreekwoordelijke blaren zitten.
Een speler mag net een groep met zwarte billen kiezen om te scoren, grijze billen leveren extra punten op tijdens het scoren van een groep, beige billen gelden als een extra bips in de kleur van de actieve speler en witte billetjes leveren een extra beurt op.
Nog steeds niet helemaal duidelijk? Dat kan, want Bag of Butts is vooral een activiteit met een hoop geluk. Het spel bevat een flinke dosis push-your-luck de spelers hebben met name invloed op het spel door te bepalen of ze de speciale billen verversen en uit hoeveel billen een groep bestaat. Bag of Butts bevat daarom ook minder strategie en is beter geschikt als partyspel voor een kleine groep onder het genot van een hapje of een drankje.