Met een brok in je keel betreed je het podium. Is je instrument goed gestemd? Zijn je vingers tot rust gekomen na de lange repetitie? Als je eenmaal op het podium staat, het doek omhoog gaat en je jouw strijkstok op de snaren zet, valt het doek voor elke vorm van stress of angst. Je auditie gaat vlekkeloos en je wordt gekozen als solist voor een grote productie: jouw droom komt uit. Hoe vergaat de auditie voor de andere dieren?
Het spel Audition is een simpel kaartspel met een evenzo simpel spelverloop. Een beestenbende (een stapel met allemaal dierenkaarten) gaat op auditie en het is aan iedere speler om de beste groep aan muzikanten samen te stellen, maar pas op: enkel voor solisten en kwartetten krijg je aanzien en dus punten. Solisten leveren aan het einde van het spel ieder een punt op en elk kwartet levert 5 punten op. Elke andere samenstelling? Dan ben je niet door naar de volgende ronde van deze trekstapel talentenjacht.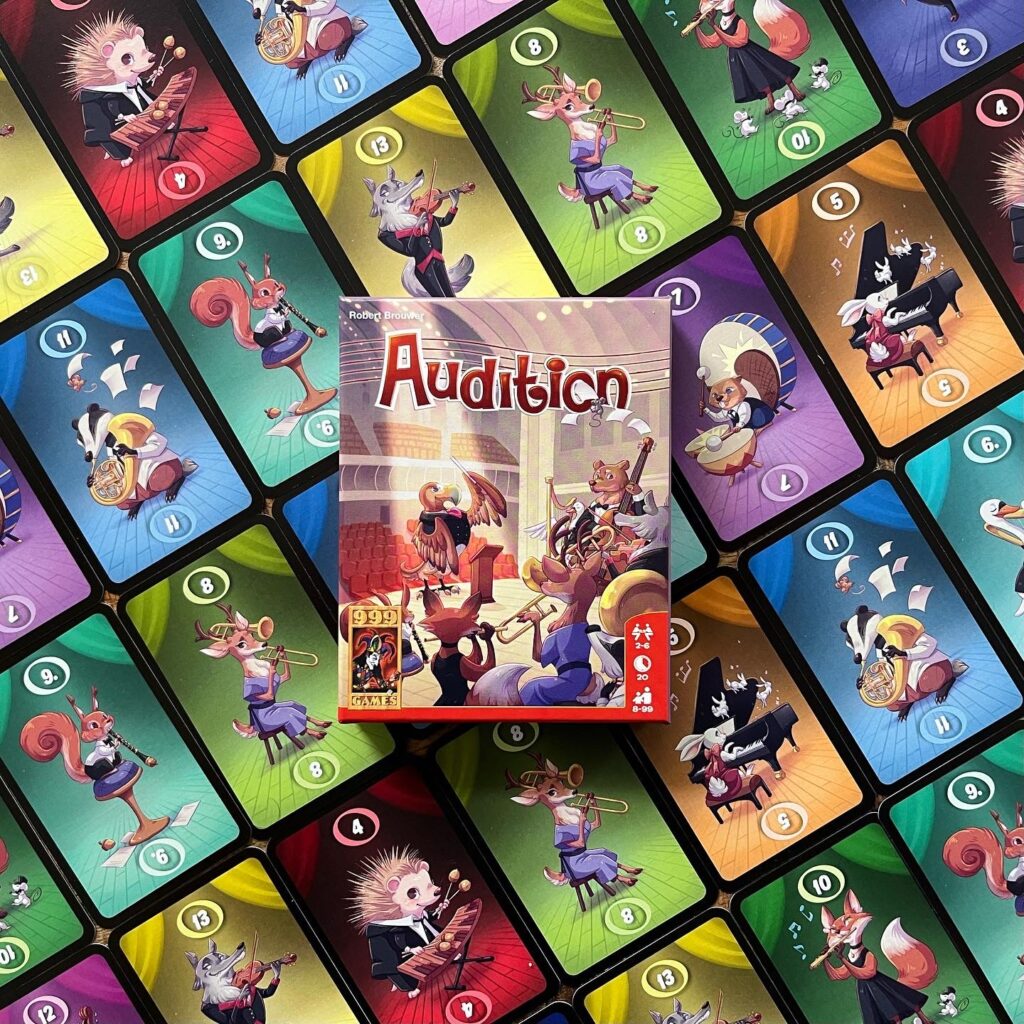 De beestenbende bestaat uit verschillen dieren/muzikanten met verschillende waardes van 3 tot met 13. De waard geeft niet een hoeveelheid punten aan, maar wel de hoeveelheid dieren met dat nummer. Van de pianisten met de waarde 5 zijn er dus 5 beesten aanwezig in de trekstapel. Afhankelijk van de hoeveelheid spelers worden dieren met een specifiek nummer niet door de trekstapel geschud, maar terug in de doos geplaatst. Deze dieren hoeven niet eens op auditie te komen en zijn bij voorbaat al niet geschikt voor de selectie. Wie had gedacht dat de klassieke muziek zo genadeloos was!
Op tafel worden iedere ronde net zoveel dirigenten geplaatst als de hoeveelheid spelers. Spelers gaan iedere beurt een kaart trekken en in een kolom onder de dirigenten plakken (maximaal 4) – of ze kiezen om de dirigent en alle kaarten onder deze dirigent voor zich te nemen. Als een speler een dirigent neemt, is de ronde voor deze speler direct afgelopen. Een ronde is voorbij zodra iedere speler een dirigent voor zich heeft. Spelers mogen geen dirigent voor zich nemen, tenzij deze dirigent ook een muzikant heeft. Aan het einde van de ronde worden de dirigenten weer in het midden van de tafel geplaatst en volgt een nieuwe ronde tot de trekstapel leeg is.
Op de voorgaande wijze gaan spelers muzikanten verdelen en verzamelen. Ze moeten op passen dat ze precies genoeg kaarten van een bepaalde set pakken, want teveel of te weinig kaarten van een bepaald dier/nummer en deze soort muzikant levert helemaal geen punten op.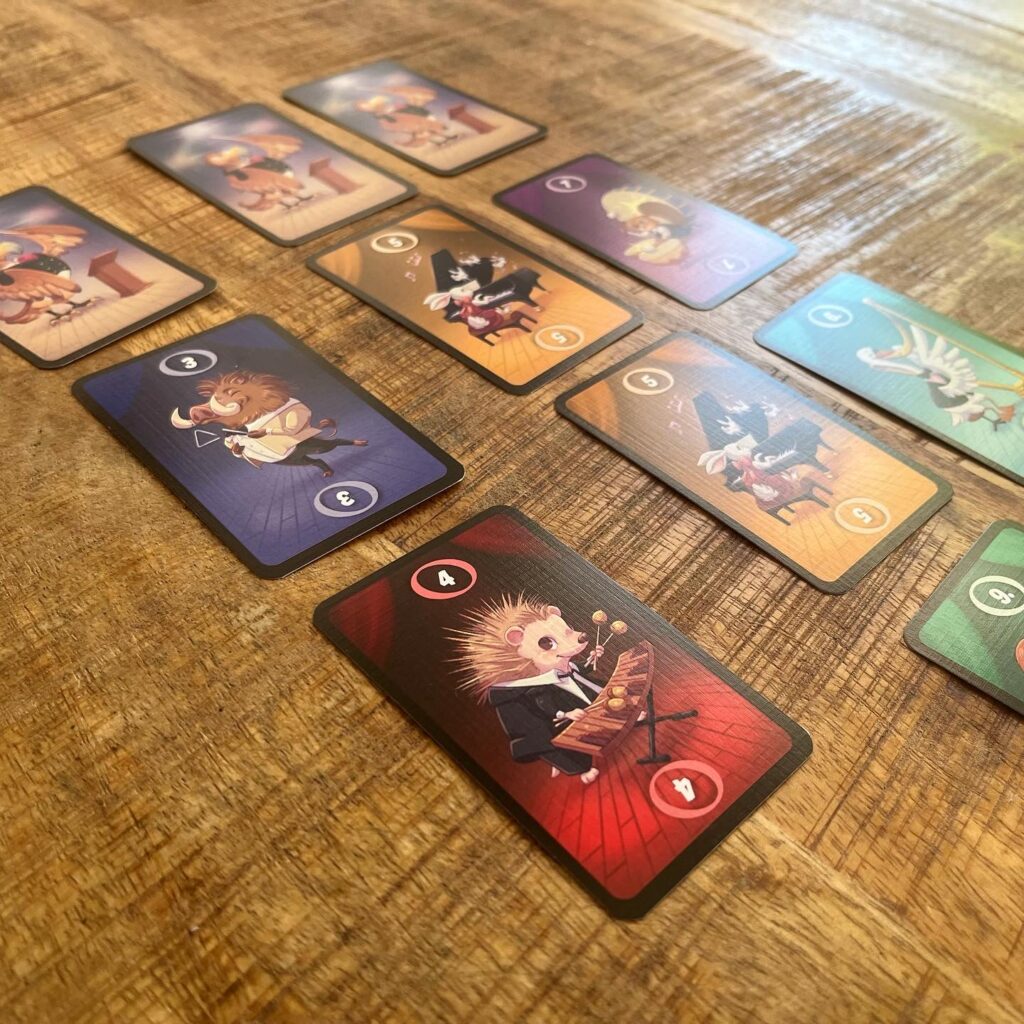 De basisvariant van Audtion is een heel simpel spel, dat het beste tot zijn recht komt met een grotere groep spelers. Audition is erg makkelijk uit te leggen en hierdoor goed geschikt voor een groepje minder ervaren spelers die snel een luchtig spelletje willen spelen zonder teveel poespas, maar wel met een uitnodigend thema. Behalve de puntentelling (solisten en kwartetten) en de illustraties is het muziekthema verder niet uitdrukkelijk aanwezig.
Wil je meer uitdaging? Dan zijn de varianten geschikt. Spelers kunnen de dirigenten wijzigen met een set actiekaarten die het spel wat complexer en eigenwijzer maken. Spelers moeten nu rekening houden met speciale regels en acties die van toepassing zijn als ze een specifieke kolom aan muzikanten willen pakken. Er is nog een tweede variant waarbij een aantal dieren willekeurig uit de stapel worden gehaald. Dit voorkomt dat spelers vooral vertrouwen op statistiek en het uittellen van kaarten, waardoor het spelverloop wat minder voorspelbaar verloopt. Dit introduceert wellicht meer geluk, maar zorgt wat mij betreft voor een dynamischere spelervaring.