Soms wil je gewoon lekker schreeuwen in de ruimte. Helaas, in de ruimte kan niemand je horen schreeuwen. Gelukkig kan het bordspel ALIEN: Fate of the Nostromo, van Ravensburger gewoon in de atmosfeer van je woonkamer gespeeld worden. Heb jij altijd al in de huid van Ellen Ripley, de bad guy van James Bond: Live and Let Die, of andere toprollen willen kruipen? Krijg jij de kriebels van de befaamde Xenomorph? Word je warm van het richten van een vlammenwerper op deze alien? Of hou je gewoon van games waarin je een space trucker (en geen Galaxy Trucker) bent? Dan is dit het bordspel voor jou!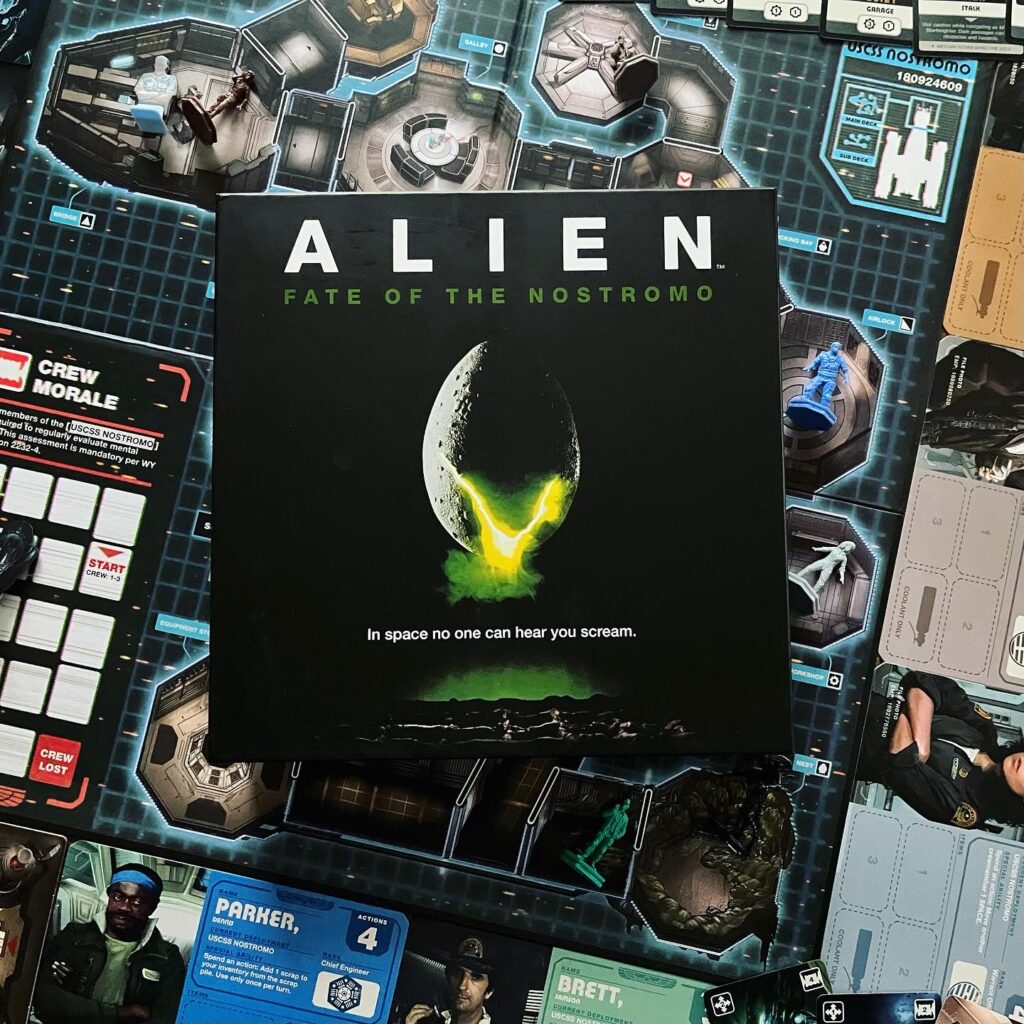 In Alien kiest iedere speler de rol van één van de crewleden van het ruimtevrachtschip Nostromo. Ieder karakter heeft eigen speciale vaardigheden. Het spel vindt volledig plaats aan boord van dit schip. In verschillende ruimtes worden gesloten fiches neergelegd (waarop de Xenomorph of een blazende Jonesy, Ripleys kat staan) en worden voorraden en materialen verspreid. Het doel van het spel is om samen ten strijde te trekken tegen de Xenomorph door, afhankelijk van het aantal spelers, een x-aantal missies te voltooien. Veel van de missies zijn van het pick-up-and-deliver soort van aard: Spelers moeten voorwerpen fabriceren of oprapen en naar specifieke ruimtes in het schip brengen. Echte space truckers. Afhankelijk van welke ruimte op het schip je betreedt en welke "end-of-turn" gebeurtenissen plaatsvinden, slaat de Xenomorph toe. Lukt het de crew om alle missies te voltooien voordat de Xenomorph te vaak de crew heeft aangevallen? Dan overleeft de crew de Nostromo en blijven ze leven voor een volgende vrachtmissie. Slaat de moordlustige alien te vaak toe en bereikt zij het einde van haar meter? Dan eindig je als broednest voor alieneitjes. Daar krijg je toch kriebels van in je buik!?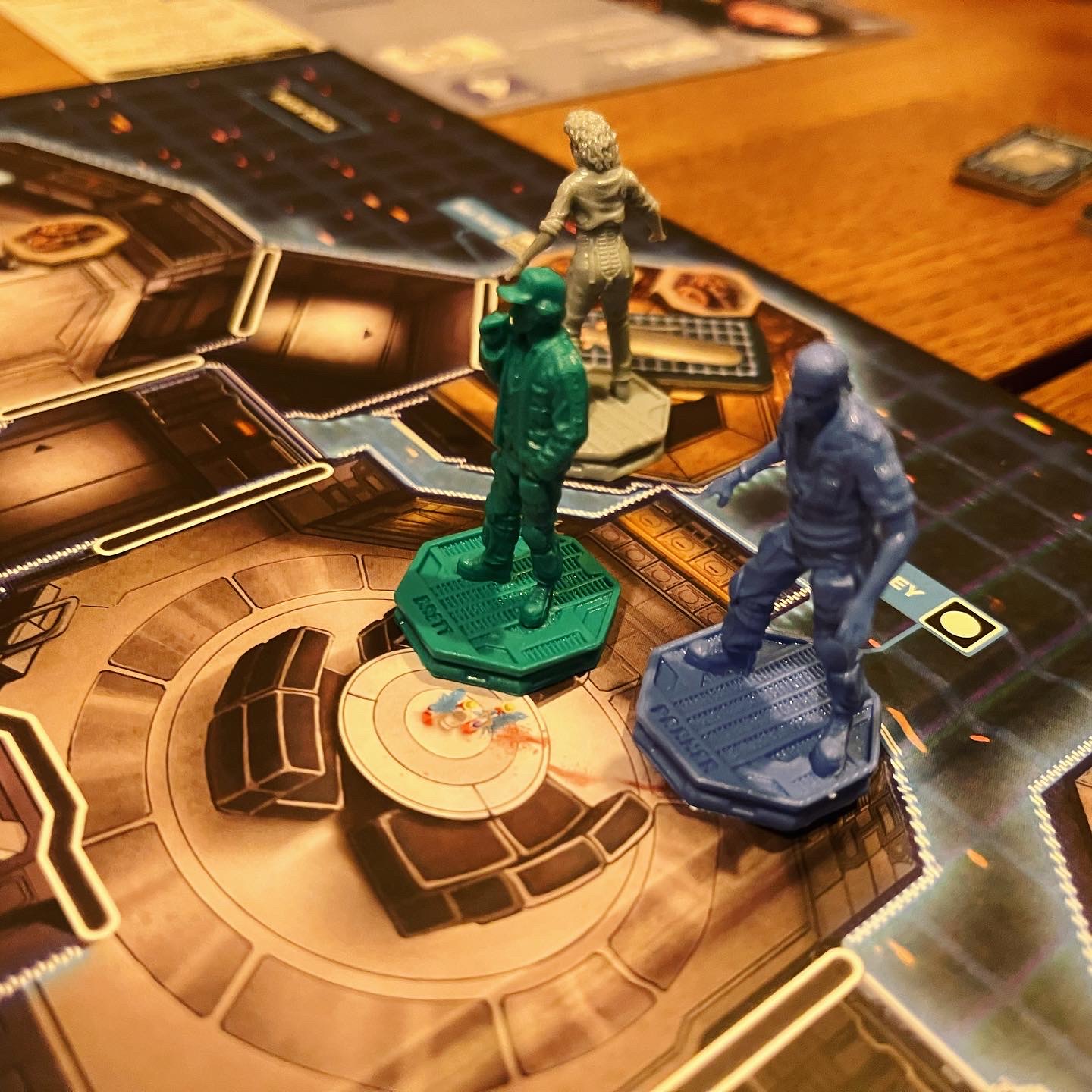 Het prachtige aan ALIEN: Fate of the Nostromo is dat het spel het Alien-thema perfect laat aansluiten op uitdagende en passende gameplay. Net zoals eerdere hits van Ravensburger zoals JAWS en Jurassic Park, speelt het spel echt als de film. De sfeer is benauwend, want de alien kan achter iedere hoek op jou wachten. In een bloedstollende race tegen de klok moet je samenwerken met je medespelers om te ontsnappen. De karakters hebben bijpassende vaardigheden en het bordspel ziet er ook echt uit als de ruimtes zoals weergeven in de film. De wapens in dit spel die je kunt maken komen ook één voor een uit de film en hebben logische functies die zo in het thema en de gameplay passen. Voor dit spel geldt (meer dan bij de andere filmbordspellen van Ravensburger) dat als je de film(s) hebt gezien, het spel nog gaver aanvoelt.
Hoewel ik de Xenomorph liever kwijt dan rijk ben, keer ik graag terug naar de Nostromo voor een gezellig, spannend en uitdagend coöperatieve boardgame. Game over, man? Dacht het niet!