De tijd van de oude wijze druïde Alarún is bijna ten einde, maar gelukkig heeft hij voldoende leerlingen om het stokje (of eigenlijk de staf) over te nemen. Alarún heeft om zijn keuze makkelijker te maken een uitdaging bedacht. De druïde die de beste ingrediënten weet te verzamelen en de beste toverdrank weet te brouwen, wordt zijn opvolger. Weet jij in het gelijknamige spel van Waterfall Games het vertrouwen van Alarún te brouwen?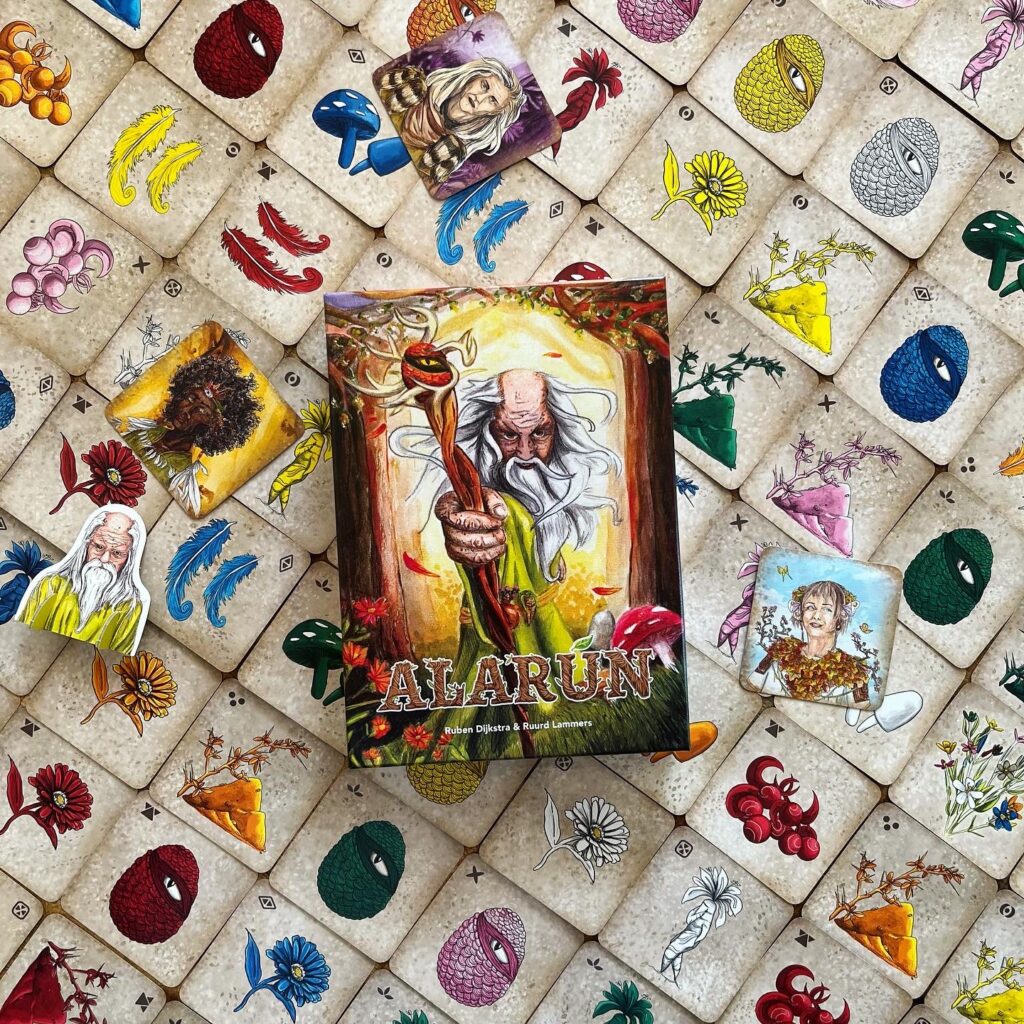 In acht rondes verzamelen spelers de beste ingrediënten om vervolgens de beste toverdrank te brouwen. Zo bepalen we wie de opvolger van de druïde Alarún wordt. Een ronde is afgelopen zodra een speler heeft gepast en het Alarún figuur voor zich heeft genomen. Tijdens een ronde gaan verzamelen en ruilen spelers telkens kaarten (de ingrediënten) om aan hun tableau te voegen. Ingrediënten zijn er in verschillende soorten en kleuren. Door rijden en kolommen met verschillende soorten in dezelfde kleuren, of verschillende kleuren van dezelfde soort aan te leggen verdienen spelers punten. Hoe meer van deze kaarten in een rij of kolom des te meer punten spelers verdienen (en dus de betere toverdrank brouwen). De speler met de meeste punten aan het einde van het spel wordt de opvolger van Alarún.
Aan het begin van een beurt ontvangt iedere speler drie kaarten met ingrediënten. Tijdens een beurt kunnen spelers kiezen uit één van drie acties:
Wissel een ingrediënt (kaart) uit je hand met één van de drie open kaarten tafel.
Pas en wissel geen ingrediënt.
Wissel alledrie de kaarten op hand met de drie open kaarten op tafel. Ook dit geldt als passen.
De speler die tijdens een ronde als eerste heeft gepast (actie 2 of 3) neemt het kartonnen Alarún speelfiguur. De overige spelers krijgen allemaal nog één beurt en dus actie. Iedere ronde heeft dus maar een beperkt aantal kaarten en het is passen en meten om de juiste kaarten te pakken en te gokken of je de kans hebt om bepaalde kaarten te verzamelen, aangezien je niet weet wanneer een speler exact gaat passen. Spelers moeten daarom ook goed in weten te schatten welke ingrediënten andere spelers nodig hebben of willen.
Aan het einde van een ronde leggen de spelers hun drie verworven kaarten in hun persoonlijke tableau (een vierkant aan kaarten die spelers gaan vormen), Kaarten moeten altijd aangrenzen aan eerder plaatste kaarten worden geplaatst. Na acht rondes is het spel voorbij en volgt de eerder omschreven puntentelling.
Alarún is een simpel spel met een simpel mechanisme en net zo simpele puntentelling. Alarún biedt ondanks de eenvoud een rijkdom aan keuzes. Het mechanisme waarbij spelers ingrediënten uitwisselen is intrigerend aangezien je niet exact weet wanneer een ronde voorbij is en welke ingrediënten je voor het einde van de ronde (denkt) te verzamelen. Alarún biedt hierdoor verfrissend en simpel plezier.