Weet jij als eerste 1000 kilometer af te leggen op vakantie in Frankrijk? In 1000KM – het bordspel (Mille Bornes) proberen spelers als eerste 621,37 mijl af te leggen op de Franse wegen. Passeer jij de meeste mijlstenen en weet jij de race te winnen of nam jij de ringweg om Parijs op Zwarte Zaterdag en strand jij in een grootse file?
1000KM het bordspel is een bewerkte uitvoering van het klassieke kaartspel Mille Bornes (die op zichzelf al een bewerkte versie van het klassiek spel Touring is waar ook Stap Op! op is gebaseerd). De naam Mille Bornes komt van de klassieke stenen mijlpalen die afstanden aangeven op de Franse wegen. Als jij in dit spel de meeste mijlpalen passeert, win je de race, maar pas op: andere spelers kunnen je dwarsbomen met autowrakken, stoplichten, maximumsnelheden en lekke banden.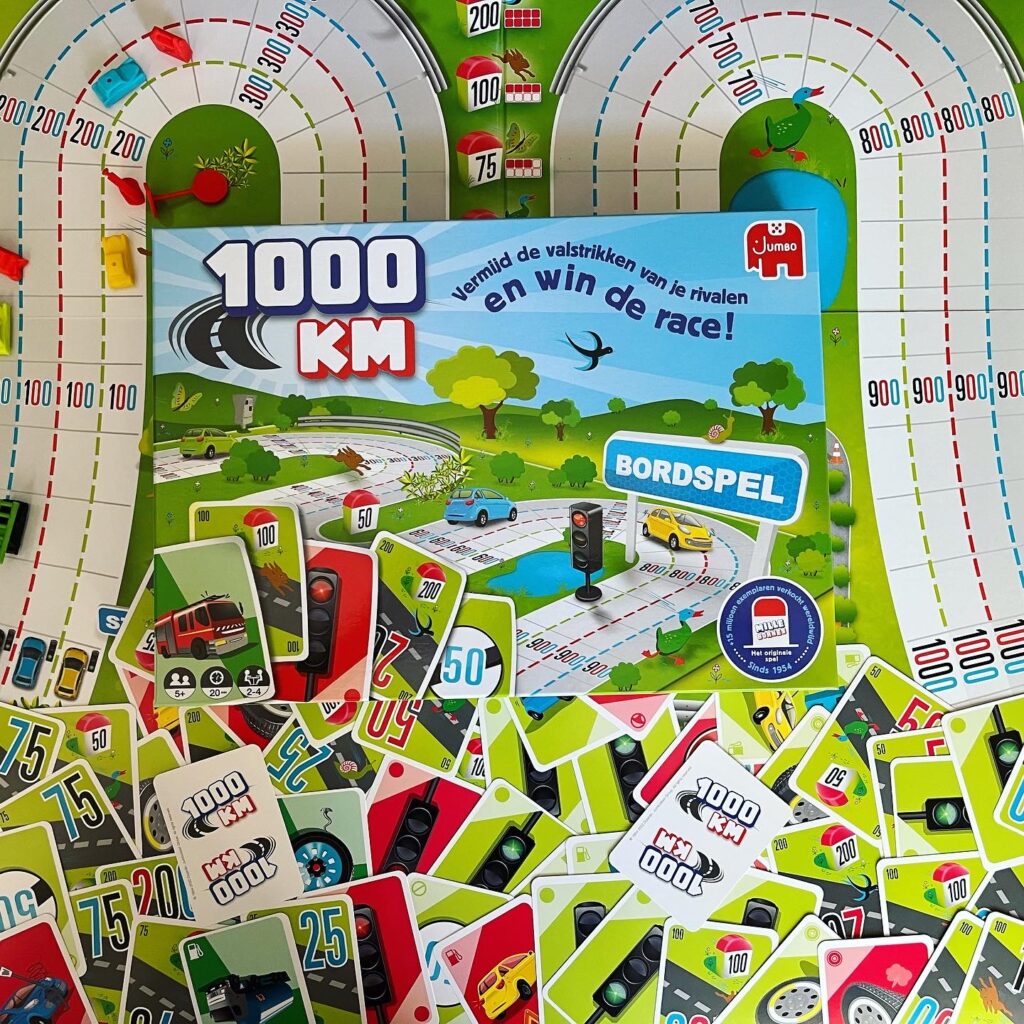 Op een groot glimmend speelbord plaatsen spelers hun gekleurde auto's en trekken ze een hand kaarten. Iedere beurt trekt een speler een kaart en speelt een speler één kaart (indien mogelijk). Met afstandskaarten kunnen spelers zich verplaatsen. Met rode gevaren kaarten kunnen spelers elkaar dwarsbomen. Als je gehinderd bent door een rode kaart kun je dit gevaar enkel opheffen met de bijpassende groene kaart. Er zijn ook donkergroene kaarten die een speler beschermen tegen bepaalde gevaren. Speelt een speler zo'n kaart, dan mag deze speler het bijpassen beschermingsmiddel op zijn of haar auto klikken. Als een speler geen kaart kan spelen, moet deze speler passen en een kaart afleggen.
Het spel is voorbij zodra een speler de finishlijn behaalt of als de trekstapel leeg is. De speler die de finishlijn behaalde of het verste is geëindigd, wint het spel!
1000KM is een klassiek kinderspel waarbij geluk een enorm grote rol speelt. De tactiek zit in het bewaren of spelen van de juiste kaarten op de juiste momenten. De lol voor de jonge spelers zit met name in het "pestelement" waarbij spelers elkaar kunnen blokkeren. Dit wekt kinderlijke pret op, maar het spel duurt niet te lang dat het "pesten" frustraties opwekt. 1000KM het bordspel blijft net als Mille Bornes en Stap Op! vooral een kinderspel, maar wel een step up van spellen zoals het klassieke Ganzenbord of Mens, Erger Je Niet!