Iedereen kent het spel Weerwolven. Je krijgt in het geheim een rol toebedeeld, vervolgens gaat iedereen "slapen" en worden in de nacht een aantal spelers wakker. Een aantal spelers zijn weerwolf en gaan in de nacht jagen op (veelal) onschuldige burgers. Andere spelers zijn mogelijk andere speciale rollen die ook roet in het eten van de weerwolven of andere burgers kunnen gooien. Weerwolven is super leuk om met een grote groep in een spannende setting te spelen. Het spel kent echter twee nadelen: 1. De meeste spelers zullen burger zijn (tenzij veel speciale rollen worden toegevoegd) en 2. uitgeschakelde spelers spelen niet meer mee en dat is echt doodzonde.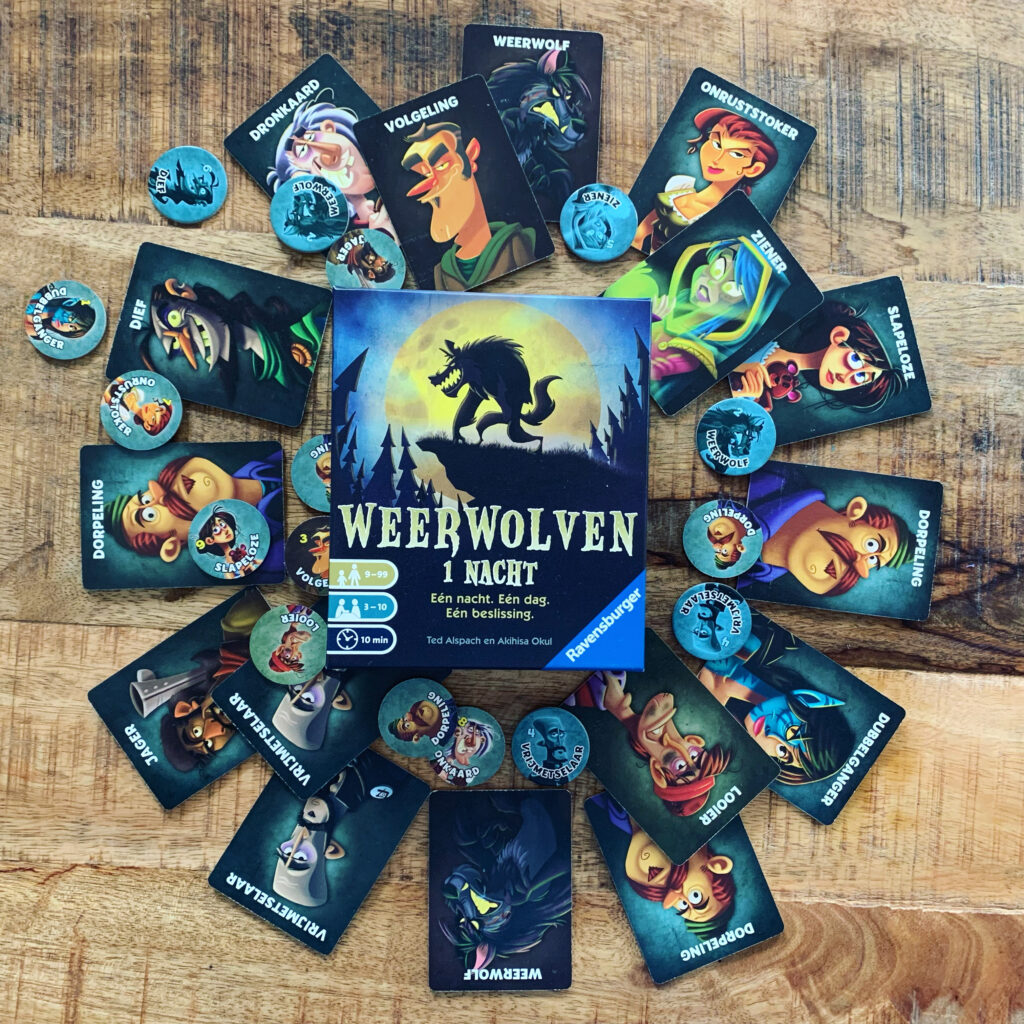 1 Nacht Weerwolven van Ravensburger neemt Weerwolven en lost deze twee nadelen op. Dit vlotte spel duurt slechts een enkele nacht en bijna elke speler heeft een speciale rol. Na de nacht gaat een speler dood na een stemming door de groep. De weerwolven winnen als een burger sterft en er geen enkele weerwolf sterft. Burgers winnen zodra een weerwolf het leven laat.
Het spel bevat vele unieke rollen die spelers kunnen spelen. De dronkelap weet niet zo goed wat hij deze nacht heeft gedaan en neemt een willekeurige andere, ongebruikte rol aan. De relschopper veroorzaakt chaos in het dorp en de dief steelt de rol van een andere speler. Zo zijn er nog veel meer rollen. Deze rollen maken het spel uitdagend en verrassend.
Het spel is binnen 10 minuten gespeeld, waardoor de groep smeekt om meer potjes/rondes te spelen. Door de bijbehorende app op de telefoon is er ook geen noodzaak voor een spelleider (wat bij een "normaal" potje weerwolven wel het geval is). Een must have voor liefhebbers van geheime rollenspellen zoals weerwolven!