Iedereen die Gloomhaven of Frosthaven speelt (of überhaupt door osmose of anderzijds heeft meegekregen), weet dat het spel in een immense doos en gevuld met spelonderdelen komt en goed gevuld ongeveer 10 kilo weegt. Gloomhaven bevat zoveel ongeordende onderdelen dat het spel bijna niet zonder een mooi opbergsysteem kan worden gespeeld. Gelukkig zijn er veel bedrijven zoals Laserox die hier de geschikte (of eigenlijk de perfecte) oplossingen voor hebben. Dat probleem is dus opgelost. Als je echter veel Gloomhaven of Frosthaven speelt, krijg na verloop van tijd ook de behoefte dat de verschillende spelonderdelen tijdens het spel ook goed geordend zijn, extra lang meegaan, of extra deluxe zijn. Een mooie 'dashboard' die je exact naar jouw speelbehoeften kan gebruiken, kan de spelbeleving en het spelplezier enorm vergroten. Gelukkig heeft Laserox speciaal voor Gloomhaven en Frosthaven een aantal nieuwe en fantastische producten ontwikkeld.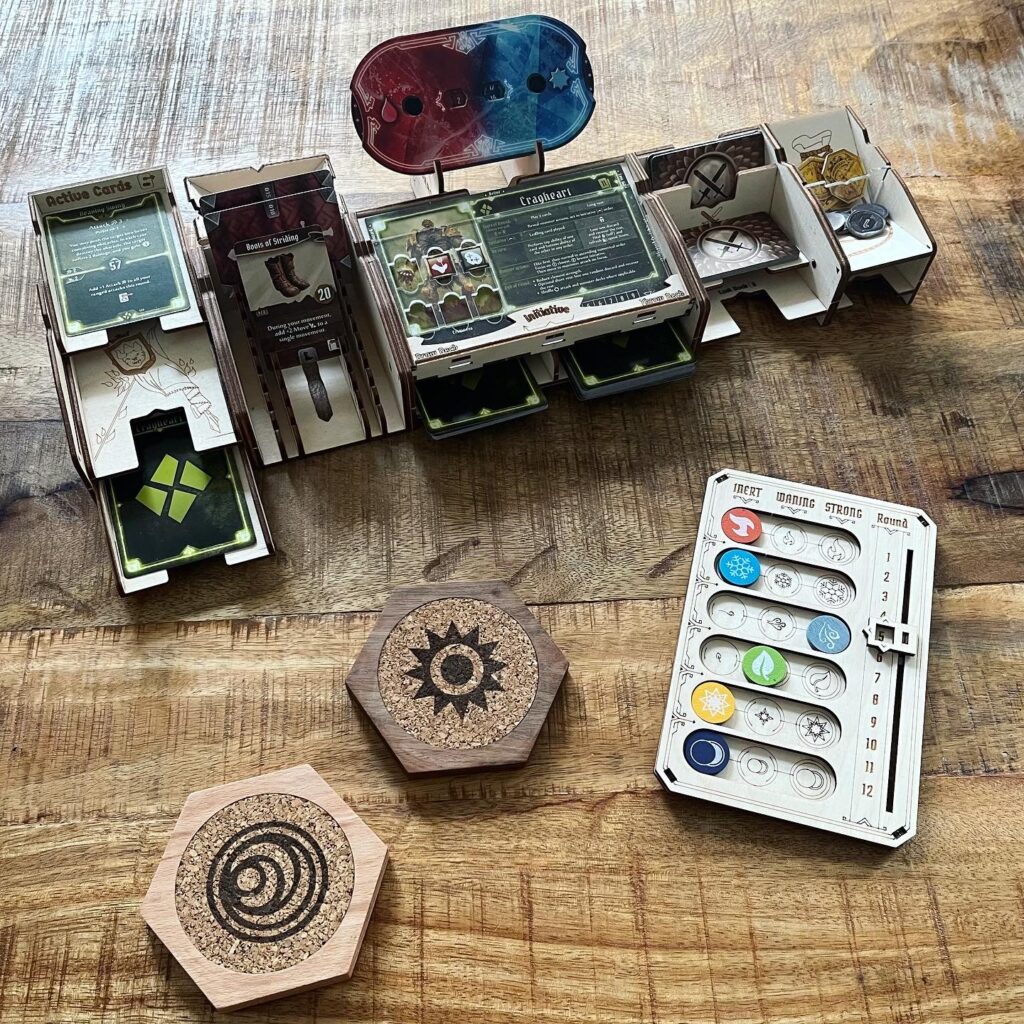 Twee producten die ik als eerste wil benoemen, zijn de onderzetters en de prachtige houten wereldkaart van Gloomhaven. Deze producten zijn wellicht niet ter ondersteuning van de spelervaring, maar uiteraard voor fans van Gloomhaven onmisbaar. De kaart kun je aan de muur hangen en is hierdoor het perfecte kunstwerkje voor de bordspelkamer. De onderzetters van kurk en hout beschermen jouw tafel tegen het condens en verspilde vocht van jouw favoriete drankje. Natuurlijk geheel in stijl.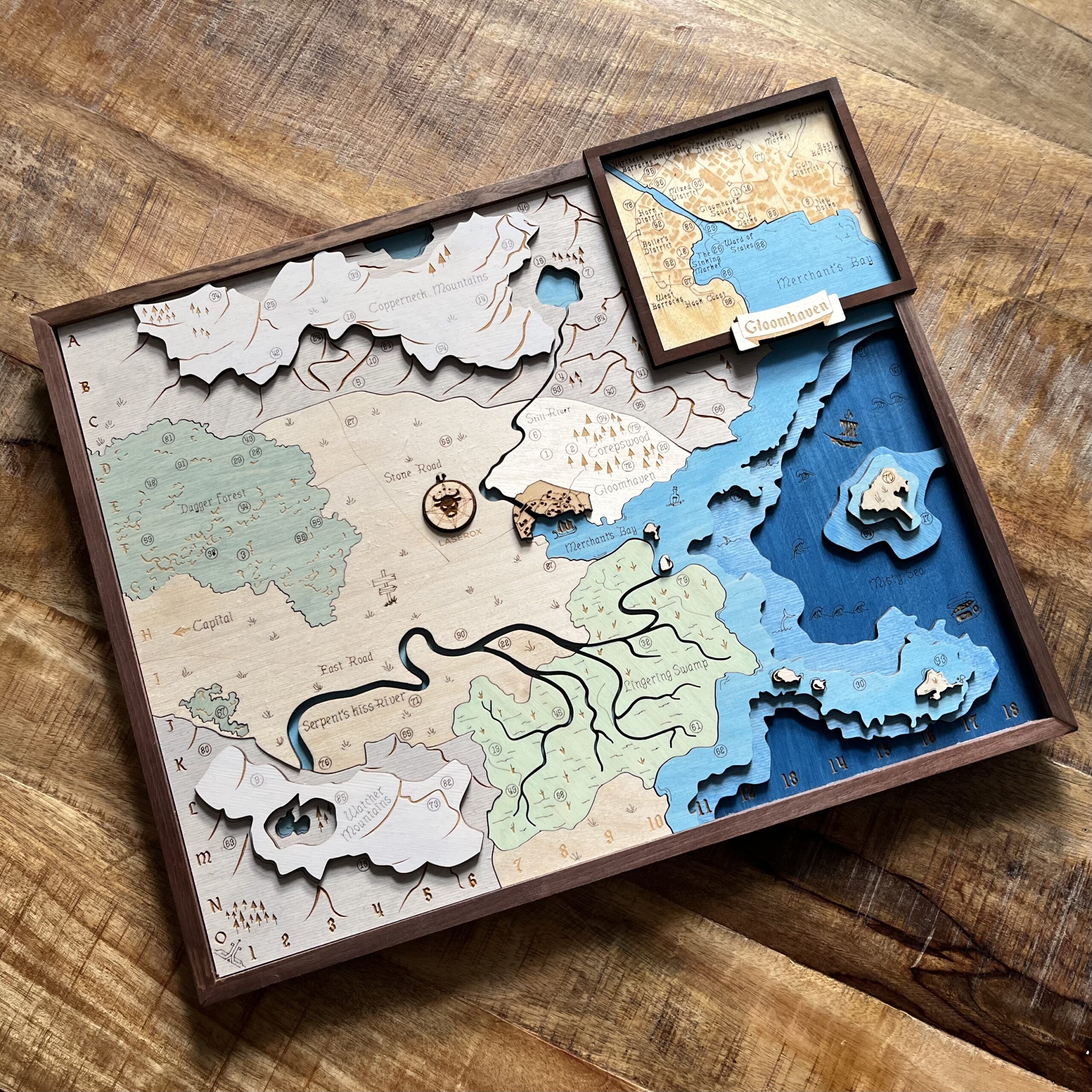 He elementbordje en rondetracker uit Gloomhaven is soms 'fragiel'. Een klein tikje tegen het bord en de verschillende fiches verschuiven makkelijk. Dit probleem wordt opgelost met een gelaagd houten bordje.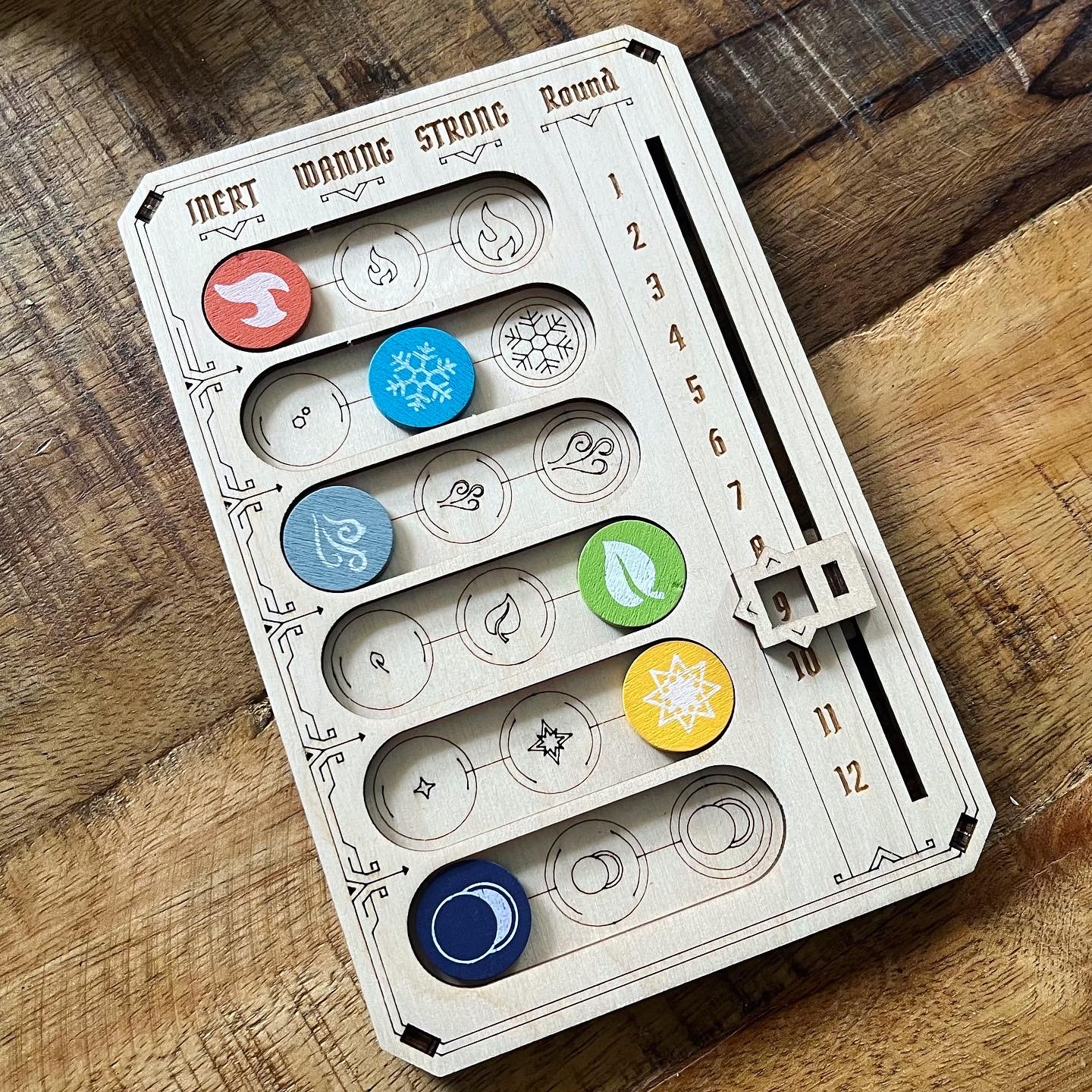 De dashboards zijn uiteraard de ster van de show. De dashboards kunnen alle spelonderleen van een specifieke speler en hun karakter huisvesten tijdens een Gloomhaven sessie. Er is ruimte voor alle kaarten, fiches, bordjes, etc. Spelers kunnen hiermee gemakkelijk hun verschillende kaarten sorteren voor gebruik tijdens het spel. De dashboards bestaan uit verschillende onderdelen die met magneten naar keuze aan elkaar kunnen worden verbonden. Heb je bijvoorbeeld geen behoefte aan een speciaal bakje voor fiches, omdat dit voor jouw karakter niet relevant is, dan kun je dit ook gemakkelijk weglaten. Ook kunnen spelers gemakkelijk bepalen waar ze welke onderdelen het liefste willen plaatsen tijdens een speelsessie. Door de dashboards zijn alle onderdelen binnen handbereik en mooi geordend en nemen hierdoor minder en op een andere manier tafelruimte in beslag, waardoor spelers het spel nog efficiënter kunnen spelen. Een must voor de spelbeleving en een oplossing voor een probleem waarvan je nog niet wist dat je het had.
De producten van Laserox zijn uiteraard een luxe, maar het zijn fantastische producten die het geld meer dan waard zijn als jij en jouw vrienden Gloomhaven of Frosthaven vaak of als lifestyle spel spelen. Nu verkrijgbaar via Kickstarter.