Een puf is de Nederlandse benaming een kleine haringachtige vis die vaak als bijvangst van haring wordt gevangen. Deze kleine visjes kun je heerlijk opbakken en eten als een soort van borrelhapje – vergelijkbaar met het Spaanse boquerones fritos, een gerecht waarbij kleine ansjovisjes heerlijk worden gefrituurd zo mals zijn dat ze met graat en al kunnen worden gegeten. Battle Pufs gaat niet over kleine visjes die de strijd aangaan ('there is always a bigger fish'), maar over harige stofballen die op 'miraculeuze' wijze onder je bedje verschijnen als je aantal maanden verzaakt om je kamertje te stofzuigen. Zij gaan elkaar te lijf met verschillende soorten aanvallen. Battle Pufs verschijnt binnenkort op Kickstarter, maar ik mag jullie nu al een kleine preview geven.
Battle Pufs is een vlot kaartspel waarbij iedere speler een klein legertje aan karaktervolle pluisballen krijgt. Elke puf heeft een bijzonder uiterlijk en achtergrondverhaal. Soms hebben de pufs een snufje woordgrappen en de andere puf is leuke popcultuurverwijzing. Sommige pufs hebben zelfs bijzondere krachten. Daarover later meer. Iedere speler krijgt drie van deze bollen en plaatst deze voor zich neer. Alle spelers krijgen vervolgens een aantal battle cards op handen en de strijd kan losbarsten.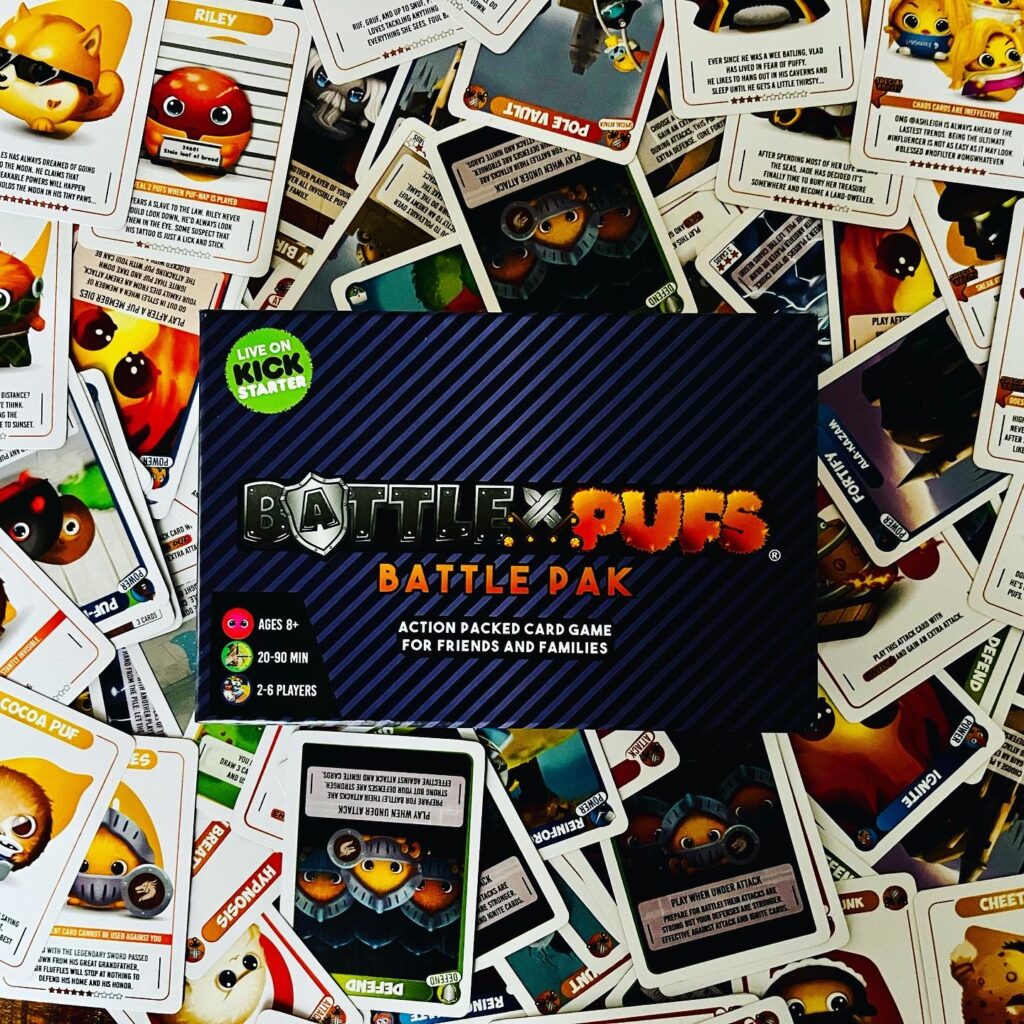 Een speler mag in zijn of haar beurt met een van de pufs een puf van een andere speler aanvallen. De actieve speler moet hiervoor een aanvalskaart spelen. Sommige aanvalskaarten zijn puf-gebonden en sterker als de juiste puf deze kaart gebruikt. De aangevallen speler, mag verdedigen als deze speler verdedigingskaarten heeft. Kan een speler niet meer verdedigen dan is deze puf verslagen. Zodra een speler geen pufs meer heeft, ligt deze speler uit het spel. Last puf standing wins. Naast verdedigingskaarten en aanvalskaarten zijn er ook power kaarten, waarmee spelers zichzelf kunnen helpen of andere spelers kunnen starren.
Battle Pufs is een take-that kaartspelletje. Wat bedoel ik daarmee? Het een kaartspellen waarbij elkaar pesten met actie-kaarten en reageren met reactie-kaarten centraal staat. Denk bijvoorbeeld ook aan Uno of met name Exploding Kittens of zelfs een beetje aan Munchkin. Het voornaamste spelprincipe zit daarom ook in het bewaren van effectkaarten om ze op het juiste moment in te zetten. Op sommige powers staat aangegeven hoeveel kaarten er in het spel zitten, waardoor plannen wat beter lukt. Doordat het een take-that spelletje is, hangt het spelverloop grotendeels af van de handkaarten van de spelers. Daardoor speelt geluk een centrale rol. Battle Pufs is een vlot spelletje met onschuldige humor voor tussendoor. Een aanrader voor liefhebbers van Exploding Kittens.