Kerst komt er weer aan! Een prachtige Kersttraditie die zich enorm goed leent voor allerlei vormen van consumptie en collecties zijn adventskalenders.
Met een adventskalender kun je aftellen naar de favoriete feestdag van veel mensen op de vliegende steen die we onze aarde noemen. Vroeger werden er kaarsjes aangestoken of mocht je iedere dag een vakje van je adventskalender open scheuren en trof je chocolade of wat ander lekkers aan. We worden met z'n allen steeds uitbundiger en zo ook de adventskalenders. Iedere dag mag je een vakje open trekken en tref je van alles wat je maar kunt verzinnen: LEGO, bier, thee, erotisch speelgoed, exotische kruiden, wellnessproducten, Hotwheels en allerlei presentjes van je favoriete franchises zoals Star Wars, Harry Potter, Paw Patrol, Peppa Pig en Disney. Van elk chocolademerk kun je kalenders krijgen en er zijn zelfs adventskalenders die iedere dag een stukje van een escape room bieden of een radiografisch bestuurbare auto.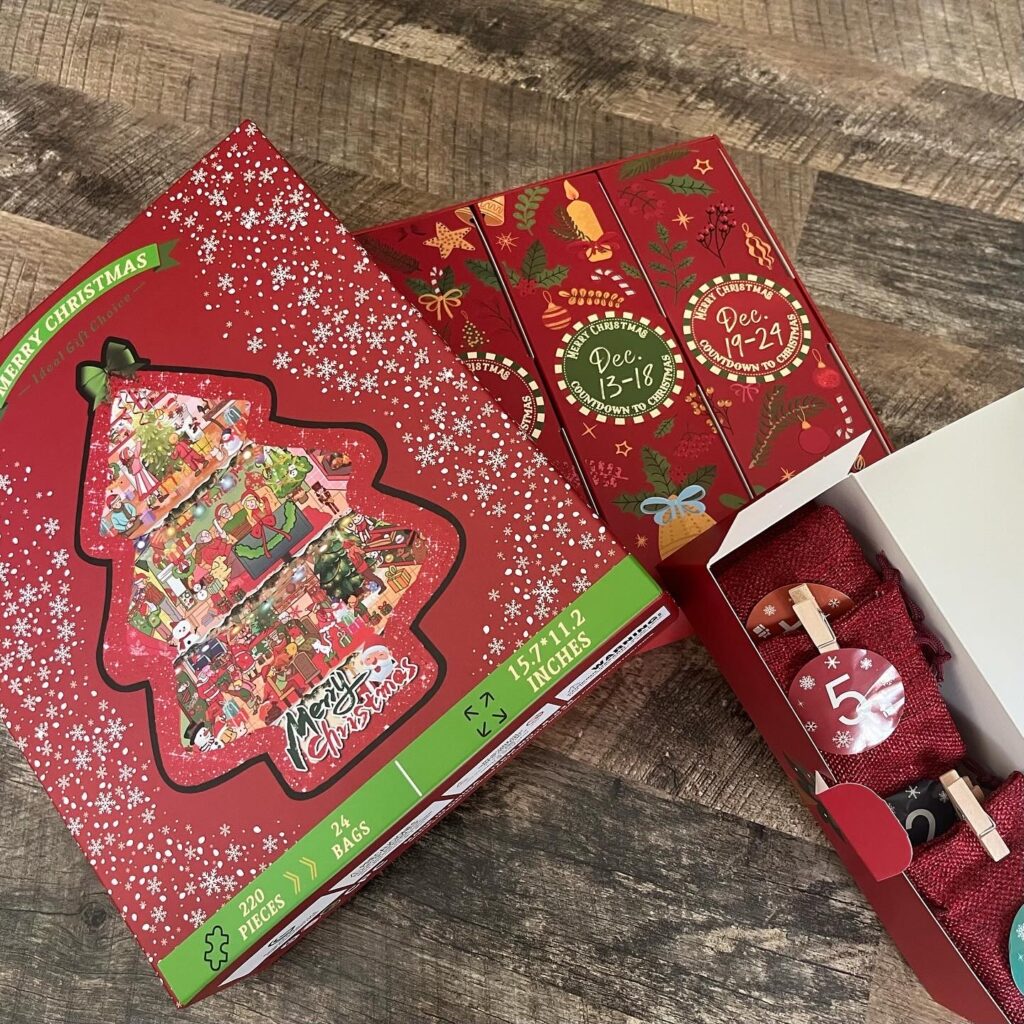 Ieder jaar bereiden mijn verloofde en ik een kalender voor elkaar voor. Een paar jaar geleden had ik voor haar, een fervent puzzelaar, een houten puzzel van Wentworth met eigen afdruk besteld. Ik verdeelde de verschillende houten stukjes over 24 zakjes en doosjes zodat zij iedere dag stukjes van de puzzel verzamelde om vervolgens tijdens Kerst lekker te kunnen puzzelen. Voor dit jaar hebben wee besloten om meerdere adventskalenders aan te schaffen en uit te proberen om ervaringen te vergelijken met onze "eigen" kalenders.
Toen het puzzelbedrijf Pickforu aan mij vroeg of ik een van hun puzzels wilde testen en toelichten voor jullie, hoefde ik dan ook niet lang te twijfelen toen ik hun houten puzzel adventskalender zag. Net als met mijn zelfgemaakte houten puzzel , bevat de adventskalender van PickForU 24 zakjes met houten puzzelstukjes.
Pickforu heeft het overigens een stuk slimmer aangepakt dan ik destijds heb gedaan. Ik had de stukjes willekeurig verdeeld, zodat je pas op de laatste dag kon beginnen met puzzelen. Bij deze Pickforu kerstpuzzel is dat anders. Iedere dag puzzel je namelijk een stukje van het grotere geheel. Je krijgt meerdere stukjes die samen een kleiner onderdeel vormen. Hierdoor kun je iedere dag een stukje puzzelen in voorbereiding op de kerst.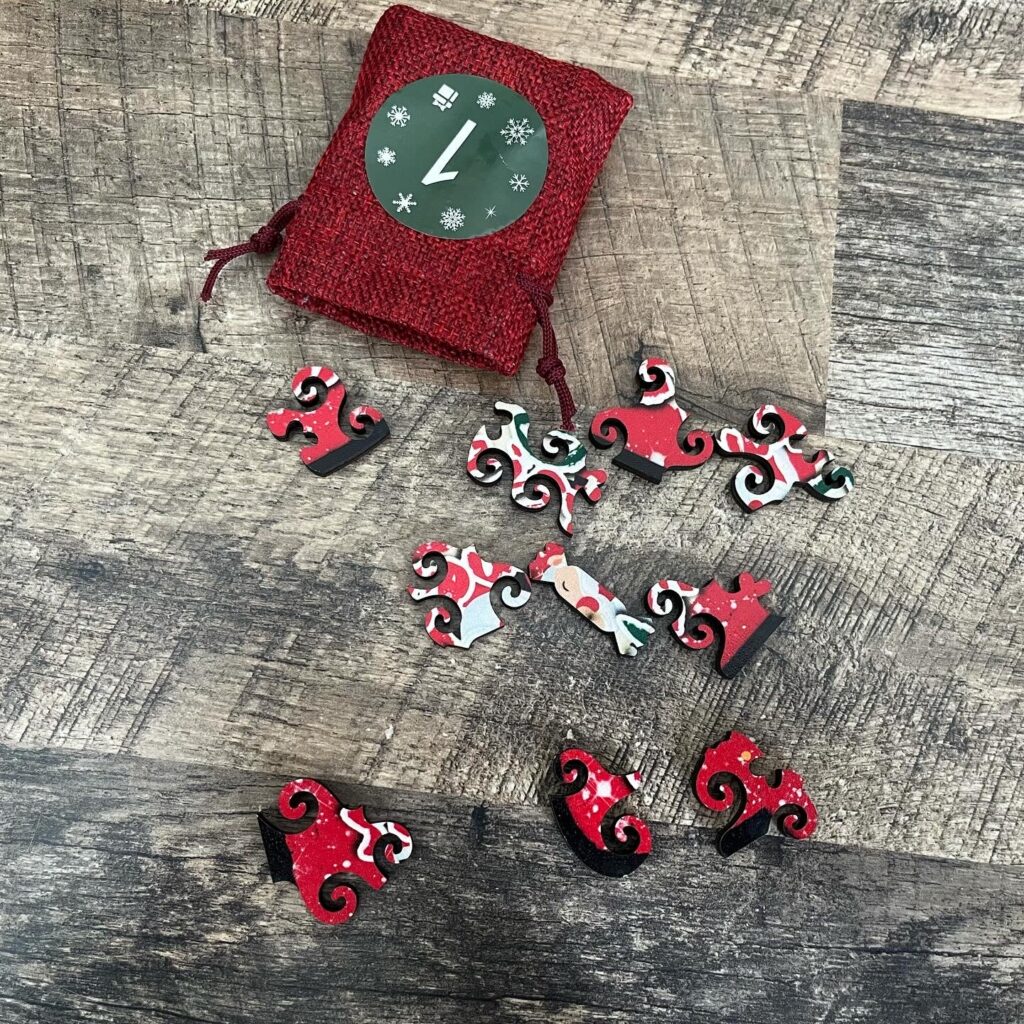 Naast een mooie doos, die in vier vakken is verdeeld, en de verschillende individuele zakjes krijg je ook 24 minuscule houten wasknijpertjes, een stukje touw en wat dubbelzijdige plakkertjes zodat je de puzzel naar blieven kunt opvangen aan de muur of het plafond. Je kan de doos ophangen als kerststukje en de zakjes uit de vakjes halen, maar het leukste is toch om alle zakjes aan het touwtje te hangen met de wasknijper en zo tijdens de decembermaand de hele kamer kerstelijk te versieren. De puzzel zelf straalt klassieke kerst uit. De houten onderdelen hebben lastige vormpjes, waardoor het puzzelen uitdagend is, en sommige vormpjes zijn thematisch waardoor je een vermakelijke en kerstige puzzelervaring hebt.
Dit artikel is mede mogelijk gemaakt door Pickforu. Met de kortingscode "dice_daniel12" krijg je 12% korting op je aanschaf op de Pickforu.store