Wat krijg je als een roll-and-wite zoals Qwixx, een snelheidspel zoals Halli Galli en een vleugje bingo in een blender gooit en heel snel op de knop drukt? Dan krijg je het hectische dobbelspel Zinga van 999 games! Probeer snel getallen te herkennen, als een gek op de bel te rammen en als eerste 5 getallen op je scorevel weg te strepen om vervolgens Zinga te roepen om te winnen! Is dit nieuwe spel bingo of een bingnogo?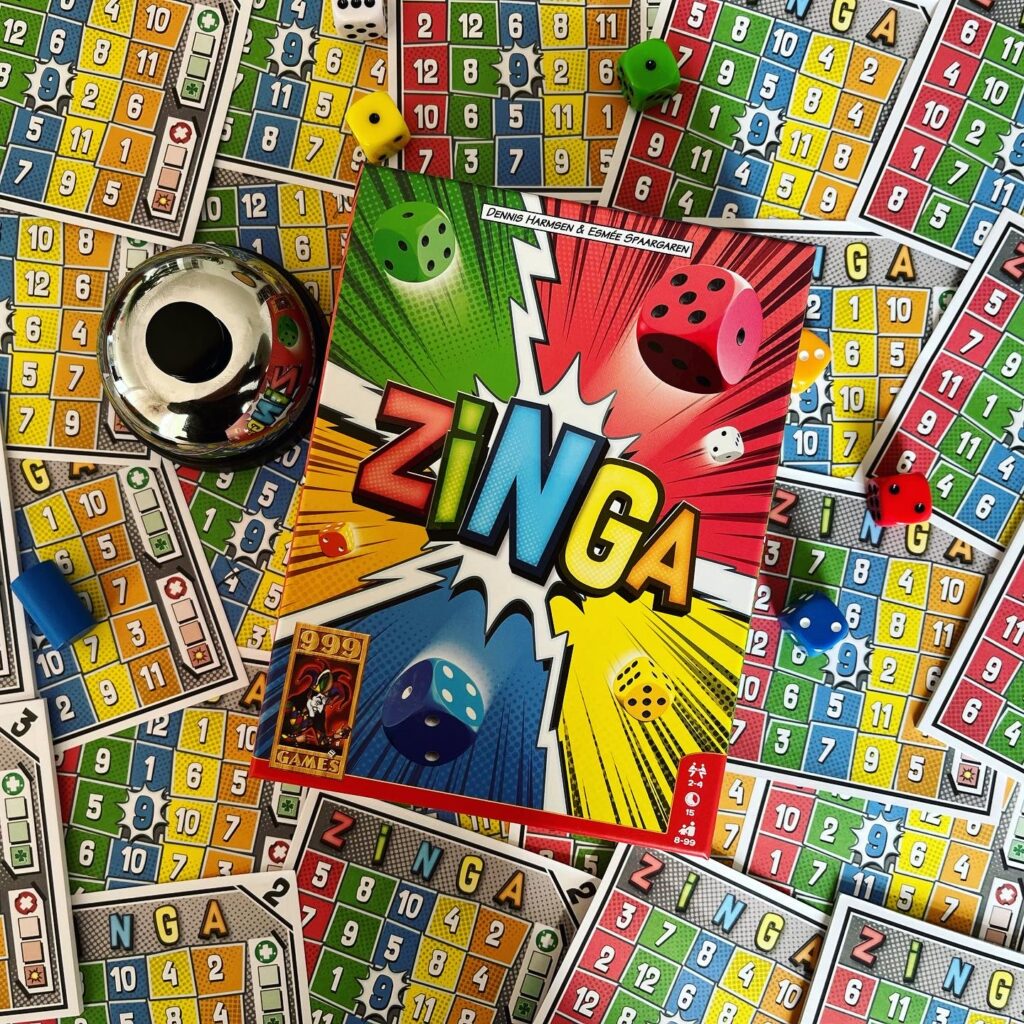 In Zinga krijgen alle spelers een scorevelletje. Op de doos staat 2 – 4 spelers, maar je kan het gemakkelijk met meer spelers spelen. Op het midden van de tafel ligt een bel en een pion. Spelers proberen als eerste 5 getallen op een rij (horizontaal, verticaal of diagonaal) weg te strepen om een bing…. euh Zinga te krijgen en te winnen! Elke beurt gooit de actieve speler alle dobbelstenen. Spelers proberen nu zo snel mogelijk in de geworpen dobbelstenen een van de getallen op hun speelkaart te herkennen. De actieve speler mag uit alle (dus ook enkele) dobbelstenen kiezen, maar de andere spelers mogen slechts een combinatie een getal herkennen in de combinatie tussen een gekleurde dobbelsteen en de witte dobbelsteen. Het is dus nog best lastig om in de hectiek snel een (juist) getal te spotten. Als een speler een getal herkent, mag deze speler op de bel rammen en zo snel mogelijk het getal en de kleur roepen die deze speler herkent en wilt wegstrepen. GELE VIJF! Maakt een speler echter een fout of roept deze speler niet snel genoeg het getal, dan krijgt deze speler een spreekwoordelijke rode kaart. Bij drie fouten ligt deze speler uit het spel. Geen tosti-ijzer of namaakbloemen voor deze slome bejaarde!
Het spel bevat tevens een pion die spelers als een soort troef kunnen gebruiken. Als een speler de blauwe 9 (op ieder vel aanwezig) weet weg te strepen, dan krijgt deze speler een blauwe pion. Deze pion kun je gebruiken om te zorgen dat een andere speler niet mag strepen (een soort nope-kaart) of om een fout recht te zetten.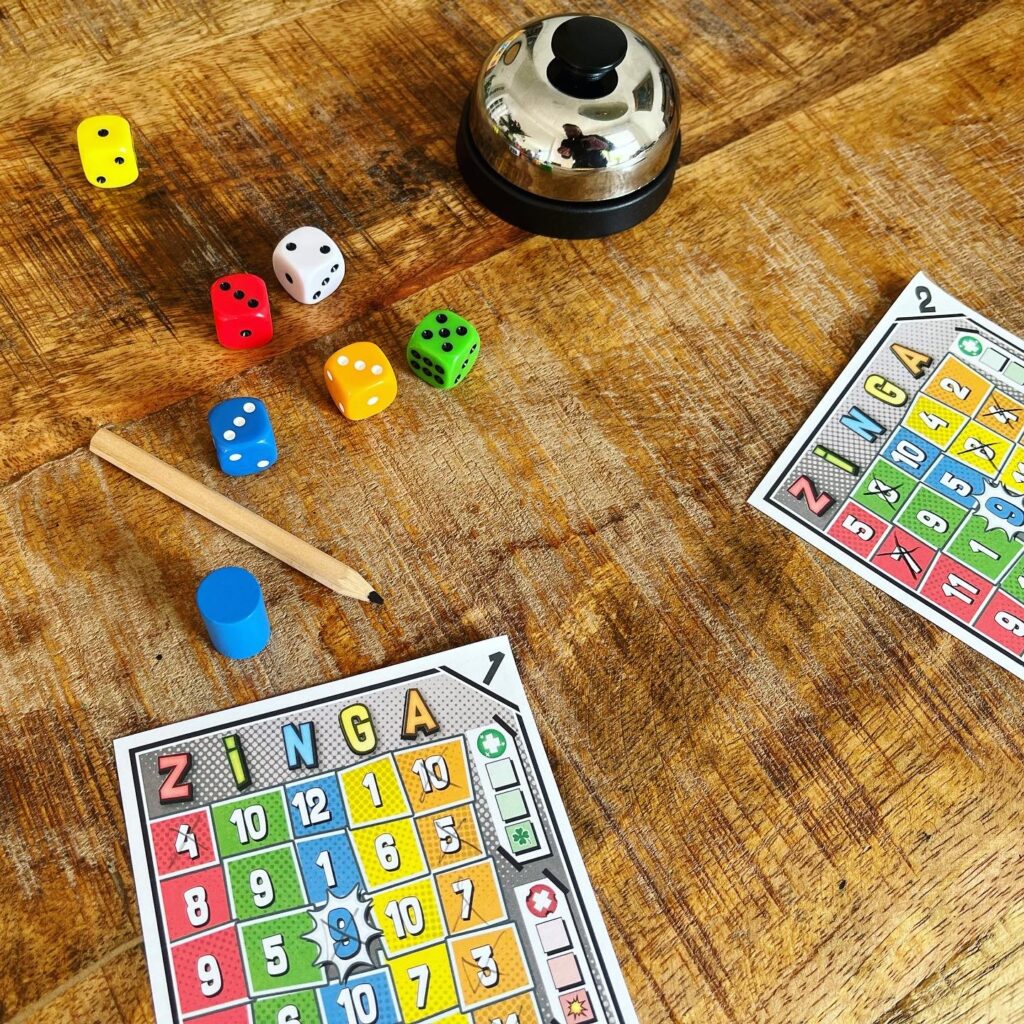 Zinga is een chaotisch snelheidsspelletje. Spelers proberen snel getallen te herkennen en zullen door de druk en hectiek fouten maken. Daar zit ook juist de hilariteit van het spelletje. Het spelconcept is geen hogere wiskunde, maar in de juiste setting (denk aan een drukke kroeg, (studenten)feest of een weekendje weg met vrienden of familie) een leuk spel om spelers na wat liquide versnaperingen weer wakker en helder te krijgen. Door de hectiek is het wellicht niet geschikt voor liefhebbers van een sloom/relaxt potje bingo, maar in tegenstelling tot bingo is Zinga daadwerkelijk een spel waarbij ook vaardigheid nog een rol speelt. Hou je van dobbelen en hou je van Ligretto? Probeer dan ook eens Zinga.
Steun Dice Daniel en bestel Zinga op Spellenwinkel.nl