Een jonge Foxen probeert zijn plek in de wereld van Børe te claimen door de oorsprong van de monsterlijke Guardian, die het bestaan van de volkeren van Børe bedreigen, te ontdekken. Deze jonge Foxen gaat dit doen door de ruïnes en runen te zoeken tijdens zijn reis naar de bergtop Maul Peak in World of Børe Runes & Ruins.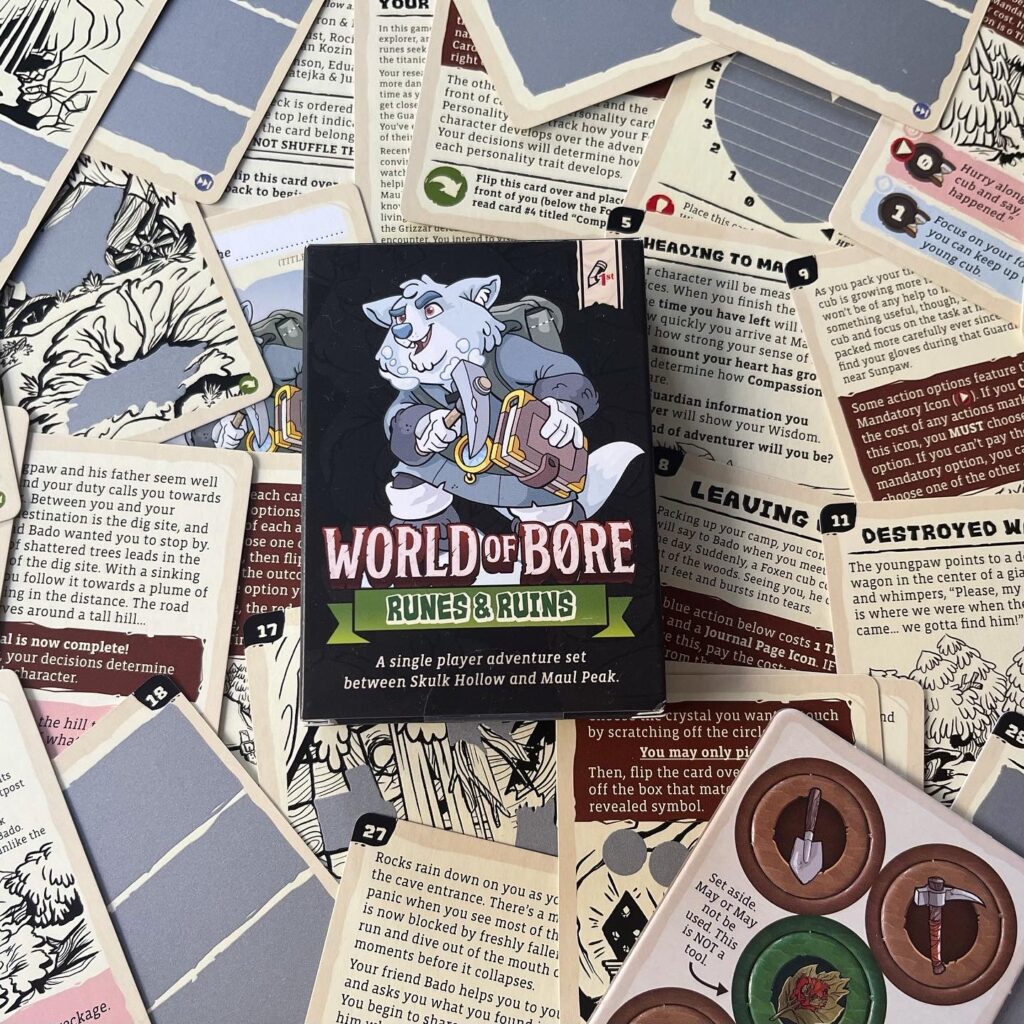 World of Børe Runes & Ruins is een single Player avontuur dat zich afspeelt tussen Skulk Hollow en Maul Peak. Het speelt zich niet alleen af tussen de gebeurtenissen van deze twee spellen, maar ook op de route van Skulk Hollow, waar de Foxen heersen, richting Maul Peak waar de beren van de Grizzar hun hol hebben gemaakt.
Runes & Ruins is een soort van choose-your-own-adventure achtig spel waarbij je met je een verhaal leest en telkens verschillende keuzes moet maken die de uitkomst van het verhaal beïnvloeden. Het spel speel je met een stapeltje kaarten, een setje fiches en 15 willekeurige blokjes. De blokjes zitten niet bij het kleine spelletje, maar je kan deze lenen van Skulk Hollow of Maul Peak. In mijn geval heb ik paarse cilinders uit Evergreen gebruikt, omdat ik te lui was om naar de andere kamer te lopen om de doos van Skulk Hollow of Maul Peak te openen…
Ook moet je ook zelf een pen en een muntje regelen. Dit muntje is essentieel aangezien veel van de kaarten een kraslaagje bevatten die je wellicht ook kent van krasloten. Door de kaartjes te lezen leer je de regels van het spel, maar het spelverloop komt er eigenlijk op neer dat je kaarten omdraait tot je wordt geconfronteerd met een keuze.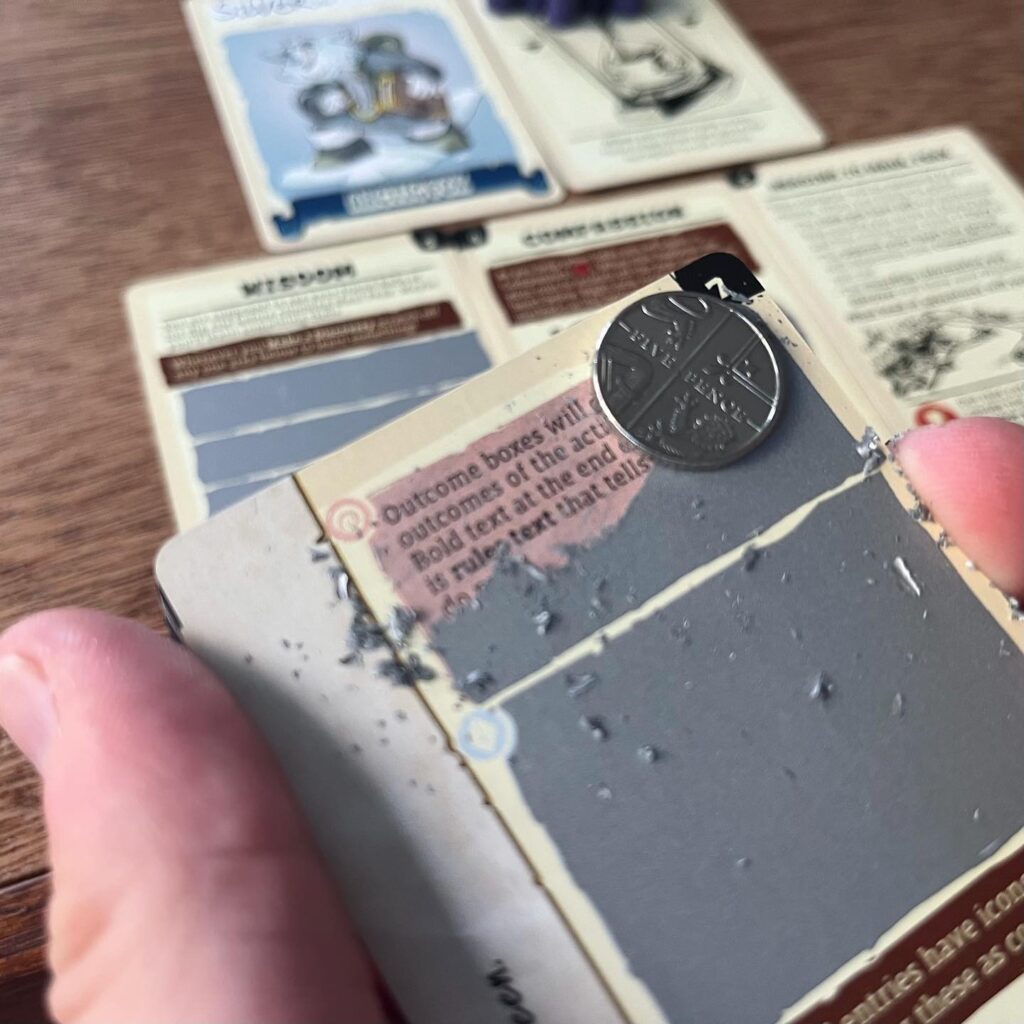 Vaak brengen bepaalde keuzes kosten met zich mee en vaak in de vorm van tijd. Met de blokjes die je uit de andere kamer moest halen hou jij de tijd bij. Tijdens het spel spendeer je tijd, maar verdien je ook compassie. De hoeveelheid tijd en compassie die je hebt aan het einde van het spel, beïnvloeden de uitkomst van het verhaal. Die uitkomst is overigens interessant, want dit levert een speciale actie op die spelers kunnen gebruiken tijdens een potje Skulk Hollow en Maul Peak.
Runes & Ruins is een grappig tussendoortje van 30 minuten die spelers lekker in de stemming brengt van Skulk Hollow of Maul Peak. Je kan het slechts eenmalig spelen, maar het levert dus een bonusje op voor bij de eerder genoemde spellen. Ik zou Runes & Ruins dan ook eerder willen beschouwen als ene verhalende micro-uitbreiding van deze spellen. Zet overigens naast de pen, munt en blokjes ook maar een stofzuiger klaar, want je moet een hoop krassen en de kraslaag geeft veel glimmend stof af. Het is in ieder geval minder schadelijk dan gokken 😉