Wildplukken is een uniek onderwerp. Aan de ene kant lijkt het onschuldig, biologisch en kan het zelfs duurzaam zijn. In de natuur groeien namelijk de mooiste en lekkerste producten. Daarom lijkt het niet verkeerd om gewoon wat lekkere bessen, mooie eetbare bloemen of paddenstoelen te plukken voor een heerlijk gerecht. Geen overvolle containers voor bevoorrading van de supermarkt en geen pesticiden. Op veel plekken is wildplukken echter afgeraden of verboden (zeker hier in Nederland) en daarnaast zijn er net als diersoorten ook vele bloem- en plantensoorten bedreigd. Door domweg te plukken of rapen kan je de natuur verstoren ecologische schade aanrichten. Daarnaast kan het als onervaren plukker ook heel gevaarlijk zijn. Veel paddenstoelen soorten lijken namelijk qua uiterlijk veel op elkaar, maar waar de boschampignon een lekker hapje is, is de voorjaarsknolzwam een gerecht om voor te sterven… Houd je tijdens he wildplukken goed aan de regels, raadpleeg goed wat je gaat plukken en ook vooral waar je gaat plukken, verstoor de natuur niet en neem het liefste een expert mee zoals een boswachter. Of pluk in een veilige omgeving zoals in het spel Wonder Woods van Blue Orange Games en Geronimo Games. Ook in dit spel kun je de prachtigste zwammen, schimmels, en paddenstoelen plukken om de meeste punten te verdienen. Pluk jij de overwinning?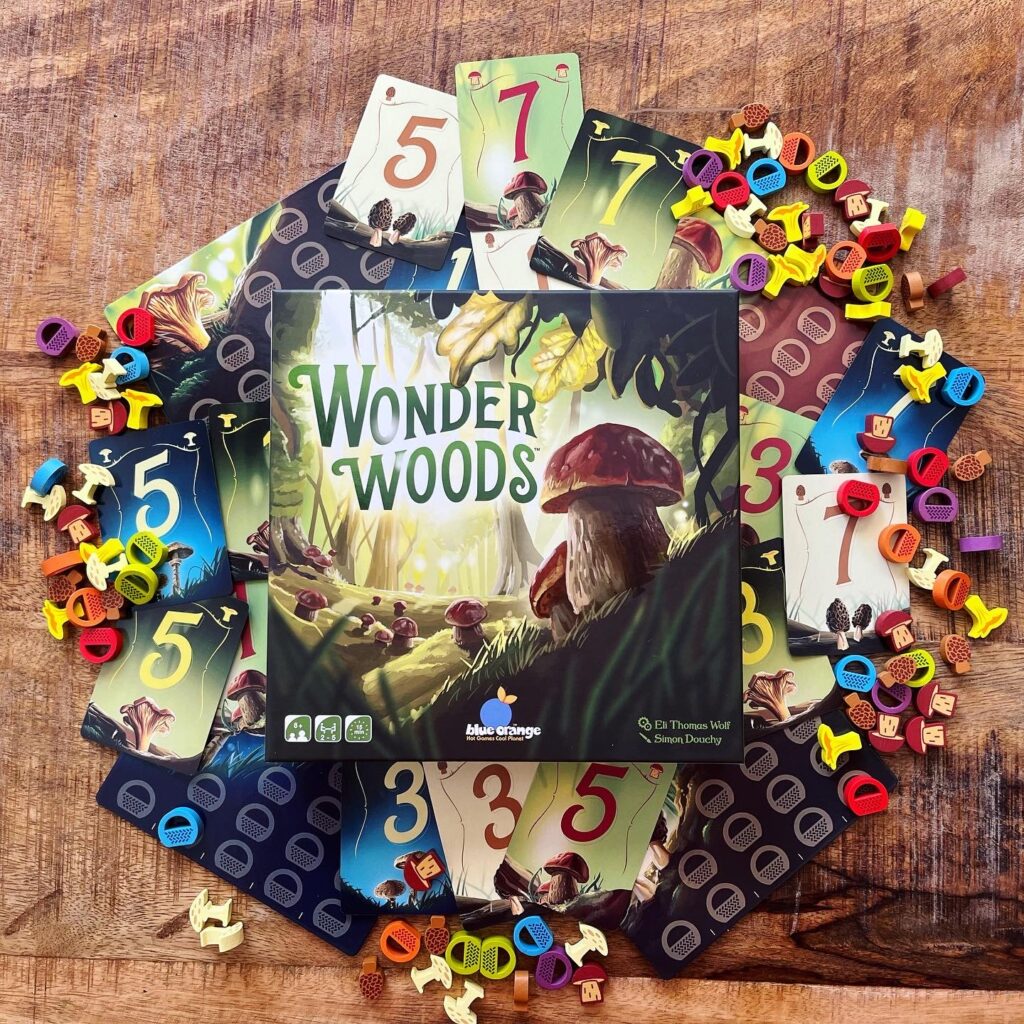 Wonder Woods is een bluf- en deductiespel waarbij spelers op basis van een beperkte hoeveelheid aan informatie moeten ontcijferen welke paddenstoelen de meeste punten opleveren en proberen deze paddenstoelen ook te plukken. Op tafel liggen vier verschillende paddenstoelen (prachtige houten onderdelen) en de bijbehorende kleine spelbordjes. Elke paddenstoel heeft ook bijbehorende kaarten met punten in oplopende waarde. Per paddenstoel worden deze kaarten geschud en elke paddenstoel krijgt een gesloten kaart toegewezen. Dit zijn de verborgen punten die deze paddenstoel waard is. Elke speler krijgt mandjes in zijn of haar gekozen kleur en tevens krijgt iedere speler een hoeveelheid kaarten bestaande uit de puntenkaarten van de paddenstoelen die zijn overgebleven. Op basis van deze kaarten weten spelers al welke punten bepaalde paddenstoelen niet hebben.
Om de beurt gaan spelers nu paddenstoelen plukken. Ze leggen één of meerdere mandjes bij een paddenstoel neer om een paddenstoel te pakken. Spelers moeten altijd één mandje extra plaatsen dan een vorige hoeveelheid geplaatste mandjes. Zodra geen enkele speler meer mandjes kan plaatsen is de ronde voorbij. Per paddenstoel krijgt de speler die de meeste mandjes in zijn of haar kleur heeft geplaatst een extra paddenstoel. Na het einde van een ronde voor het begin van de volgende ronde kunnen spelers er voor kiezen om een van hun kaarten open te draaien. Hierdoor krijgen de andere spelers wellicht waardevolle informatie toegespeeld, maar als beloning mag de speler een extra mandje aan het arsenaal toevoegen. Een belangrijke strategische keuze.
Wonder Woods is een erg kort spel met een gezonde dosis bluf, geluk en deductie. Spelers proberen op basis van handelingen van andere spelers en de informatie die ze hebben te ontdekken welke paddenstoelen waarschijnlijk het meeste waard zijn. Dit kan voor hilarische situaties zorgen als alle spelers vol overtuiging een bepaalde paddenstoel kiezen die later toch weinig waard blijkt te zijn. Zet je alles in op rood met witte stippen of spreid je als een echte schimmel je kansen?