Wink, waarbij spionnen winnen met een oogwenk, is een heruitgave van het gelijknamige spel uit de jaren 90. Nadat dit spel een paar jaar undercover is geweest, is het terug in een nieuw jasje. Een lange regenjas van een geheimagent welteverstaan. Deductie en subtiliteit zijn key. Ben jij een echte 007 of kun je beter 00-opgeven?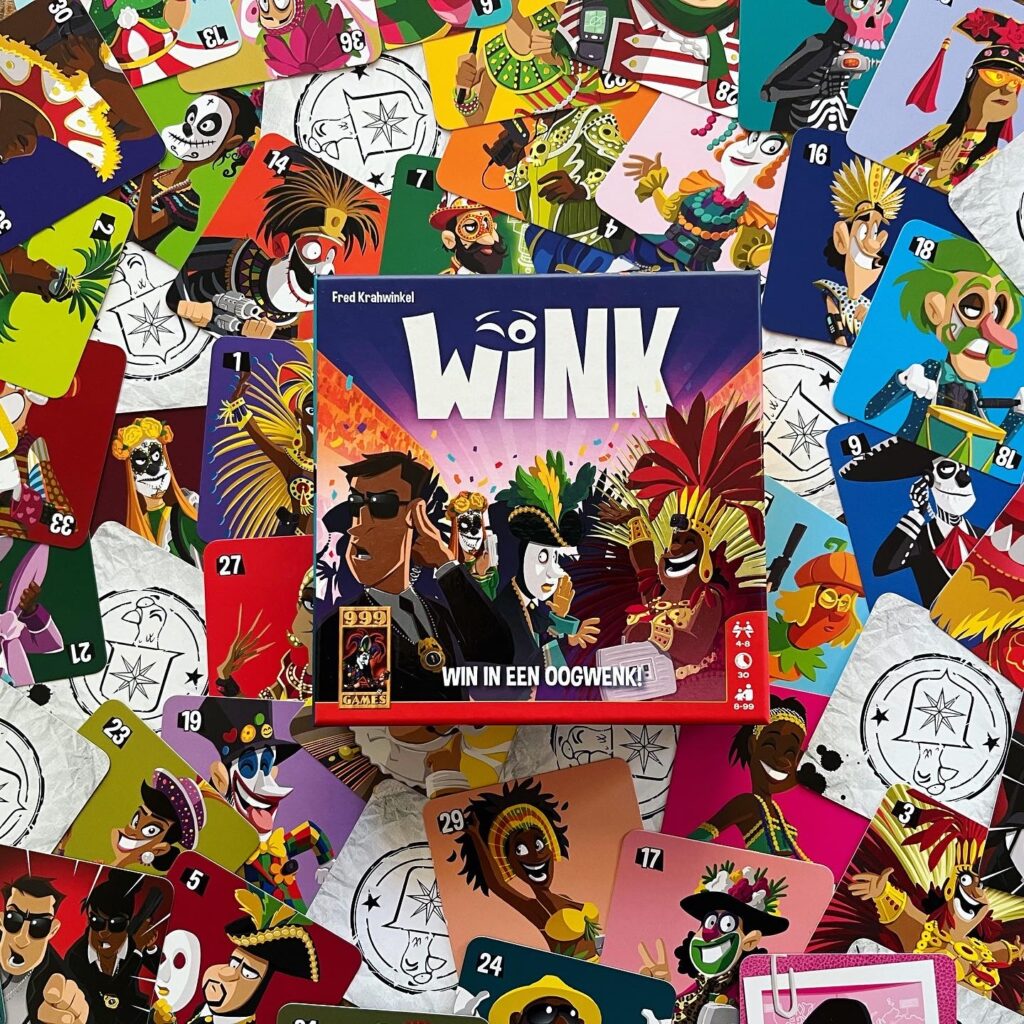 Wink is een partyspel waarbij spelers in het geheim proberen te ontdekken wie hun handlanger is. Op tafel wordt een tableau geplaatst met verschillende karakterkaarten. Vervolgens wordt eenzelfde set aan karakterkaarten onder de spelers verdeeld. Elke speler kies een kleur en bijbehorende personagekaart en pion. Als een speler aan de beurt is, plaatst de speler zijn of haar pion op een kaart op een karakter op het tableau. De speler mag de pion niet plaatsen op een karakter die deze speler op hand heeft. Hierna is de volgende speler aan de beurt. Tijdens het spelen, voordat de speler die de pion plaatste weer aan de beurt is, heeft de speler die de karakterkaart op hand heeft de kans om de andere speler te seinen door te knipogen en op deze manier aan te geven dat hij of zij een handlanger zijn. Zorg er echter voor dat andere spelers jouw niet zien knipogen. Als zij een vermoeden hebben dat een speler een handlanger is, mogen zij een van hun inlichtingendienstkaarten spelen.
Je kan punten verdienen door je handlanger te ontdekken of door andere spelers te ontmaskeren. Tijdens het spel (al helemaal met grotere groepen) liggen er meerdere pionnen op het tableau. Je probeert in de hectiek te ontdekken wie jouw handlangers zijn, je probeert spelers te seinen door te knipogen en je probeert andere spelers te ontmaskeren. Multitasken is lastig en gaat vaak mis en dat zorgt uiteraard voor hilariteit aan tafel. Je kan letterlijk winnen of verliezen door even met je ogen te knipperen, doordat je niet goed door hebt wat er nu precies aan tafel gebeurt of door (on)opvallend te seinen. Wink is hierdoor een leuk partyspel voor grotere groepen spelers.
Steun Dice Daniel en bestel Wink op Spellenwinkel.nl