Wingspan is een ware hoogvlieger onder de bordspellen. Immens populair bij spelers die pas uitvliegen en spelers die al meer veren op hun tooi hebben. Wingspan is een nestje vol prachtig geïllustreerde vogels, sfeer en dankzij de bijna ontelbare hoeveelheid vogels, doelen en verscheidende uitbreidingen onuitputtelijk gevarieerd. Inmiddels is ook een digitale versie van het spel verschenen voor spelers die Wingspan graag onderweg spelen, een voorkeur hebben voor een digitale solomodus of multiplayer of al die prachtige spelonderdelen liever in nieuwstaat houden in een gesloten doos. Ik mag mijn vleugels uitslaan en jullie meenemen naar Wingspan op de Switch!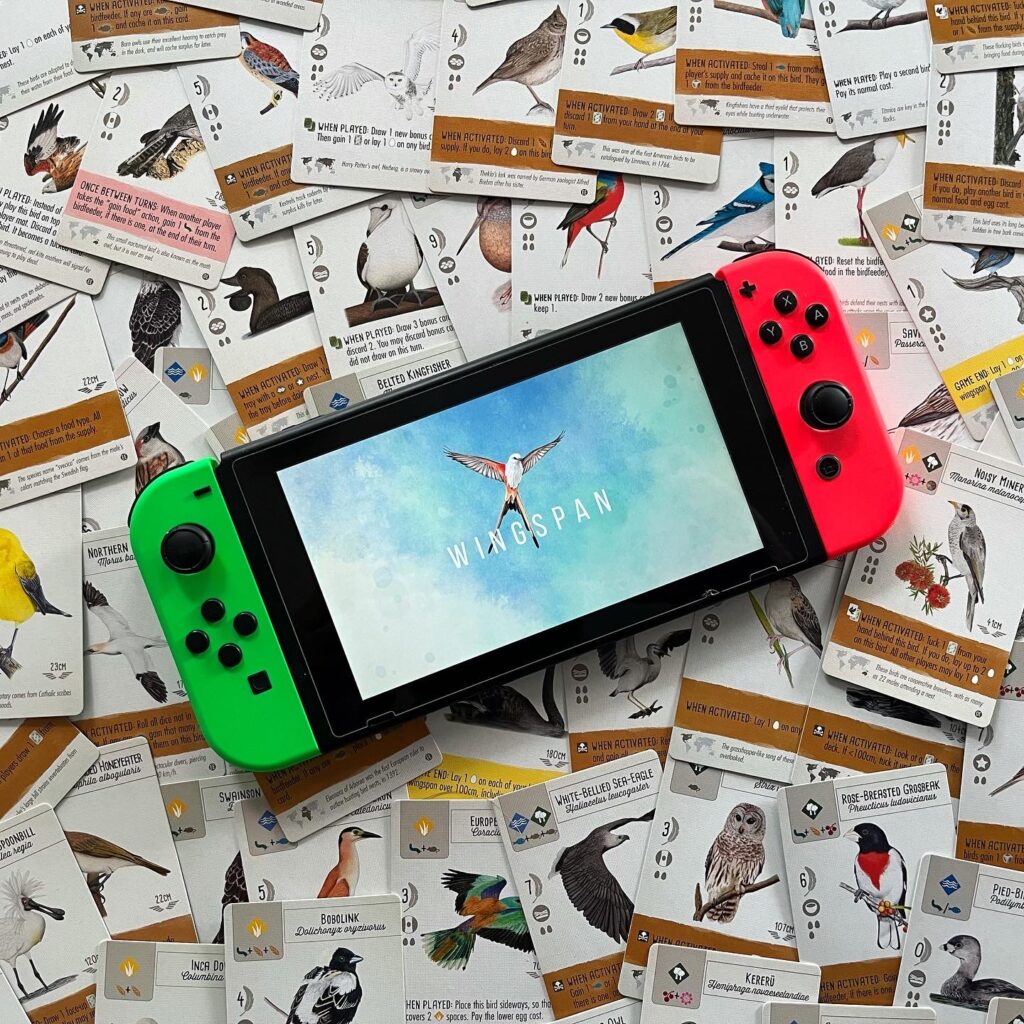 Wingspan is, in vogelvlucht, een spel waarbij spelers in verschillende speelrondes iedere beurt verschillende acties kunnen ondernemen. Spelers gaan vogelkaarten spelen voor speciale bonussen en om acties te verbeteren. Spelers dienen goed hun acties en nog belangrijker de volgorde van deze acties te plannen om de motor van hun broedmachine op gang te brengen en draaiende te houden.
Een belangrijk onderdeel van de allure van Wingspan zijn de prachtige illustraties van de vele verschillende vogels. Ook het artwork de digitale versie op de de Switch is weer uitstekend. De digitale spelomgeving is gedetailleerd en geanimeerd.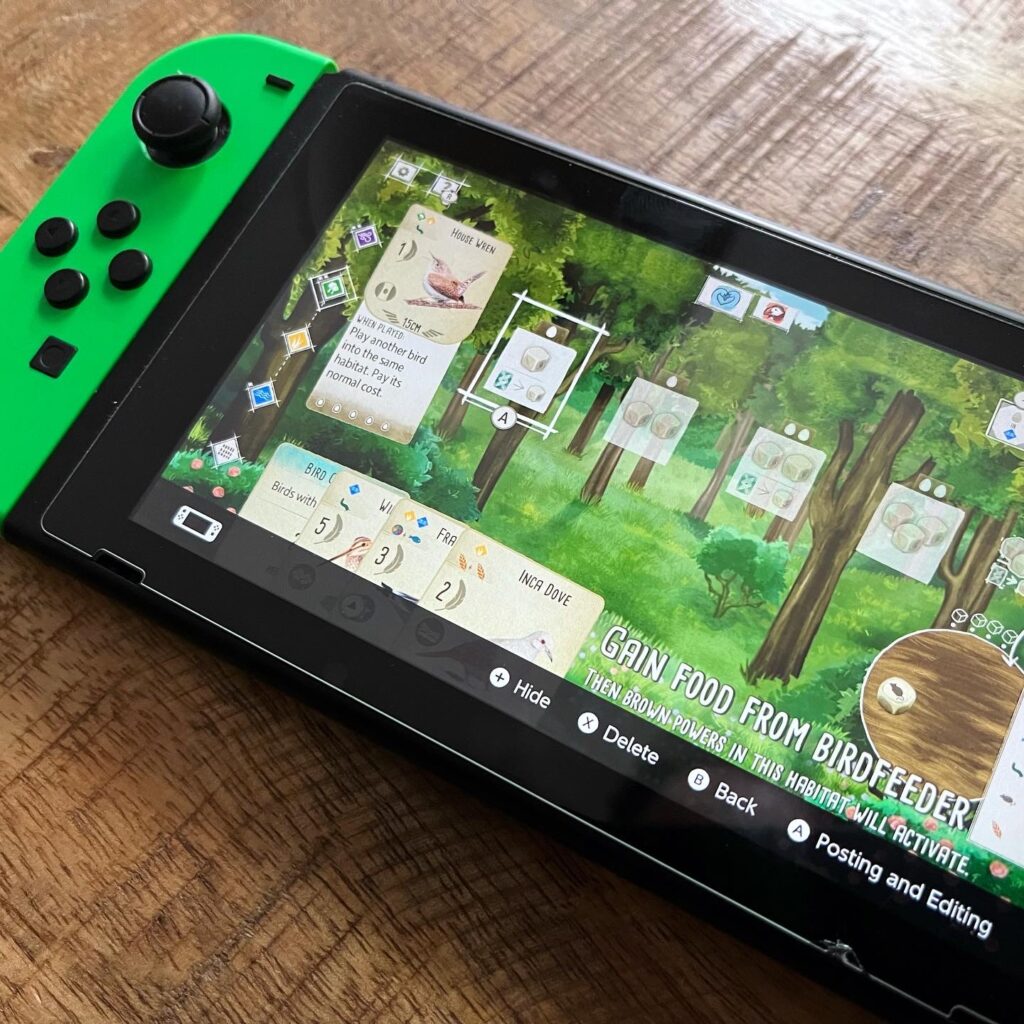 Zoals velen van jullie heb ik de Wingsong app op mijn telefoon staan. Met deze app kun je tijdens het spelen van een potje Wingspan kaarten scannen en krijg je de bijbehorende vogel te horen. Dit element is ook in het videospel geïntegreerd. Als je vogels bekijkt hoor je hun liedjes, fluitjes, (lok)roepen en gilletjes.
Qua besturing is het af en toe nog wel een beetje aftasten en kun je als je voor het eerst speelt soms nog een (als je te ver doorklikt zelfs een niet terug te draaien) fout maken. Karton, hout en plastic laat zich voor dit soort spellen wat makkelijker en intuïtiever manipuleren dan een serie aan klikjes.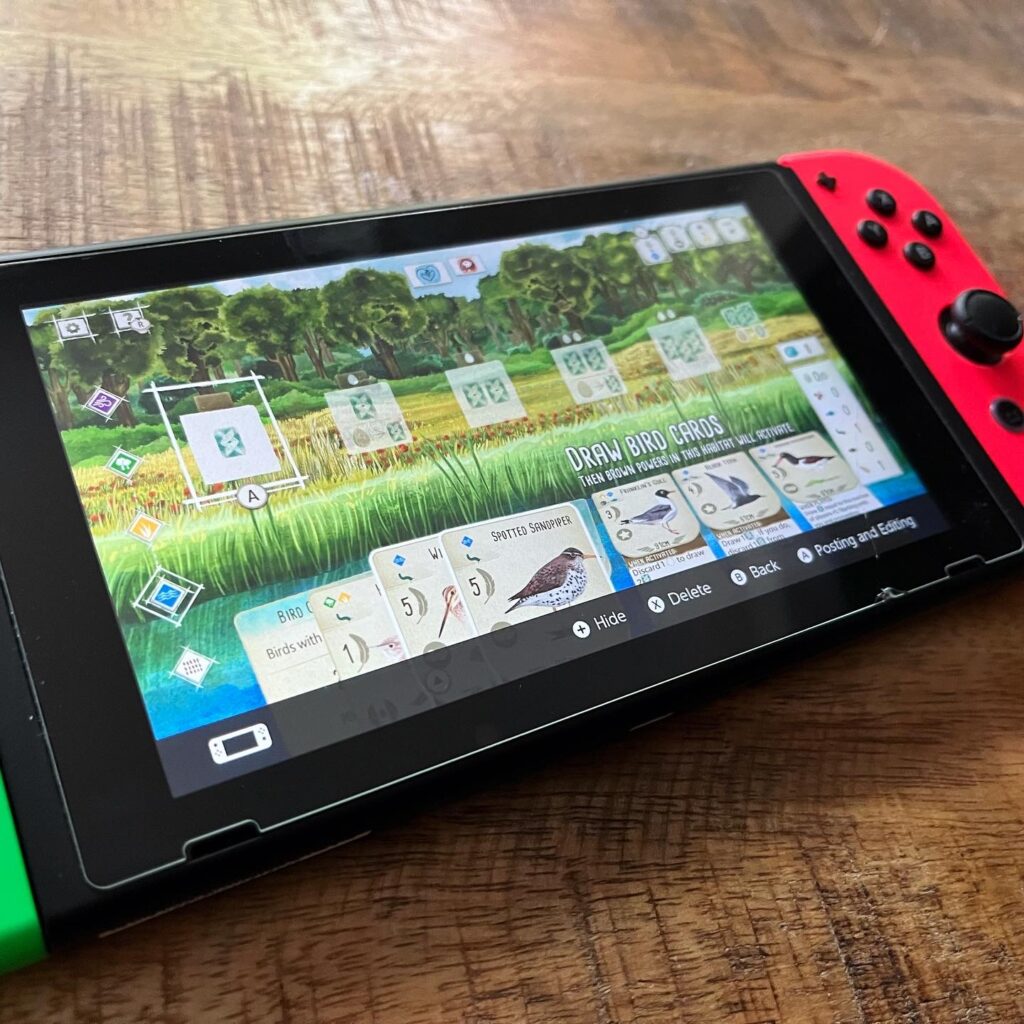 De app steekt goed in elkaar en weet de betoverende sfeer van het bordspel uitstekend te vertalen voor diegene die zoeken naar een digitale versie van hun favoriete vleugelslag.