Het is het einde van de 15e eeuw in Italië. Italië is verdeeld onder een aantal grote machten: het koninkrijk Napels, de republiek Venetië, de Florentijnse republiek, het hertogdom Milaan en in het midden van Italië de Pauselijke staten van Rome. Voortdurend dagen de grote families van deze machten elkaar uit en azen op de hoge posities, stukken land, macht en natuurlijk rijkdom. Maar hoe krijgt men zoiets voor elkaar? Hoe lukt het om aan de juiste touwtjes te trekken om zo de macht te krijgen? Dat leert men door Virtù: de kunst van het regeren.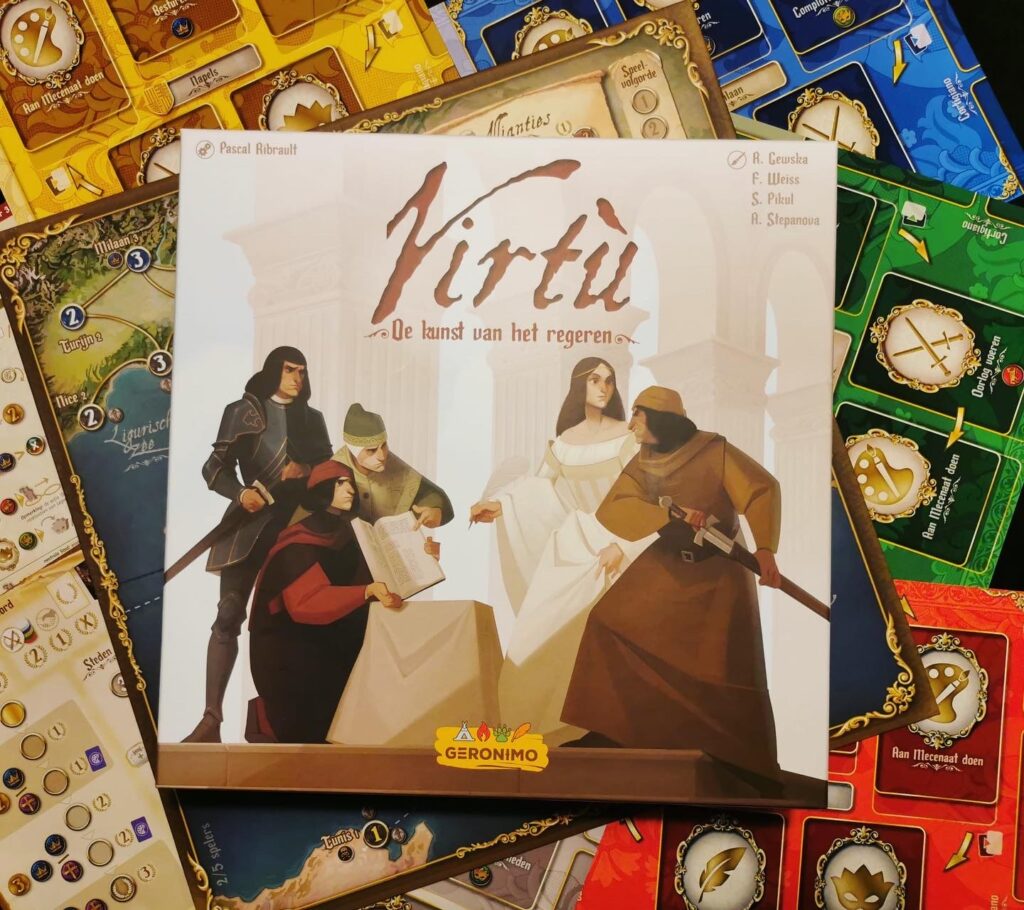 In Virtù neem je de rol aan van een van de belangrijke facties uit 15e eeuws Italië. Het spel draait vervolgens om een concept genaamd 'wheelbuilding'. Dit houdt in dat iedere speler voor zich een persoonlijk bord heeft met daarop een 'wiel' aan acties die uitgevoerd kunnen worden naarmate de beurten verder gaan. Wat voor acties zijn dat dan bijvoorbeeld? Dat zijn vaardigheden waar elk 15e eeuws heerser over zou moeten beschikken: oorlog voeren, complotten smeden, besturen en meer. Door deze acties uit te voeren verkrijg je betere landerijen en ontwikkelingen die je vervolgens betere grondstoffen en goederen opleveren. Met die grondstoffen en goederen is het vervolgens mogelijk om legers in te huren, bondgenootschappen te sluiten, andere spelers dwars te zitten of nog veel meer zaken. Het doel van het spel is om zoveel mogelijk prestige te verzamelen voordat alle steden zijn veroverd of iemand cultureel is uitontwikkeld.
Het spel heeft veel verschillende facetten om verder te komen en uiteindelijk het spel te winnen. Het is snel duidelijk wat betere of slechtere tactieken zijn wat zorgt voor diverse, interessante speelwijzen. Daarnaast is het spel prachtig vormgegeven en ondersteunt het de spelers om zich onder te dompelen in de 15e eeuw. Virtù biedt spelers ook nog een speciale versie van het spel aan genaamd 'de Italiaanse Oorlogen' die speciaal gemaakt is voor twee spelers. Mensen die fan zijn van het spel Orléans of fans van Catan die net op zoek zijn naar wat meer uitdaging, kunnen hun hart ophalen met Virtù.
Het spel heeft maar een paar kleine minpunten. Zo is de handleiding in sommige gevallen wat onduidelijk en leest het vele malen moeilijker weg dan het spel in werkelijkheid is. Daarnaast missen er heel soms bepaalde spelsituaties in de handleiding. Het grootste minpunt is het ontbreken van een woorden- en/of symbolenlijst die opsomt wat bepaalde symbolen of termen in het spel betekenen in een overzichtelijk schema. Hierdoor ben je soms weer een tijdje op zoek naar wat een bepaald symbool of term nou ook alweer betekende.
Al met al is Virtù een spel dat erg goed in elkaar zit en spelers veel opties biedt om het spel uiteindelijk te kunnen winnen. Wat op het eerste gezicht een lastig spel lijkt speelt na de eerste paar rondes vlot door en weet van een rumoerige periode in de geschiedenis een intrigerend spel te maken.