'A clever game where clues and art overlap'. Niets is minder waar. Met het neerleggen van abstracte en surrealistische kunstkaarten probeer jij anderen te bewegen de juiste woorden aan te wijzen. Denk bijvoorbeeld aan paardenbloemen in de vorm van de kop van een Bichon Frisé, een schaap dat staand op een kussen een bak yoghurt eet of een moederluiaard die op een gloednieuwe Vespa zit en haar baby ernaast staat voor een kooi met een bordje 'Betsy the Sloth' erop. Laten we zeggen dat het creatieve deel van het brein van de bedenker/kunstenaar/fantast overuren maakte.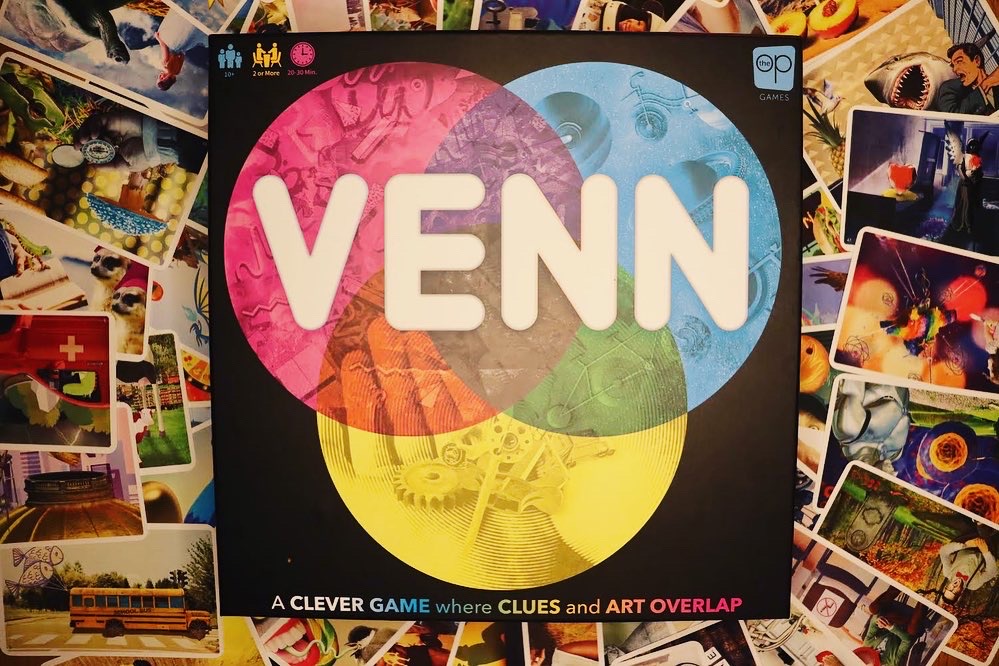 Terug naar het spel. Het kan zowel competitief als coöperatief gespeeld worden. Voor een competitief potje heb je in ieder geval vier spelers nodig. Verdeel alle spelers in twee teams. Ieder team krijgt drie cirkels die als een soort driehoek (klinkt ingewikkeld, is het niet) moeten worden neergelegd. Verder krijgen de teams elk een derde van alle dubbelzijdige kunstkaarten. Het resterende deel wordt in het midden van de tafel neergelegd. Ook de woordkaarten (drie woorden op de voorkant en drie woorden op de achterkant) en de getalkaarten (drie getallen op de voorkant en drie getallen op de achterkant) worden in het midden geplaatst. Als laatste moeten de scorelat (van 1 tot en met 12) en scorefiches op tafel komen.
De opzet is er. Het spel start zodra er vier woordkaarten naast de scorelat liggen en ieder team een eigen getalkaart heeft. Degene die van het team de hints gaat geven weet nu welke woorden hij moet overbrengen op zijn teamleden en krijgt als enige de getalkaart te zien. De hintgevers gaan nu als een gek door hun stapel kunstkaarten heen. Vindt de hintgever een goede kaart dan kan de kaart op zeven verschillende plekken geplaatst worden, namelijk in een enkele cirkel (omdat de kaart met één woord te maken heeft), op een plek waar twee cirkels elkaar overlappen (omdat de kaart met twee woorden te maken heeft) of precies in het midden van de driehoek (omdat de kaart met alle drie de woorden te maken heeft). Het kan voorkomen dat een hintgever een betere kaart voor een bepaalde positie tegenkomt, omdat bijvoorbeeld de kaart met twee stokstaartjes (en afstudeerhoed) die worden voorgelezen door een groene kikker toch echt beter uitbeeldt dat het gaat om het woord 'verhaal', dan de kaart met twee demonstrerende tomaten. De hintgever mag de nieuwe kaart dan exact over de oude kaart heen leggen zodat de oude niet meer te zien is. De radende teamleden mogen overleggen en roepen (pas nadat er een derde kaart is neergelegd) 'VENN' als zij denken te weten welke drie woorden bij hen horen. Bij ieder goed antwoord wordt er een punt verdiend en een bonuspunt als ze allemaal goed zijn. Daarna krijgt het andere team de kans om te gokken, ook voor hen is er een punt per correct antwoord te verdienen, maar geen bonuspunt. Twaalf punten? Winst!
VENN is ook heel goed coöperatief te spelen. In principe gelden dezelfde regels, alleen is er een tijdslimiet van twee minuten.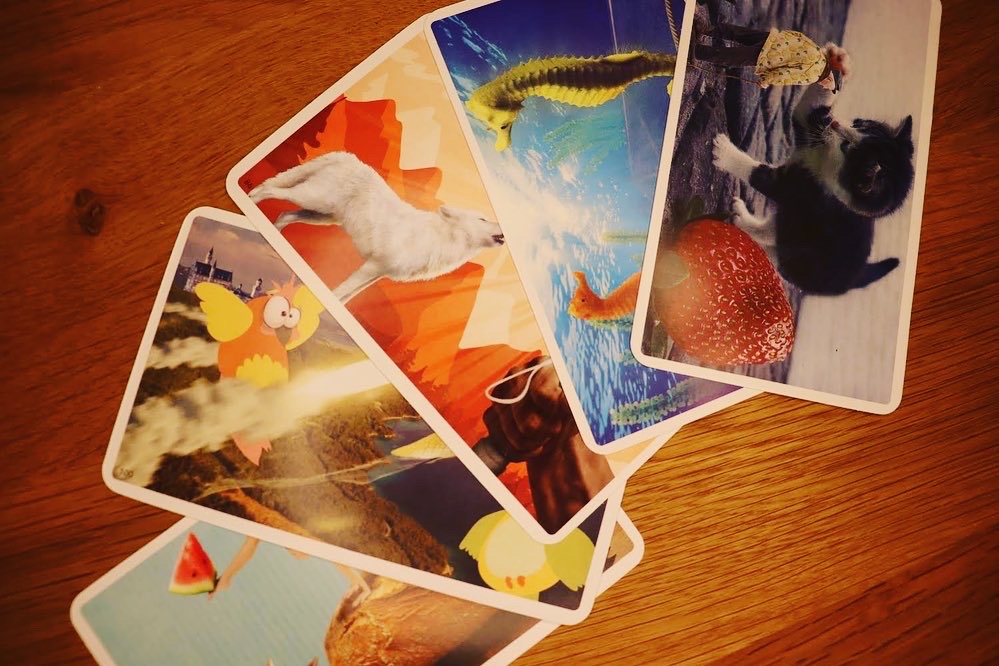 Bij VENN blijf je je verwonderen over het artistieke niveau van de kaarten, terwijl je tegelijkertijd probeert dé kaart te vinden die naadloos aansluit bij al jouw woorden. Want dat is tof. Het spel zorgt voor veel hilariteit en wakkert bizarre kronkels aan in de hoofden van de spelers: 'Hoe kan jij zo denken?'. Dat het spel in het Engels is, doet verder niet af aan de kwaliteit, zoals dat soms bij andere spellen wel het geval kan zijn. Een broodje gezond op de rode loper blijft in het Engels immers ook een broodje gezond op de rode loper.