Je kent vast Triominos. Het spel met de bakelieten, driehoekige tegels met cijfertjes. De tegels leggen spelers aan als een soort driehoekige dominostenen om punten te scoren. Dit spel staat in vrijwel iedere spelletjes- en/of speelgoedkast in Nederland, net als Monopoly, Ganzenbord en Mens Erger Je Niet, maar vrijwel niemand weet hoe dit spel dit daar terecht is gekomen. Waren het je ouders? Je grootouders? De buurman? De melkman? De geest in je Ouija bord? Of toch je neefje? Maar goed, iedereen weet hoe het wordt gespeeld. Tijd voor een nieuwe versie?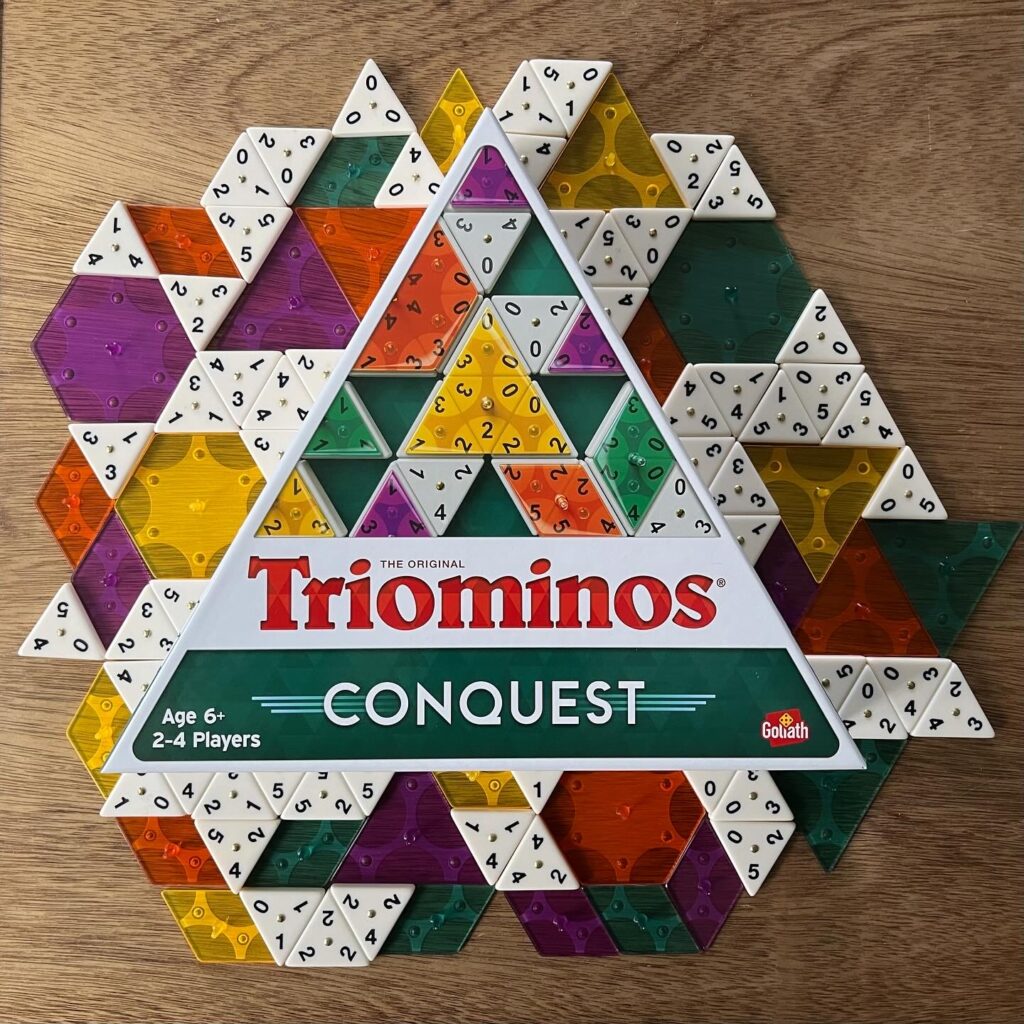 Ik moet eerlijk bekennen dat de oorspronkelijke Triominos mogelijk niet voor mij is weggelegd. Er kwam veel hoofdrekenen bij kijken en deze jurist wordt niet gehinderd door enige mathematische kennis. De puntentelling voelde voor mij altijd als huiswerk, dus ik ging liever spellen zoals de Schat en de Sleutel spelen. Triominos Conquest wordt op vergelijkbare wijze gespeeld als het origineel, maar er is groot verschil: andere puntentelling waardoor je niet constant hoeft te rekenen!
In Triominos Conquest probeer je het grootste gebied te veroveren met je zogeheten dekkingstegels: kleurrijke vormpjes die uit een meervoud aan driehoeken bestaan en gemakkelijk op de Triominos tegels worden geplaatst. Iedere speler krijgt een houdertje met Triominos tegels, dekkingstegels en in het midden van tafel wordt een stapel aan Triominos tegels geplaatst.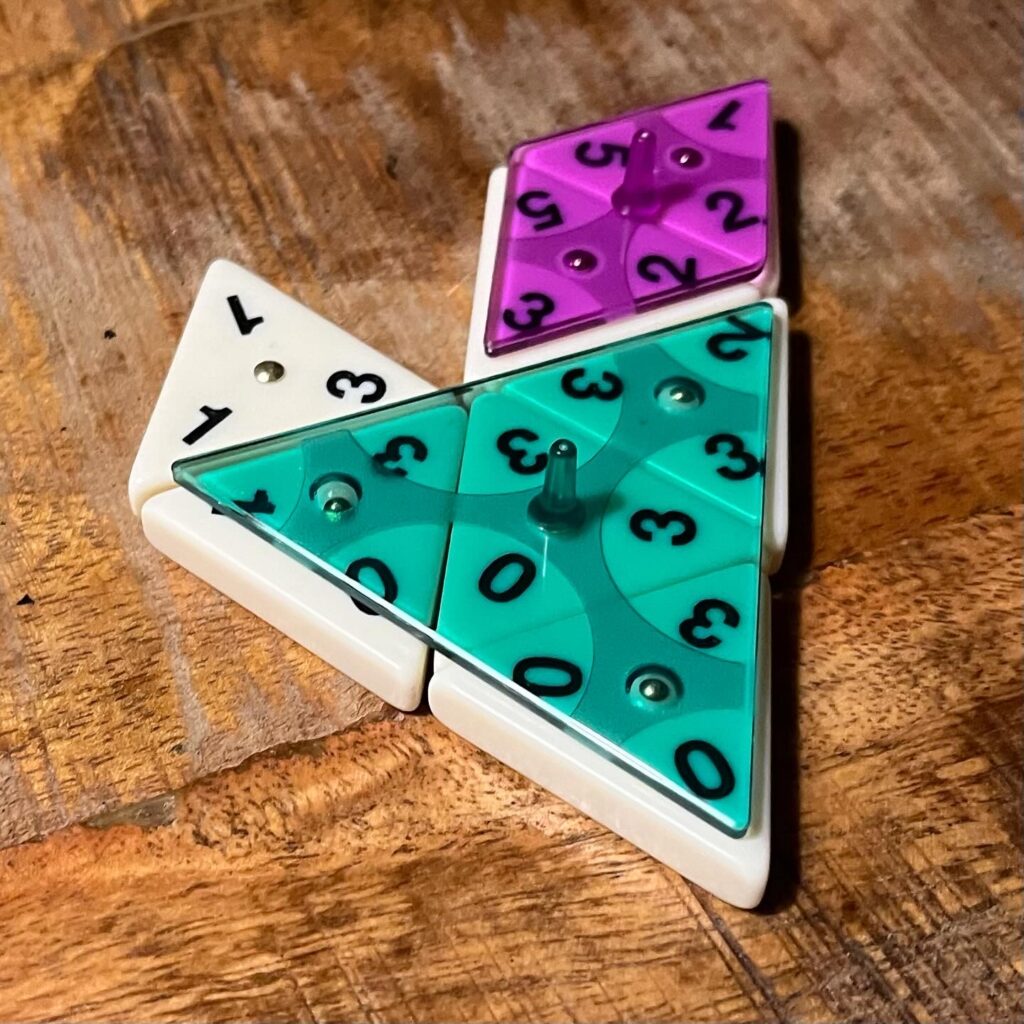 Aan het begin van het spel wordt een tegel op tafel geplaatst en elke beurt plaatst een speler een tegel uit diens voorraad door deze aan een bestaande tegel te plaatsen. De nummers in de hoeken van de geplaatste zijde(s) moeten matchen. Als je geen tegel kan plaatsen? Daar boden de regels geen uitkomst dus hebben we de regels van de standaard Triominos maar gehanteerd. Overigens pak je in Conquest altijd een nieuwe tegel in tegenstelling tot het normale spel.
Als je een tegel hebt geplaatst en deze nieuwe tegel maakt een vorm van 2, 4, of 6 tegels, dan kun je deze afdekken met je dekkingstegeltjes. Je kan zelfs andere gekleurde tegels die eerder zijn geplaatst 'wegjagen' door een grotere te plaatsen. Als alle dekkingstegels van een speler of de Triominos tegels in de algemene trekstapel op zijn, is het spel afgelopen en tellen spelers de punten in het veroverde gebieden bij elkaar op. De speler met de meeste punten overheerst!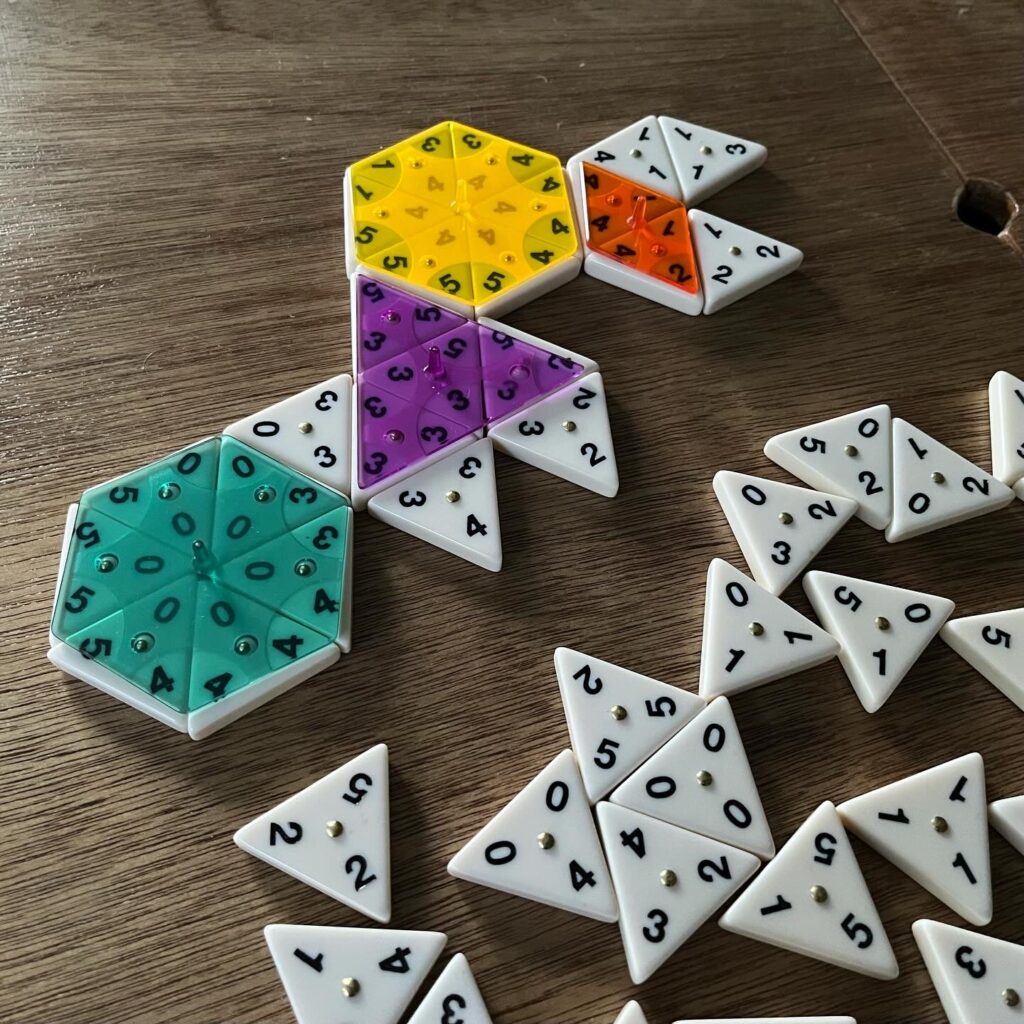 Triominos Conquest biedt voor liefhebbers van het klassieke spel vast een interessante variant op een vertrouwd spelconcept. Door de relatief kleine hoeveelheid tegels die allemaal unieke samenstellingen aan punten hebben, kwam het bij ons nog niet voor dat de grootste vorm werd geplaatst. Het aanleggen is hetzelfde als bij Triominos en Domino en hierdoor voor een groot deel nog afhankelijk van een dosis geluk. Je bent net als bij het origineel vooral aan het staren om je tegels passend te plaatsen en hierdoor is er iets minder ruimte voor strategie, wat wel zou passen bij een spel waarbij je gebieden wilt veroveren. Triominos Conquest neemt wel een drempel van het origineel weg, namelijk het hoofdrekenen. Verder is Conquest vooral geschikt voor liefhebbers van Triominos op bekende spelconcepten die wel een lichte variatie aandurven.