Zoo Tycoon meets Jurassic World: Fallen Kingdom! In fictie voelt de mensheid de noodzaak om dinosauriërs weer tot leven te wekken. Vaak leidt dat tot catastrofale gevolgen. Het fokken en herden van dino's kan echter ook een lucratieve business zijn. Rijke gekken betalen grof geld voor deze zeldzame, uitgestorven an gevaarlijke beesten. In Tiny Epic Dinosaurs, van Gamelyn games, gaan jij een de andere spelers ieder een dino ranch beheren om de meeste dinosauriërs te verzamelen en te verkopen. Will life find a way in your zoo, or should you have stopped to think whether you should?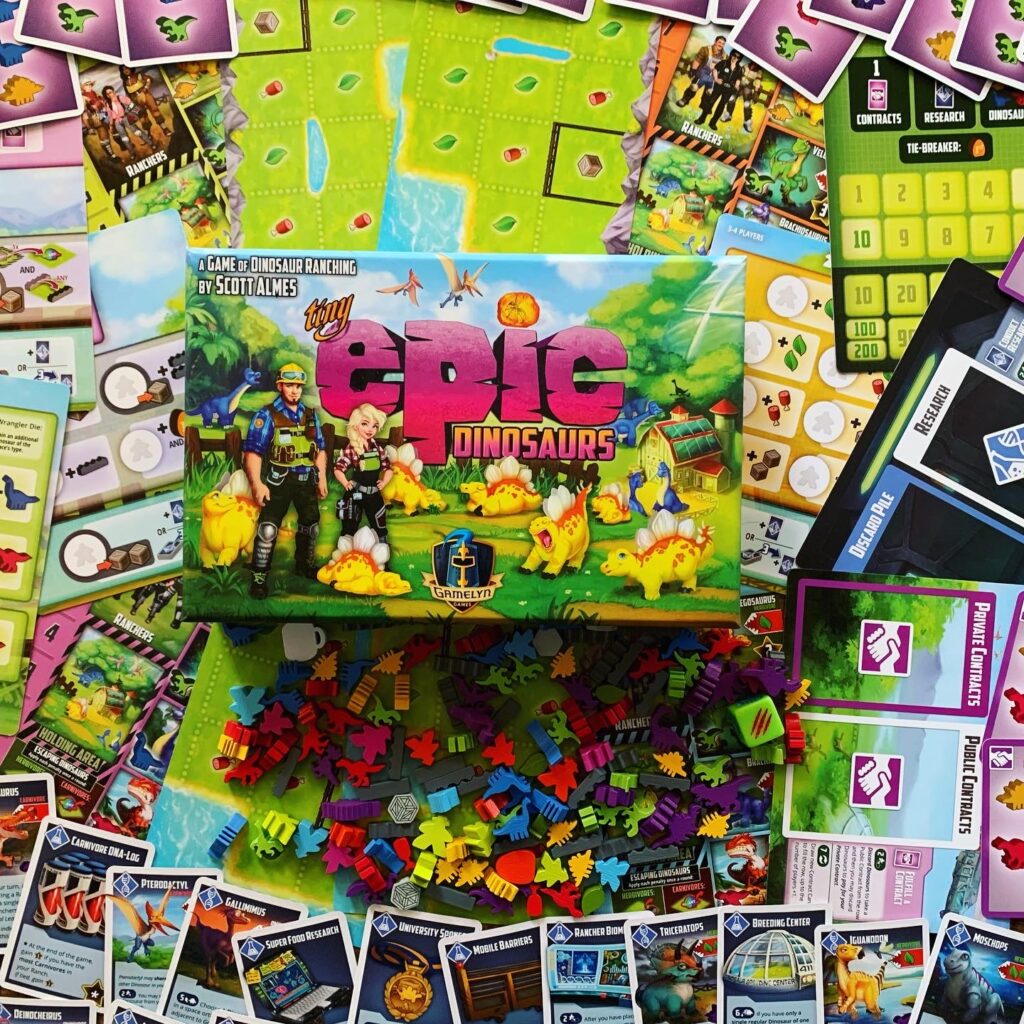 Tiny Epic Dinosaurs is een worker placement en resource management spel van Scott Almes. Die naam kennen jullie vast ook van de andere Tiny Epic spellen en van spellen als Claim en Cosmic Colonies. In dit spel vol cartooneske carnivoren (en herbivoren en omnivoren) ga je jouw ranchers (je workers) inzetten om grondstoffen en dino's te verzamelen, je verblijven en ranch te vullen en dino's te onderzoeken en zelfs verkopen. Het spel speelt zich af in verschillende fases. Kort gezegd gaat iedereen eerst acties uitvoeren met zijn/haar werkers om vervolgens te puzzelen met dino's.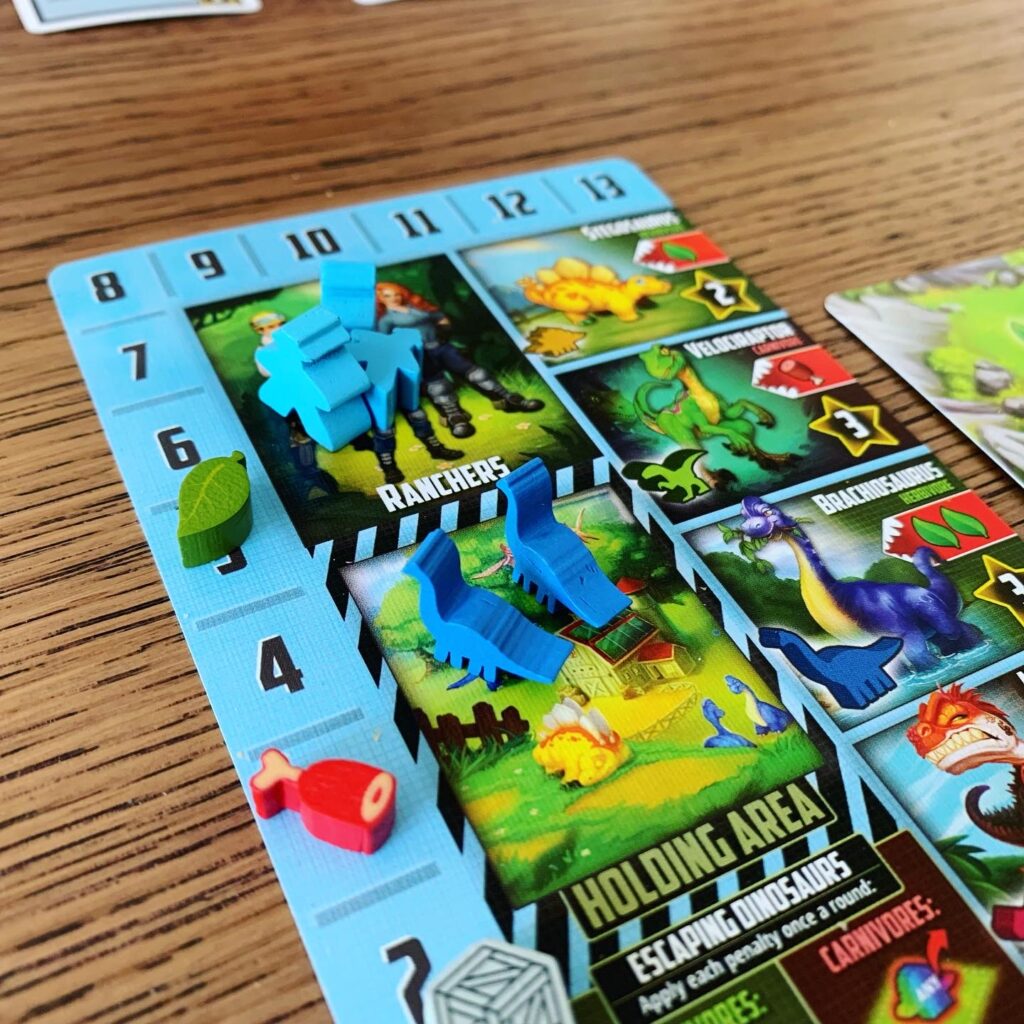 Verzamelde dino's moeten in je park passen en mogen geen verblijven delen met andere soorten dino's (uitzonderingen daargelaten). Ook moet het verblijf afgesloten zijn en moet je de dino's kunnen voeren. Vervolgens hebben twee dino's van dezelfde soort in hetzelfde verblijf een romantische nacht en worden er baby dino's geboren. Is het verblijf niet goed afgesloten, kun jij een dino niet genoeg voer geven of heb je geen ruimte voor de baby's, dan ontsnappen er mogelijk dinosaurussen. Herbivoren slopen tijdens hun ontsnappen muur- en hekwerken en carnivoren vreten je andere dino's op. Zorg er dus voor dat je genoeg voor hebt en ruimte voor je dino's. Let er ook goed op dat lege plekken in jouw park grondstoffen produceren, maar dat deze plekken niets meer produceren zodra er een dino staat.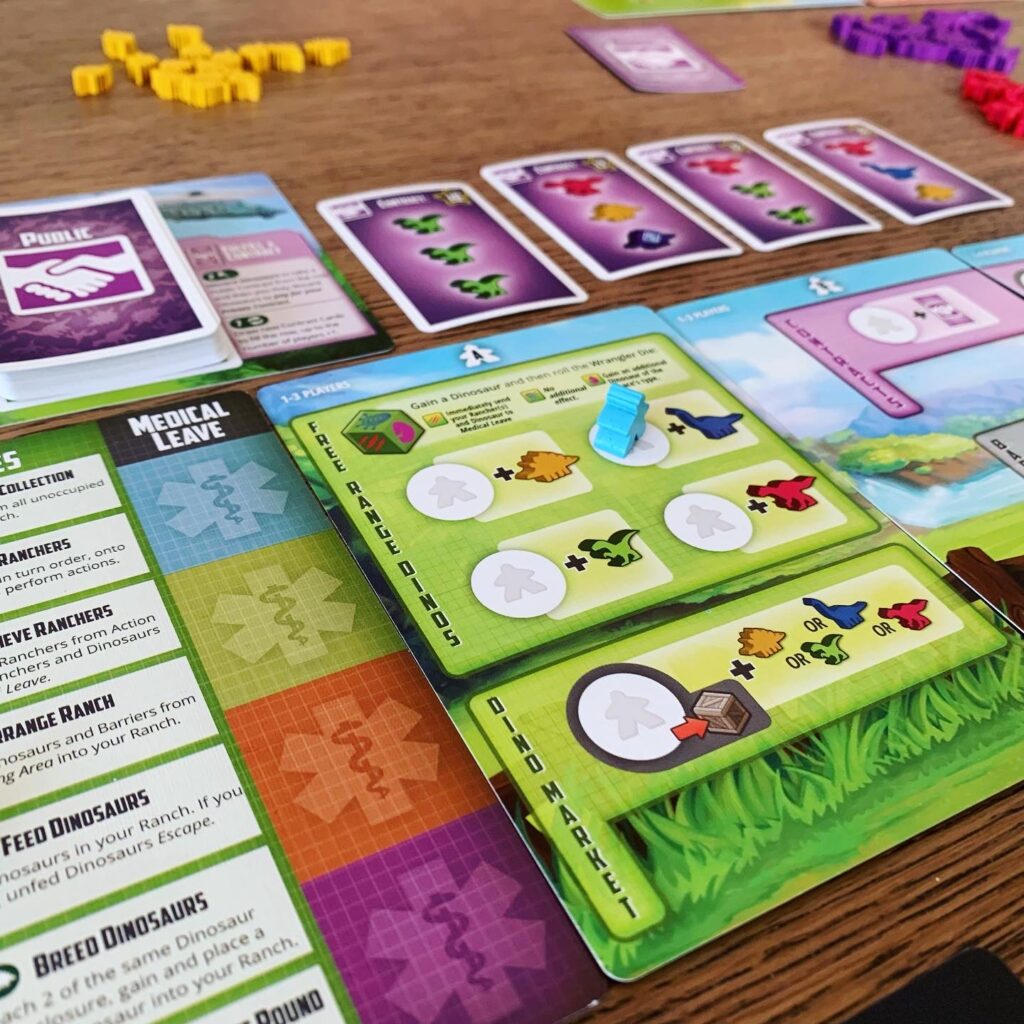 Om keiharde punten te verdienen, kun je dino's in je verblijf verkopen. Dit doe je doormiddel van contracten. Er worden een aantal contracten open geplaatst en vereisen een bepaalde combinatie en hoeveelheid aan dino's om te claimen. De dinosauriërs moeten zich wel in jouw ranch bevinden. Dino's in de opslag of bij de eerste hulp leveren geen punten op (als je tijdens de worker placement fase dino's verzamelt komen de dino's in eerste instantie op die twee plekken en kun je deze pas later in je ranch plaatsen).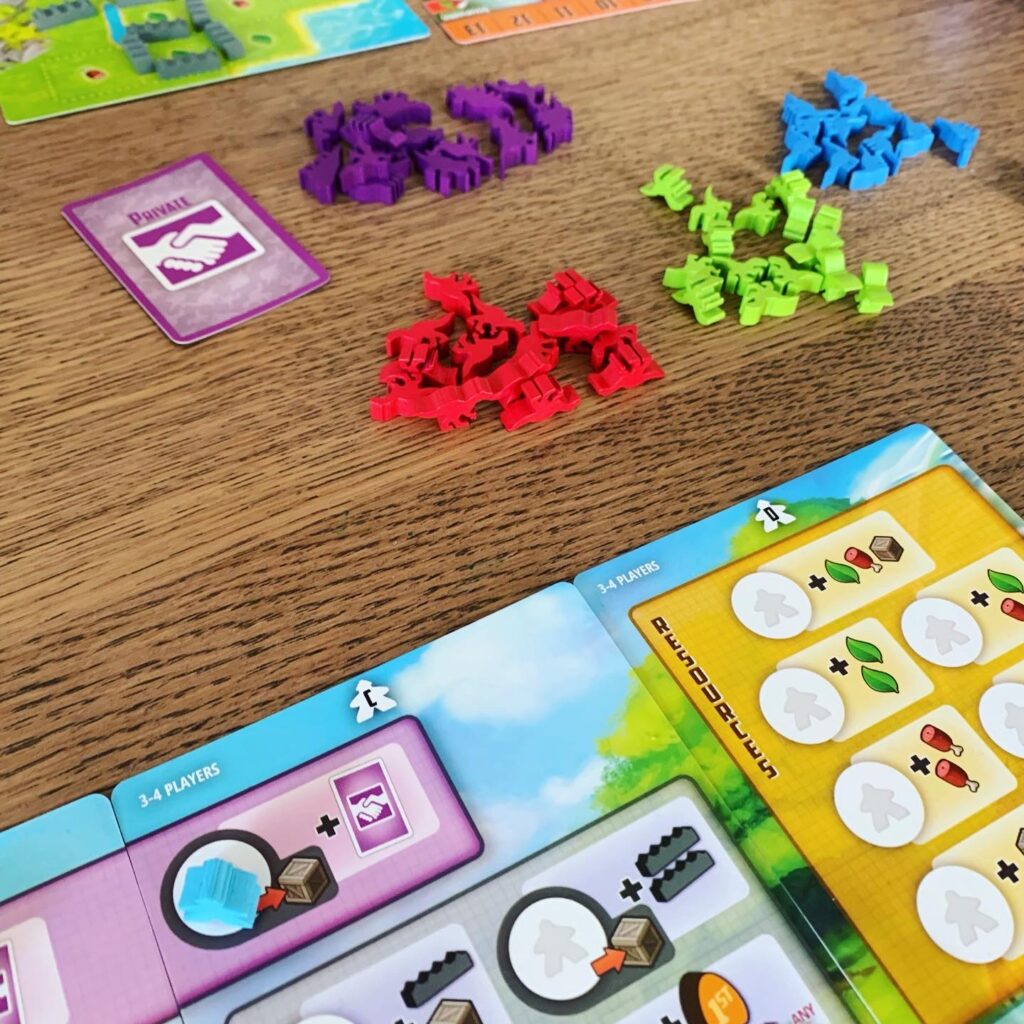 Er zijn gewone dino's maar ook unieke. Deze unieke paarse dino's zijn, verrassend, uniek. Deze paarse dino's ontsnappen niet uit onafgesloten verblijven en leveren zelfs extra bonussen en acties op. Denk er dus goed over na of je deze in wilt zetten voor punten of voor hun vaardigheden. Voor je het weet eet de paarse dino andere dino's of gaat hij achter Dennis Nedry aan!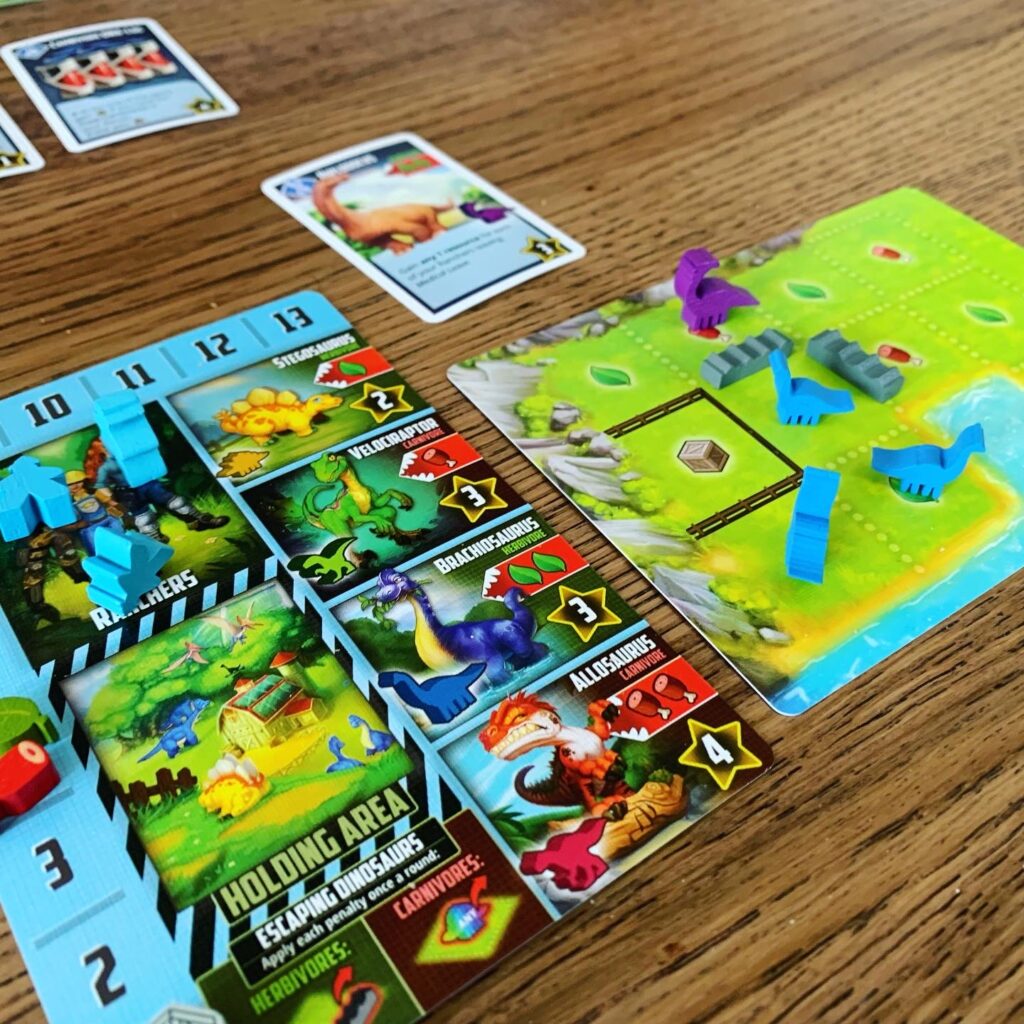 Tiny Epic Dinosaurs is veel spel in een klein doosje. Dit kleine doosje bevat namelijk een spel met verrassend veel onderdelen, table presence en speelduur die niet onder doet aan grotere spellen. De onderdelen (met name de minuscule dino meeples) zijn van hoogwaardige kwaliteit. Het spel zelf combineert worker placement en resource management op en zeer leuke manier met puzzelen. Er is veel interactie op het "speelbord" en verkeerde keuzes worden hard afgestraft. Daarnaast is het gewoon een lekker kleurrijk spel dat intuïtief speelt en makkelijk is om mee te nemen (al heb je wel een grote tafel nodig om het te spelen). Deze dino's hoeven wat mij betreft niet uit te sterven. Welcome… to Tiny Epic Dinosaurs!