Ticket to Ride, hoewel nog steeds voor velen de introductie tot moderne bordspellen, behoort inmiddels tot de klassiekers en wordt vaak in één adem als Catan en Carcassonne genoemd. Net als deze andere titels zijn er van Ticket to Ride inmiddels al verschillende heruitgaven, variaties, junior-versies en zelfs puzzelboekjes verschenen. Eigenlijk verschijnt er ieder jaar wel een nieuwe editie van dit bekroonde spel. Elke uitgave heeft een eigen thema en een kleine twist op het beproefde spelmechanisme. In het kleurrijke San Francisco gaan spelers met de kenmerkende kabeltrammetjes langs toeristische trekpleistertjes en proberen ze souvenirs te verzamelen. Is jouw eindbestemming de overwinning of is het tijd om uit te stappen?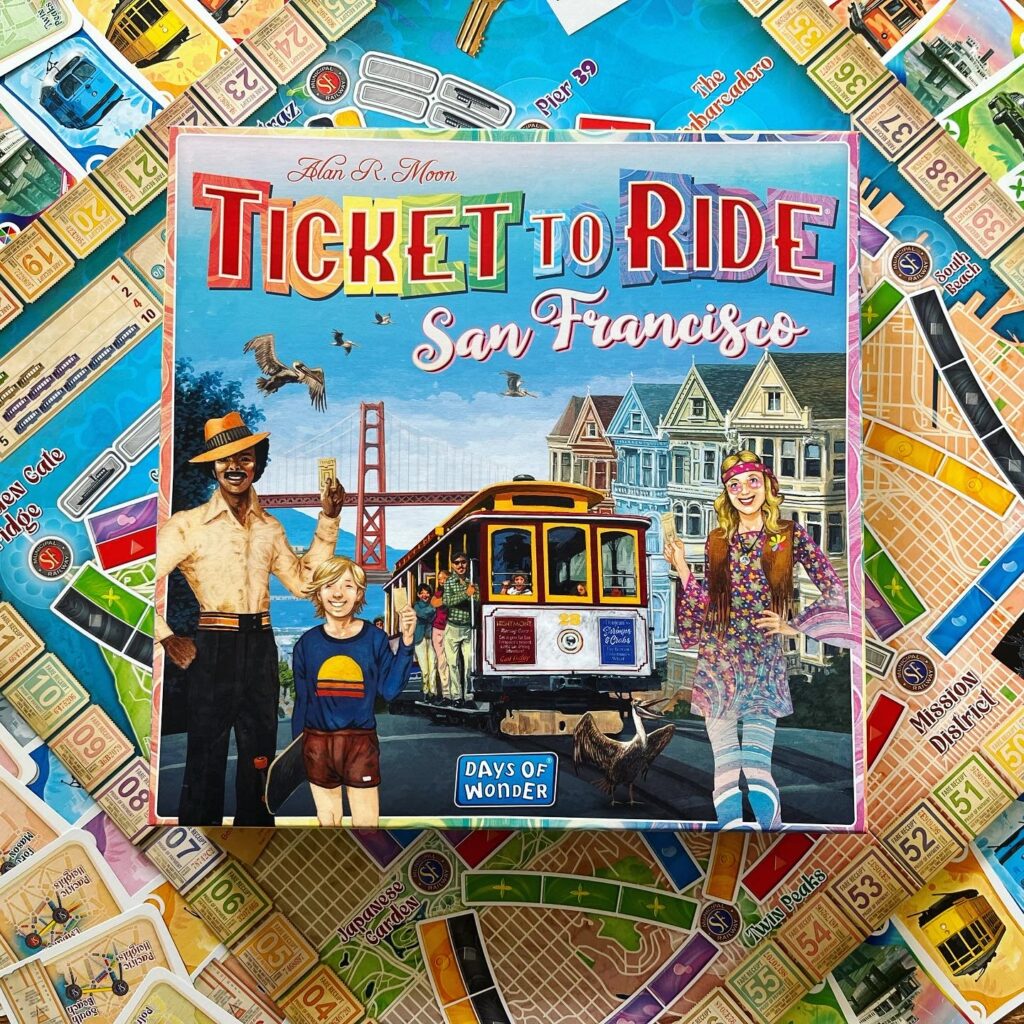 Ticket to Ride San Fransisco is – net als New York, London en Amsterdam – een kleine uitgave van het basisspel. De basis is hetzelfde: door rails te leggen en routekaartjes te vervullen, verdienen spelers punten. Tijdens een beurt kunnen spelers een enkele actie uitvoeren. Spelers kunnen transportkaarten pakken (open op gesloten kaarten in verschillende kleuren), routes aanleggen door de juiste transportkaarten af te leggen of nieuwe route kaarten te pakken om mogelijk meer punten te verdienen.
Op routekaarten staan welke twee punten van het speelbord spelers moeten verbinden voor punten. Ook door verbindingen aan te leggen, krijgen spelers punten afhankelijk van de lengte (het aantal gebruike trammetjes) van de specifieke verbinding.

San Fransisco introduceert ook souvenirs. Op het bord liggen op bepaalde plekken ook souvenirfiches. Als een speler een verbinding legt met een plek waar een fiche ligt, mag hij of zij dit fiche pakken. Spelers krijgen hiervoor punten afhankelijk van de hoeveelheid fiches in verschillende kleuren die ze hebben verzameld.
Ticket to Ride San Fransisco wijkt net als veel andere edities van Ticket to Ride slechts voor een klein deel af van de andere delen. San Francisco implementeert een simpel set collection mechanisme waardoor er niet teveel ingewikkelde poespas wordt geïntroduceerd. Verder is het spel kleurrijk vormgegeven en komt het regenboogmotief op verschillende manieren terug (wellicht ooit Ticket to Pride, anyone?). Door de kleine voetafdruk is San Fransisco een perfecte manier om beginnende spelers te introduceren aan Ticket to Ride of een leuke aanvulling aan jouw collectie als je nog geen andere kleine editie van Ticket to Ride hebt.