Zijn jullie zielsverwanten of ben je gewoon helderziend? Probeer dat eens uit te zoeken via The Mind Soulmates, een nieuwe variatie op het populaire kaartspel The Mind.
The Mind is veel spelers (of veelspelers) vast niet onbekend. Dit spel werd een paar jaar geleden namelijk ontzettend populair. Het spelletje, in het Nederlands uitgegeven door White Goblin Games, was een coöperatief spel dat redelijk vergelijkbaar was met het spel met een ongelukkige titel The Game, eveneens van White Goblin Games. In the Mind proberen spelers in levels die steeds moeilijker worden kaarten in de juiste volgorde af te leggen. Spelers ontvangen een kaart of handje kaarten (afhankelijk van het level) en mogen niet met elkaar communiceren over welke kaarten zij op hand hebben en welke kaarten zij gaan spelen. Spelers zijn daarom volledig afhankelijk van intuïtie of hoeveel zij op elkaar zijn afgestemd.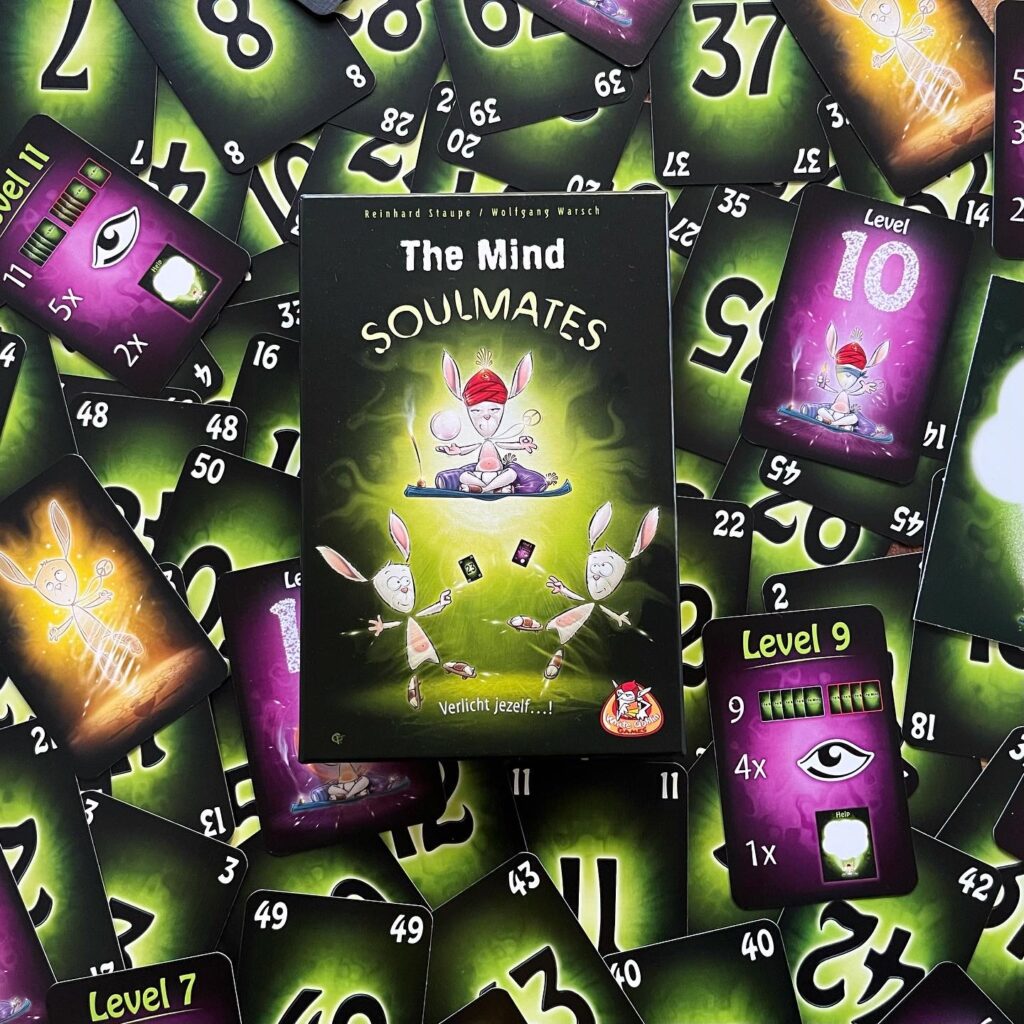 The Mind Soulmates is een variatie op de klassieker. Veel van het spelverloop is vergelijkbaar, maar er zijn toch een aantal subtiele veranderingen die het spelgevoel anders maken.
In Soulmates proberen spelers met 3 of 4 levens 12 levels te verslaan. Per level is een speler de ziener. Deze speler mag van de kaarten van deze ronde een aantal kaarten bekijken voordat spelers beginnen met spelen en tevens een getal van deze kaarten opschrijven als hint aan de andere spelers. Vervolgens worden de kaarten over de spelers verdeeld en zullen zij (ditmaal) gesloten de kaarten in het midden van de tafel spelen.
Nadat alle kaarten zijn gespeeld, zal de ziener controleren of de kaarten in de juiste volgorde zijn gespeeld en anders verliezen de spelers een leven, krijgen spelers een extra kans met dezelfde kaarten en een extra hint. Als spelers een level behalen gaan zij naar een volgend level. Ieder level geeft aan hoeveel kaarten er aan spelers moeten worden verdeeld, hoeveel kaarten de ziener mag bekijken en hoeveel hints de ziener mag geven.
Soulmates biedt een leuke variatie op een beproefd spelconcept en door de toevoeging van de ziener wordt een wezenlijke verandering op het spelgevoel en spelverloop geïntroduceerd, waardoor Soulmates The Mind weer wat doet opleven en ook dit concept weer aan nieuwe spelers en terugkerende spelers weet te introduceren.