That's Not a Hat! Kan een verkeerspion een hoed zijn? Jazeker! Ik heb ooit in Glasgow (Schotland) gewoond. In Glasgow staat een prominent beeld van Arthur Wellesley, de eerste hertog van Wellington (The Duke of Wellington) die majestueus op zijn paard rijdt. Wie deze hertog was, wist ik eerlijk gezegd niet precies, maar waar ik dit beeld wel van kende was vanwege een vrijwel permanente verkeerspion die bovenop zijn hoofd zit. De lokale bevolking van Glasgow leek het ooit grappig om deze oranje toeter op het hoofd van het beeld te plaatsen. Verschillende pogingen om de toeter te verwijderen of het plaatsen daarvan te voorkomen waren tevergeefs: de verkeerspion keerde steeds terug. Inmiddels is het beeld niet meer bekend vanwege the Duke of Wellington zelf, maar wel vanwege de toeter die niet meer weg te denken is. De toeter staat de beste hertog erg goed. Bewijs dat een verkeerspion wel degelijk een hoed is.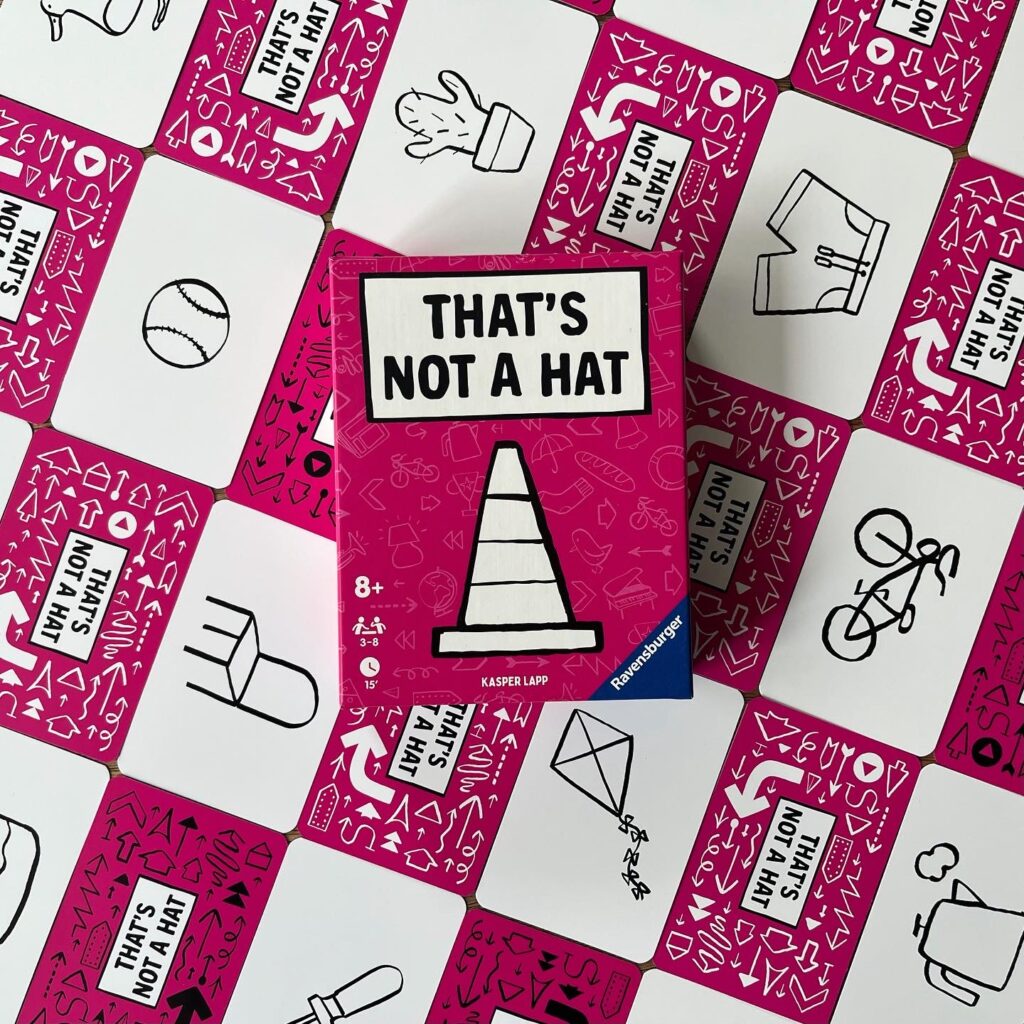 In dit korte kaartspelletje gaan spelers elkaar bewust en onbewust op het verkeerde been zetten door elkaar kaarten 'cadeau' te doen. Waar je soms denkt een hoed te krijgen, kan het maar al te goed zijn dat je verkeerspion (of een handtas, een kikker, etc.) krijgt.
Aan het begin van het spel krijgt iedere speler alvast een cadeau(kaart) die op op tafel voor die speler ligt. In het midden van het spel komt een trekstapel. De eerste speler pakt de bovenste kaart en laat deze aan alle andere spelers zien. Vervolgens wordt deze kaart doorgeven (de achterkant van kaarten geeft aan in welke richting kaarten moeten worden doorgegeven). De speler die een kaart doorgeeft moet zeggen welke kaart dit is. De verkrijgende speler moet nu het cadeau accepteren (als deze speler denkt dat de uitspraak klopt) of het cadeau weigeren (als deze speler vermoedt dat de andere speler onzin uitkraamt). Als een speler een cadeau accepteert, moet deze speler diens kaart die nog voor zich ligt gesloten doorgeven en wederom een uitspraak doen over het cadeau. Dit gaat net zo lang door tot een speler een cadeau weigert. Door cadeaus te weigeren kan de speler die het onjuist had een minpunt ontvangen (door het laatste cadeau apart te leggen). Bij drie minpunten is het spel afgelopen. Nadat een cadeau is geweigerd en een speler nog geen drie minpunten heeft, wordt een nieuw cadeau van de centrale trekstapel gepakt en wordt het spel vervolgd.
Dit spelconcept lijkt misschien erg makkelijk. Misschien te makkelijk? Iedereen kan aan het begin van het spel elkaars cadeaus zien en ook ieder van de centrale trekstapel getrokken cadeau wordt aan iedereen getoond. Je vergeet echter snel welke cadeaus waar liggen daardoor de kaarten verschillende kanten worden verdeeld en het hierdoor lastig is om in de gaten te houden waar welke kaarten zich bevinden. Hierdoor is That's Not A Hat een goede geheugentrainer en hilarisch partyspelletje dat extreem snel en zeer simpel speelt.