Enige tijd geleden bracht Jolly Dutch ons Herrlof, een ode aan slagenspellen, maar dan voor twee spelers. Toepasselijk laat de naam Herrlof zich vertalen in lof of eer gewonnen in de strijd. Kortgeleden bracht Jolly Dutch hun tweede slagenspel uit, genaamd Telos. Waarbij de vikingen in Herrlof vooral hun eer probeerde te halen in een fysiek gevecht, hadden de oude Grieken wat hogere doelen. 'Telos' is namelijk een Grieks filosofisch concept wat staat voor het doel dat alle mensen en dieren nastreven. Weet jij het goddelijke te bereiken? Trek dan je toga aan en doe het theater aan in Telos!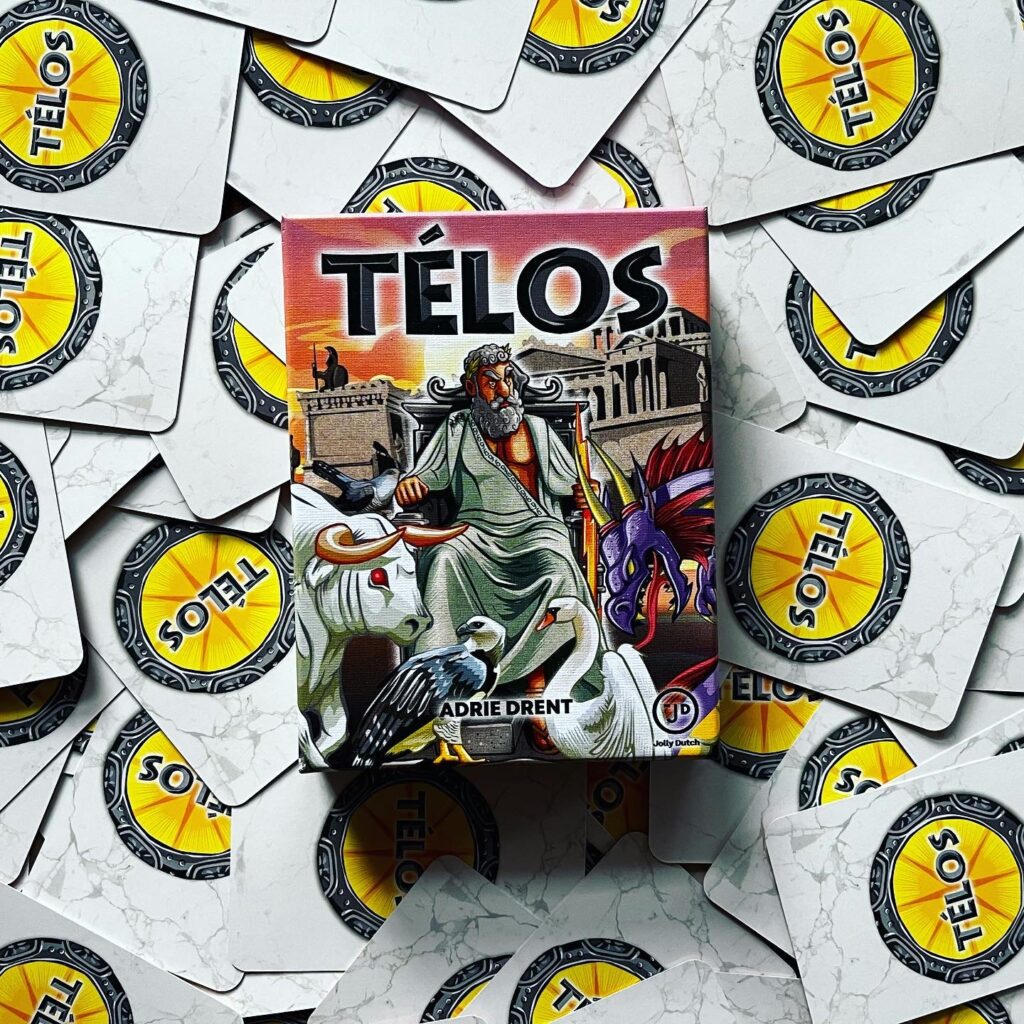 De afgelopen jaren is er een ware renaissance ontstaan voor wat betreft het slagenspel. Veel spelauteurs hebben zich er al aan gewaagd om vernieuwing in het klassieke genre te brengen. Deze wederopstanding bracht ons onder meer the Crew en vele anderen. Telos is ook een slagenspel. De actieve speler speelt een kaart en de andere spelers moeten volgen en op deze wijze worden slagen gewonnen. Telos bevat een aantal twists op het genre. Zo spelen kleuren enkel een rol bij het sorteren van de kaarten en hoef je de kleur van de gespeelde kaart niet te volgen. Daarnaast moet een speler altijd een kaart met een hogere waarde spelen dan de vorige kaart. Kan een speler niet volgen, dan moet deze speler de laagste kaart spelen. Geen probleem, zul je wellicht denken, maar in dit spel probeer je koste wat koste de laatste slag te verliezen, want als je de laatste slag in een ronde wint, krijg je strafpunten gelijk aan de door jou gespeelde kaart. In een nieuwe ronde krijgen spelers allemaal net zoveel kaarten op hand als de waarde waarmee de laatste slag van de vorige ronde is "gewonnen".
Naast kaarten met een bepaalde waarde zijn er ook Zeus-kaarten met speciale effecten die tevens gelden als een hogere kaart in een slag. Een speler kan er ook voor kiezen om een slag te beginnen met meerdere kaarten. Deze kaarten moeten dan wel allemaal van dezelfde waarde zijn. De volgende speler moet vervolgens net zoveel kaarten spelen met een hogere waarde of weer enkel diens laagste kaarten indien deze spelen niet kan volgen. Op deze manier kun je ervoor proberen om andere spelers in het nauw te drijven en ervoor te zorgen dat spelers hun laagste kaarten moeten spelen.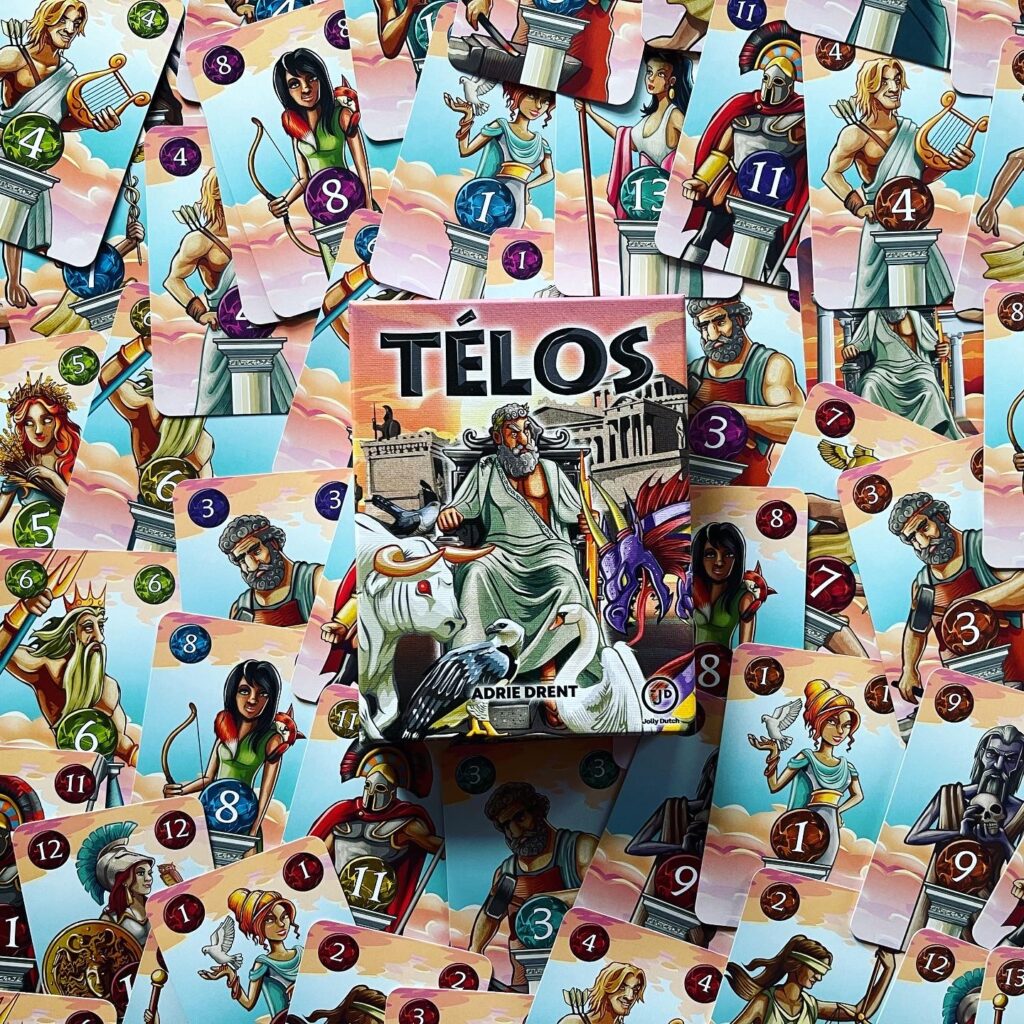 Telos biedt voldoende waarde voor de grootste liefhebbers van slagenspellen, maar het voelt soms aan alsof het spel veelal hetzelfde verloopt. Spelers spelen hun hoogste kaarten en hopen in de laatste ronde lage kaarten te spelen. Doordat het spel wordt gespeeld met een zeer omvangrijke stapel met kaarten, is de verdeling van verschillende waardes statistisch gezien eerlijk, maar geluk speelt hierdoor wel een grote rol. Het voelt daarom ook alsof spelers minder invloed hebben op het verloop van het spel. Dat is bij korte spelletjes een minder groot probleem, maar Telos heeft een aardig lange speelduur voor wat een vlot kaartspelletje zou moeten zijn. Ook zijn de zeer beknopte regels zijn helaas niet altijd even duidelijk. Telos biedt in beginsel leuke nieuwe twists op het slagenspel mechanisme, maar voelt door het voorgaande (nog) niet volledig uitgewerkt. Door het grote geweld aan verschillende slagenspellen zijn er veel leuke slagenspellen te krijgen en weet Telos hierdoor helaas minder goed een uniek plekje te verdienen. Vooral een aanrader voor diehard slagenspelers.