NEDERLANDS
Tapestry (@jameystegmaier) trok vorig jaar veel aandacht door de kleurrijke artwork, de prachtige miniaturen en de belofte van een simpele engine builder met een korte handleiding waar spelers aan hun eigen beschaving bouwen. Voor mij heeft Tapestry de beloftes waargemaakt en ik ben blij dat er nu een uitbreiding beschikbaar is.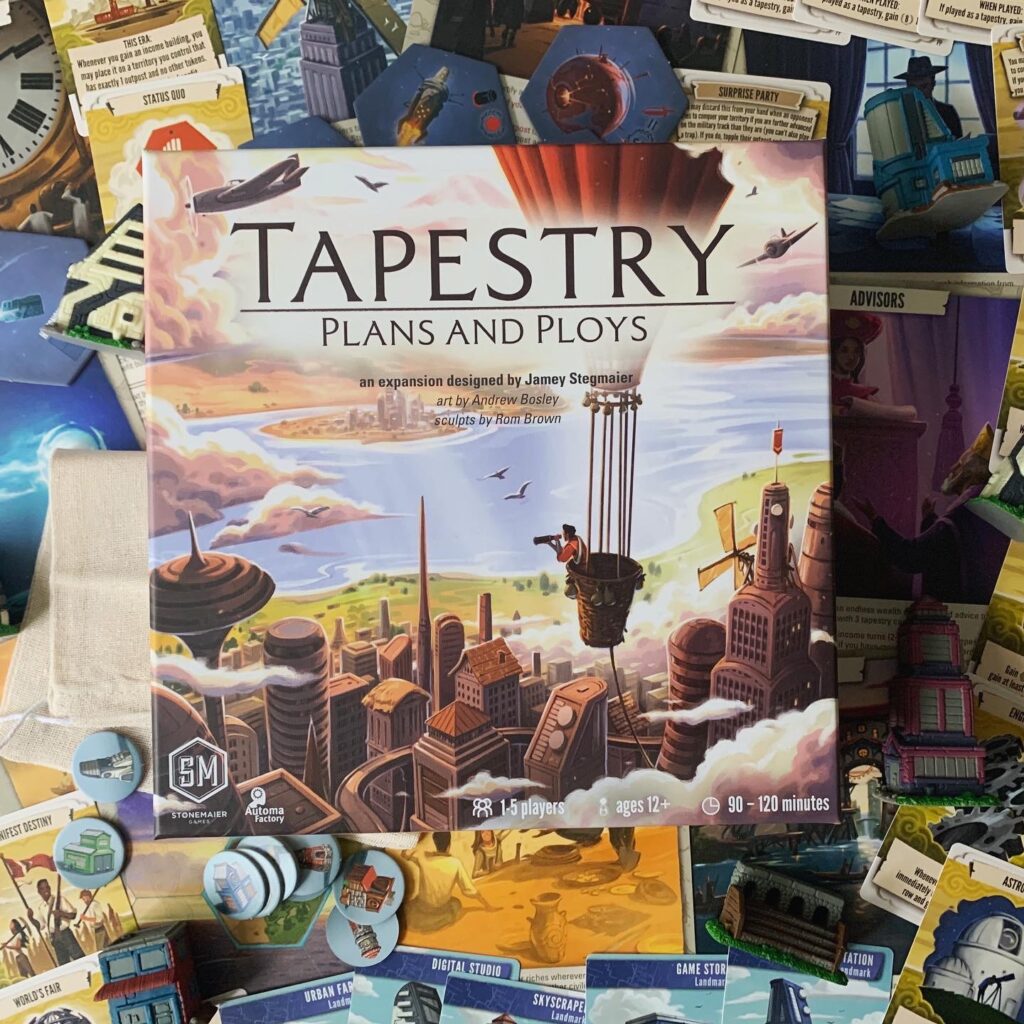 De kritiek op Tapestry was vooral gericht op de balancing van het spel. Door de asymmetrie tussen de verschillende beschavingen voelde het spel voor sommige spelers niet altijd even eerlijk aan. Ik had daar zelf weinig moeite mee, omdat de asymmetrie juist voor veel variatie zorgt. Ik ben niet vies van een spel die wat minder gebalanceerd is. Hoe zit het met de uitbreiding?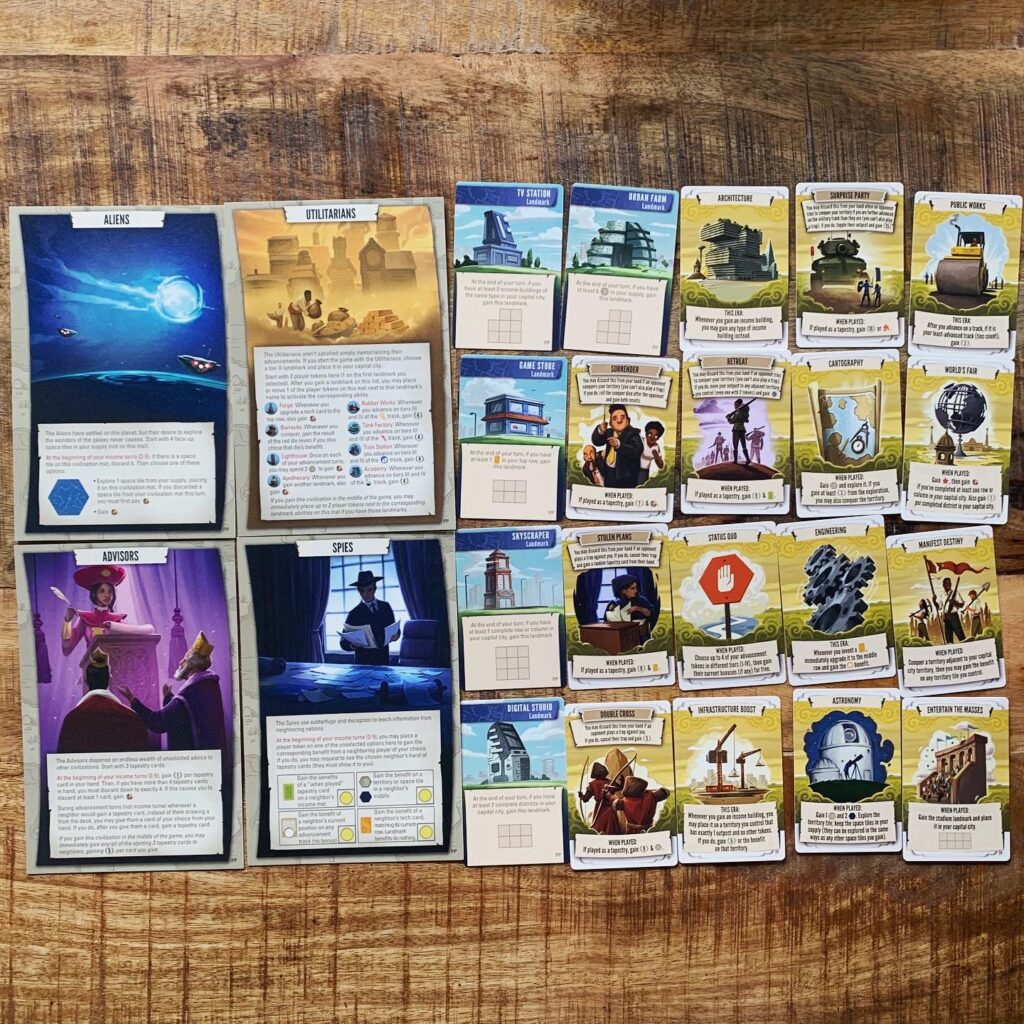 Er zijn verschillende soorten uitbreidingen. Ik zou ze zelf willen samenvatten als volgt: 1. een uitbreiding die meer van hetzelfde biedt, 2. een uitbreiding die meer variatie biedt, 2. een uitbreiding die het spel omgooit en 3. de essentiële uitbreiding die een spel "repareert". Of de uitbreiding de gewenste balans brengt, kan ik eerlijk gezegd nog niet zeggen. Plans and Ploys biedt meer van hetzelfde en tevens wat variatie op het basisspel. Nieuwe beschavingen geven een nieuwe manier van spelen en dus wat variatie. De nieuwe beschavingen bieden leuke nieuwe mogelijkheden. zo is er een beschaving waarbij je met exploration tegels een eiland kan bouwen om zo extra punten te verdienen.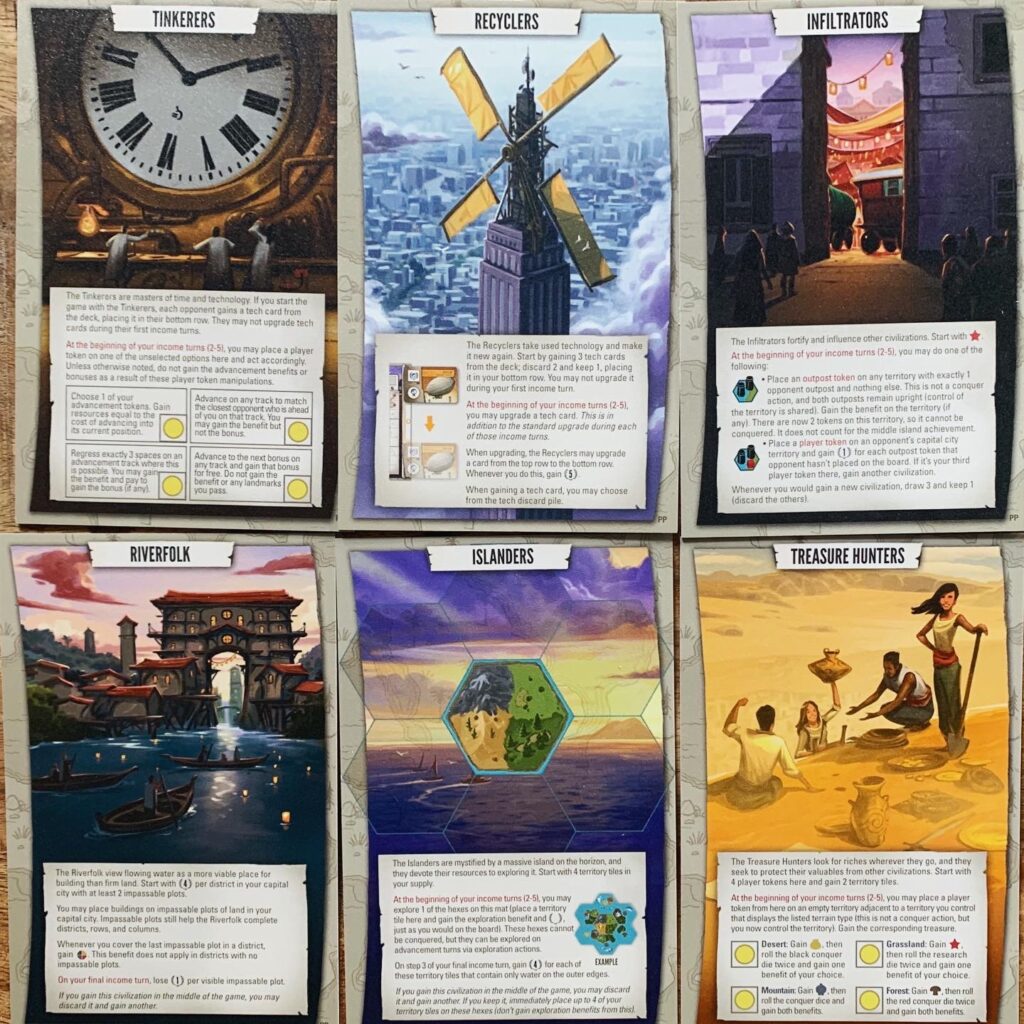 Nieuwe gebouwen maken het spelers makkelijker om hun stad te vullen en nieuwe Tapestry-kaarten en ruimtevaarttegels bieden nieuwe mogelijkheden. Aan het begin van het spel kunnen spelers nu kiezen om te starten met een unieke gebouw. Dit gebouw mogen ze in hun stad plaatsen als ze aan de voorwaarden voldoen. Zo krijg je bijvoorbeeld een gebouw als je 6 exploration tegels in je bezit hebt aan het einde van de beurt. De miniaturen en artwork zijn wederom prachtig.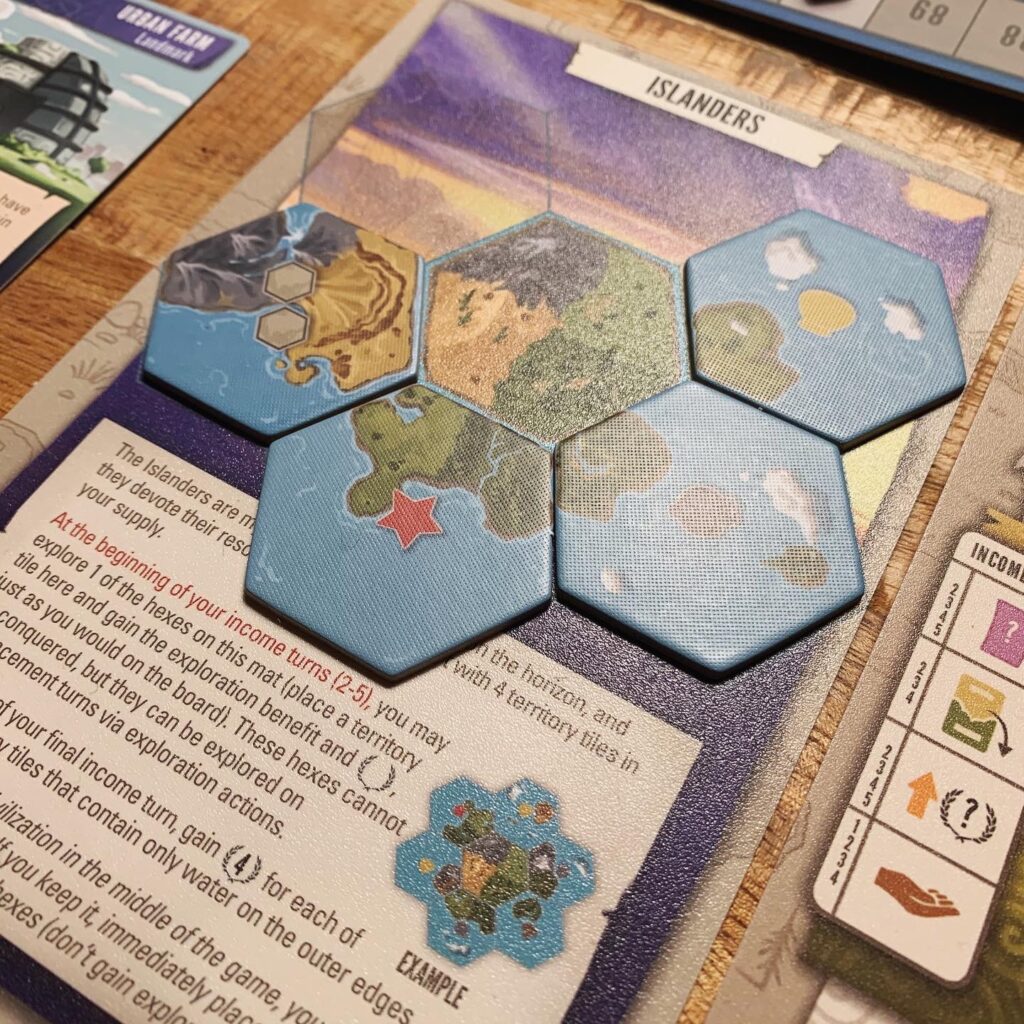 Hoewel de uitbreiding geen immense vernieuwing op het basisspel biedt, zal ik de Plans and Ploys uitbreiding er vanaf nu altijd bijpakken als ik Tapestry ga spelen. De nieuwe elementen gaan naadloos over in het basisspel (en ze passen met een beetje gepuzzel in de doos van het basisspel!).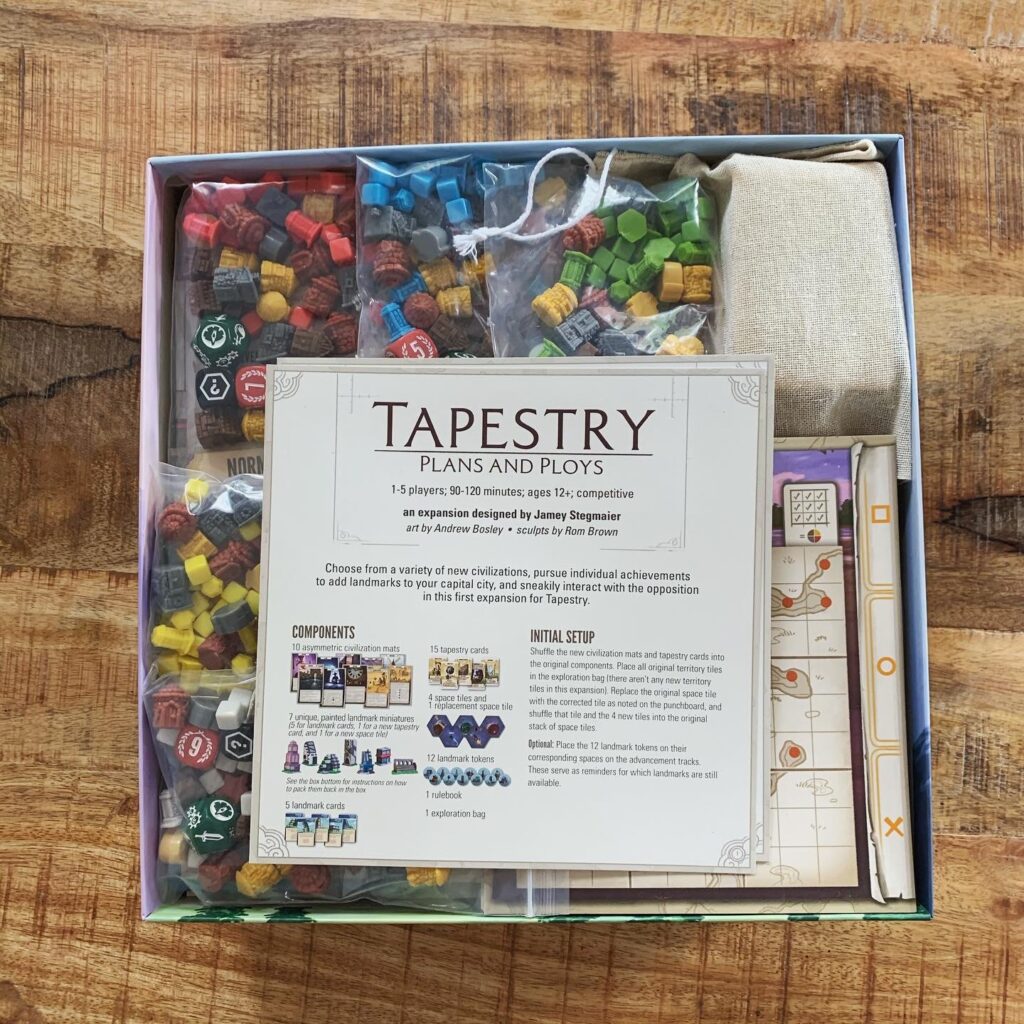 ENGLISH
Tapestry garnered a lot of attention last year due to the colurful artwork by @andrewbosley, the beautiful miniatures and the promise of a simple engine builder with a short rulebook where players could build up their own civilization. For me, Tapestry has kept its promises and I am happy that an expansion is now available.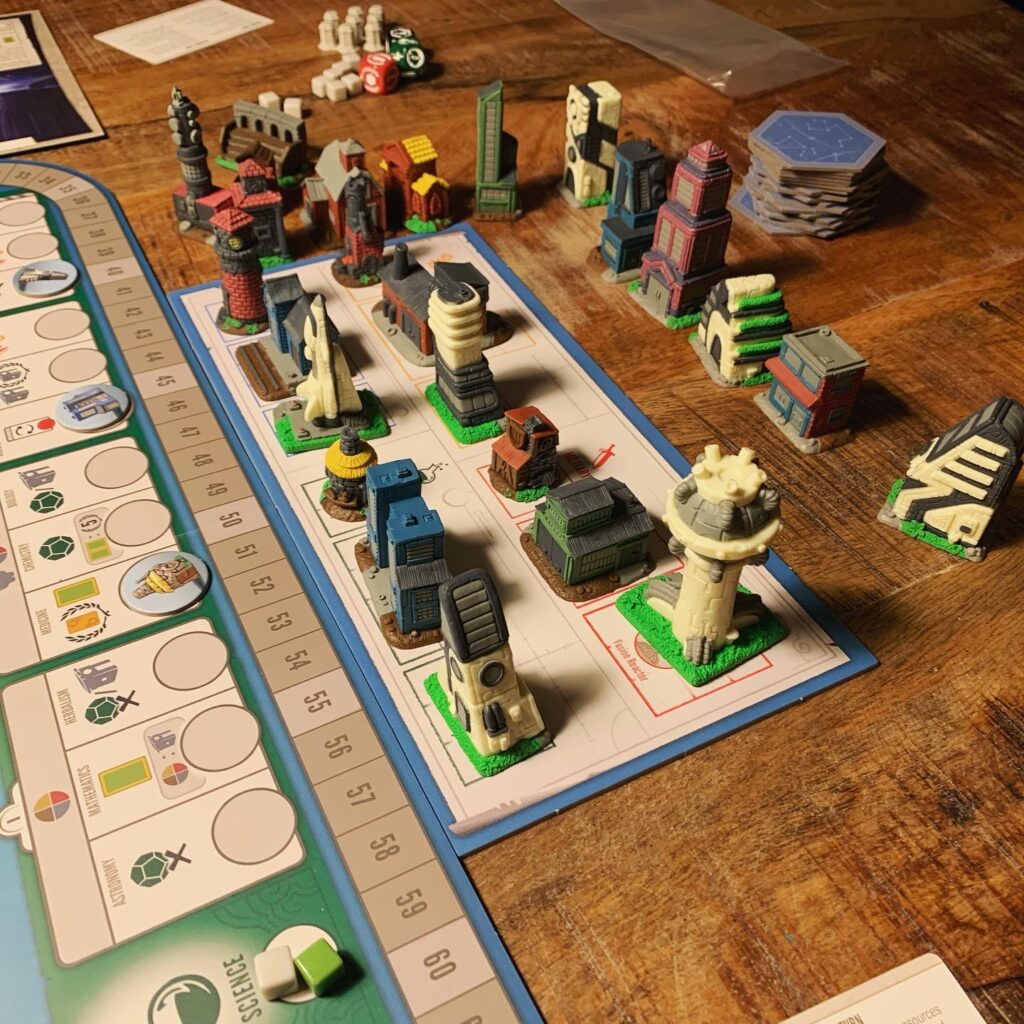 The main critique of Tapestry was focused on the balancing of the game. Due to the asymmetry between the different civilizations, the game did not always feel fair to some players. I didn't have much trouble with that myself, because the asymmetry creates a lot of gameplay variation. I'm not averse to a game that is less balanced. But what about the expansion?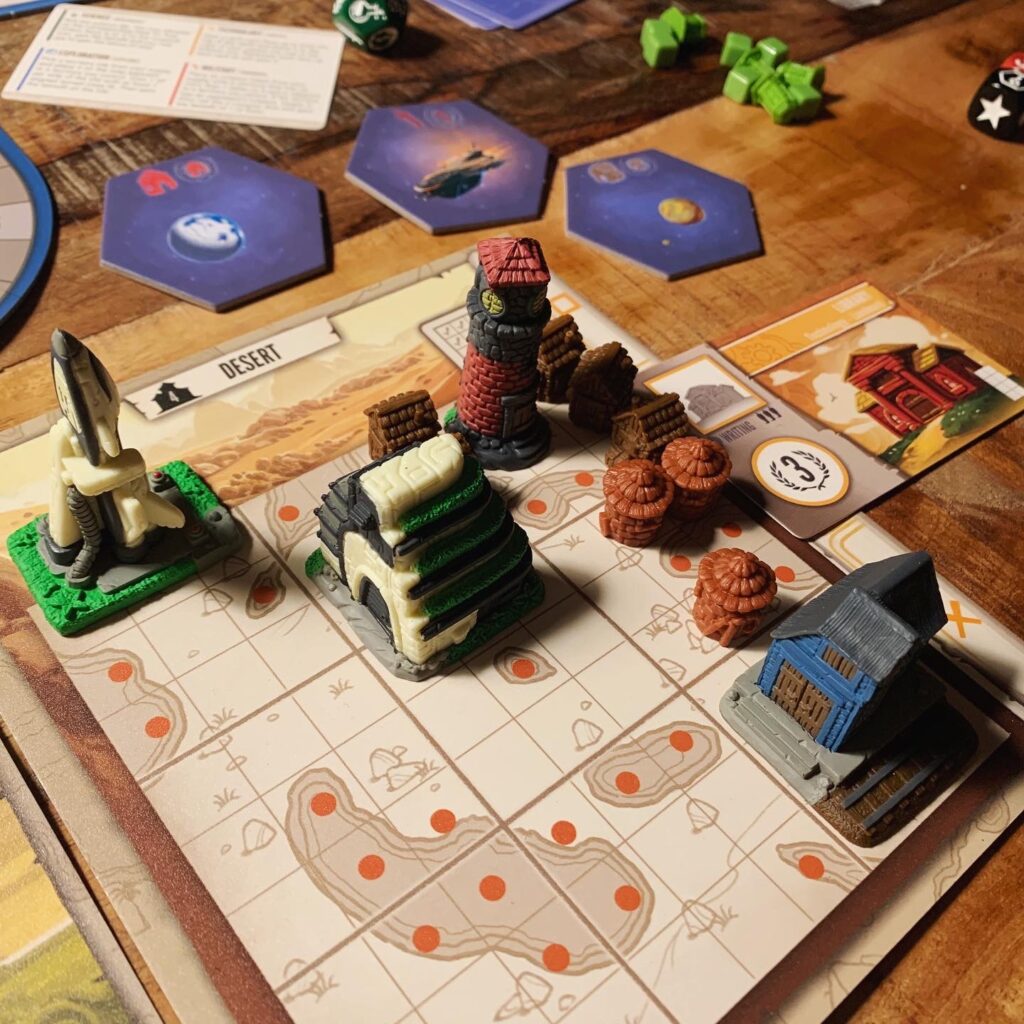 There are different types of expansions. I myself would like to summarise them as follows: 1. an expansion that offers more of the same, 2. an expansion that offers more variation, 2. an expansion that turns the game around and 3. the essential expansion that "repairs" a game. Whether the expansion brings us the desired balance, I honestly can't say yet. Plans and Ploys offers more of the same game and also some variation on the base game. New civilizations give a new way of playing and therefore variation. The new civilizations offer nice new possibilities. To give an example: here is a civilization where you can build an island with exploration tiles to earn extra points.

New buildings make it easier for players to fill their city and new Tapestry cards and space tiles also offer new possibilities. At the beginning of the game players can now choose to start with a unique building. They may place this building in their city if they meet certain conditions. For example, if a player owns 6 exploration tiles at the end of their turn they may place a building. The miniatures and artwork are beautiful yet again.

Although the expansion does not offer an immense innovation on the base game, I will always include the Plans and Ploys expansion from now on when I play Tapestry. The new elements blend seamlessly into the base game (and with a little puzzling all the components fit in the box of the base game!).