Agatha Christie werd op 15 september 1980 geboren in Engeland in de buurt van Devon. Op zeer jonge leeftijd kon Christie al lezen als de beste en ook op jonge leeftijd begon ze al met het schrijven van (korte) verhalen. De schrijfster is met name bekend geworden dankzij haar verhalen over de Belgische detective Hercule Poirot (bekend van onder meer The Murder on the Orient Express en Death on the Nile, deels geïnspireerd door de tijd die Christie zelf doorbracht in Egypte) en de grijze detective Miss Marple (het hoofdpersonage van ieders moeder favoriete detectiveverhaal). Met 66 detectiveromans en moordmysteries op haar geweten is Christie daarom ook met voorbedachte rade de inspiratiebron voor vele andere werken waaronder boeken, films, televisieseries en uiteraard spellen. Christie is ook, zonder dat beroep wordt gedaan op het zwijgrecht, de inspiratie voor Supects van Geronimo Games. In dit spel worden de spelers ingehuurd om drie mysteries op te lossen – geheel in de stijl van Christie. Ben jij een echte Marple of Poirot, of kunnen ze jou beter de cautie verlenen?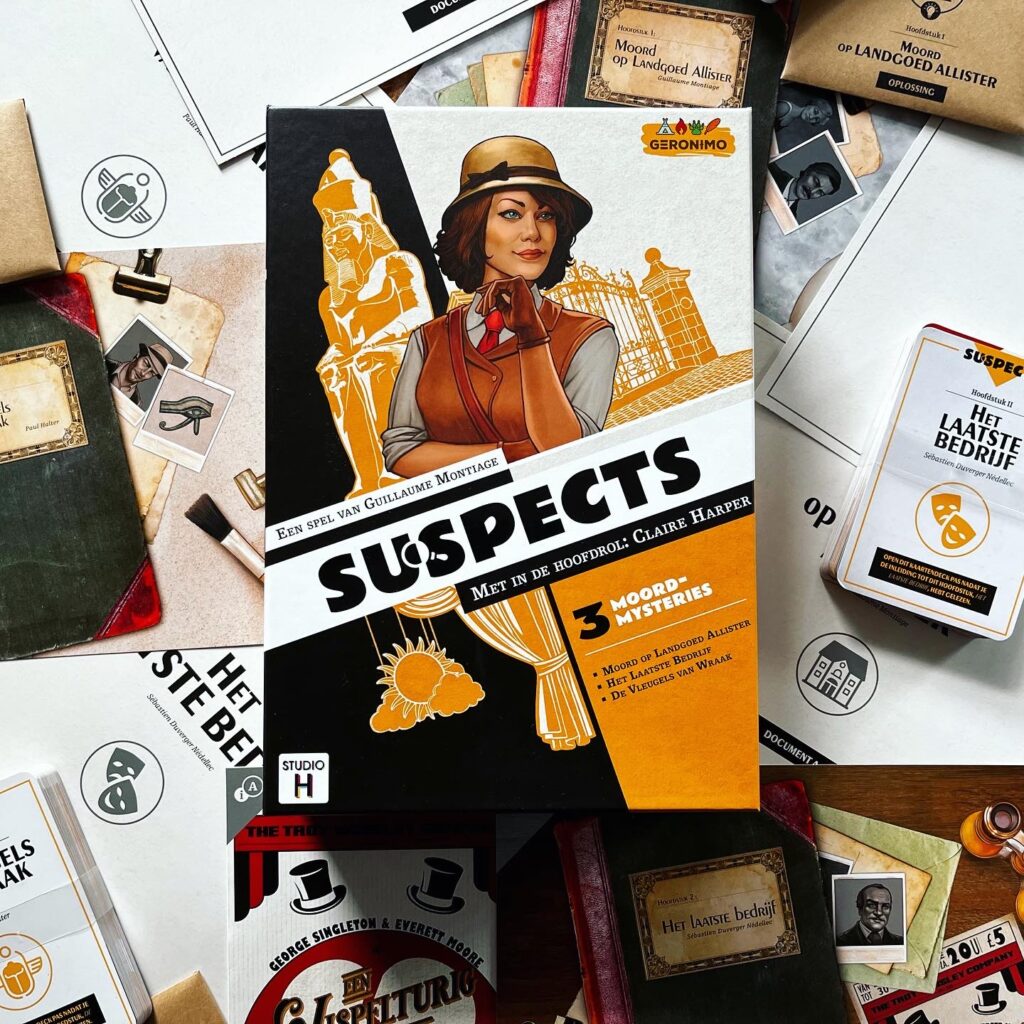 Suspects bestaat uit drie mysteries. Elk mysterie bestaat uit een stapel kaarten en wat paperassen. Zo ontvang je in het eerste mysterie een kaart van het landgoed die je kan gaan ontdekken. De stapels kaarten bevatten aanwijzingen en verdachten of getuigen die je kan spreken. Niet alle kaarten zijn aan het begin van het spel beschikbaar maar door op ontdekking te gaan en personages te spreken, speel je mogelijk nieuwe kaarten vrij, maar mogelijk loop je door het verloop van je onderzoek en ondervragingen ook bepaalde kansen en bewijs mis en verdwijnen er kaarten.
Spelers moeten aan het einde van het spel vragen over het mysterie weten te beantwoorden. De vragen gaan bijvoorbeeld over de persoon van de dader, moordwapen, motief en feiten die hebben plaatsgevonden. Spelers krijgen punten voor juiste antwoorden en krijgen zelfs meer punten als ze minder aanwijzingen (kaart) hebben bekeken voor ze op een vraag hun antwoord wisten te geven. Dat voelt gelijk een beetje tegenstrijdig. Het spel probeert je sneller antwoorden op vragen te laten geven, terwijl een detective juist grondig te werk moet gaan en al het bewijs in acht moet nemen. Ach ja, spelers kunnen altijd later een gegeven antwoord nog wijzigen, maar het voelt een beetje gek. Je kan uiteraard ook altijd gewoon lekker het mysterie en verhaal uitspelen zonder de druk van het presteren onder tijdsdruk. Al voelt een echte detective die natuurlijk ook…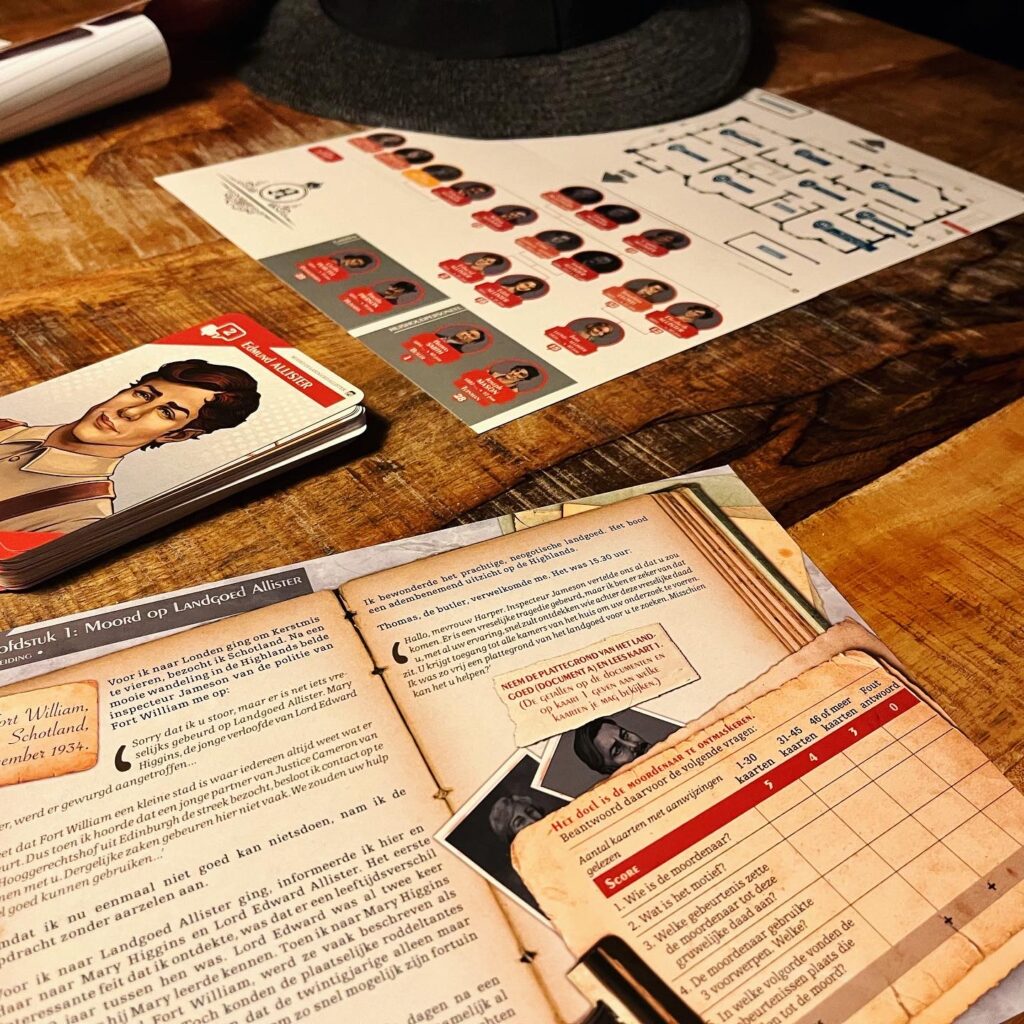 De sfeer is zeker aanwezig en het spelmechanisme werkt gewoon erg goed. De verhalen zijn logisch en het verwerken van de aanwijzingen levert een duidelijke en bevredigende conclusie op. Het spel voelt daardoor erg gestroomlijnd, zeker vergeleken met vergelijkbare spellen zoals Consulting Detective waarbij de oplossingen niet altijd even logisch in elkaar steken. Doordat het spel duidelijk is geïnspireerd op de verhalen van Agatha Christie en het spel zo gestroomlijnd is, kunnen de uitkomsten van de onderzoeken in verhalen in spel het voor doorgewinterde detective wel wat cliché aanvoelen. Onze eerste onderbuikgevoelens bleken vaak al te kloppen Zeker in de eerste zaak kwamen de meeste detective tropes voorbij. Een sterfgeval in een rijke familie met een groot landgoed als setting zal velen niet aanvoelen als onbekend terrein.. Laat dat echter de pret niet drukken, want het spel bevat gewoon drie leuke avonden waarmee spelers lekker detective kunnen spelen. Case closed: lock it away, fellas.