In de nieuwe Disney+ Star Wars serie: the Book of Boba Fett, legt de titulaire held en onze (oorspronkelijk) favoriete bounty hunter zijn Mandalorian helm en bounty hunter mantel grotendeels opzij om ruimte maffia te spelen op ieders favoriete planeet met twee zonnen: Tatooine. Boba Fett heeft namelijk het paleis van Jabba the Hutt, blubberbastaard en koudgelegde koning van de intergalactische criminaliteit, als optrekje toegeëigend en eist respect van de grote steden en misdaadfamilies die zich herbergen op deze zandplaneet. Het spel Star Wars Jabba's Palace: a Love Letter game, speelt zich wat eerder in de Star Wars-tijdlijn af, namelijk tijdens Star Wars Episode 6: Return of the Jedi, dezelfde film waar Jabba het loodje legt en Boba Fett verdween in een zanderige ruimteslang/plant-hybride. De helden Leia, Luke, Chewie, Lando en twee koekblikken proberen hun bevroren vriendje Han te redden uit de slijmerige klauwen van Jabba en diens schorem en nozems. Welke kant wint?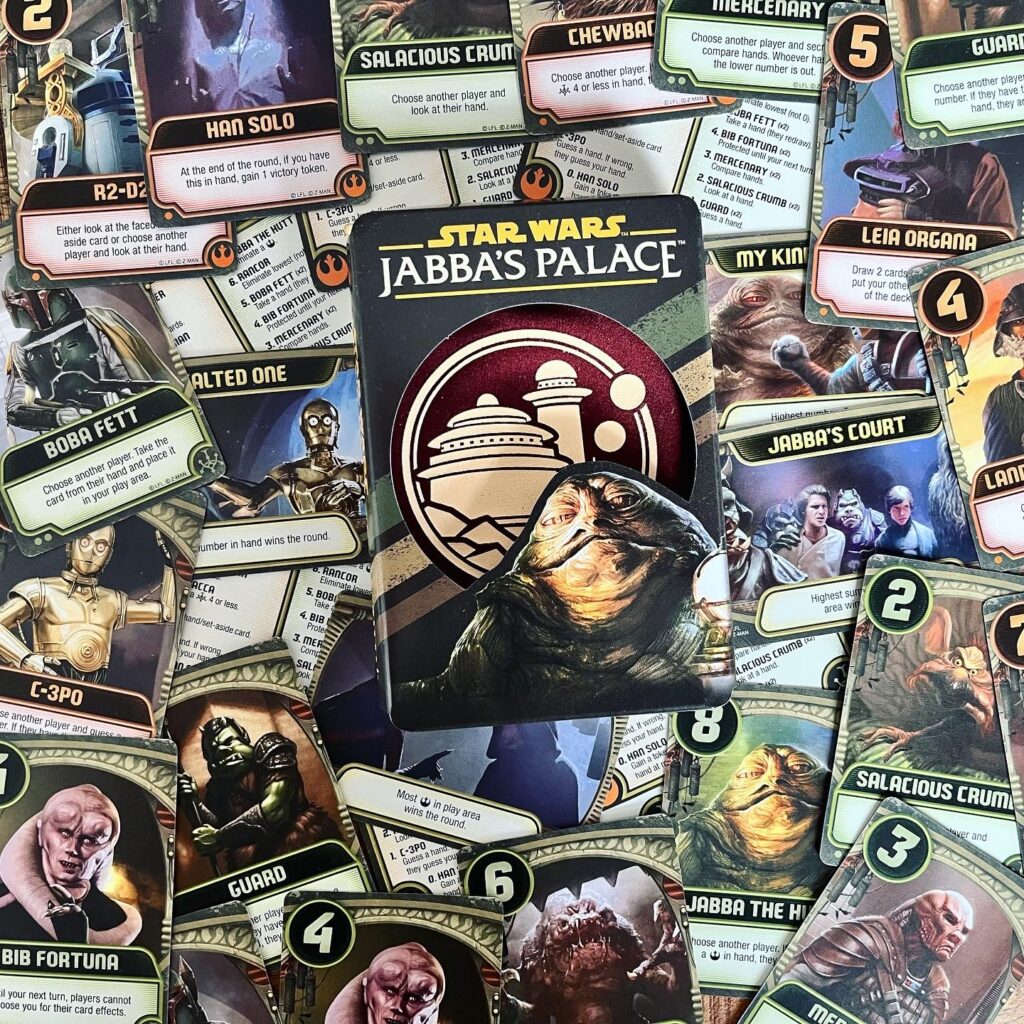 Jabba's Palace is een ietwat bewerkte versie van ieders favoriete 5 minuten durende kaartspelletje: Love Letter. Bij Love Letter ben je een van de personen die het hart van de prinses voor zich wil winnen met een liefdesbrief. Maar die brief komt niet zomaar bij de prinses terecht! Je moet proberen om via haar hofhouding en mede-royals de brief bij de prinses terecht te laten komen. In Jabba's Palace zijn er verschillende manieren om te winnen, maar net als bij Love Letter is het vooral last (wo)man standing.
Iedere speler krijgt een kaart. Op deze kaart staat een persoon die aanwezig is in Jabba's Palace: denk hierbij aan de de voornoemde helden, Boba Fett, Jabba of ieders favoriete spindoctor: Bib Fortuna. Hoe invloedrijker dit personage, hoe hoger de waarde die op de kaart staat. Naast de waarde staat ook in welk kamp het personage thuishoort (de goeierikken of the Hutt's) en het speciale effect van het personage.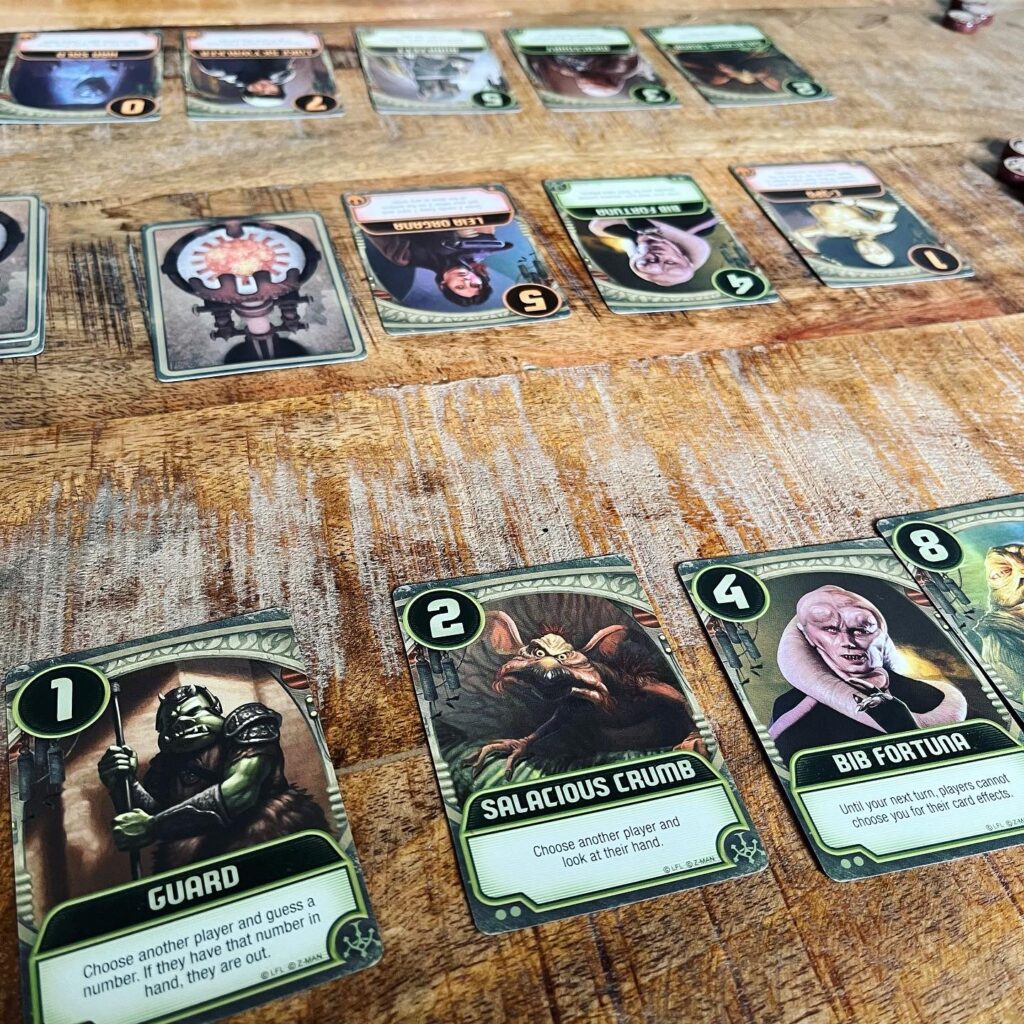 Iedere beurt moet je een tweede kaart trekken en vervolgens een van de twee kaarten op hand voor je neer spelen. Iedere kaart heeft een eigen kracht die (in beginsel) activeert wanneer je hem speelt. Zo kun je jezelf beschermen tegen krachten van anderen met Bib Fortuna, of verliest een tegenstander als Luke in ten tonele verschijnt en die speler een lid van de Hutt-hofhouding op handen heeft. In elk kamp zijn er verschillende kaarten met dezelfde waardes en effecten die ook net iets anders doen. Dat is het eerste belangrijke verschil ten opzichte van Love Letter en wat mij betreft een zeer leuke toevoeging.
Je kan het spel winnen door met effecten andere spelers uit te schakelen, maar het spel bevat 4 kaarten met een doel. Elk potje Jabba's Palace gebruik je willekeurig een van deze kaarten. De gebruikte kaart geeft de voorwaarde voor de winst van dit potje aan. Er is bijvoorbeeld een doel waarbij de speler die als laatste overblijft met de kaart met de hoogste waarde het spel wint, net als in Love Letter, maar is er ook een kaart waarbij de speler met de meeste gespeelde kaarten van een bepaalde soort wint.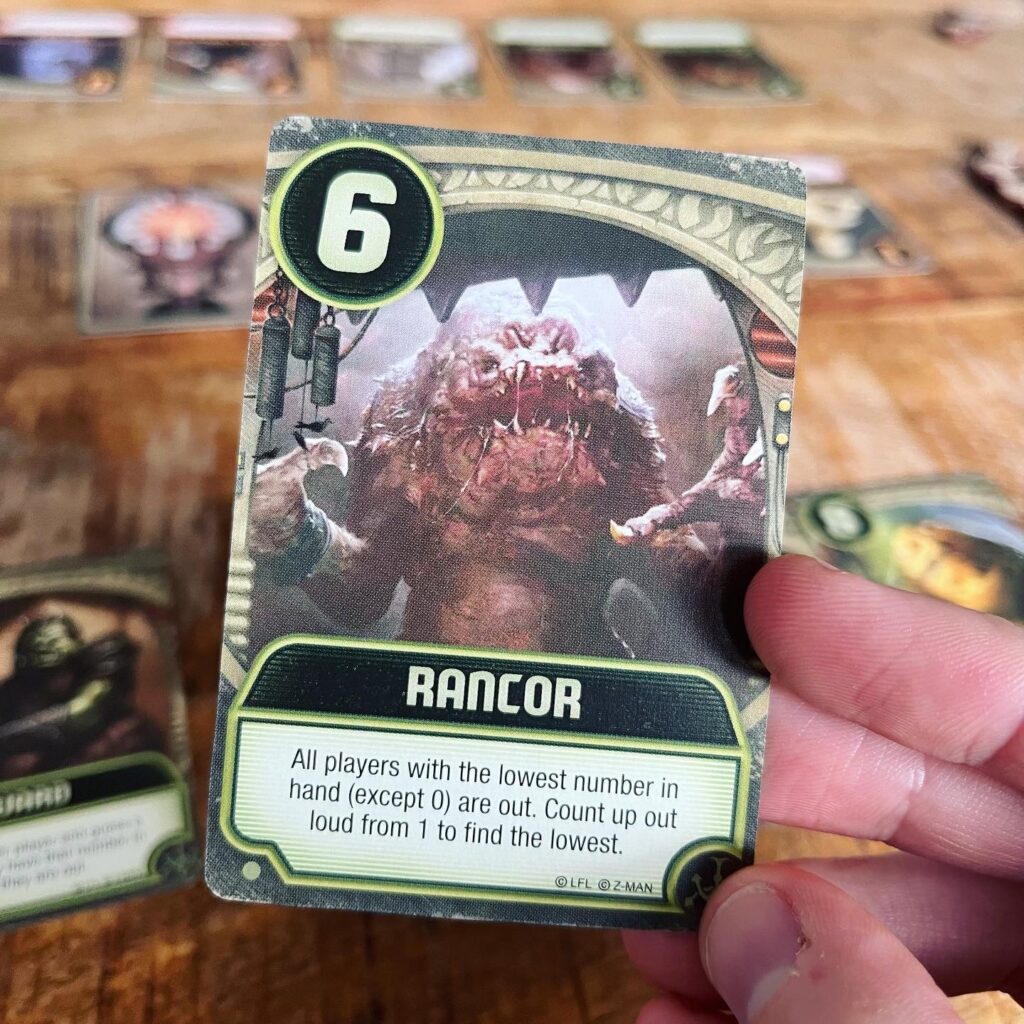 Zoals Rick al schreef in zijn recensie van de originele Love Letter: "Love Letter is een leuk en snel spel wat ideaal is voor tussendoor of langer, zowel thuis als op vakantie." Voor wat betreft Jabba's Palace is dit niet anders. De nieuwe spelregels en effecten van kaarten zijn een leuke toevoeging en een welkome variatie op het basisspel. Het spel voelt daardoor vertrouwt, maar anders genoeg. Als Star Wars fan is het thema natuurlijk geweldig. Een aanrader voor liefhebbers van een snel en simpel Star Wars spel en/of liefhebbers van Love Letter die toe zijn aan wat variatie!