Bieden, bluffen en dubbel bluffen: kan jij het aan? Verlies je hoofd niet in Skull, van Asmodee. Een elegant en simpel blufspel, het leukst om met vrienden te spelen. Weet jij als eerste twee rondes te winnen, of bezorgt de schedelkaart je kopzorgen?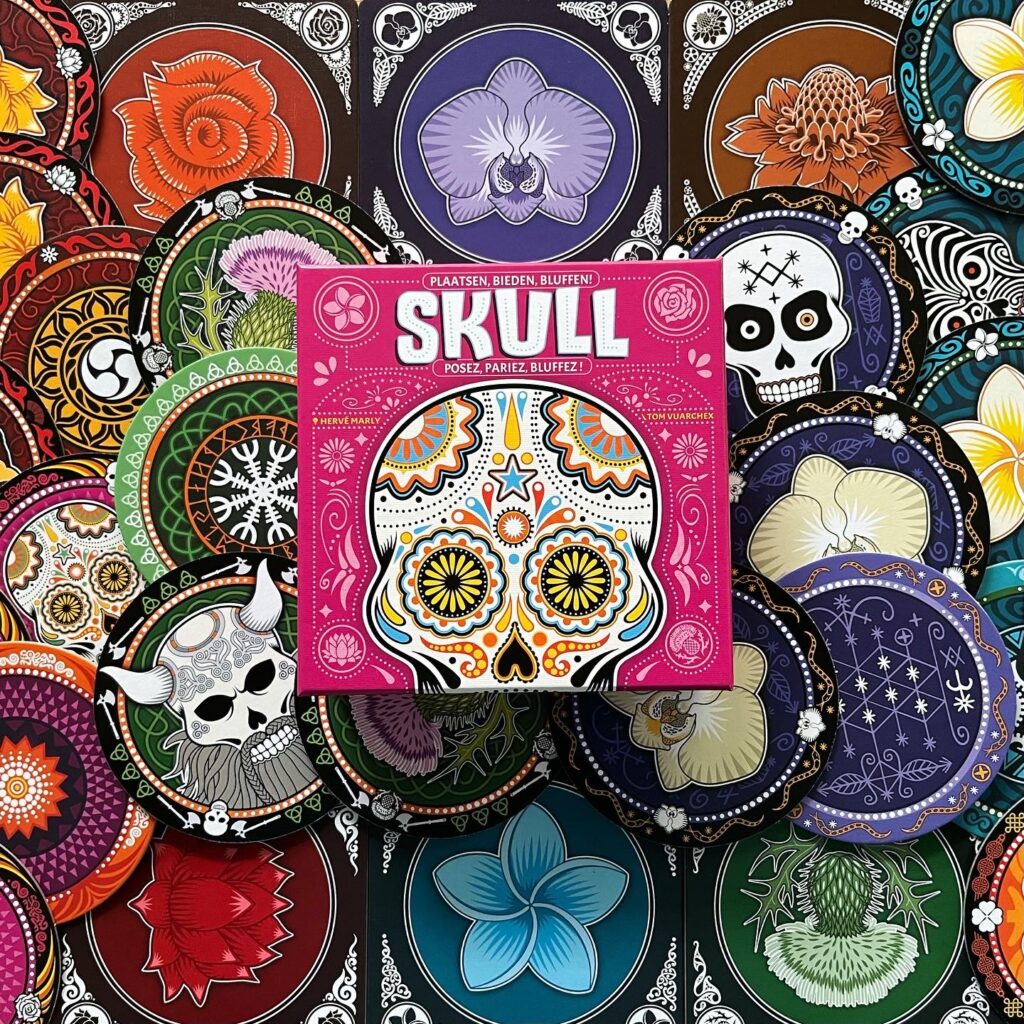 Skull is een simpel blufspel en goed geproduceerd. Daardoor is het handig om mee te nemen naar meetups en feestjes. Het concept is klassiek: iedereen heeft vier kaarten, waarvan één kaart een schedel bevat en de andere drie bloemen. Iedereen speelt naar keuze om de beurt een kaart face-down. Wanneer iemand meent een bepaald aantal bloemen te kunnen omdraaien zonder een schedel te trekken, dan biedt diegene een getal. Andere spelers kunnen vervolgens overbieden als zij menen meer bloemen te kunnen omdraaien. De hoogste bieder mag vervolgens kijken of hij gelijk heeft en geen schedels tegenkomt. Wint de hoogste bieder, dan mag diegene zijn spelerskaart omdraaien en is diegene een stap dichterbij de overwinning. Wint de hoogste bieder een tweede ronde, dan wint diegene het spel. Maar als de hoogste bieder ongelijk heeft, dan mag een andere speler een kaart uit zijn stapel verwijderen. Als je te vaak verliest, dan lig je eruit.
Skull is een spel vol gelegenheden tot bluffen. Bied je over om iemand anders nog meer kaarten te laten bieden? Bluf je bij het bieden terwijl je een schedel hebt neergelegd? Of bied je juist niet mee om te impliceren dat je een schedel hebt liggen? De keuze is reuze! Skull hoort wat mij betreft thuis in de categorie 'Partyspellen met gegarandeerd succes'. Wel spelen met minstens vier spelers voor maximaal speelplezier!