Goudkoorts is een – veelal collectieve – aandoening of opwelling waarbij mensen denken snel rijk te kunnen worden. Vaak door een recente ontdekking of ontwikkeling. Denk hierbij bijvoorbeeld aan mensen die massaal rijk denken te worden door crypto en aandelen, omdat social media influencers ze ongevraagd en ongereguleerd financieel advies influisteren. Denk bijvoorbeeld ook aan de letterlijke goudkoorts van de gold rush: de grootschalige verplaatsing van mensen naar recent ontdekte goudvelden in – met name – het (wilde) westen van Amerika. Goudzoekers en cowboys die het goud roken en zich massaal vestigde in wild west stadjes. Bewapend met een pan/filter om het gouden goedje en de bronnen te vinden, pikhouweel om de mijnen te delven en een revolver tegen de andere fortuinzoekers. Stijgt de goudkoorts ook naar jouw hoofd in Silver Mine?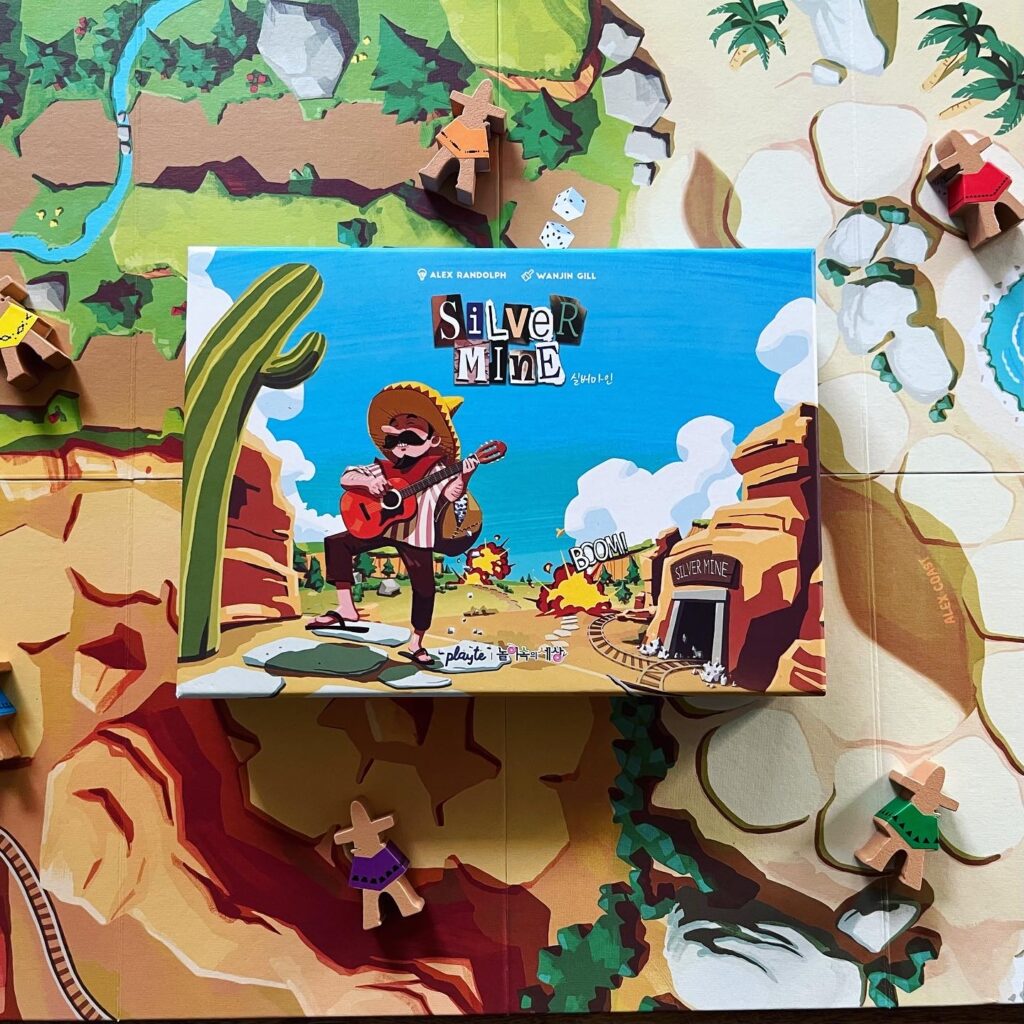 Silver Mine is een racespel waar het doel is om juist niet als eerste over de finishlijn te komen. Spelers proberen namelijk als laatste de gevaarlijke, maar fortuinlijke "Mina del Plata" (zilvermijn) binnen te gaan. De speler die namelijk als laatste de mijn betreedt, hoeft geen entreekosten te betalen, maar ontvangt al het betaalde goud en silver. Lukt het jou om de mijn met winst te verlaten?
Tijdens elke beurt gooit de speler die het dichtst bij de ingang van de mijn staat één dobbelsteen, de volgende speler twee dobbelstenen, de volgende drie dobbelstenen, enzovoort. De 'laatste' speler – dat wil zeggen degene die het verst van de ingang verwijderd is – kan in een spel met zes spelers in beginsel zelfs wel zes dobbelstenen gooien in een beurt. Poh dat is een groot risico! Gelukkig kan elke speler kan het recht kopen om niet alle dobbelstenen te hoeven dobbelen. Door een bepaalde hoeveelheid silver- of goudklompjes in het mijnkarretje te leggen, mogen ze minder dobbelstenen werpen in de hoop niet te snel over het bord te hoeven bewegen. De hoeveelheid klompjes die je moet betalen voor opvolgende dobbelstenen neemt exponentieel toe.
Een potje wordt gespeeld over meerdere rondes, maar de betaling verdubbelt en verdrievoudigt naarmate het spel vordert. Bedankt, inflatie! Een ronde is afgelopen zodra alle spelers op een na de mijn hebben betreden. Elke speler die de mijn betreedt, moet een oplopende entreefee betalen (die ook vatbaar is voor inflatie). Enkel de laatste speler hoeft niet te betalen en ontvangt de pot. De speler die aan het einde an het spel de meeste klompjes heeft, wint!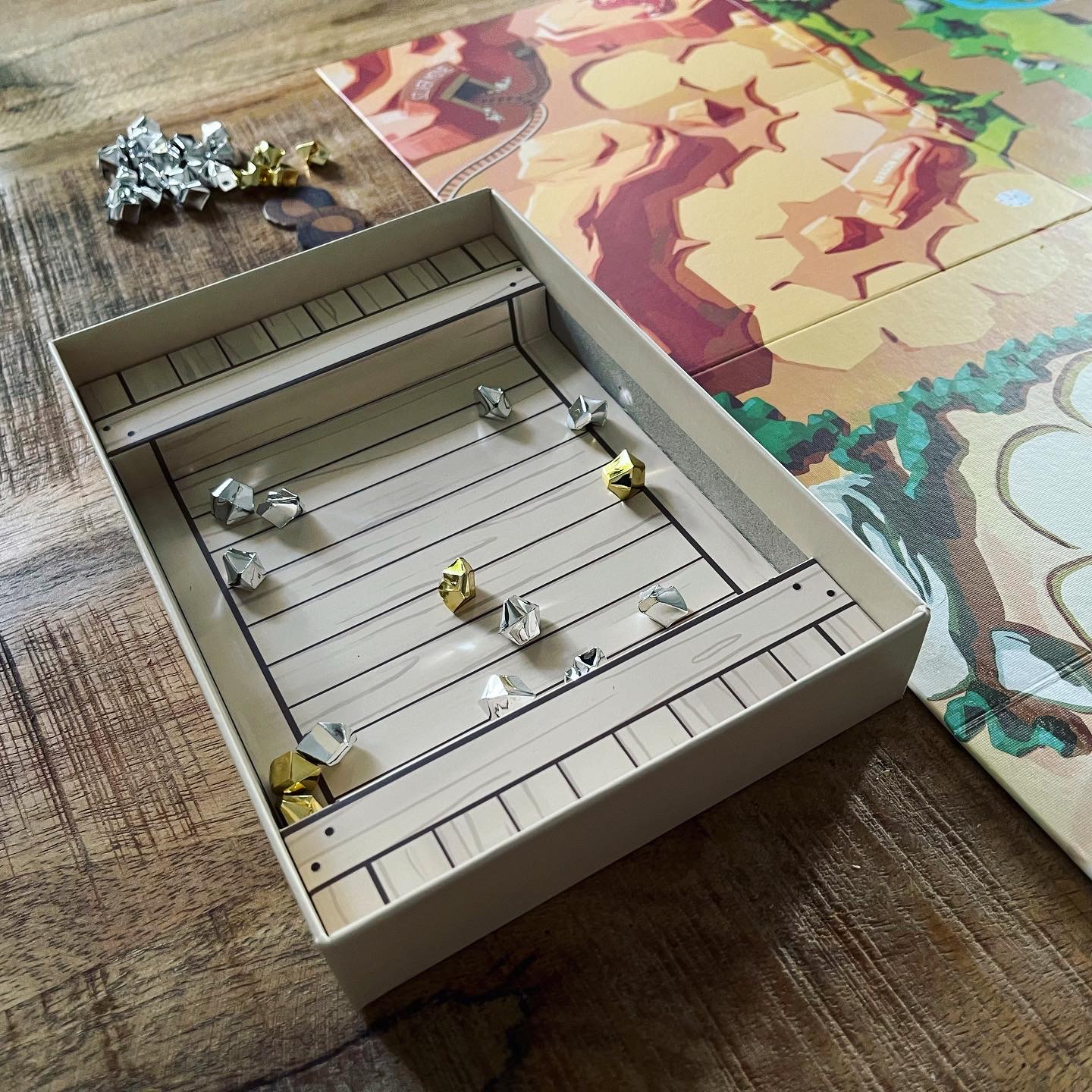 Silver Mine is voor het eerst in de jaren negentig uitgekomen en dat merk je! Het voelt als een klassiek spel met een gezonde dosis geluk. Risicomanagement en wedden zijn de belangrijkste spelelementen. Silver Mine is daarom ook geschikt voor spelers die opzoek zijn naar oude vertrouwde spelconcepten in een mooi nieuw jasje.