Een zware regenbui terwijl je paraplu net besluit dat ie stuk gaat. Een klapband als je nog 15 kilometer moet fietsen. Een scheur in de vuilniszak waardoor je hele keuken onder de vuilniszaksap zit of je ontdekt schimmel aan de onderkant van je hamburger terwijl je die al voor 60% verorbert hebt. Shit Happens, maar er zijn verschillende gradaties van ellende. Weet jij deze ellende de juiste plek te geven?
Shit Happens is een populair partyspel in de categorie grove humor. Hierdoor staat het in dezelfde kasten van liefhebbers van Cards Against Humanity en What Do You Meme? Eerder verscheen dit spel al in de Engelse taal, maar nu is "Poep Gebeurt" ook verkrijgbaar voor "sukkels die geen Engels kennen."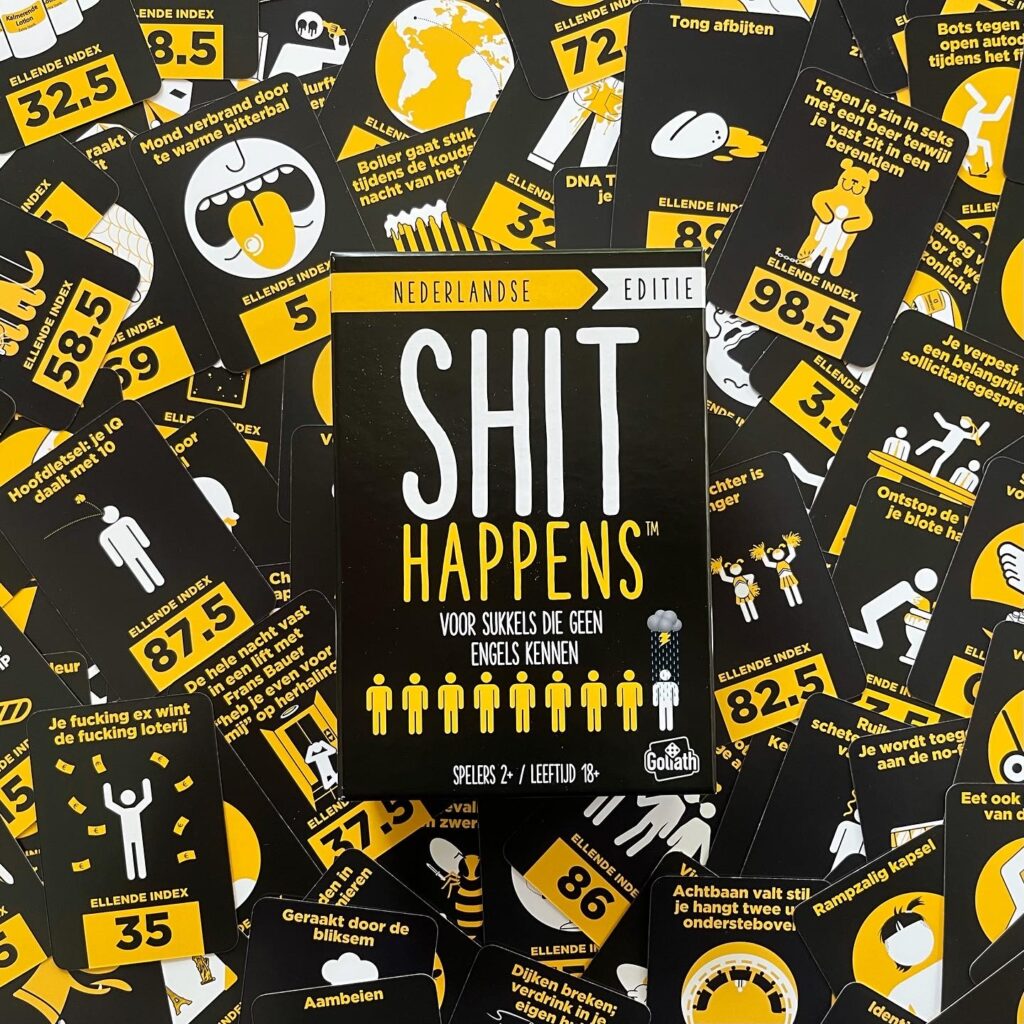 In het spel Shit Happens probeert iedere speler als eerste 10 kaarten in de juiste volgorde te krijgen. Iedere speler krijgt aan het begin 3 willekeurige kaarten, legt deze op volgorde van ellende (het nummer aan de onderkant van een kaart geeft de gradatie van ellende aan) en spelers kunnen beginnen met spelen.
Iedere beurt trekt de speler naast de actieve speler een kaart en laat deze zonder het nummer te onthullen zien aan de speler. De actieve speler moet nu aangeven waar deze kaart op diens tijdlijn van ellende thuishoort. Als deze speler het juist heeft, mag deze de kaart op de tijdlijn plaatsen en anders mag de volgende speler een gokje wagen. Heeft niemand het goed, dan krijgt de speler die de kaart heeft onthult deze voor zich.
Shit Happens is vooral gericht op de humor van de situaties die aan de spelers worden voorgelegd, want het spelconcept is verder erg simpel en nog best redelijk ingegeven door geluk. Uiteraard zijn bepaalde situaties objectief beduidend ellendiger dan anderen, maar of iets ellendig is, is grotendeels subjectief, waardoor het soms lastig is om de juiste gok te maken. De lol zit hem dus met name in de humoristische interactie tussen spelers en de reactie op de gradatie van ellende. Spelers kunnen het spelverloop gebruiken om te discussiëren over de verschillende kaarten om elkaar wat beter te leren kennen. Voor liefhebbers van grovere humor en die niet vies zijn van wat willekeur.