Settlement: It grows the economy. Benefits Everybody, hurts nobody.

De artstyle op de doos en de naam Settlement doen vermoeden dat wij hier te maken hebben met een klassieke city builder of avonturengame á la "Kolonisen van Catan". Die indruk is niet juist. Settlement is een lichtgewicht engine building gamevoor één tot en met vier spelers.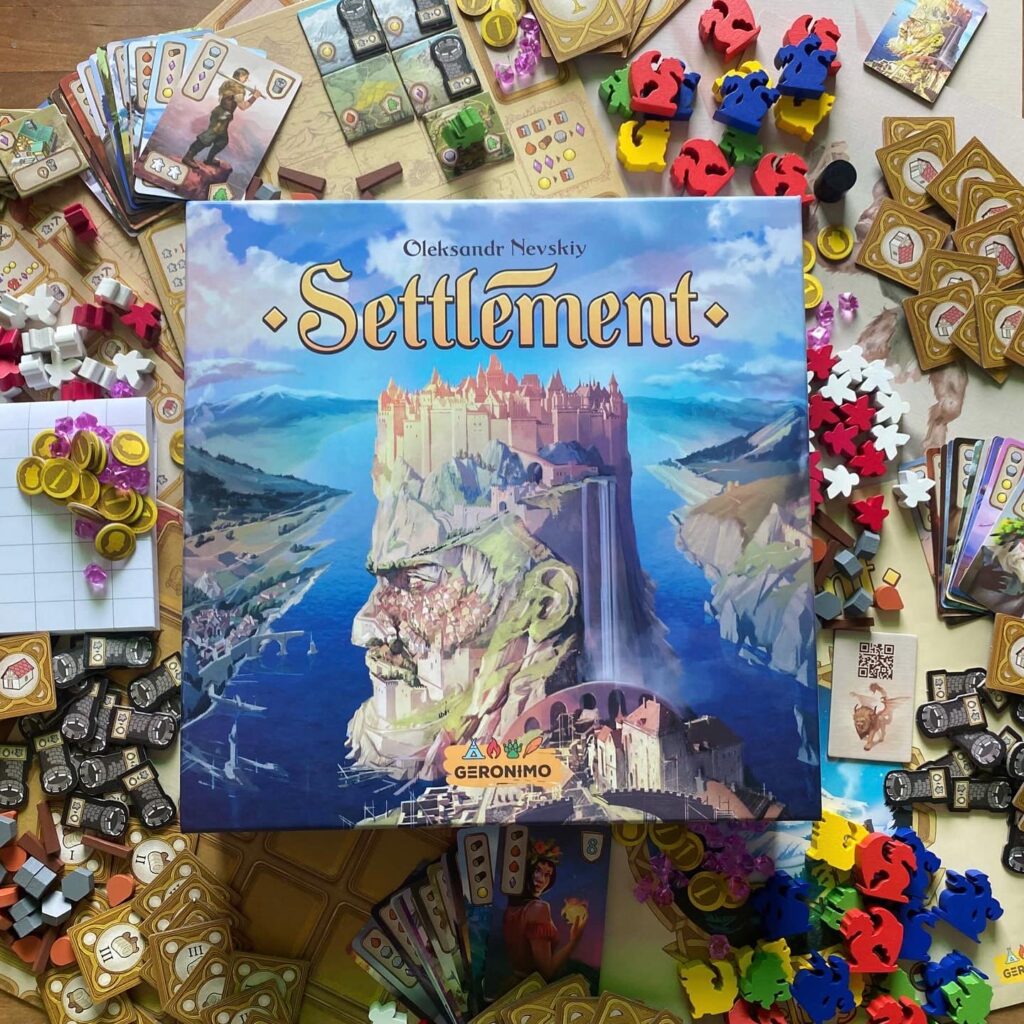 Iedere speler bouwt zijn eigen kolonie en probeert binnen zes spelrondesrondes een economie op te bouwen door het verzamelen en uitgeven van grondstoffen. Daarvoor heeft een speler iedere ronde zes kolonisten (actiepunten) tot zijn beschikking, die kunnen worden ingezet voor het verkennen van terrein, het verslaan van monsters, het bouwen van forten en het uitbreiden en exploiteren van handelsstraten.
In een gemiddelde eerste ronde wordt de speler uitgenodigd om te investeren in meerdere inkomstenbronnen. In de daaropvolgende rondes worden de koloniën verder uitgebouwd. Het verzamelen van grondstoffen en het verkennen van terrein en straten verloopt steeds efficiënter omdat het 'activeren' van een rij grondstoffen (straat of regio) steeds maar één kolonist kost. Spelers die zich niet specialiseren, lopen dus grondstoffen mis.
Naarmate het spel vordert hebben de spelers steeds meer geld en grondstoffen te besteden om te herinvesteren in nieuwe specialisaties of 'helden' uit te nodigen (op te kopen). Deze helden dragen niet of nauwelijks bij aan de opbouw van een economie, maar tellen stevig mee in de puntentelling aan het einde van het spel. Een speler die vroeg helden opkoopt heeft weinig competitie op de markt, maar loopt daardoor wel 'return on investment' mis.
Kenmerkend aan Settlement is dat de spelers opereren in een min of meer gescheiden economie. Spelers vallen elkaar niet aan en ruilen niet met elkaar. De enige interactie vindt plaatsop de 'markt' door de beperkte beschikbaarheid van helden, gebouwen en artefacten (roulerende bonussen per ronde). Daarmee nodigt het spel de spelers uit om verschillende specialisaties te kiezen. Een enkele keer komt het voor dat een speler zijn plannen moet aanpassen op de keuzes van een eerdere speler of om zijn opvolgende speler vliegen af te vangen, maar over het algemeen zijn de spelers gericht op hun eigen bord. De spelers laten elkaar goeddeels met rust.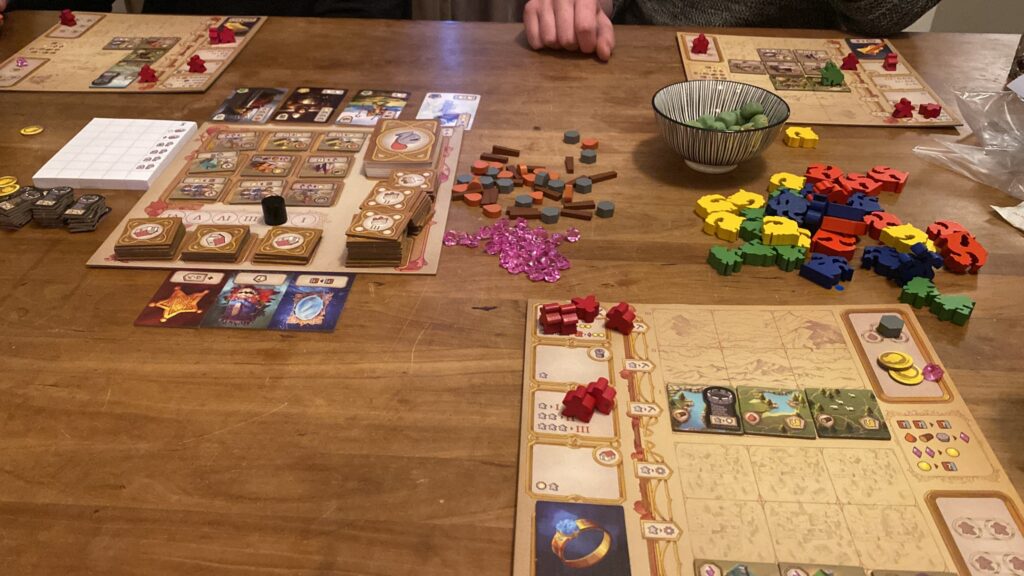 Al met al is Settlement een overzichtelijke en vermakelijke game met een prettig tempo. Voor nieuwe spelers in het genre levert Settlement een prettige kennismaking. Ervaren spelers zullen wellicht soms de diepgang missen, maar het is een prettige nederzetting voor tussen de grote beschavingen door.