Zes jaar geleden begon ik om cadeau's aan vrienden in te pakken in een doos met een slot (of zelfs meerdere sloten). Ik bedacht wat puzzels, geïnspireerd op typische escape room puzzels, en schreef een bijpassend verhaal. De doos met cadeaus en het boekje met puzzels waren volledig in een bepaald thema gegoten. Dit was erg leuk om te doen, maar het was ook erg veel werk. Zowel voor mijzelf als voor de ontvanger van het cadeau; de oplossingen voor mijn puzzels waren voor mij logisch maar niet altijd voor iedereen. Gelukkig zijn er nu ook cadeaudozen verkrijgbaar met hetzelfde doel, maar dan beter afgewerkt. Zo ook de Secret Box van EscapeWelt.
Al vaker behandelden we de producten van EscapeWelt. Dit bedrijf is ooit begonnen als een escape room het Duitse Leipzig, maar maakt naast escape rooms op hun eigen locatie ook een hoop producten waar puzzelende liefhebber in de comfort van zijn of haar eigen huis kan genieten. 
EscapeWelt maakt onder meer uitdagende (leg)puzzels en puzzeldozen gemaakt van lasergesneden hout en zelfs acryl. Een paar jaar geleden zijn ze begonnen met de productie van hun eerste puzzeldozen en inmiddels zijn deze uitdagende doosjes vrijwel wereldwijd verkrijgbaar in meerdere talen.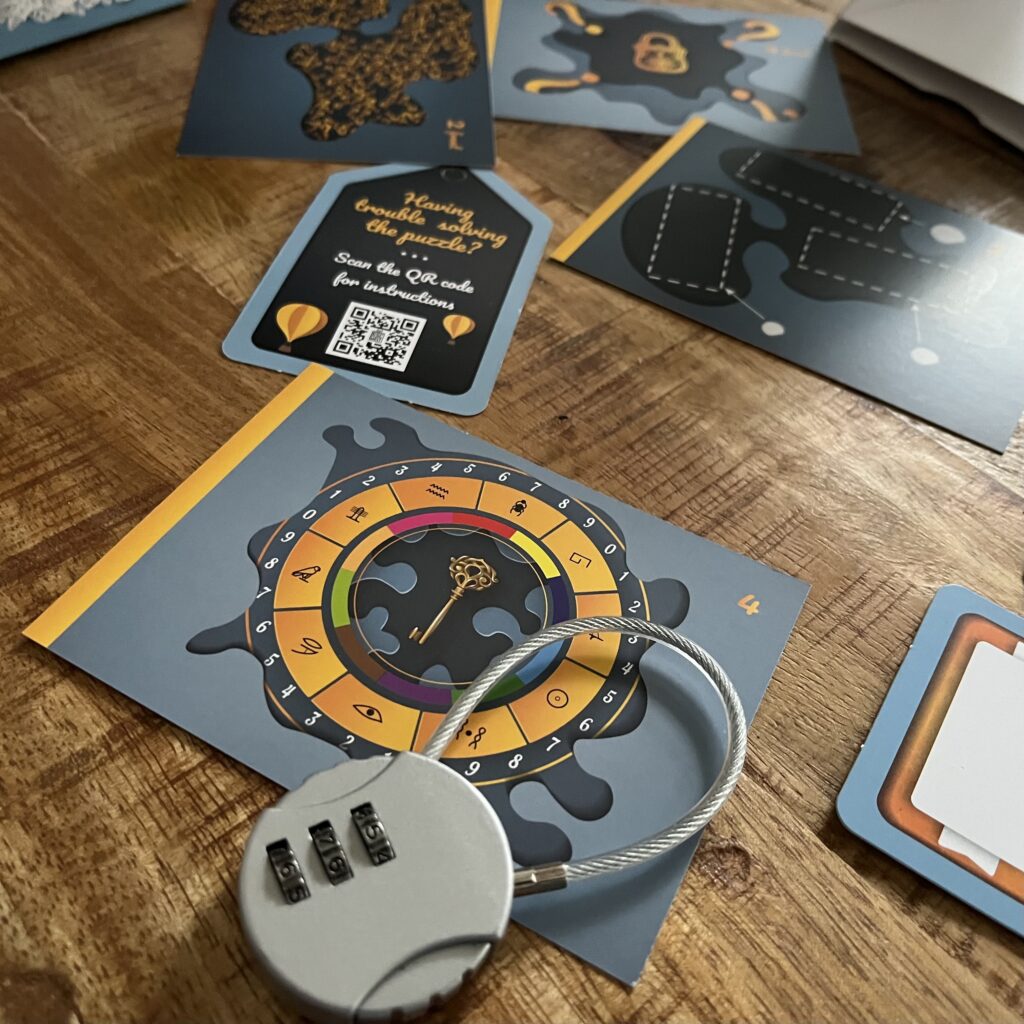 Van de bekende houten puzzeldozen maken ze inmiddels ook bouwpakketten. De houten puzzeldozen zijn goed geschikt als cadeau, mede omdat je de puzzel (nadat jij natuurlijk eerst zelf de puzzel hebt opgelost) cadeau kan doen met inhoud! Je kan op deze manier kleinigheidjes of geld verstoppen in de dozen. Wil je een iets groter cadeau weggeven, dan is de Secret Box perfect. In deze envelop vind je namelijk een stevige doos die je in elkaar kan vouwen, een slot om de doos mee te vergrendelen, een handleiding om puzzels mee voor te bereiden en genoeg materiaal om de doos te personaliseren.
Met behulp van de handleiding zet je in een handomdraai de doos in elkaar en maak je de puzzels gereed. Je kan zelf de numerieke uitkomst bepalen en vervolgens die je zelf de oplossing bij elkaar te puzzelen. Hierdoor heb jij ook een leuke puzzeluitdaging en niet alleen de ontvanger van de cadeaudoos. Doe je cadeau in de doos. Schuif de puzzelvellen in de zijkant. Plak leuke stickers op de doos. Doe de doos op slot. Geef de doos weg. Het gevolg? Een cadeau voor de gever en de ontvanger waaraan je niet wilt ontsnappen.
Met de promo code "Daniel" krijg je 10% korting op https://escapewelt.com/shop!